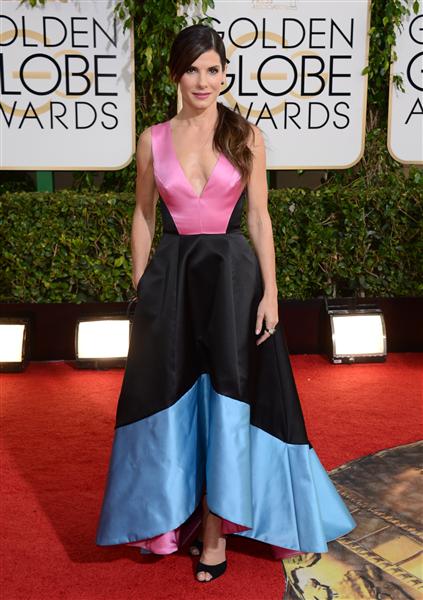 Okay, I want to dish with you all about last night's show.  You can see my abysmal stats for my 2014 picks here.  Way off on my game!  I'm curious to know how you all did.
This is going to be a "quick" post about some random thoughts:
I loved Amy & Tina.  I watched their opening monologue with my husband, my in-laws (who were visiting for our make-up Christmas celebration) and my daughter.  Rich is not a fan, but will usually indulge me for about a half hour at the top of the show.  It was very awkward when the ladies made some reference to Jonah Hill and masturbation.  My MIL groaned and uttered something, while I tried to cover Audrey's ears.  Uh-oh, yikes!  Not that I think Audrey has ever heard the word before or that it registered on any level, but because mom was there and, well, you know.  Shortly after, Rich's father humphed about something and exited the room.  He was not amused by anything they had to offer.  Rich followed him.  Rather quickly, I sent Audrey to bed (she was keeping her own score card and kept changing her picks once she heard the winner!) and mom soon followed.
♦ Then I was all by myself, with my phone in one hand, and wine glass in the other (kind of like Emma Thompson!).
♦ Best Amy & Tina joke – the one about George Clooney.
♦ Worst Amy & Tina joke – the one that was in really bad taste, about the model's va-jay-jay and Leonardo DiCaprio.  Yucky ladies, yuck.
♦ Jacqueline Bisset almost made me cry, because she genuinely seemed overwhelmed, but then she just irritated me.  Exit stage left!
♦ Is it me, or did Ben Affleck look and act, really stoned?
♦ I LOVE how this show pans the ballroom just before and just after the commercial breaks.  You get to see who's talking to who!  I think it was the first time I've ever seen Gwyneth Paltrow in public with her husband!  Ditto for Julia Roberts and her husband.  It looked like Julia and Meryl Streep were dishing to each other about everyone.  They exchanged a strange look when Amy Adams was announced the winner of Best Actress, which was kind of not cool.
♦ My Favorite Speeches:  Amy Adams, Robin Wright, Amy Poehler, DiCaprio, and Mathew McConaughey.
♦ A little cringe worthy:  Bisset, Jon Voight & Jared Leto
♦ McConaughey and Poehler seem so happy that they won – I like that!
♦ What was the deal with everyone being so "surprised" they won and at a loss for words?  Poehler seemed genuinely shocked, but at least she still rocked it!
♦ I usually cry at these things, but no one really got to me this year.
♦ Dresses were oaky, but nothing blew me away.
♦ My Fashion Likes:  Sandra Bullock, Mila Kunis, Kate Beckinsale, Michele Dockery, Emma Roberts
♦ Not So Much:  Paula Patton, Drew Barrymore (sorry, I know she's preggers), Jennifer Lawrence.
Finally, let's address the Woody Allen elephant in the room.  I'm a big fan of Diane Keaton – huge!  After last night though, I think she's fallen off her pedestal.  I guess I get sticking by your friends, but I don't understand how she's been able to justify Allen's actions.  He took naked pictures of his daughter, had sex with her, married her & then he procreated with her.  How do you gush about him like he's a saint, in front of millions of people?  I just don't get it.  Nor do I understand Hollywood's need to idolize the man.  I guess it's just me, but I find his movies to be snore fests.
So the Sag Awards are this Saturday!  Can't wait.  I want to do this all again.
What are you thoughts on the show, the winners, the losers, the hosts and the dresses?  What wins shocked you?  How'd you do with your own predictions?