It's been two weeks since I posted a road trip update and I have no excuse for the delay.  I've just had trouble getting motivated!  I can't blame a lack of time either, because we've been home for a week.  When I last checked in here (I've been posting rather consistently at Road Warrior Momma) we were having the time of our lives in Bar Harbor.  I miss it, but I have more places to tell you about.
After Bar Harbor, we drove north to Canada.  Moncton, New Brunswick was our home base for our Canadian exploration.  Driving through New Brunswick was pleasant.  The countryside is beautiful, although somewhat desolate.  Moncton is nice, much smaller than I had imagined.  We stayed on the outskirts of the city, about five miles from downtown.  On our first night we had a late dinner because we were very confused about what time it was (long story that you can read about here).  We were also a bit surprised by the significant surcharge that was added to our check by the Canadian government.  After inquiring, our server told us, "We have lots of things to pay for in Canada."  Okay.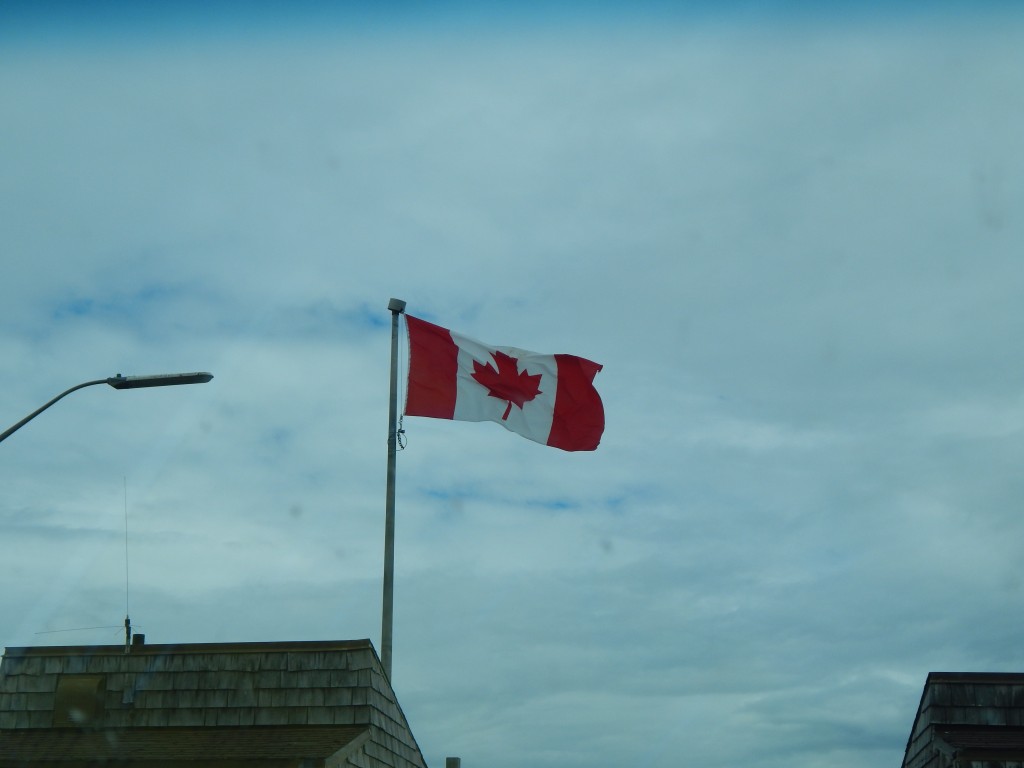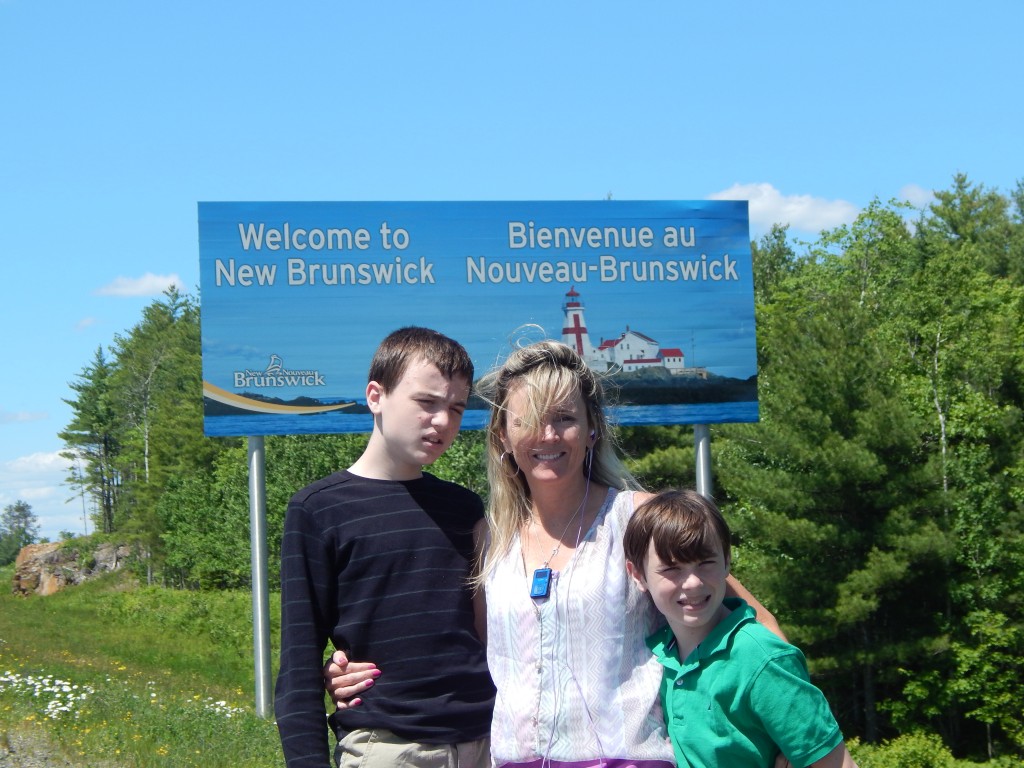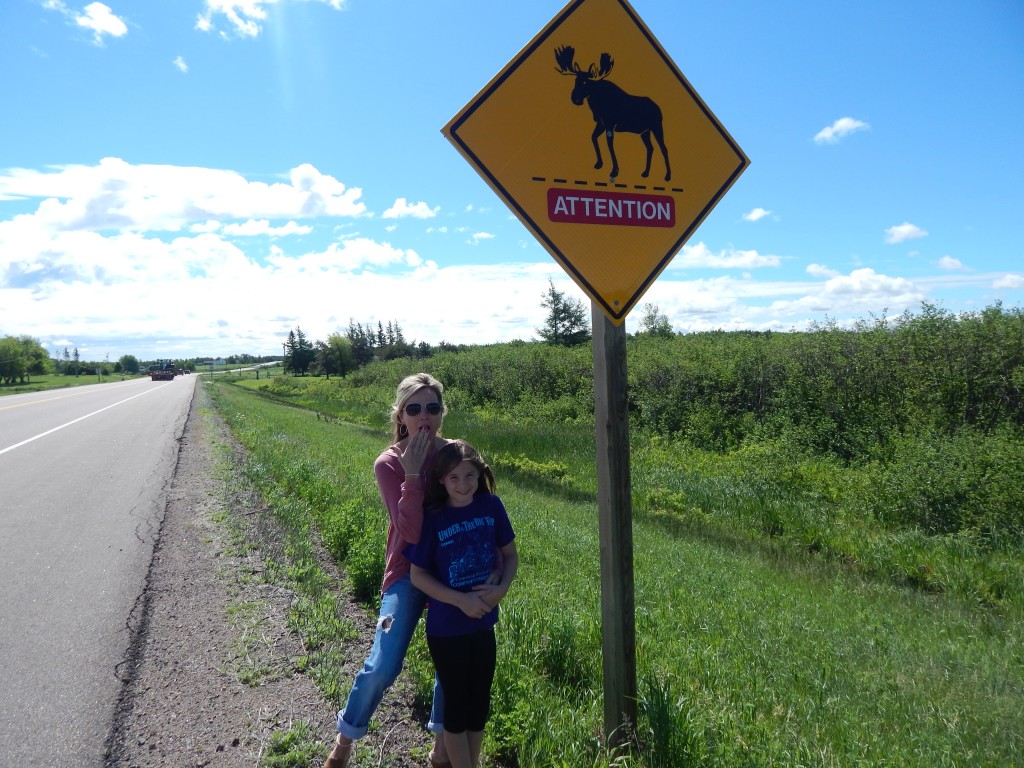 On our second day, we drove to Prince Edward Island (PEI) to explore the Anne of Green Gable sites and the national seashore.   PEI is stunningly gorgeous.  The blues and greens of the island's landscape and ocean are vivid to the point of being surreal.  But it sure is chilly!  I accomplished another #IDareAllie, by swimming in the frigid Gulf of St. Lawrence.  My husband joined me, but the kids refused.  I can't blame them, because it was insanely cold.  After the swim, the weather turned bad and it got even colder.  As for the literary sites I wanted to see, well, I couldn't spark any enthusiasm from my crew.  I was on my own.  After PEI, we went to Nova Scotia.  I traveled there with my parents many years ago and I wanted to take my family to Halifax – but we just didn't have the time.  We did a quick visit to the small town of Amherst and then returned to Moncton.
The Prince Edward Island National Seashore.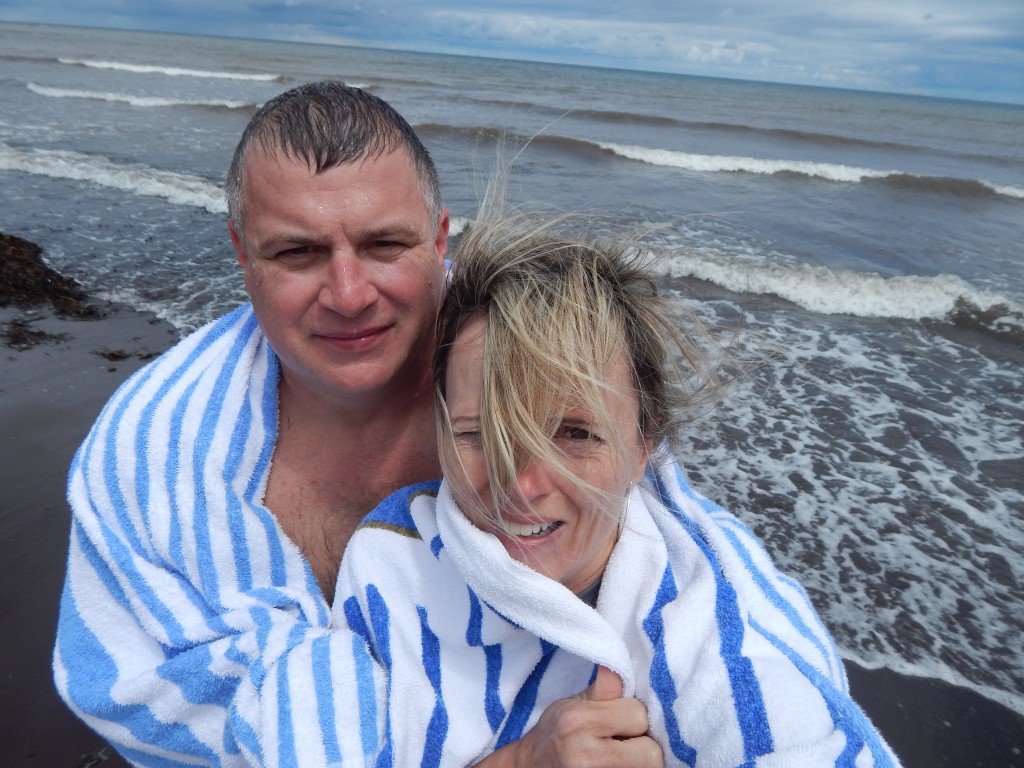 Post polar bear plunge!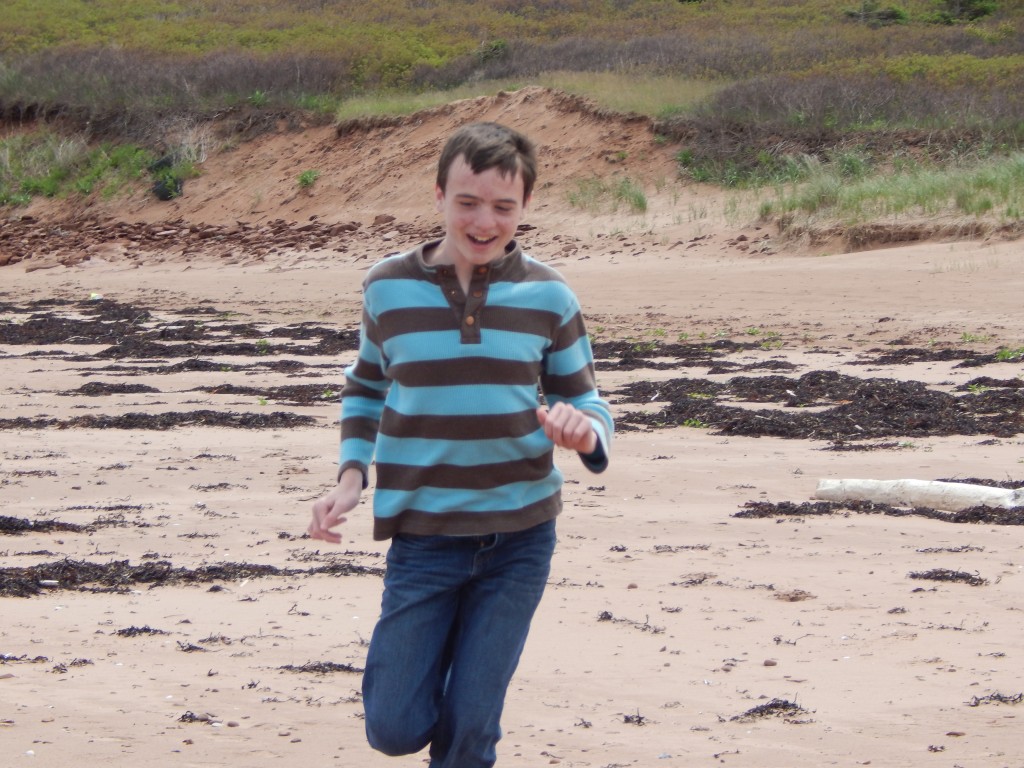 Love this picture of Bear-man!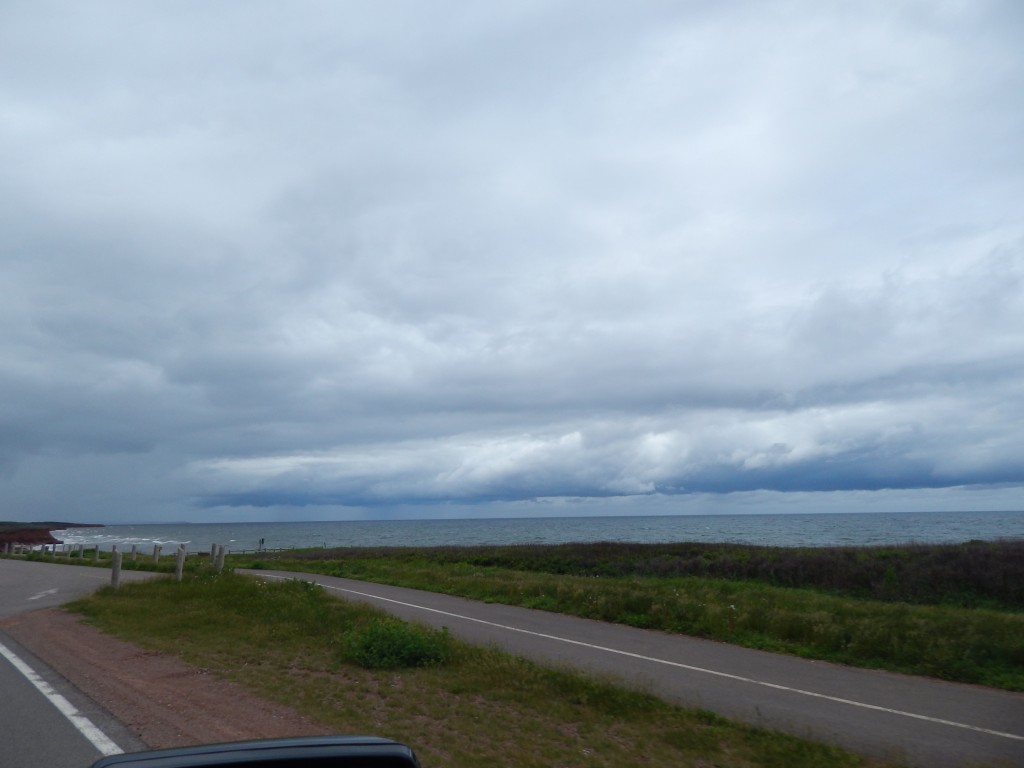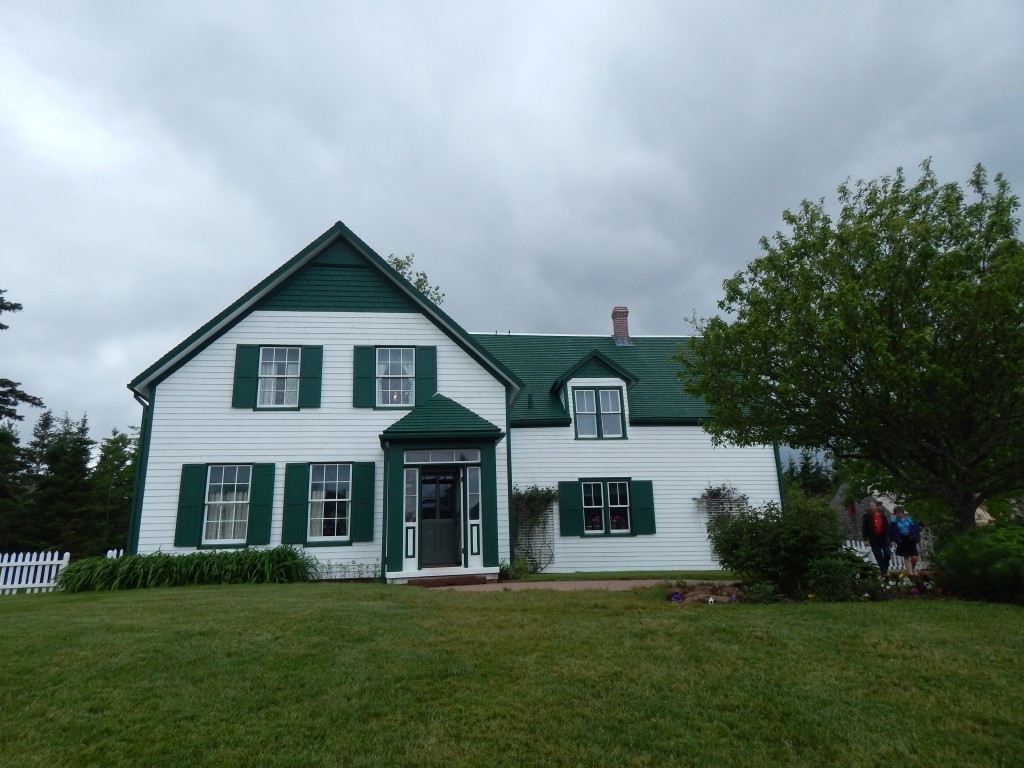 The Anne of Green Gables House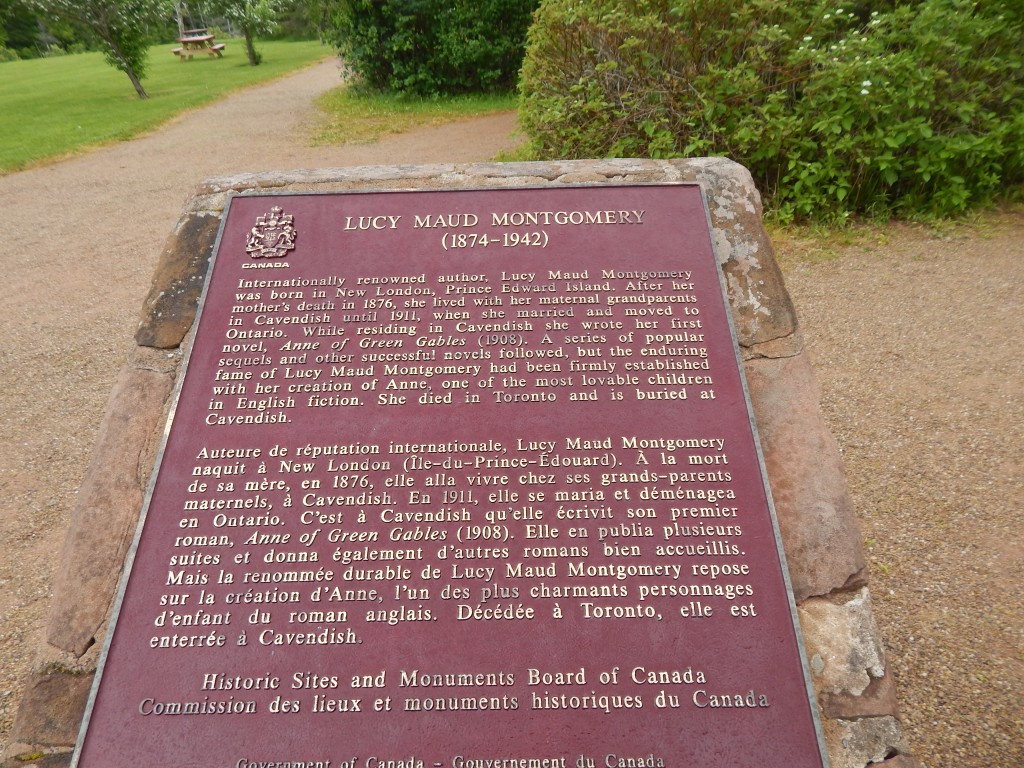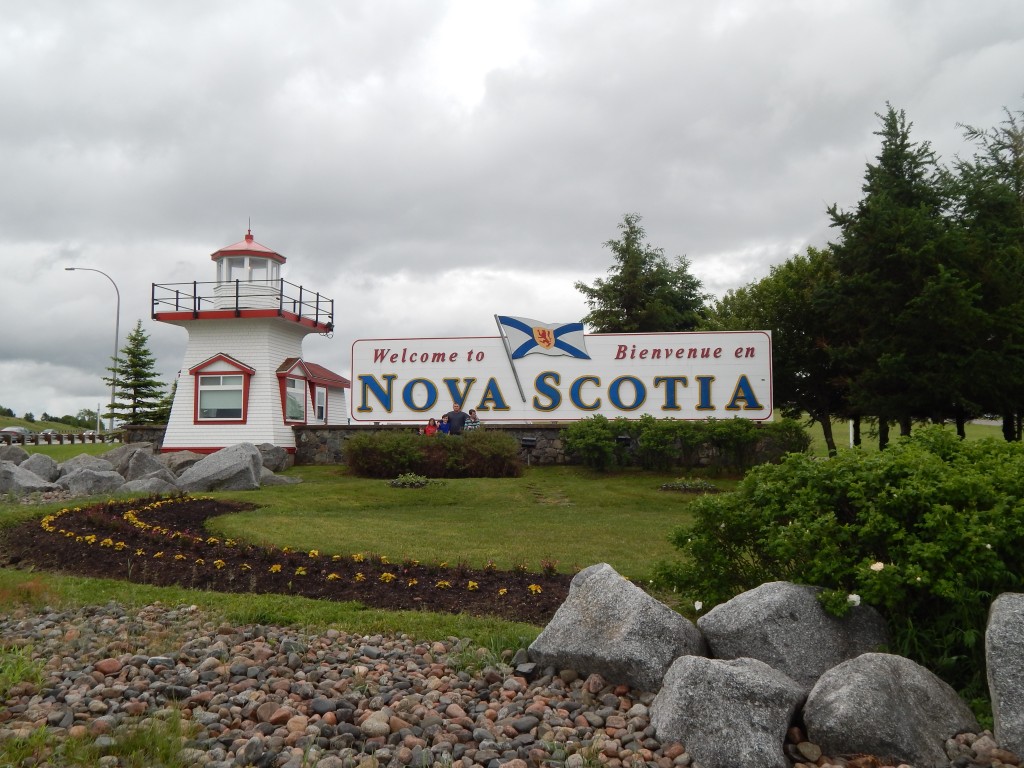 After two days, we returned to the Mother Land (and were interrogated at the border) and stayed the night in Augusta to celebrate Dad's birthday.  Unfortunately, Augusta wouldn't be my first choice to celebrate my guy – but I couldn't find rooms in Portland.  Our big night out was spent at Texas Roadhouse – yee haw!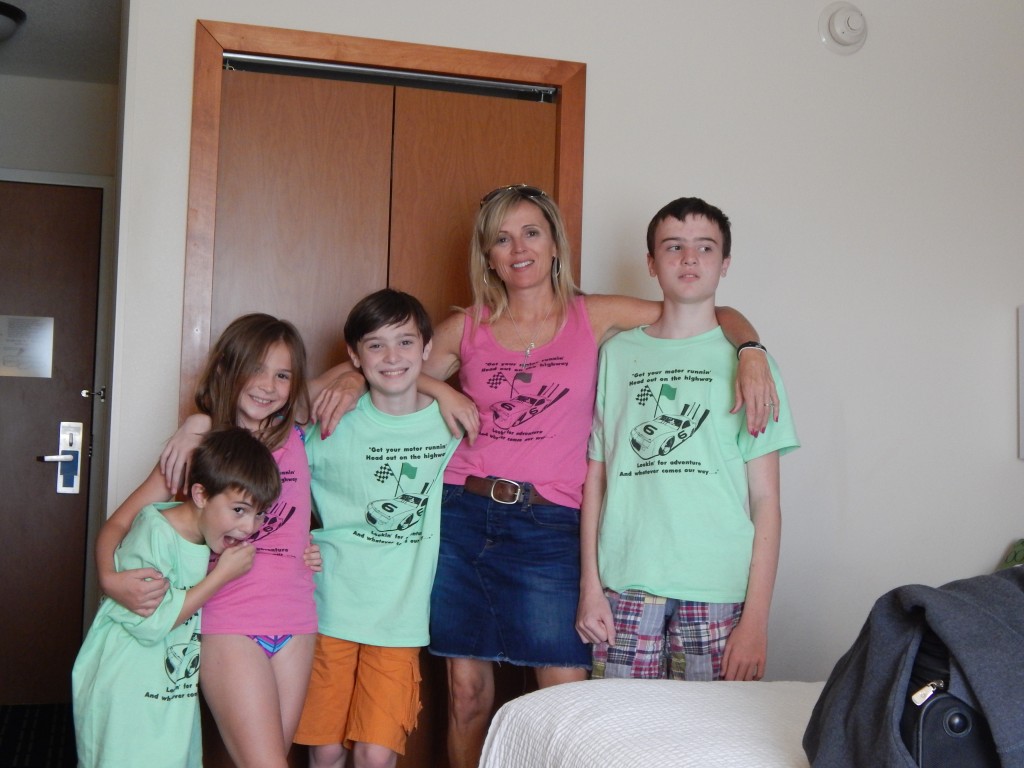 The kids and I in our road trip shirts.
The next day we had to drop Dad off at the Portland Jetport and I confess, it was really hard to let him go.  This was the longest stretch of time he's spent with us on the road, and it was nice having a wing man!  In retrospect I also feel bad that he missed some pretty awesome sites over the next couple of days.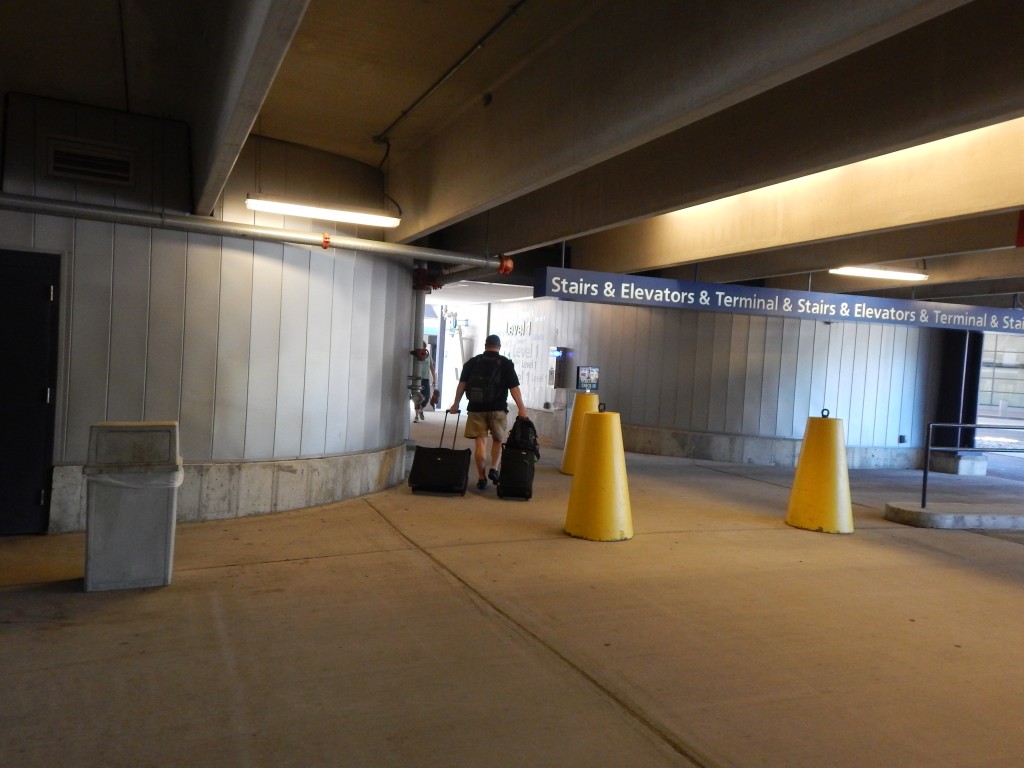 Bye-bye Daddy…
The kids and I drove on to North Conway, New Hampshire, in the White Mountains.  Oh, I heart North Conway!  What a cute little town, and the views are stunning.  We had an incredible lunch, did some fun window shopping and then wrapped it up with a lame train ride.  We stayed the night in Concord (another cute town) and had a phenomenal dinner at The Common Man – highly recommend, if you're in the area.  We also visited (actually drove by, it was a planning fail) the Franklin Pierce Manse.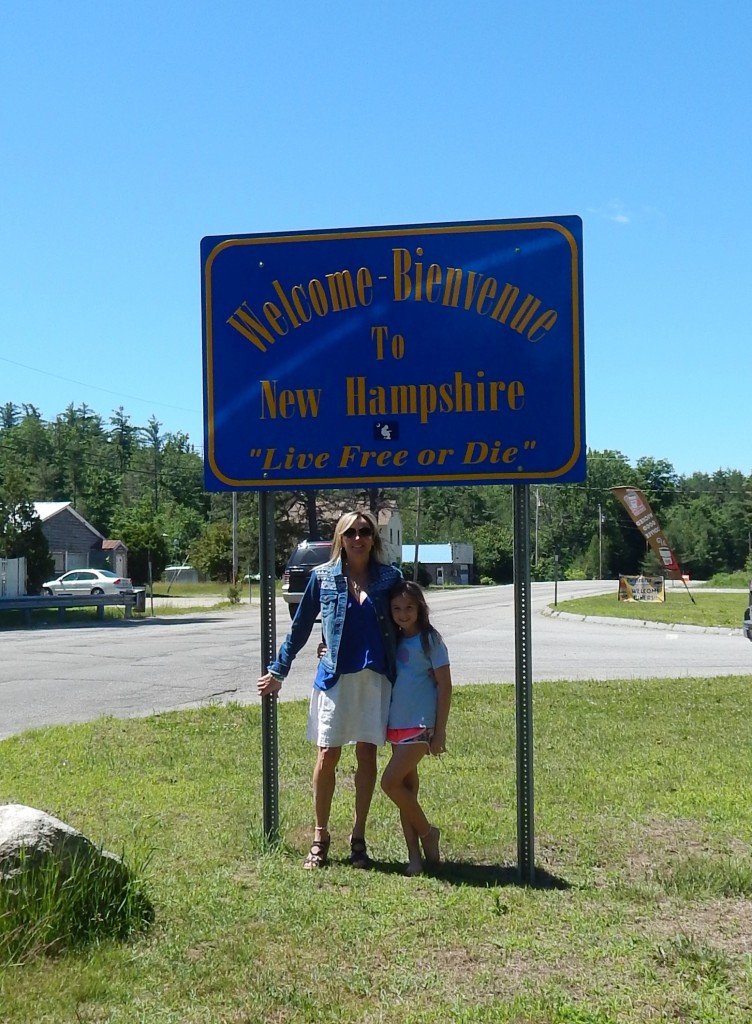 Live Free or Die – here we come!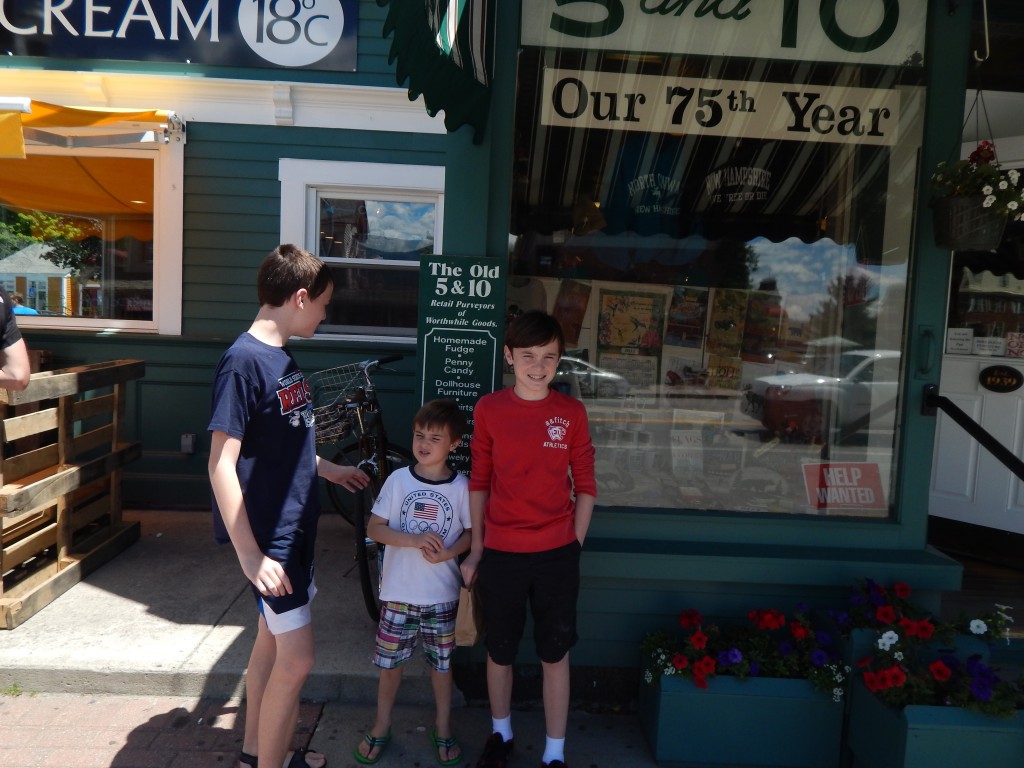 Outside the North Conway Five & Dime.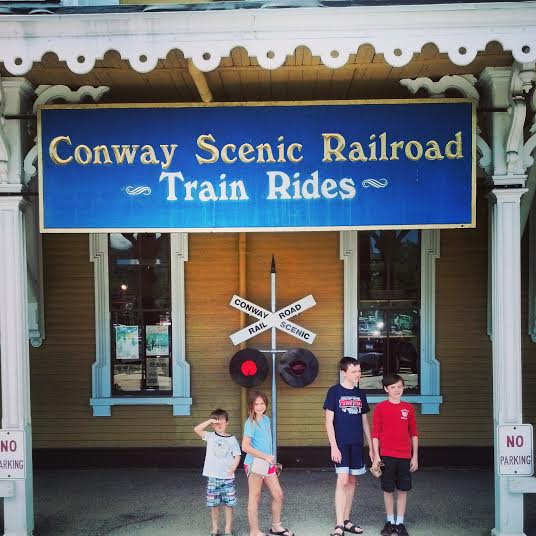 Getting ready to board the train,
Sadly, we were less than thrilled…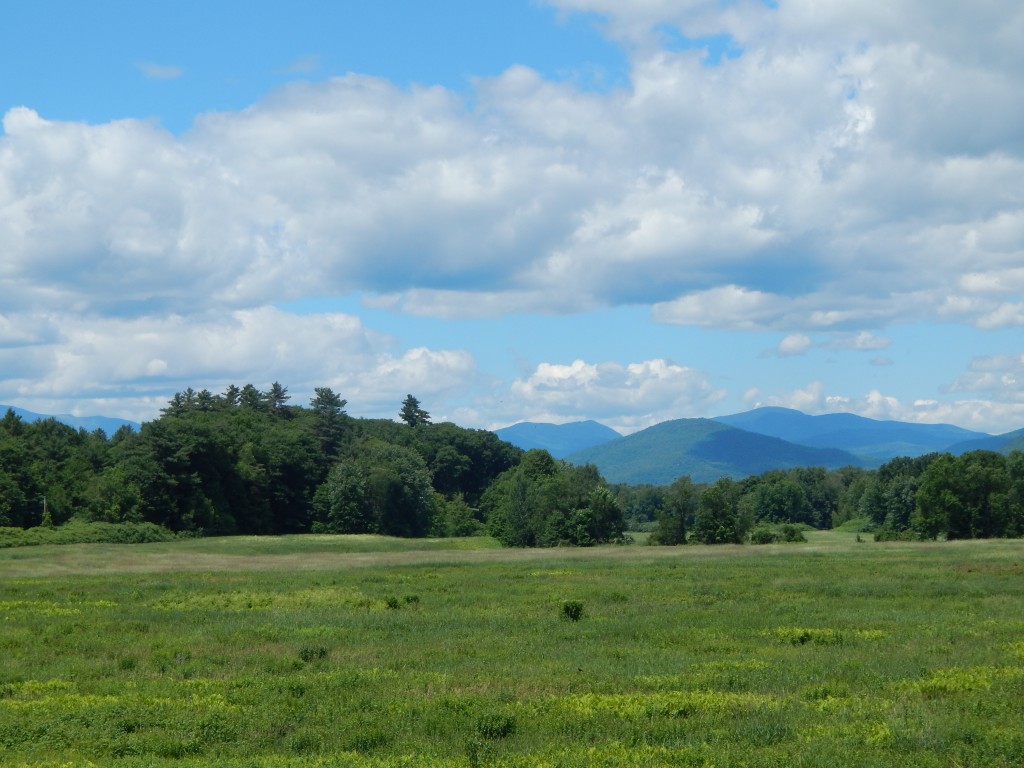 The tall peak is Mount Washington.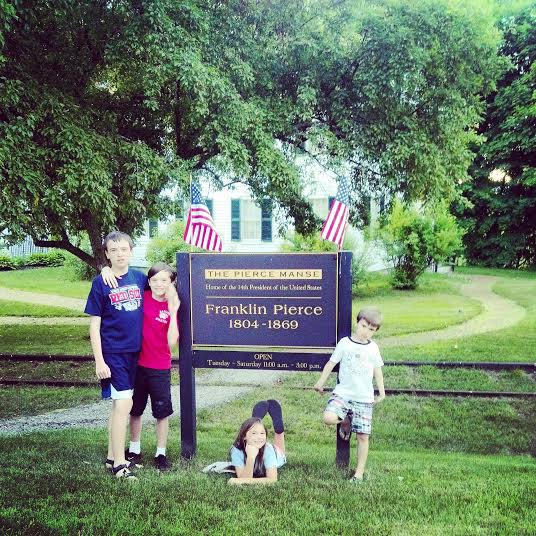 President Pierce's New Hampshire home.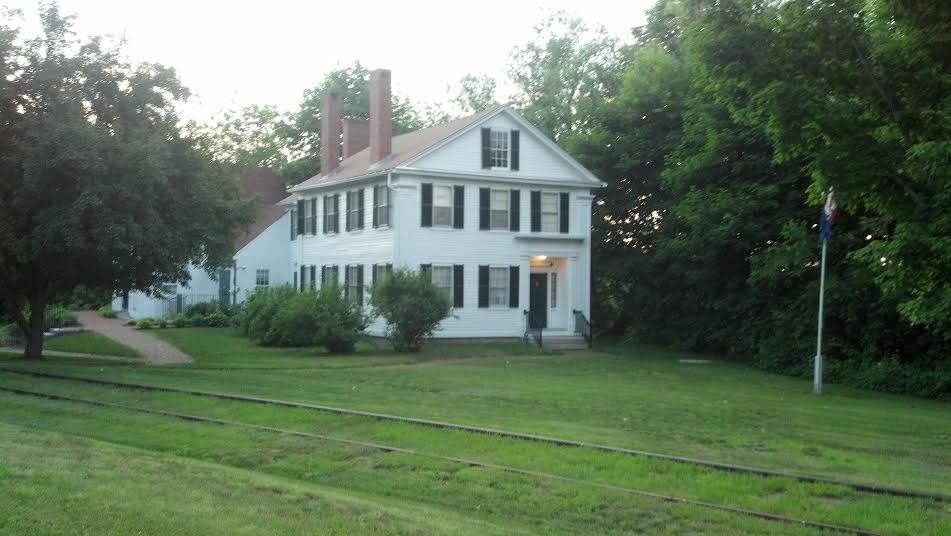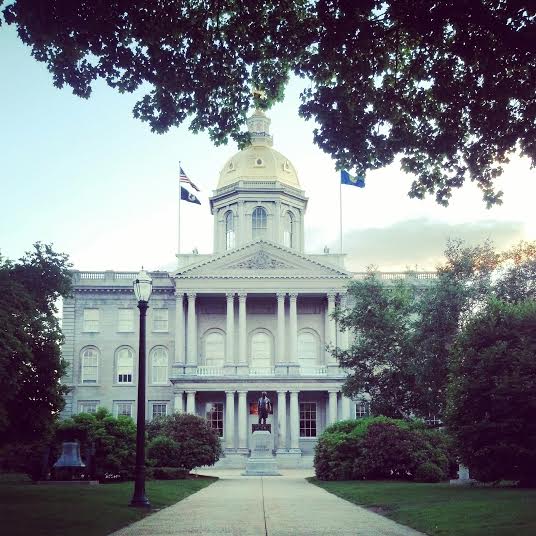 New Hampshire's Captitol Building.
After New Hampshire we moved on to my new dream hometown – Manchester, Vermont.  Oh my, this town stole my heart.  It is so beautiful and charming.  The shopping, the restaurants, the flowers!  And the air smelled so good.  Since I hadn't anticipated my enchantment, we didn't stay the night.  We did tour the Lincoln Family home, Hildene, which was pretty cool.  Then we headed north, with a pit stop at the Maple Museum, on the way to our final destination of Middlebury, Vermont.  I'm embarrassed to type this, because I know you're either rolling your eyes or gagging, but it too is an adorable little town.  What is it about New Hampshire and Vermont?  To quote my friend Paula, "God's Country."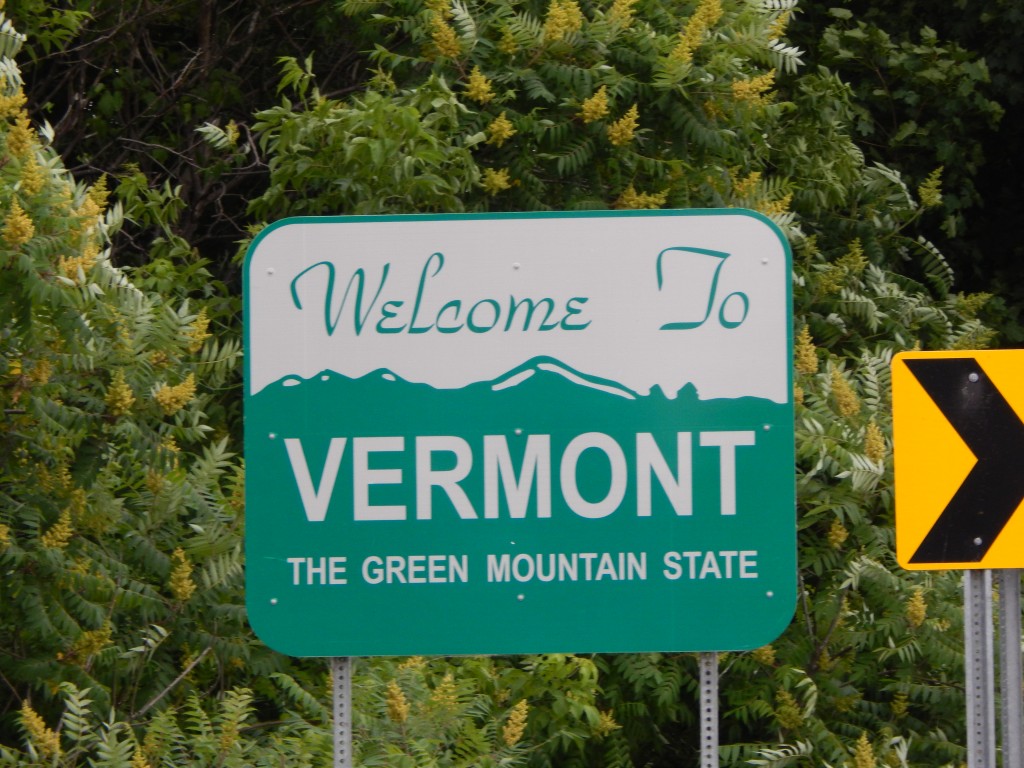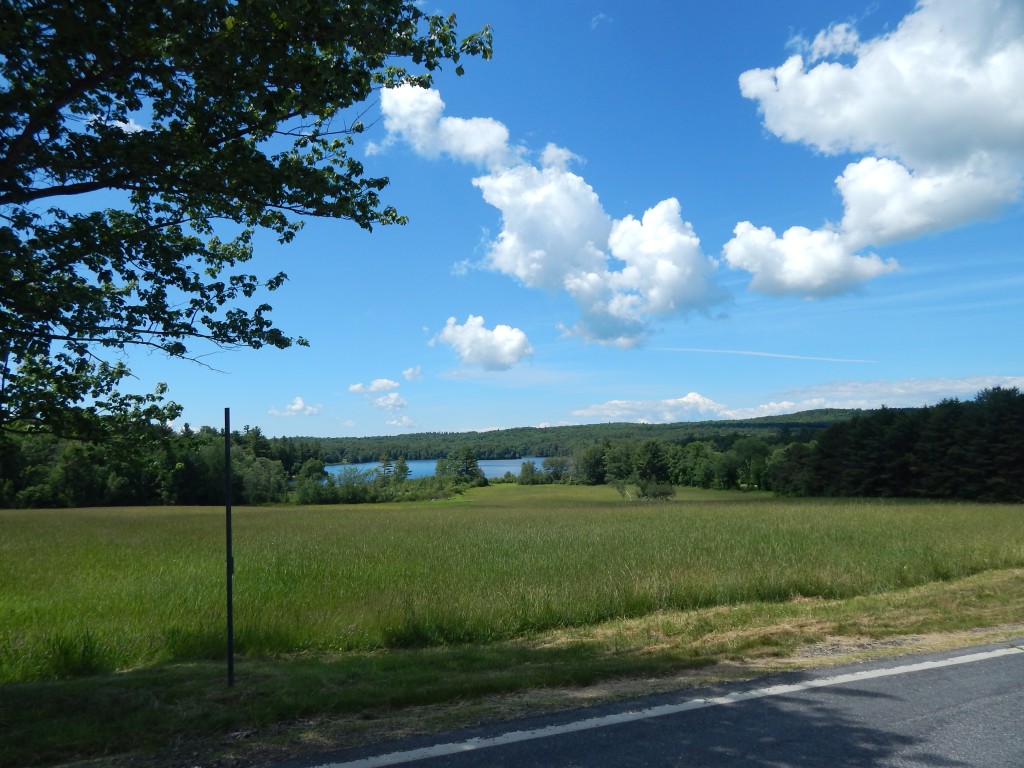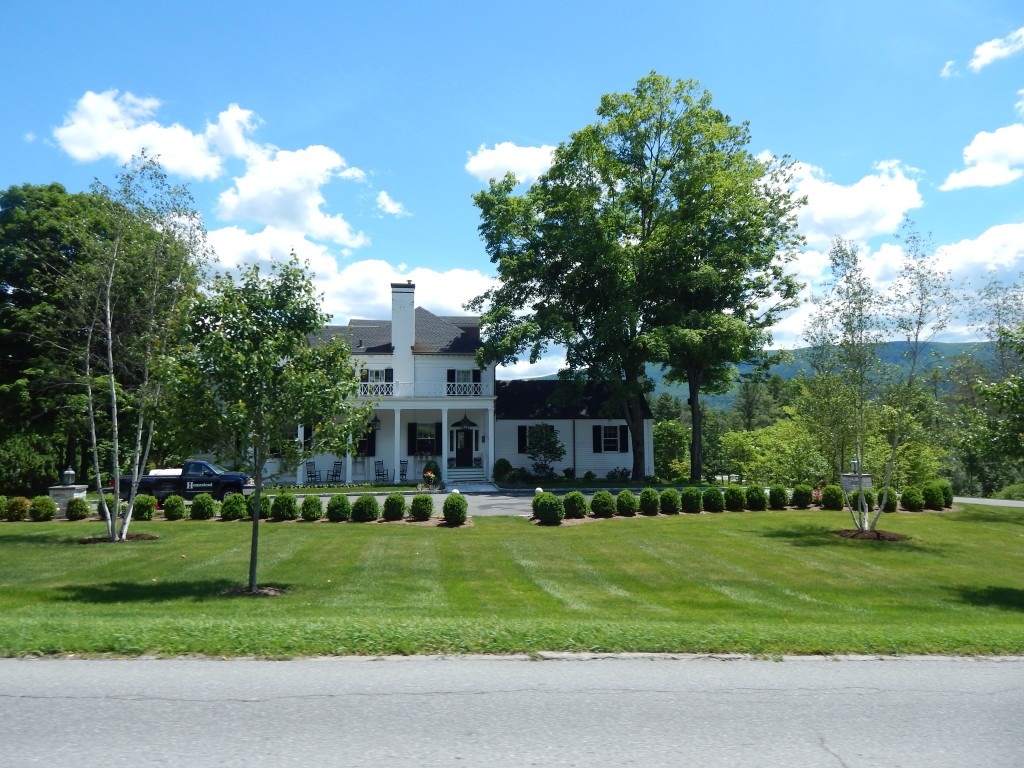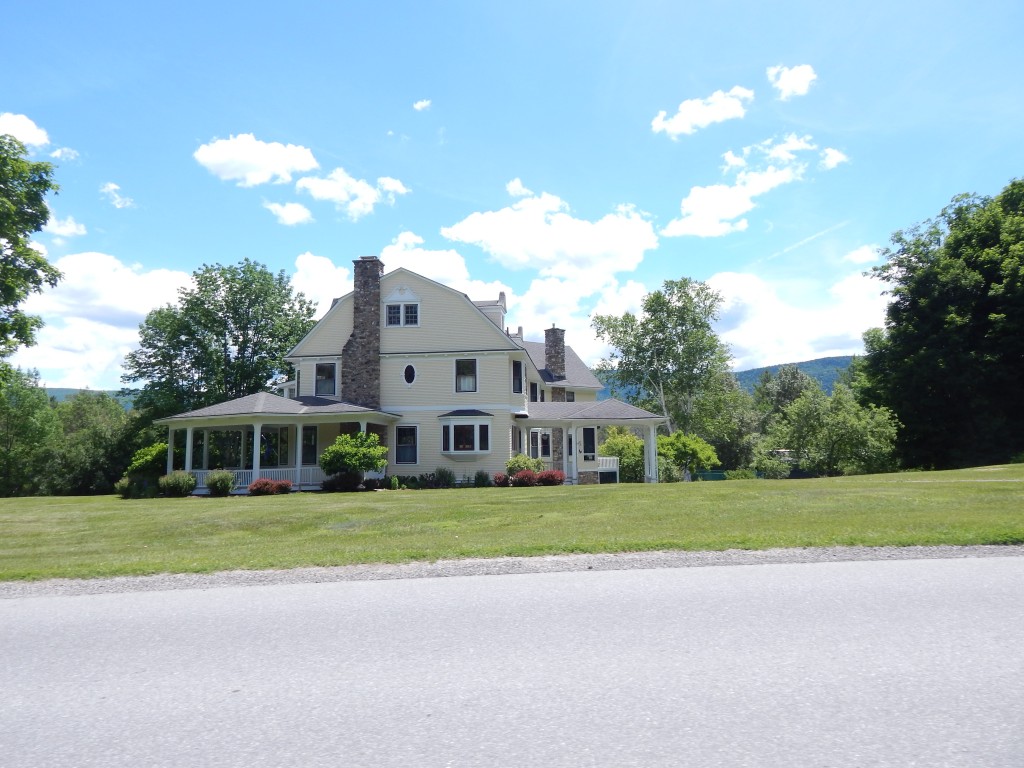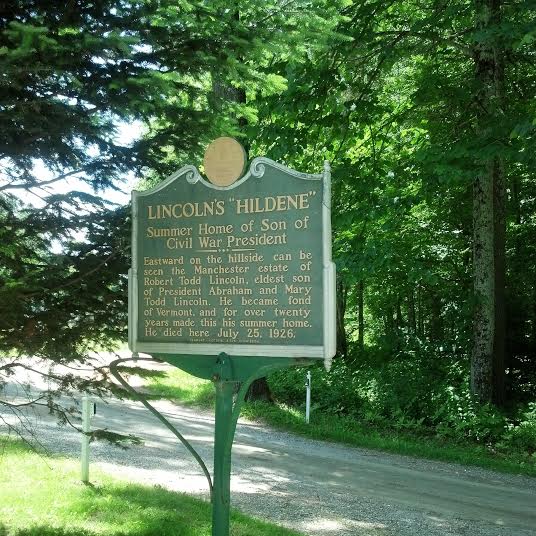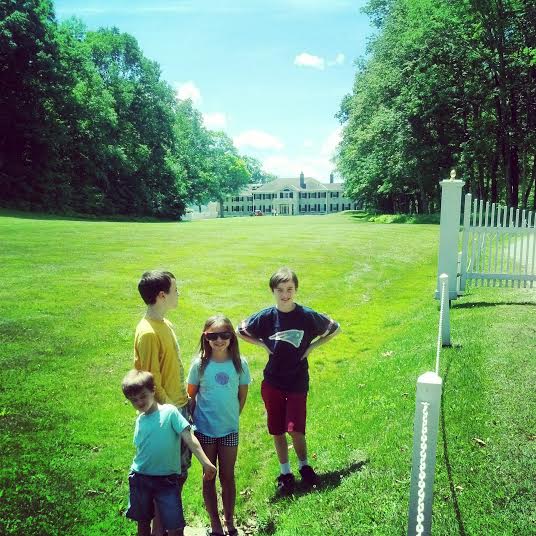 The kids in front of Robert Todd Lincoln's home.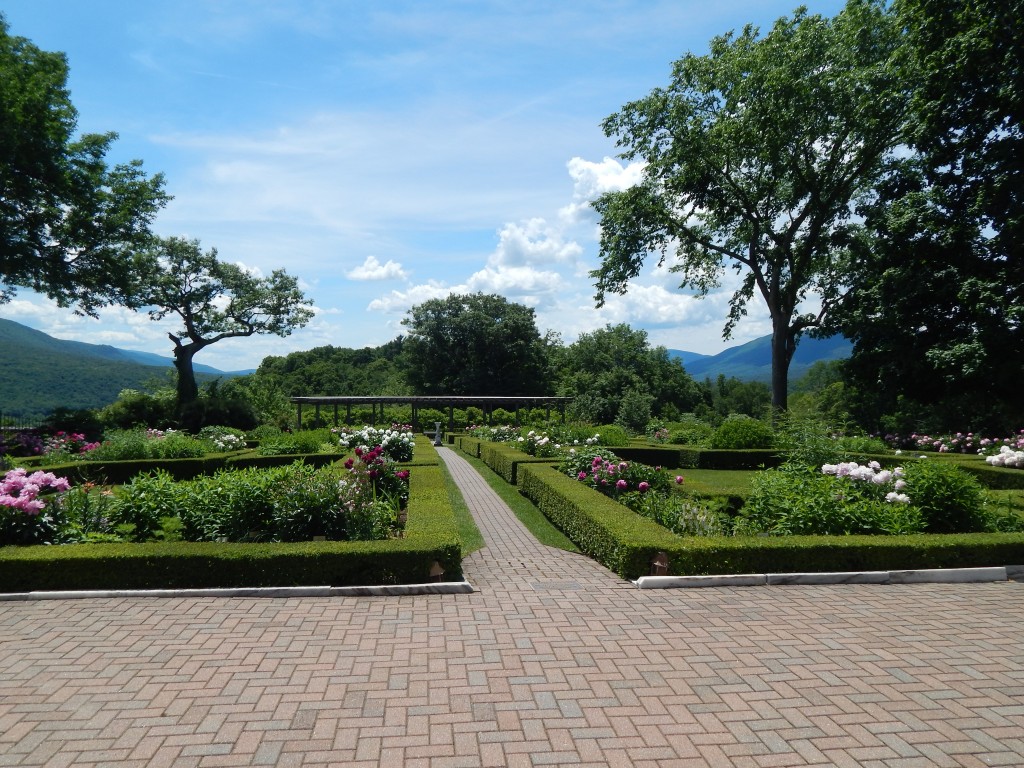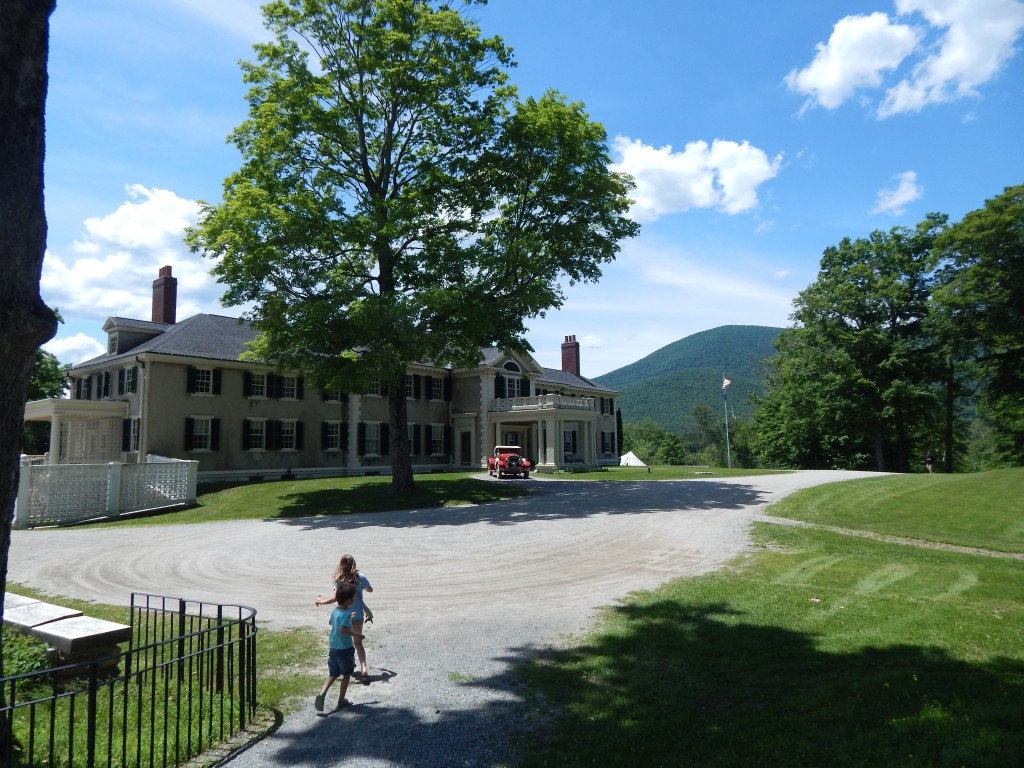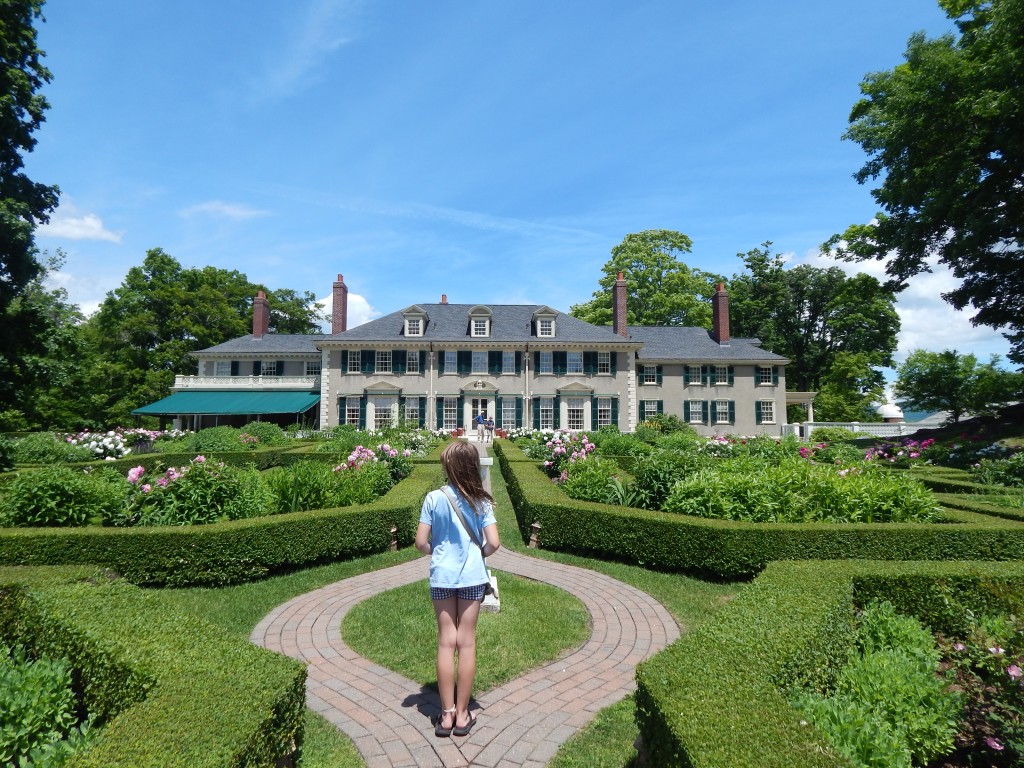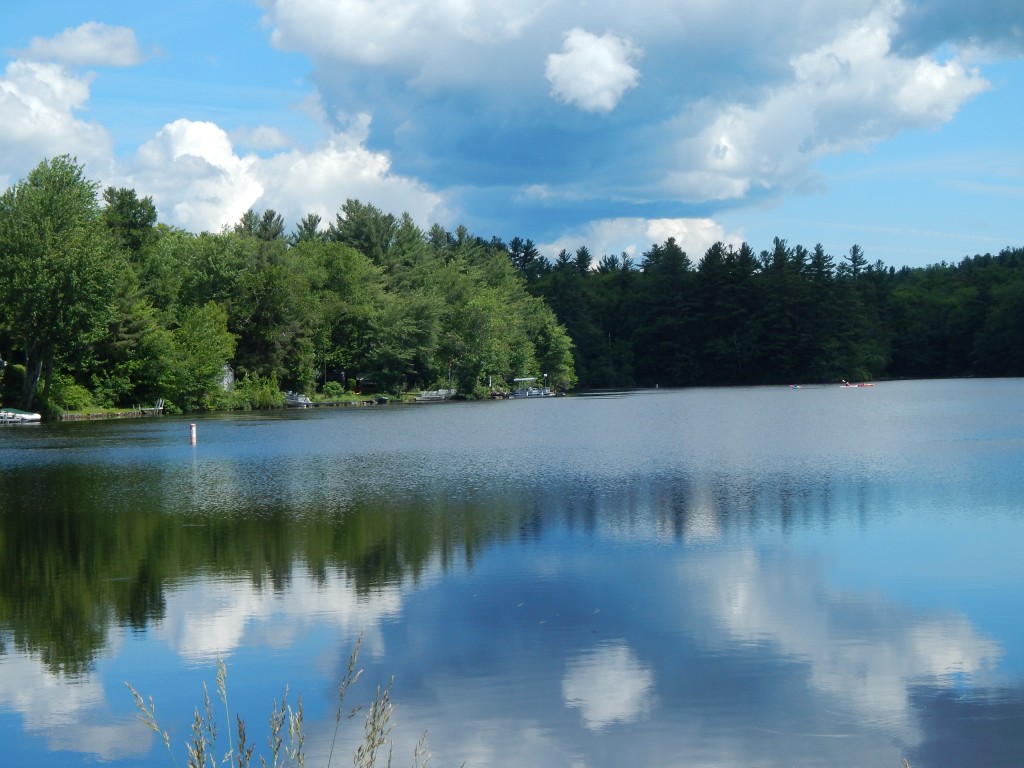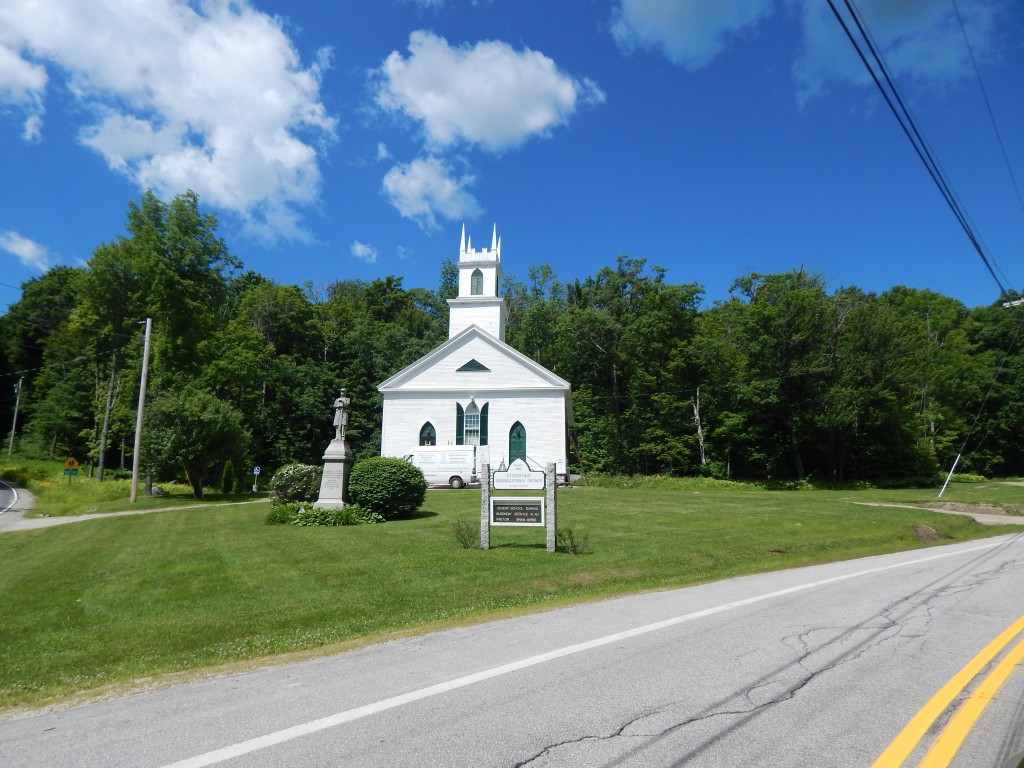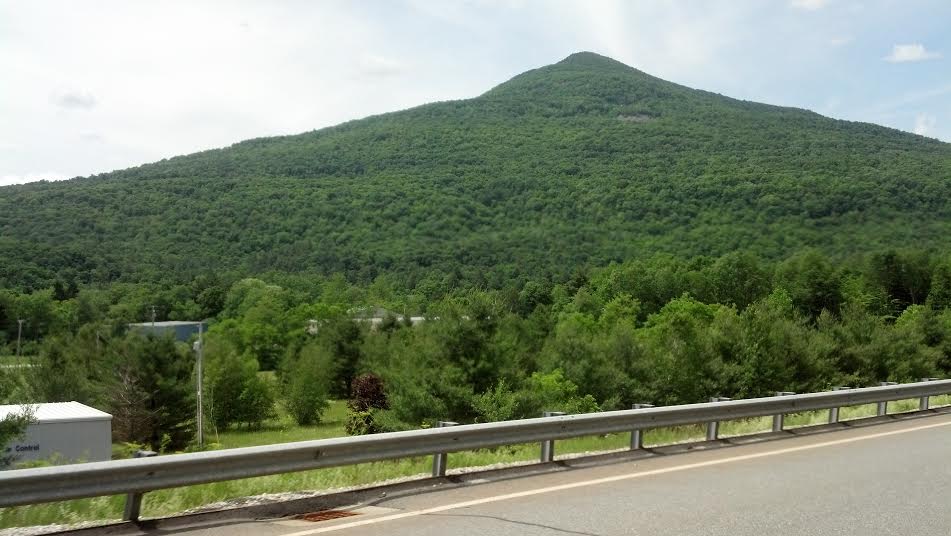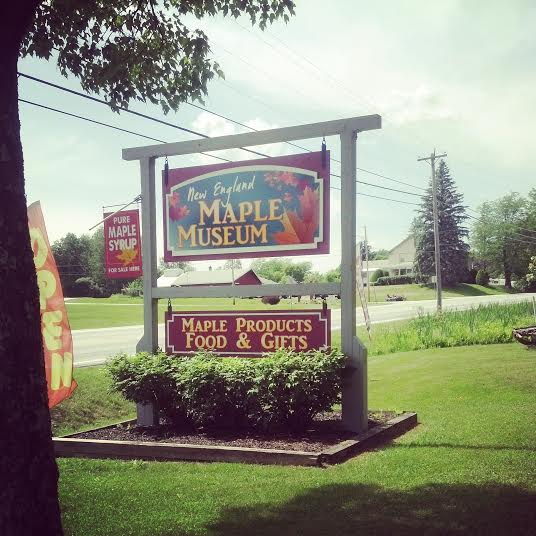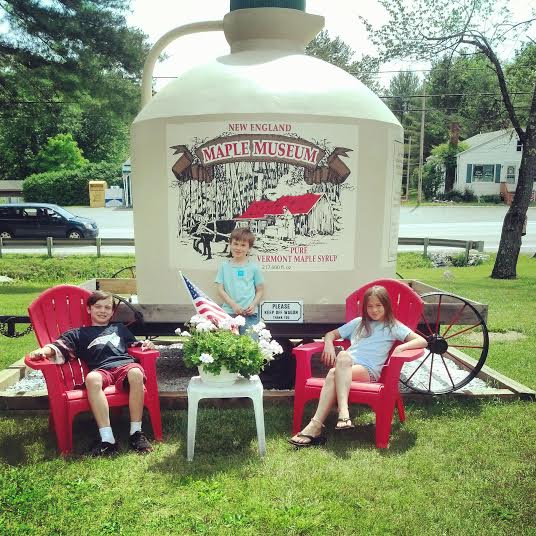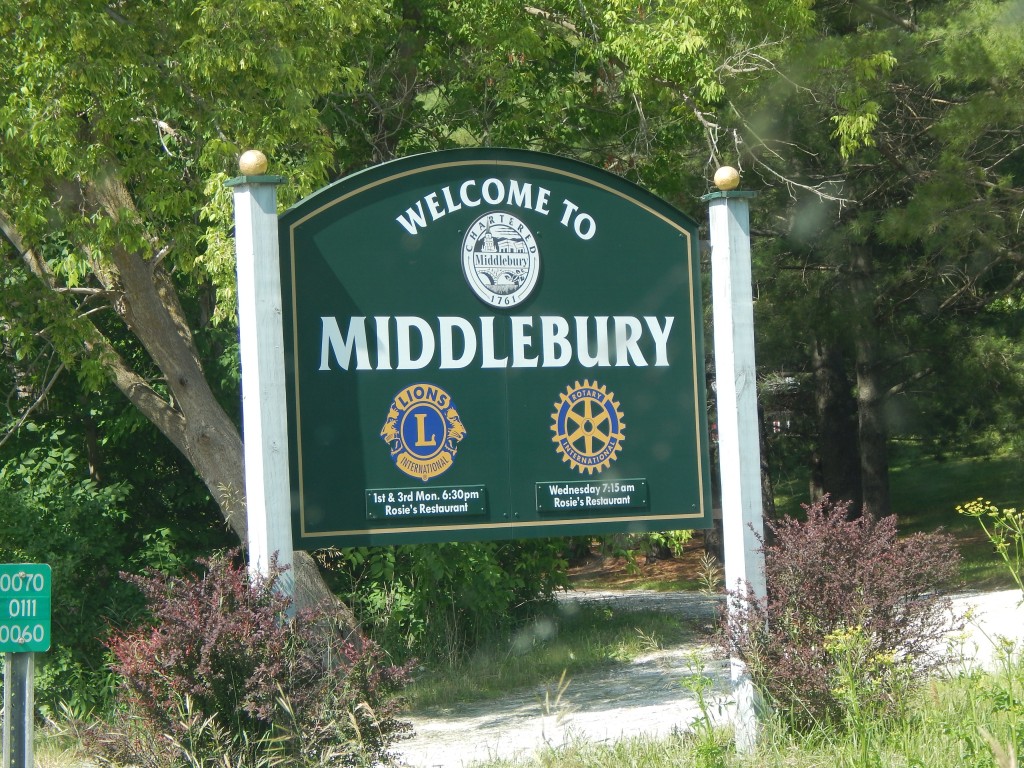 I didn't want to cross Lake Champlain the next morning, but we had a schedule to stick too.  It was a dreary day, so that made leaving a little easier.  We were not greeted with blue skies in the Empire State, either.
I just loved this!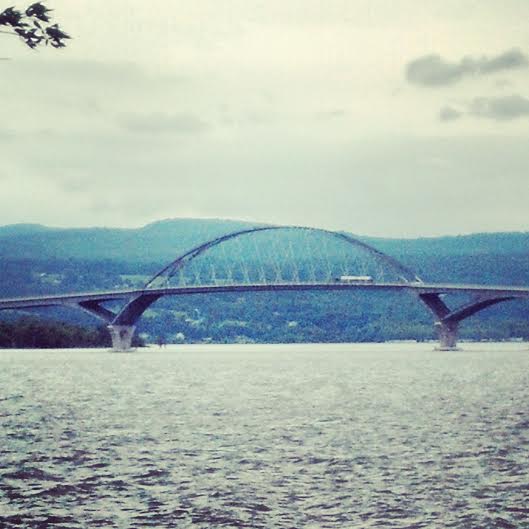 The bridge over Lake Champlain, connecting Vermont to New York.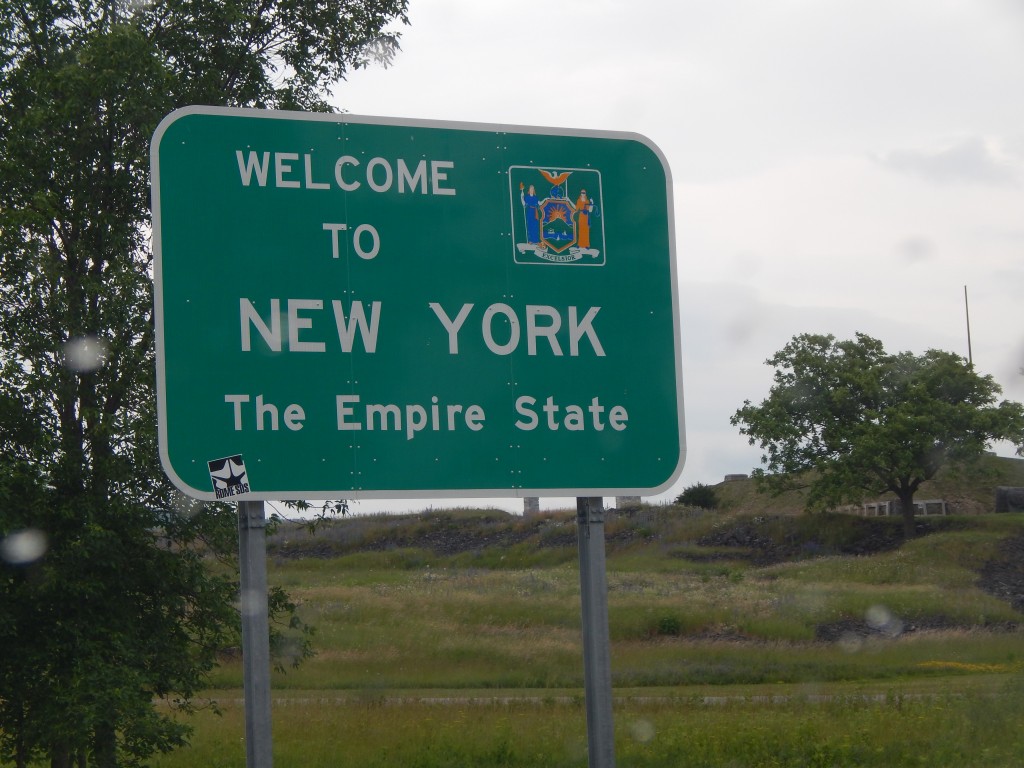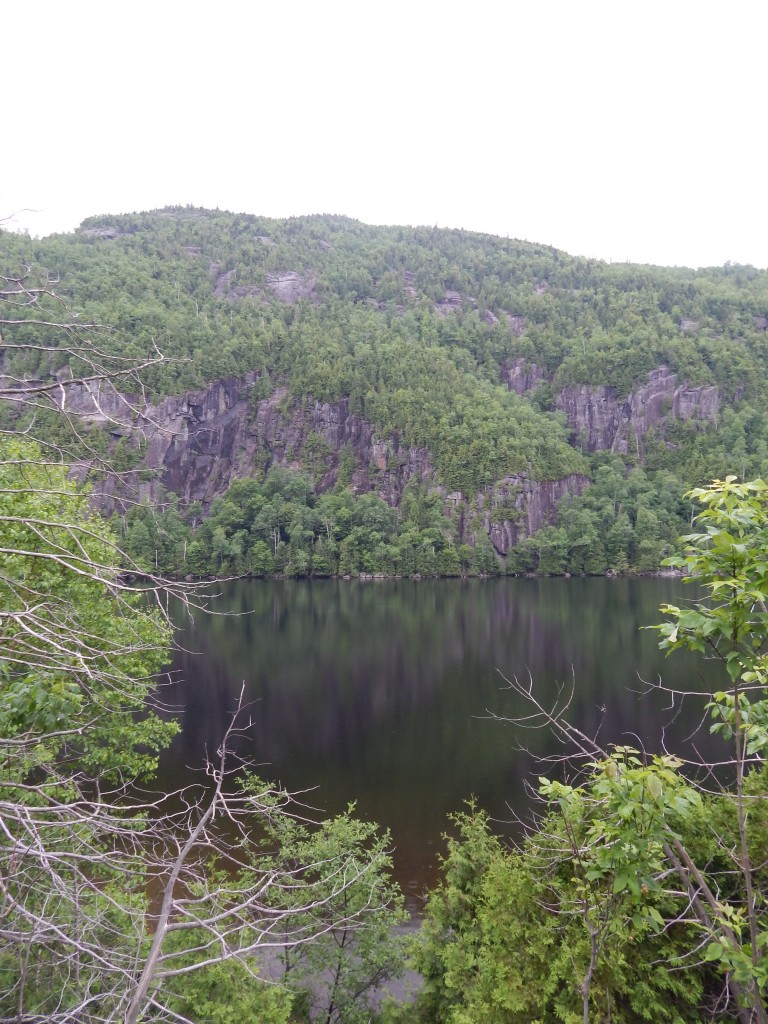 A lake in the Adirondacks.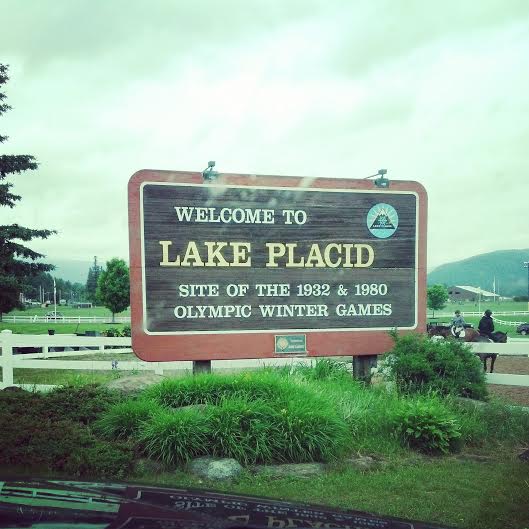 On first impression, I wasn't impressed with Lake Placid.  It appeared to me that the city's glory days were long gone.  We did the Olympic things, which were fun, and then we eventually came upon Main Street – which was like finding Shangri-La!  New England does not have a monopoly on cute towns or main streets!  If I could have found a parking spot, I think I would have succumbed to the retail gods of the cute venue.  Lucky for my bank account, most shops were closed when we returned for dinner – except for the book store.  Halleluiah, Halleluiah.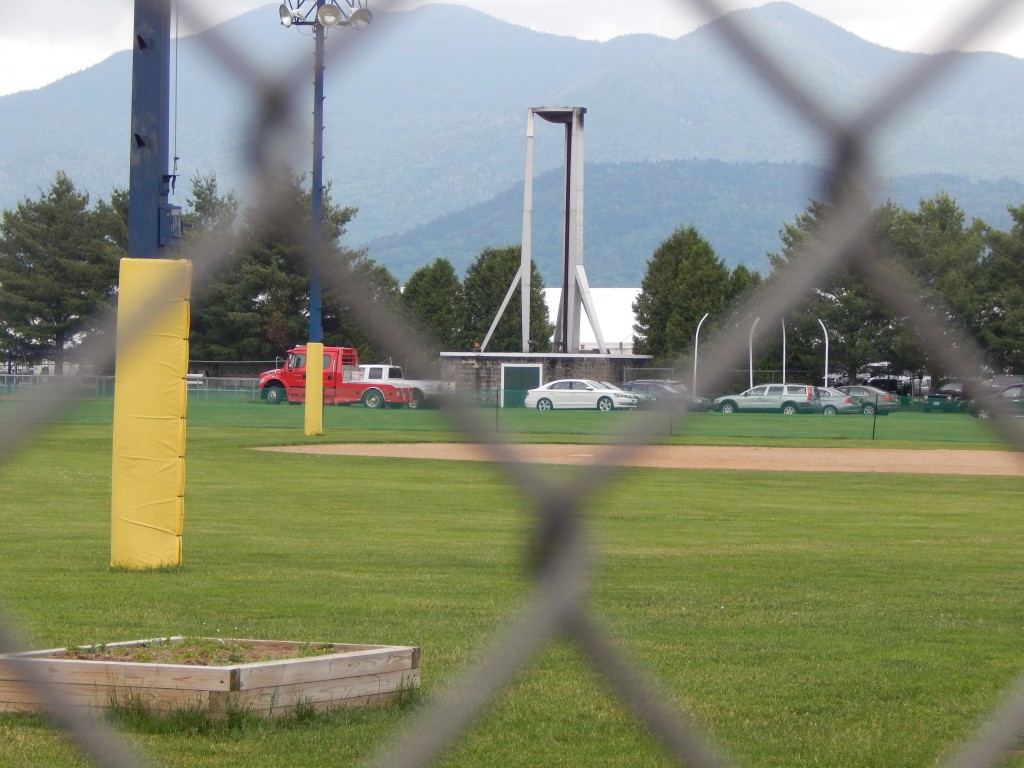 The Olympic Caldron.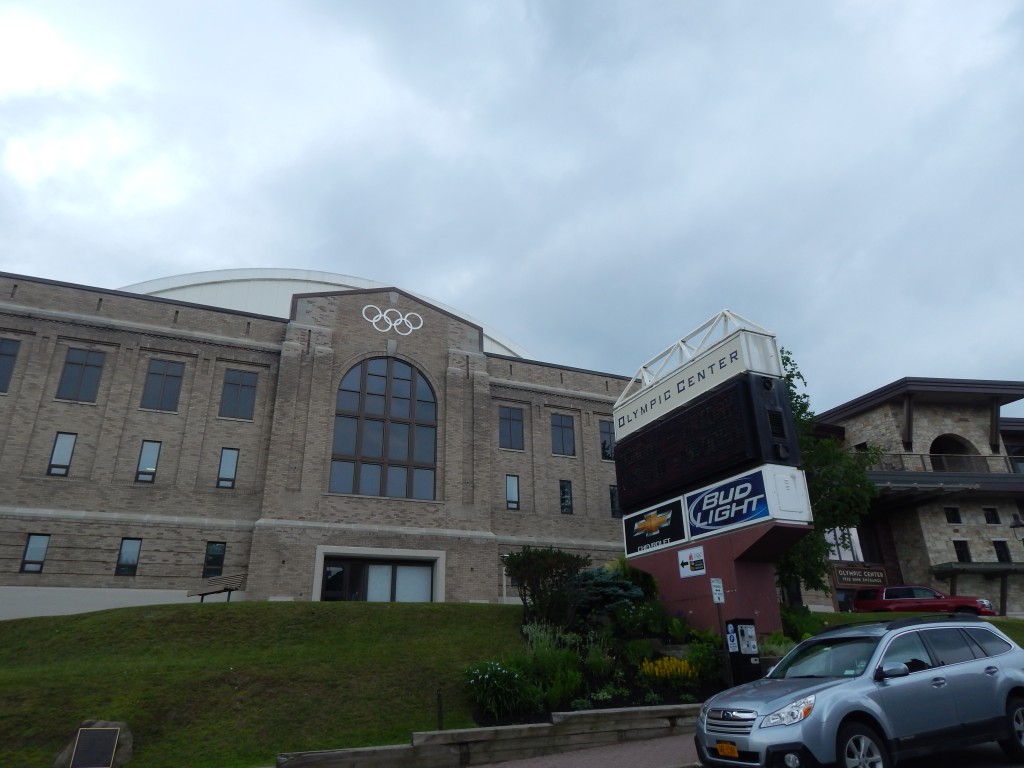 The Olympic Arena.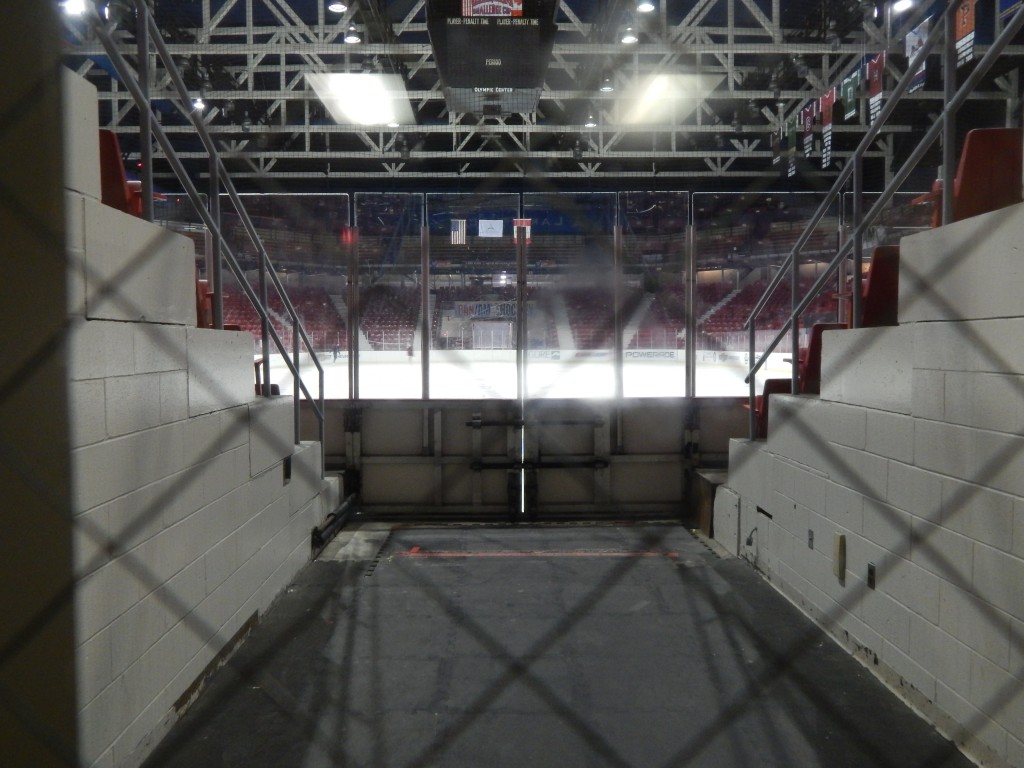 The ice!!!!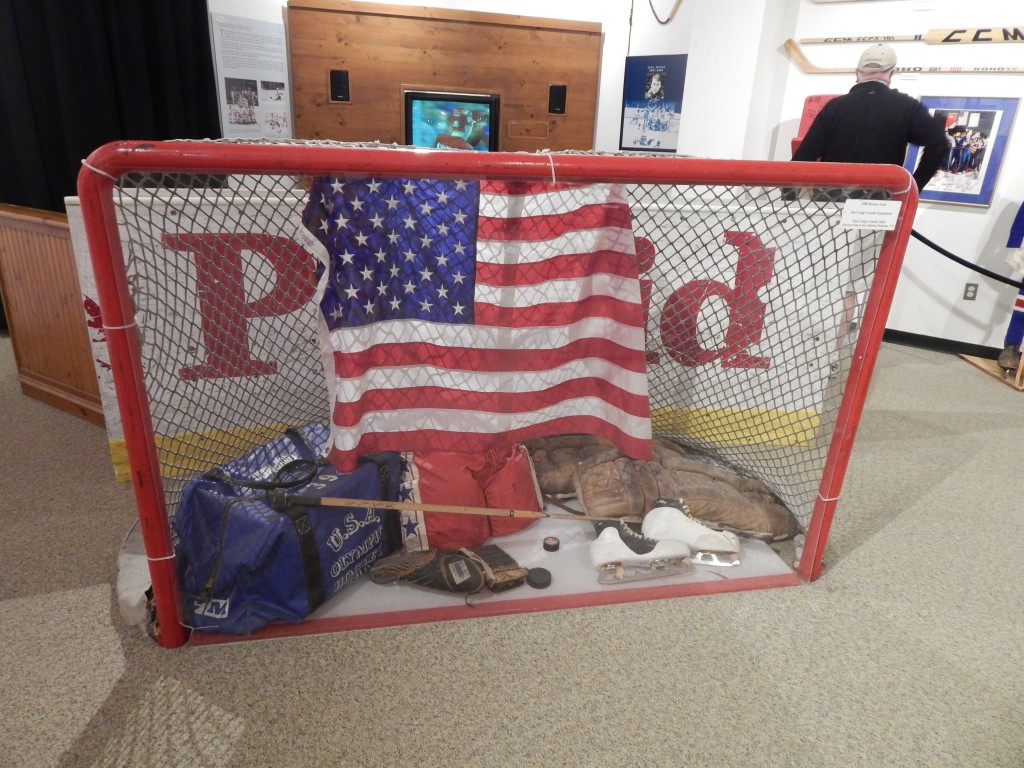 Jim Craig's Hockey Gear.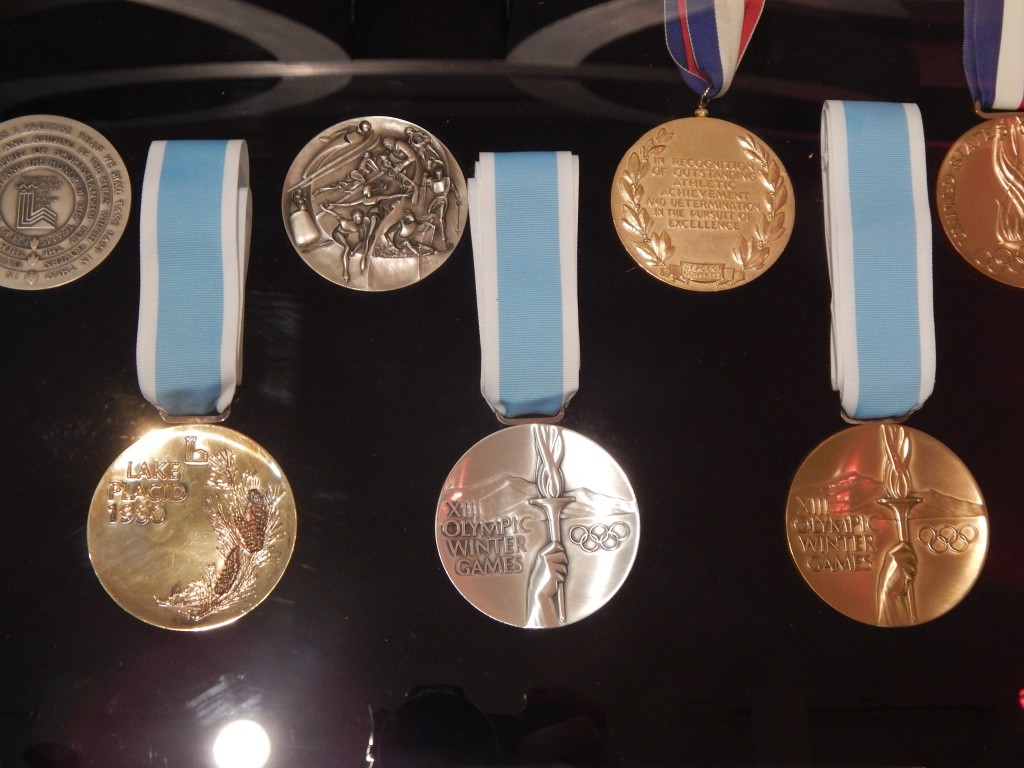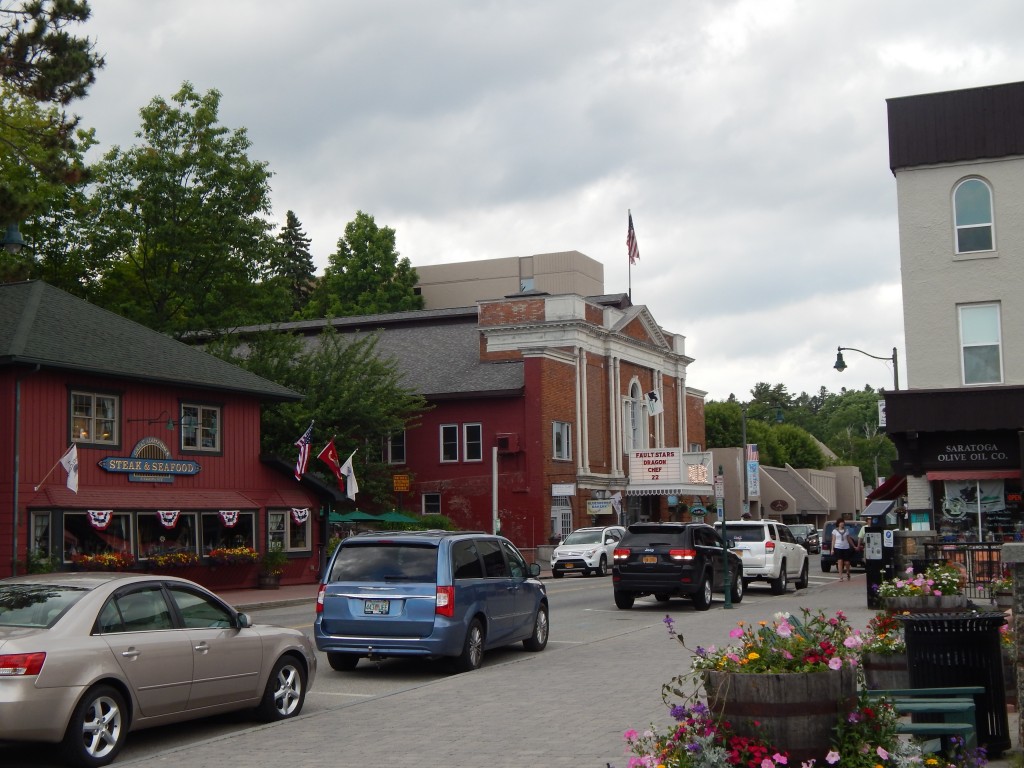 Main Street in Lake Placid.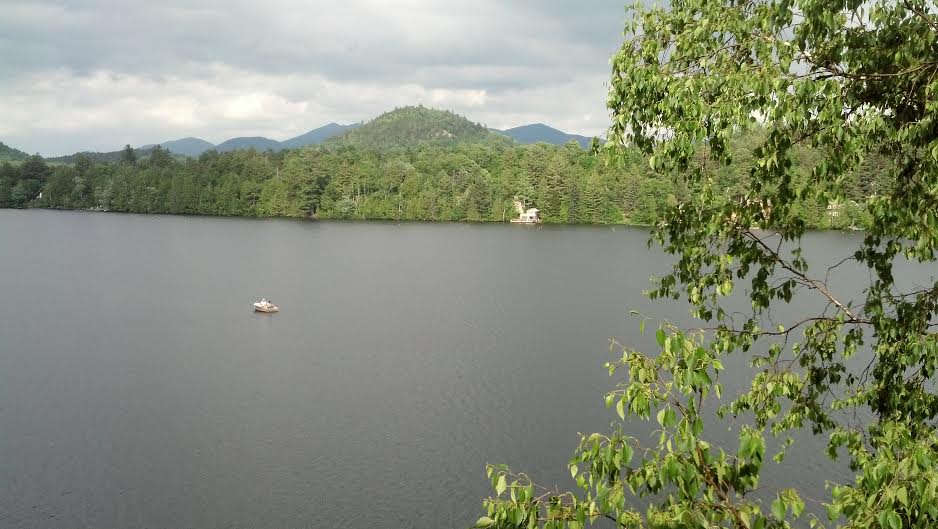 Mirror Lake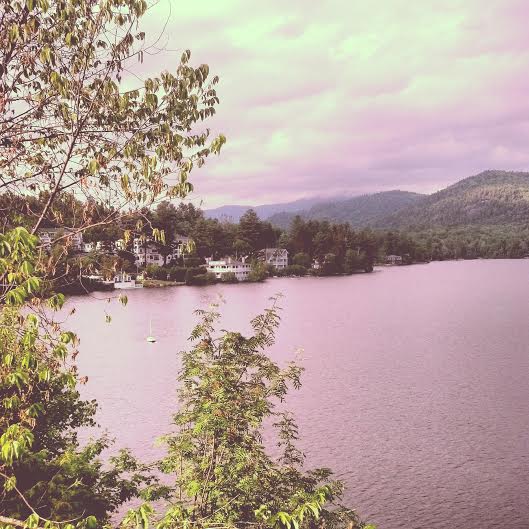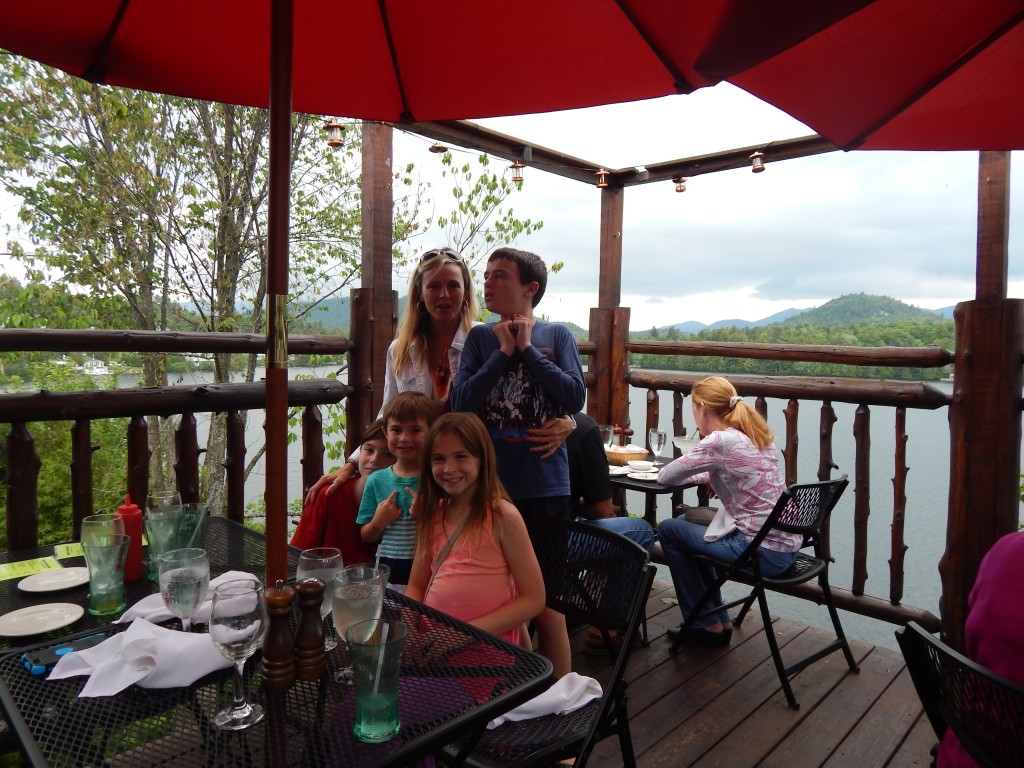 Dinner on Mirror Lake.
The next morning we gingerly drove down and out of the Adirondacks in the pouring rain, to visit Lake George.  Lake George isn't very inviting during a downpour.  We explored Fort William Henry, and to my surprise – the kids loved it.  I guess you just never know.  I'm sure the artillery demonstrations helped.  We were going to play mini golf, but Mother Nature interfered – and let me tell you, the kids made me suffer for that!  They just wouldn't let it go.  Eventually, after we got home, I had to take them mini-golfing at a Pirates Cove in Georgia (40 miles from our home) to get them to drop the topic.  Lesson learned, don't ever make promises you can't keep!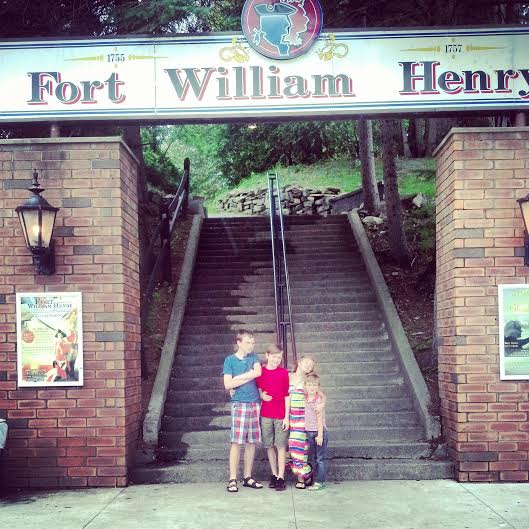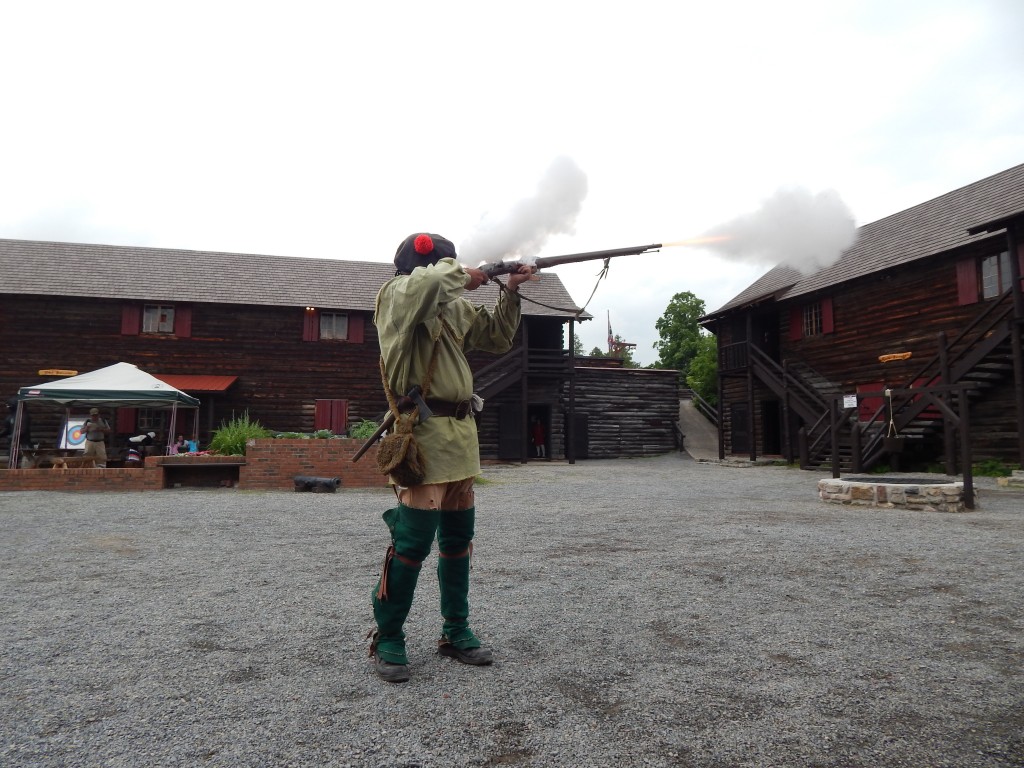 Artillery Demo.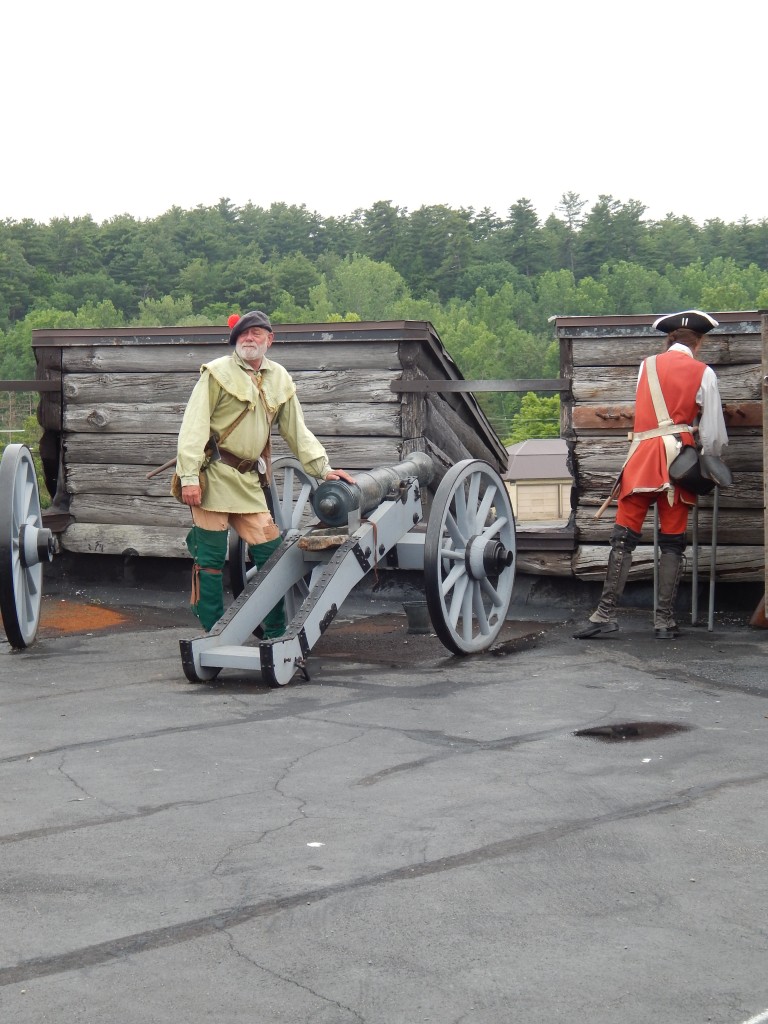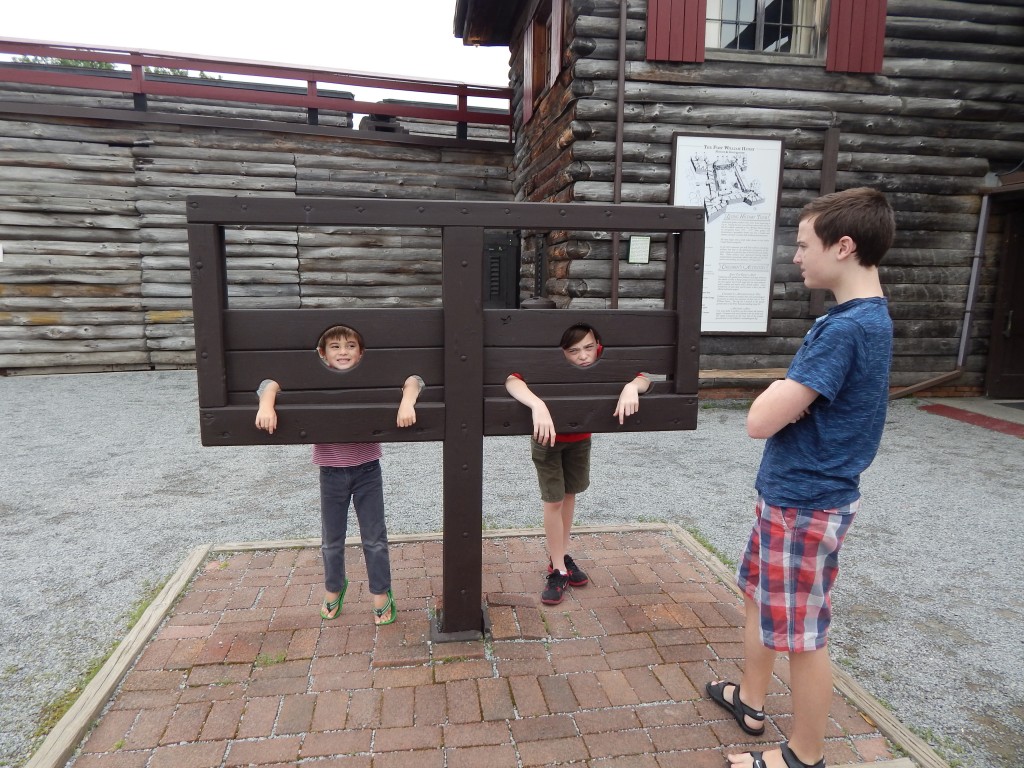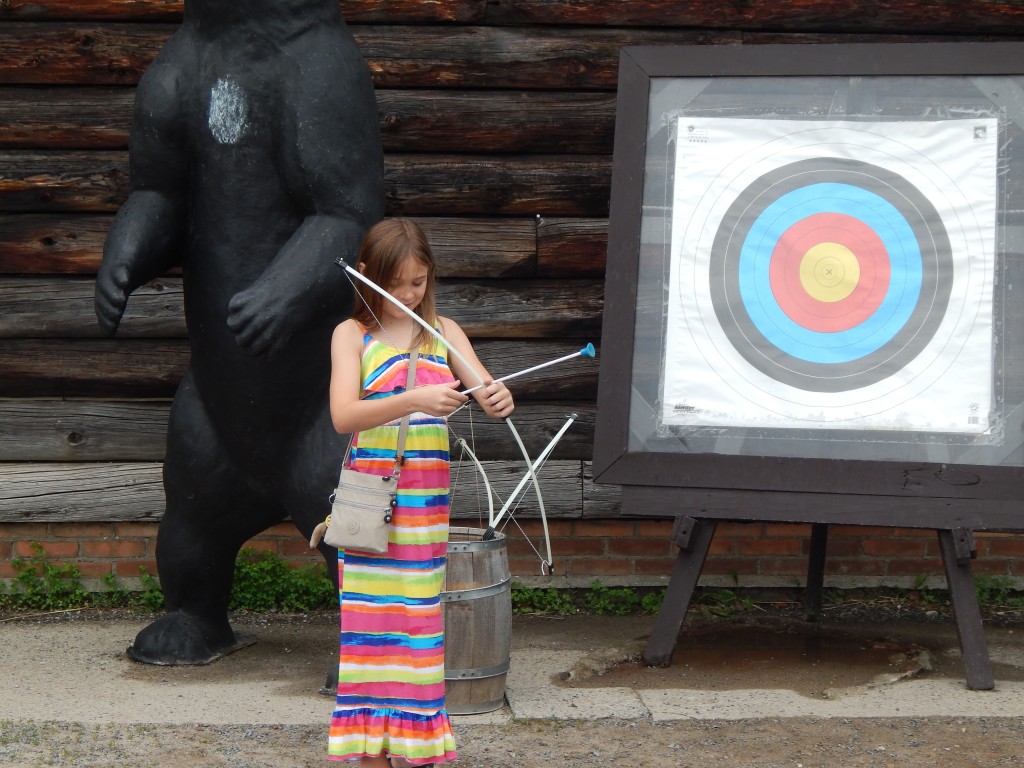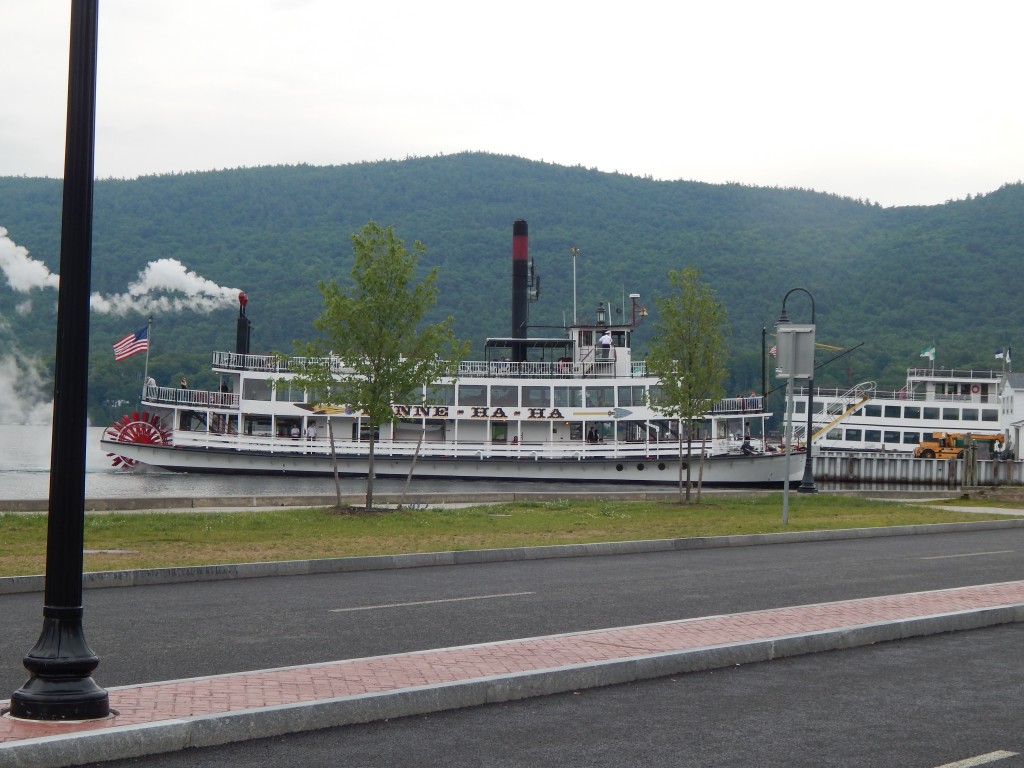 Lake George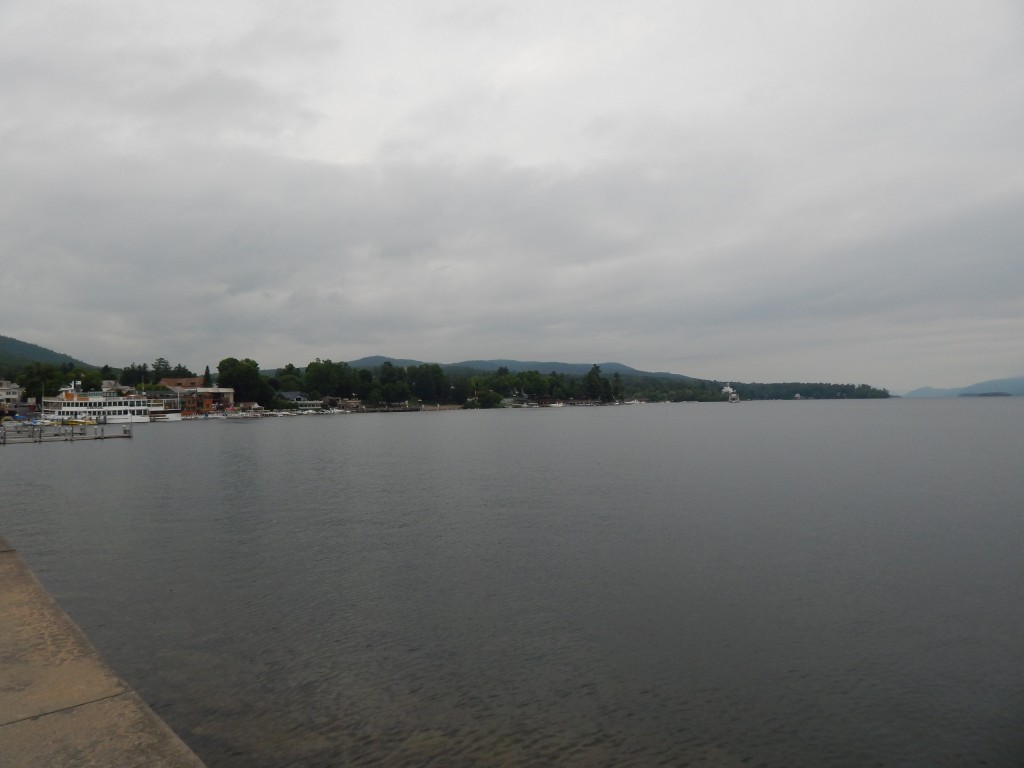 Dreary day:(. 
So we bailed on Lake George, and hoped for sunny skies a little farther south, in Saratoga Springs.  It was clear, for a little while.  We literally wasted our time at the National Museum of Dance (snoozzzzzze) and by the time we got out of there, it was raining again.  It was really sad, because Main Street in Saratoga Springs looked really cool – but not in the rain.  We could've checked into our hotel and laid around all afternoon, but I made an on-the-fly decision to go to Cooperstown (which was on the docket for the following day).  If we knocked that out and found a hotel close by, we'd really cut down on our travel time for the next day.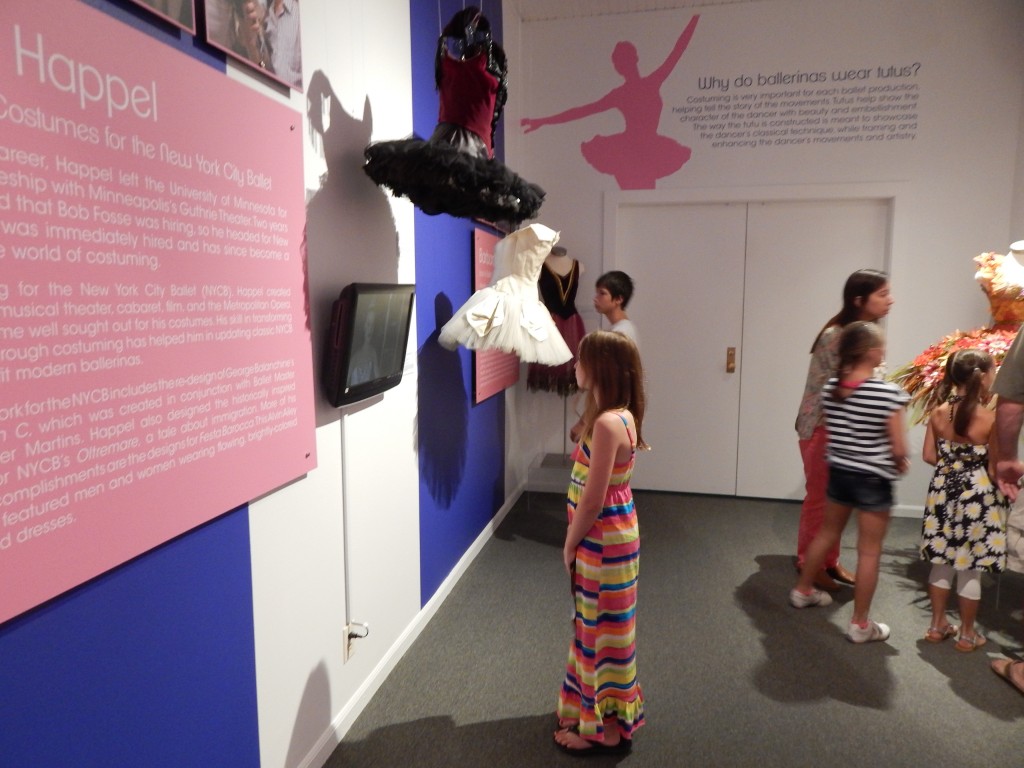 At the dance museum.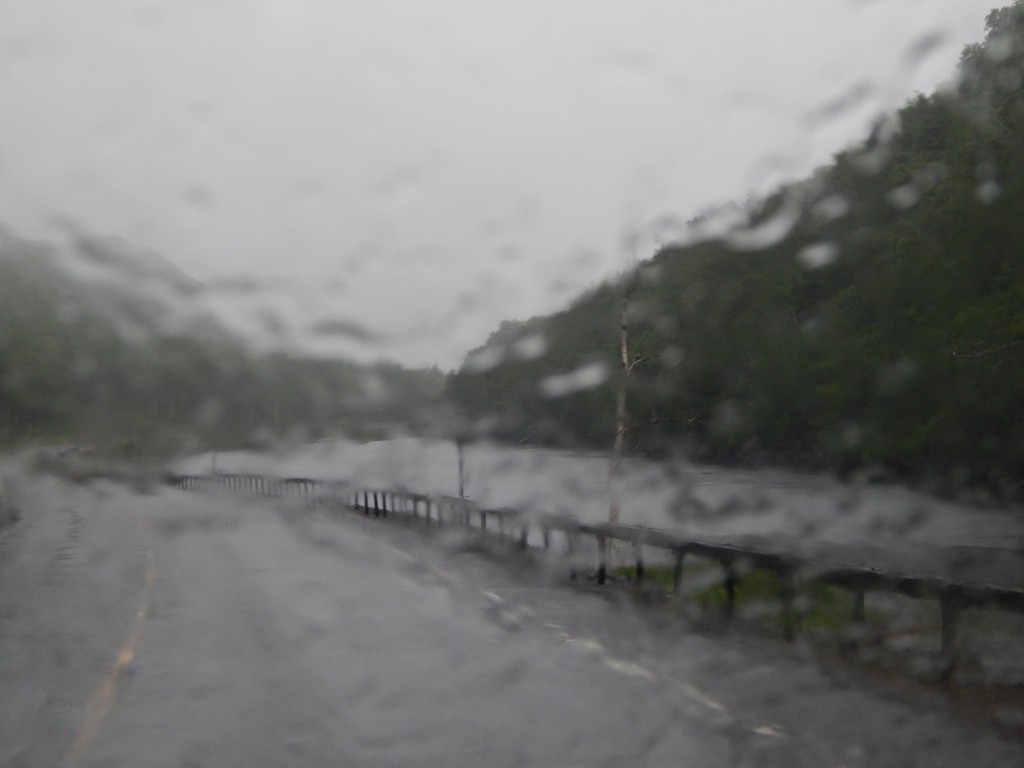 The kids weren't happy, but I don't think they would have been in the hotel, either.  We made it to the Baseball Hall of Fame in less than two hours and I loved it.  The kids weren't as thrilled, which was pathetic.  My father and brother could have spent days there.  I drove around the village a little and – you guessed it – I adored it.  I think I want to rent a lake house somewhere in New York (or Vermont) next summer.  Just saying.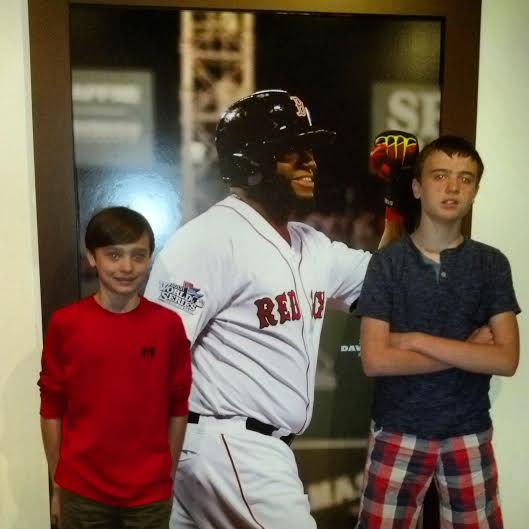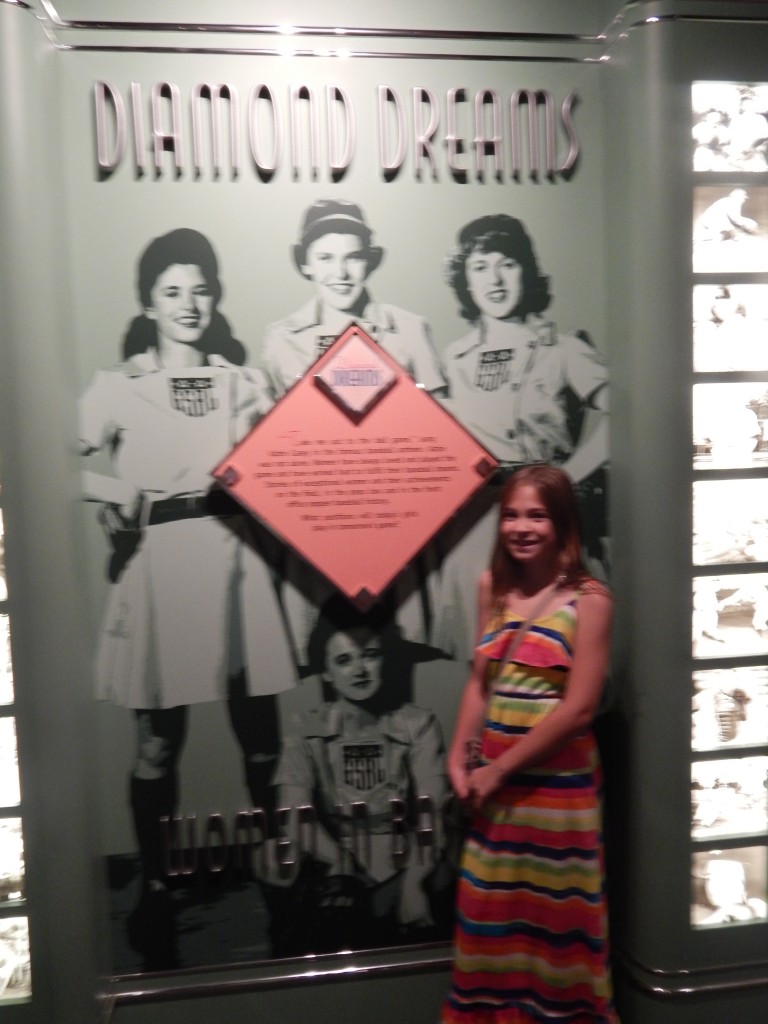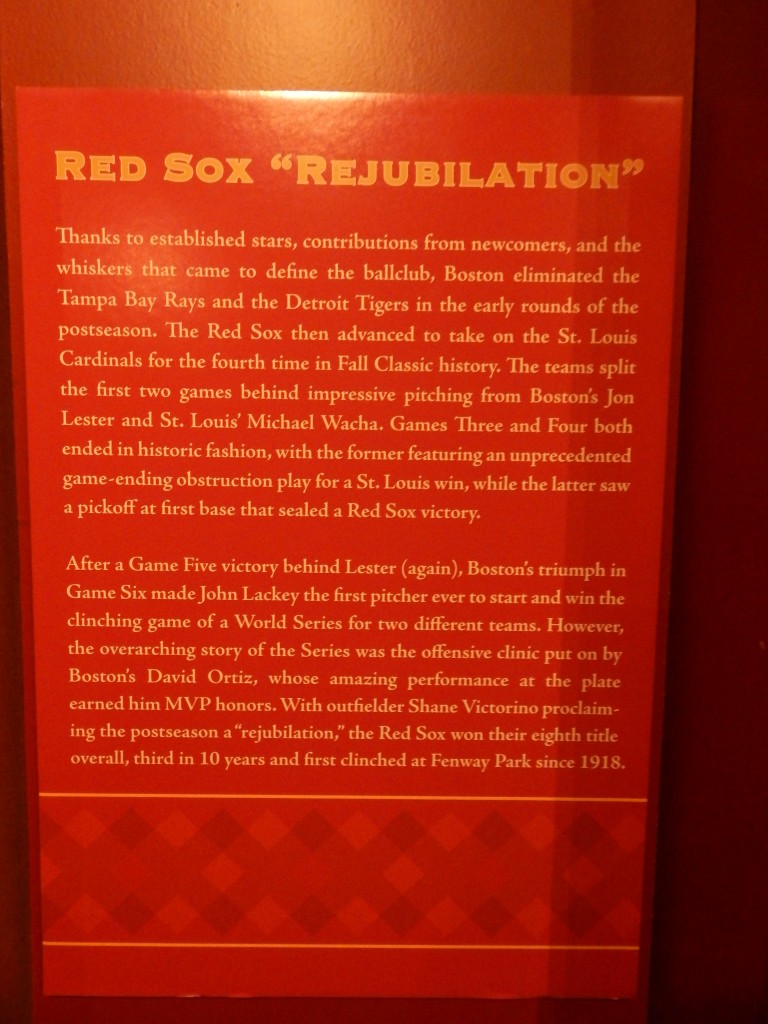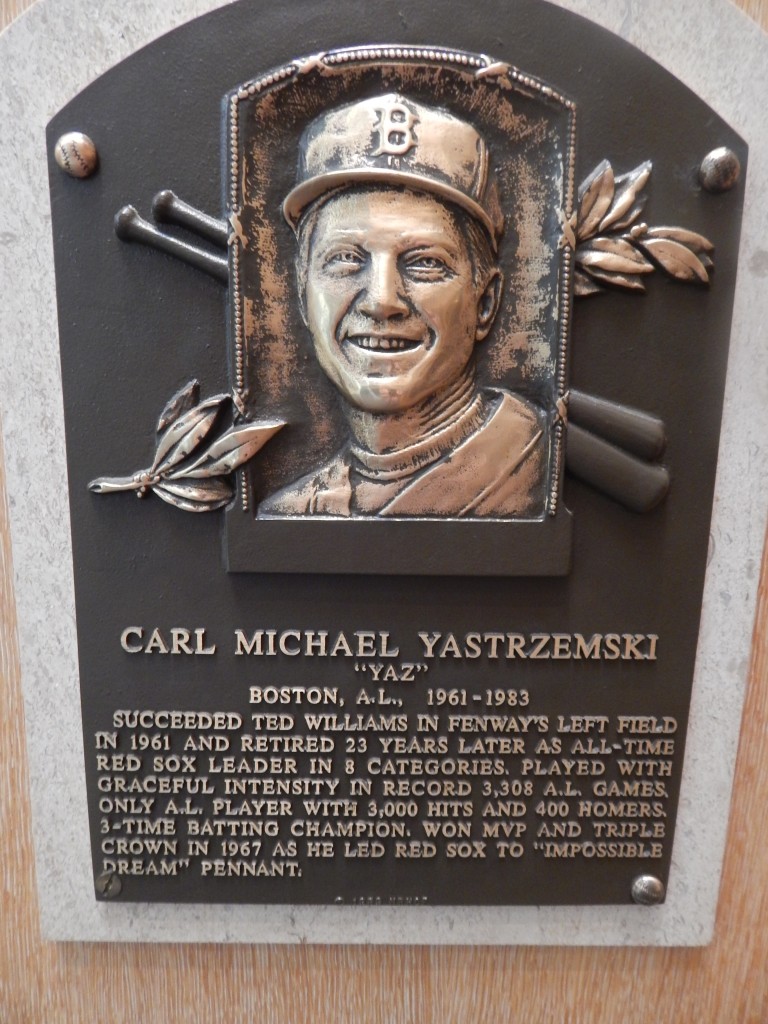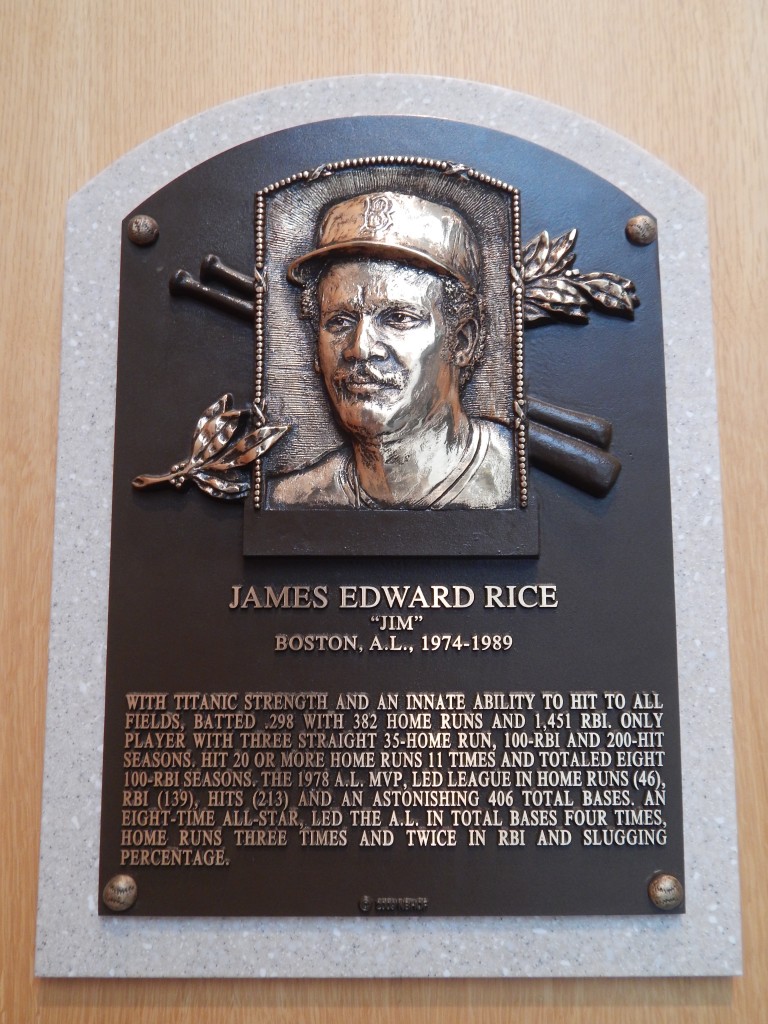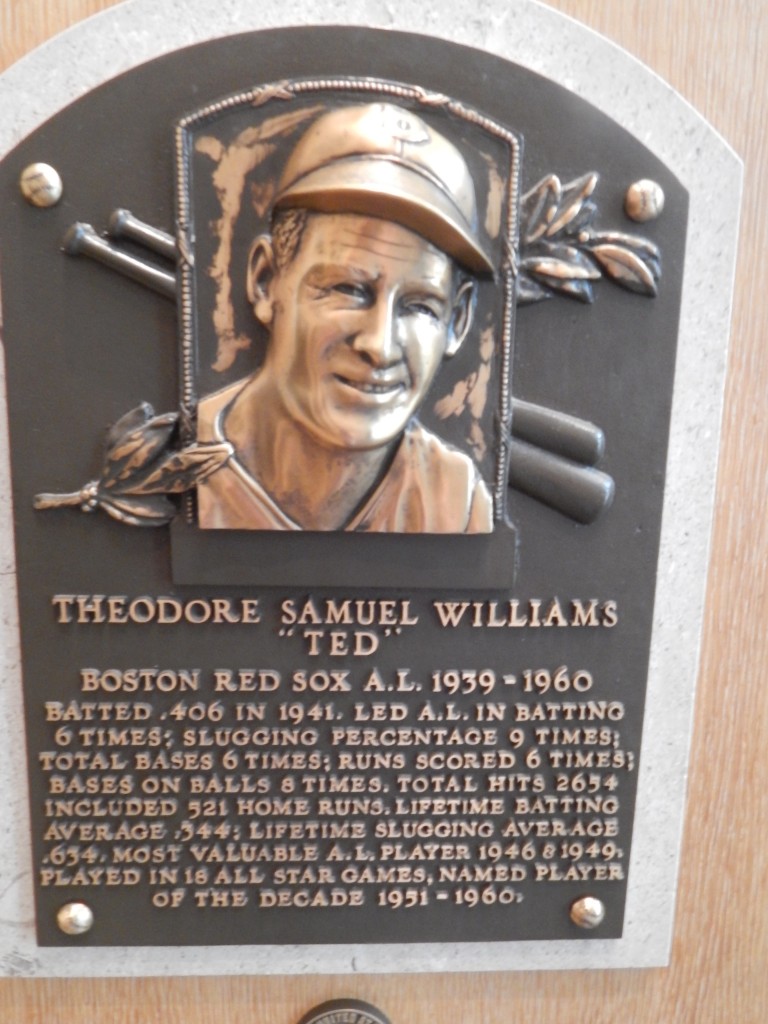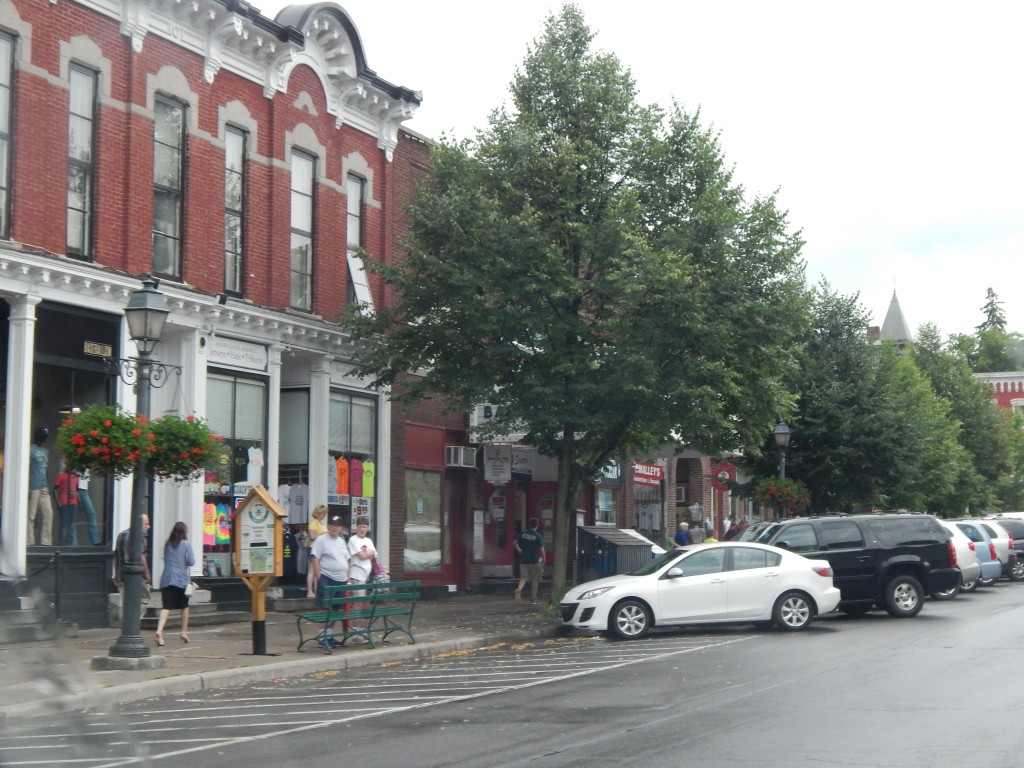 Cooperstown's Main Street
We'd stayed the night in Binghamton, NY.  It turned out to be good that I changed our plans the day before, because the journey to Tysons Corner, Virginia sucked.  It was a traffic nightmare.  By the time we got to the DC area, we were only able to squeeze in a quick swim before meeting one of my blogging friends for dinner.  We had a really nice dinner!  Wish I'd had more time to spend with Kristi (Campbell, blogger at Finding Ninee).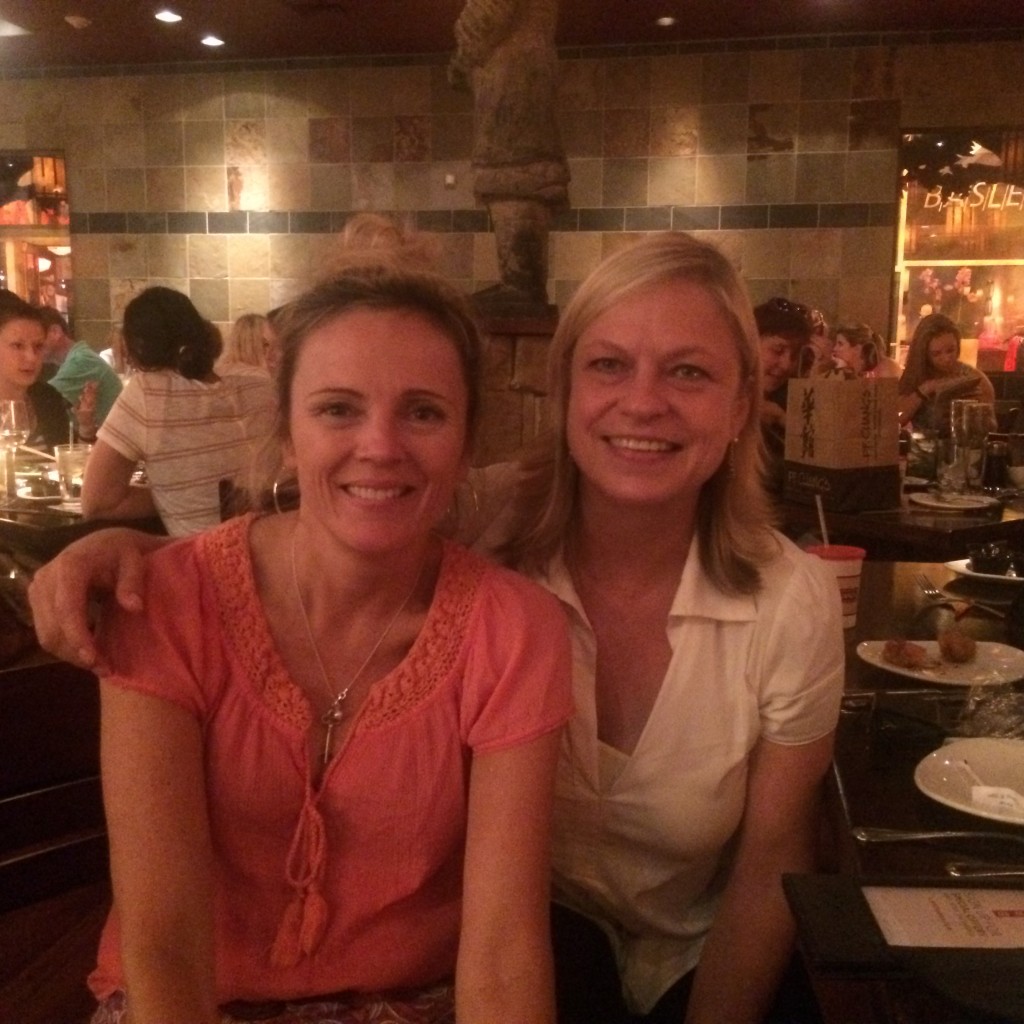 Kristi & Me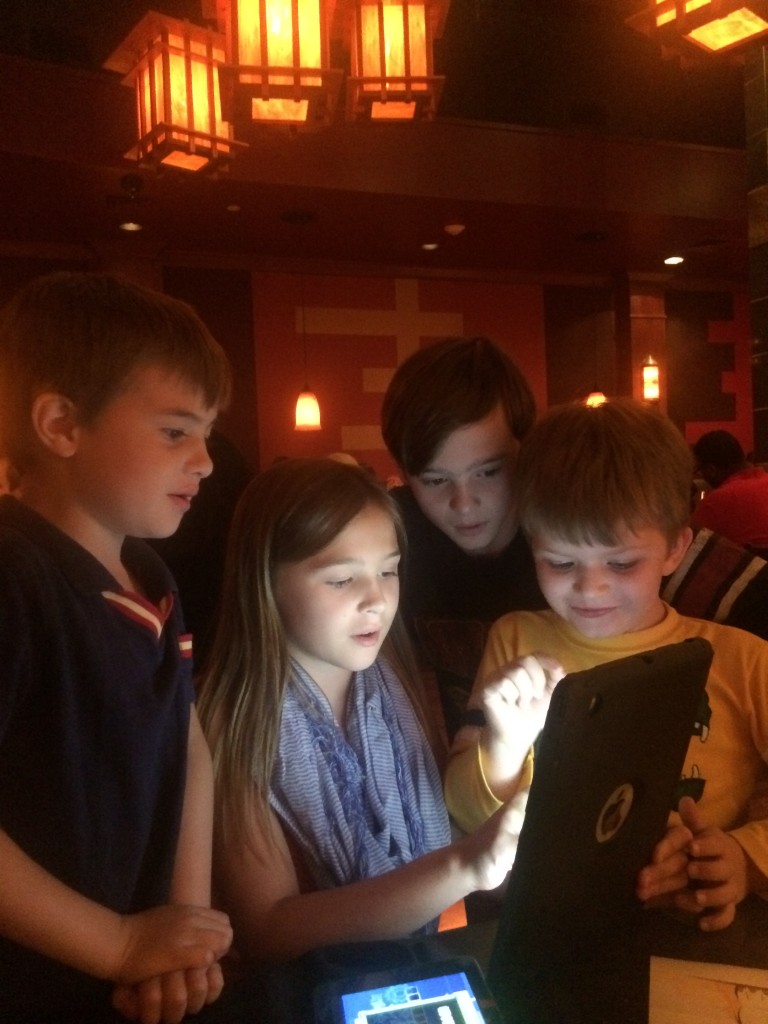 The next day we endured another traffic nightmare and I won't bore you with details.  Our last destination was Raleigh, North Carolina and we spent the evening with our old friends, the Kaufmans.  Deb and Mark were the first couple my husband and I met when we moved to Atlanta.  They now have two great kids and live in the Raleigh area.  Our reunion was much too brief.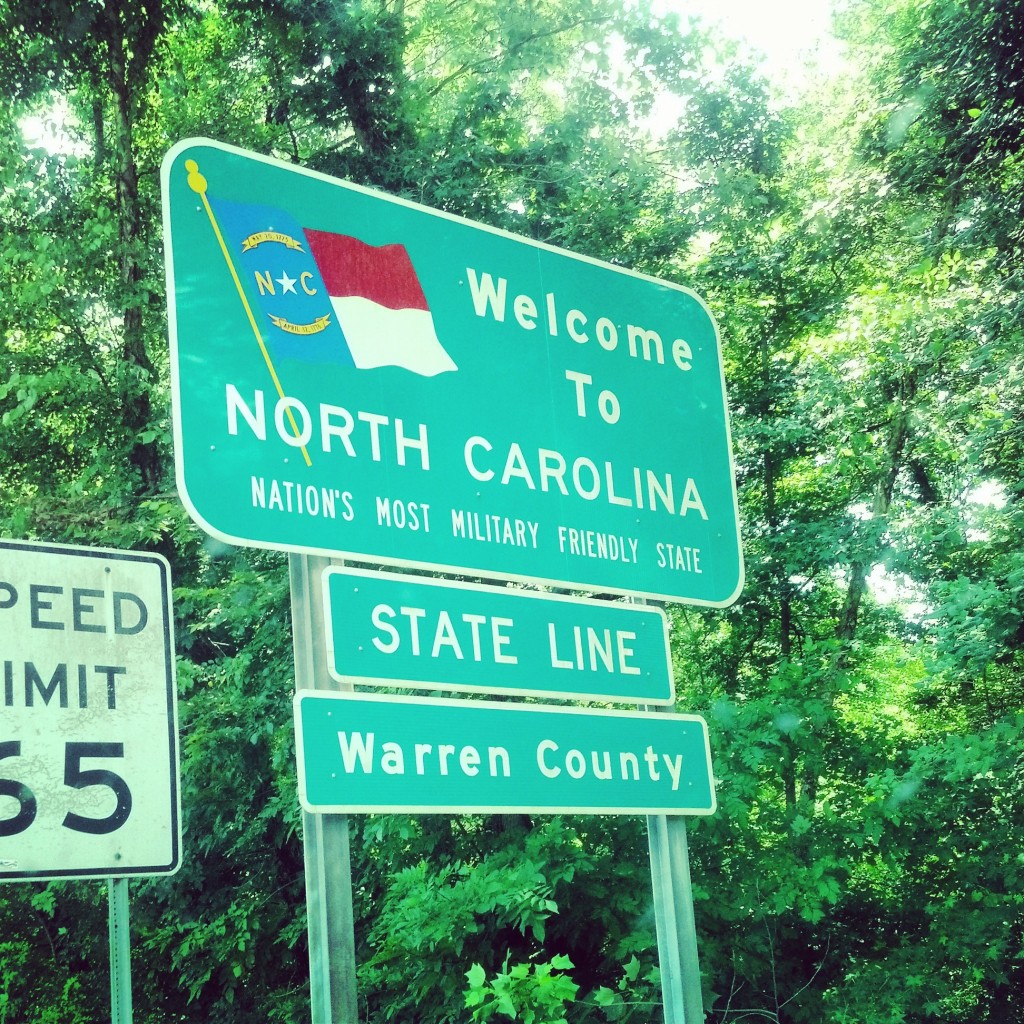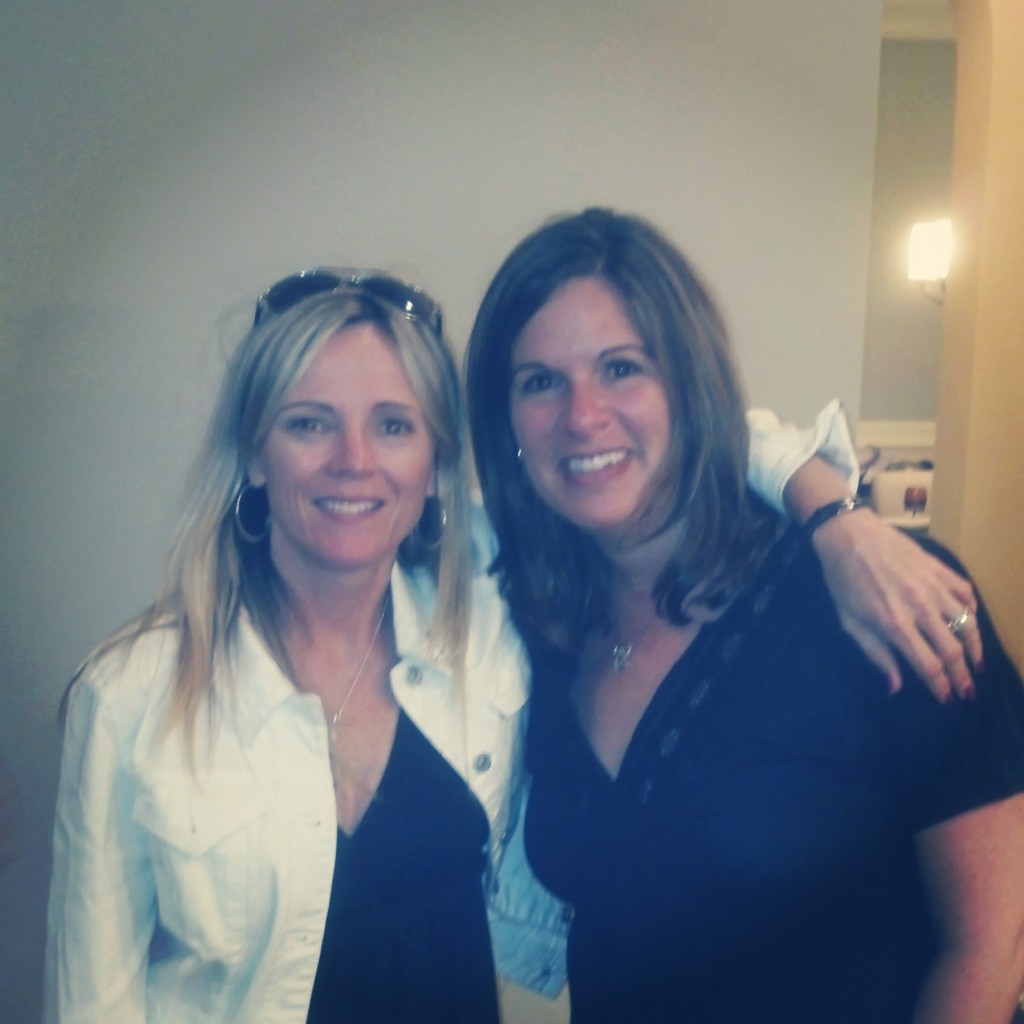 Allie & Deb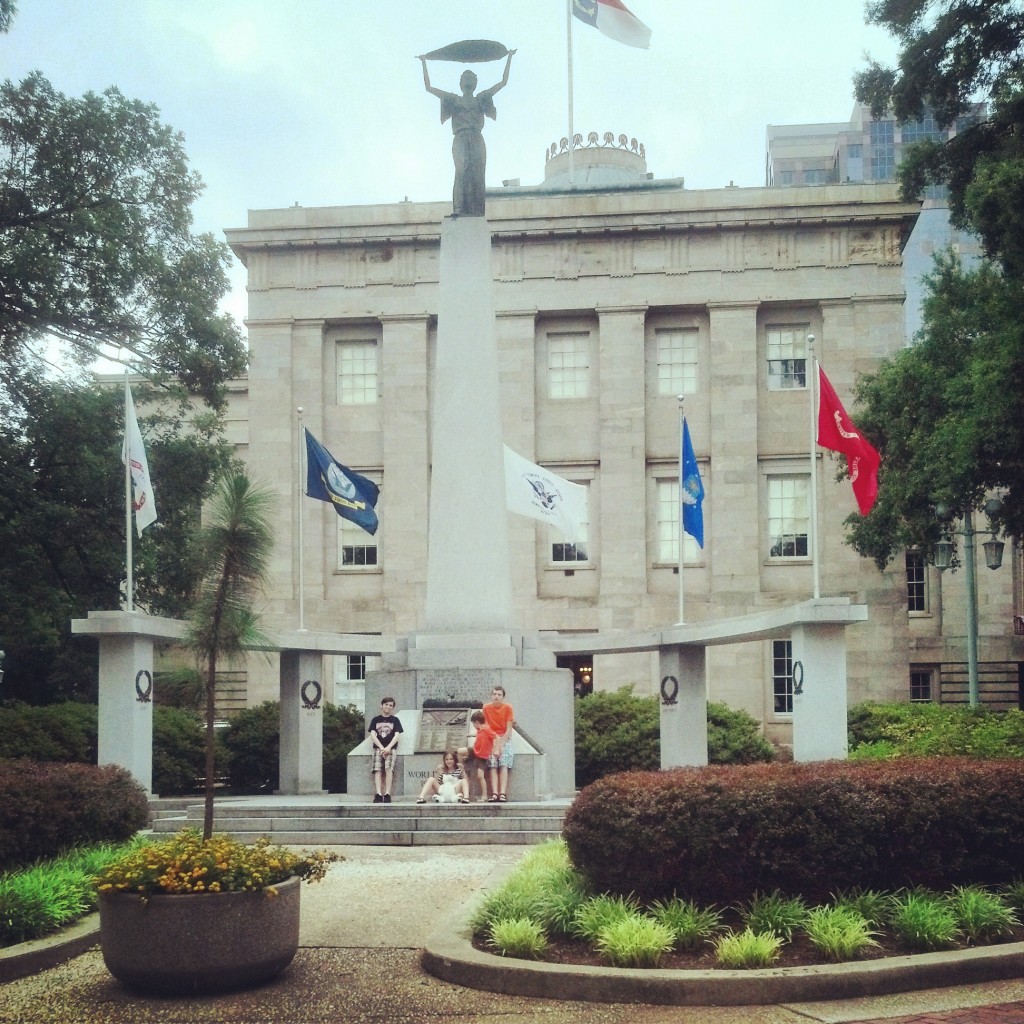 North Carolina's Statehouse
The next day, for our final journey, we drove through Columbia South, Carolina, to visit our 36th capitol building!  Woot, woot!  It was hot and everyone was homesick and missing Daddy, so after lunch, we were westbound and down.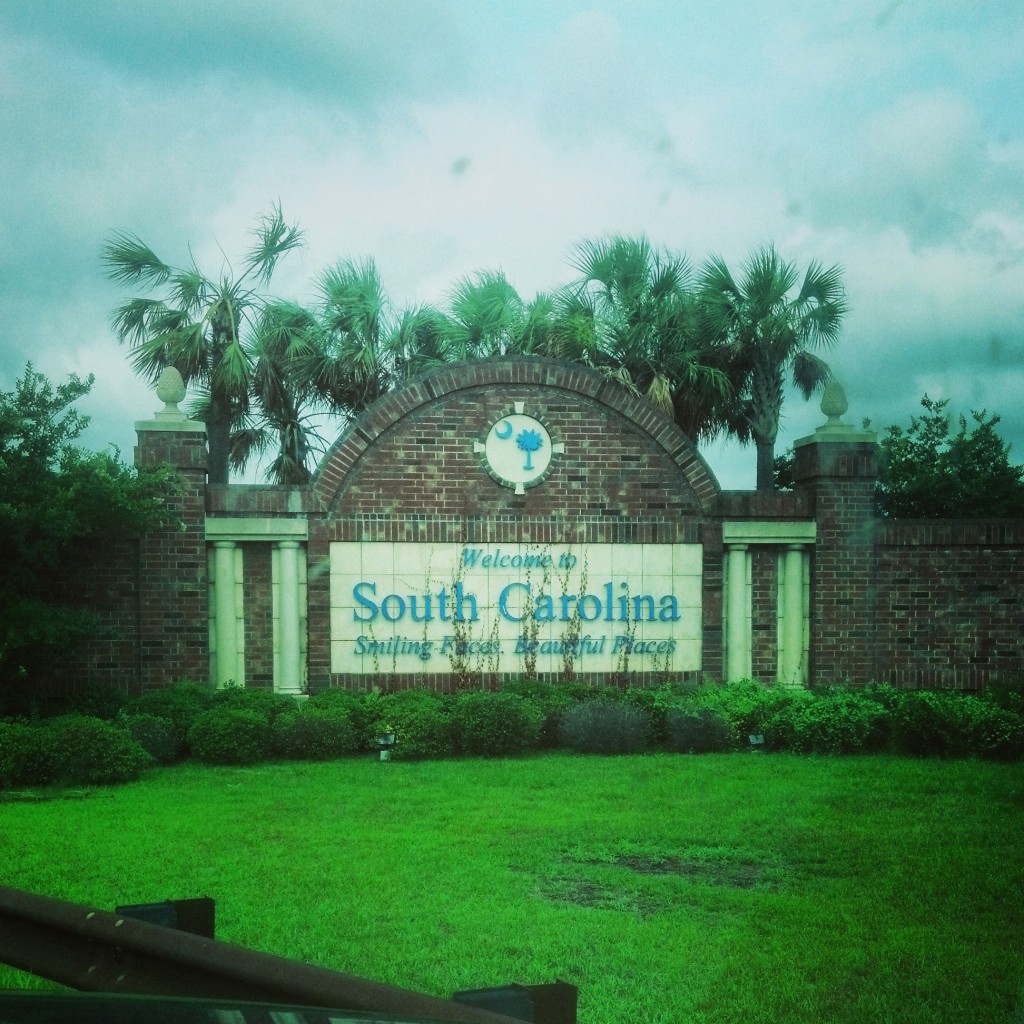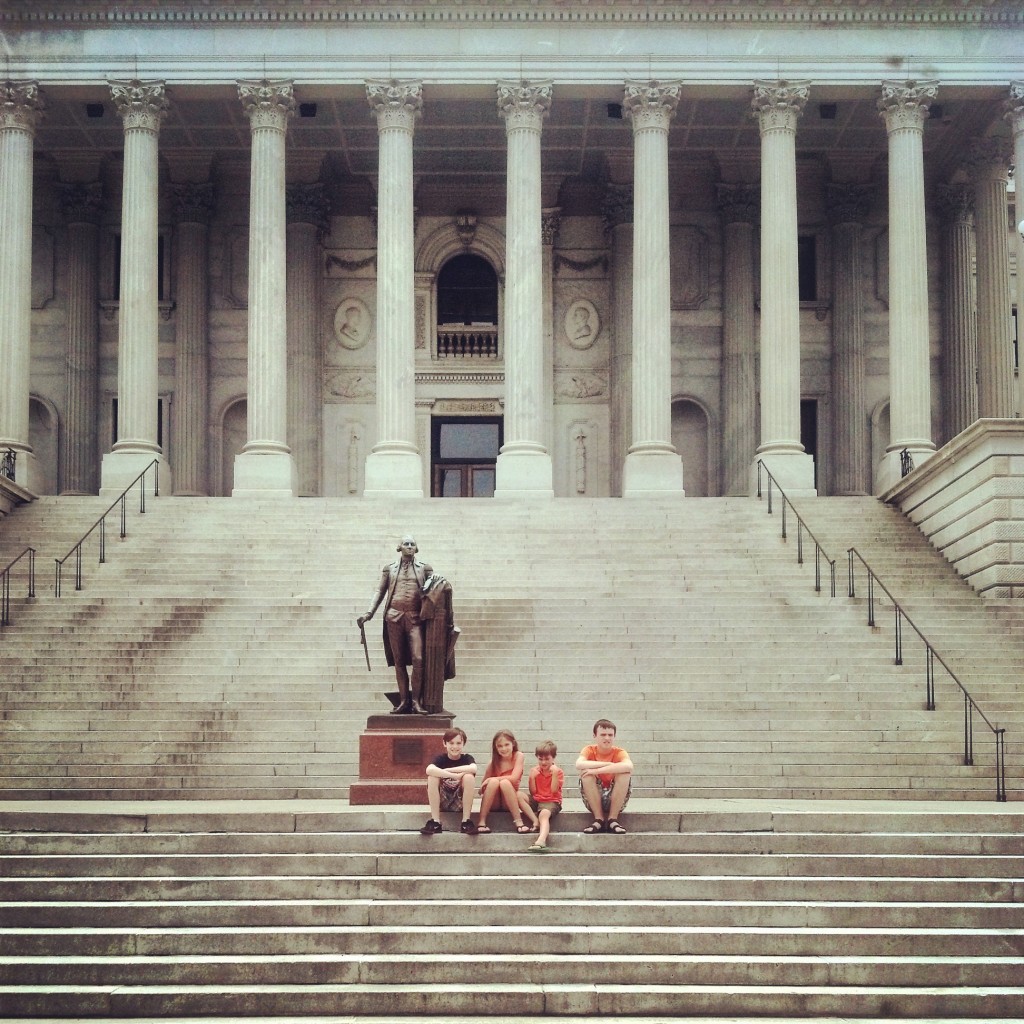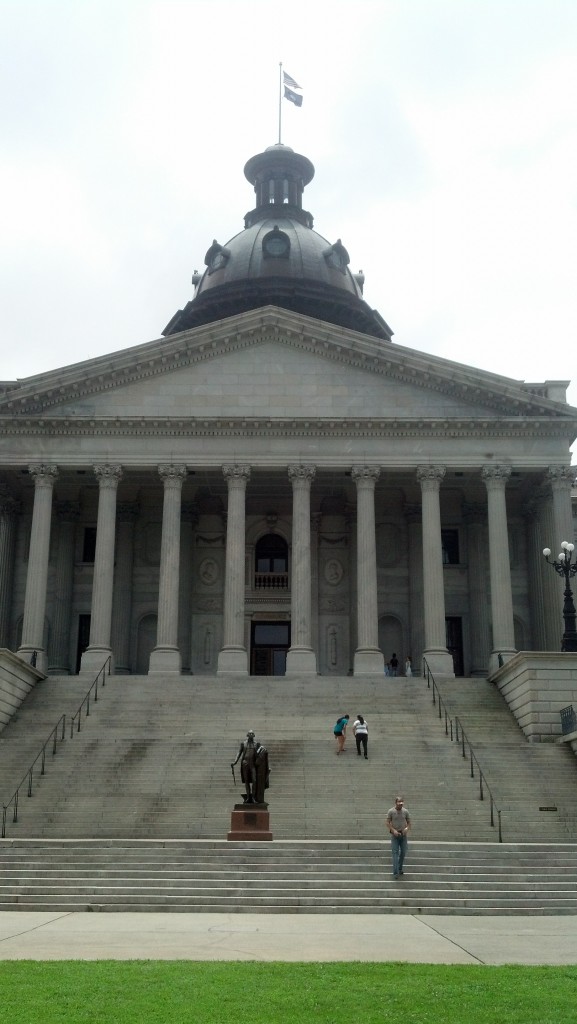 It's wonderful to be home, but re-entry is always tough.  Momma had a lot of laundry to do and we also had company arriving from out of town.  Honestly, there was little time for me to contemplate our trip.  After the Fourth of July, the kids and I loaded up the car once again to go to Michigan.  As I type this, we are exploring the Wolverine State and visiting family.  Our summer is more than half over, and I am in a panic that we will be facing back-to-school shopping before I know it.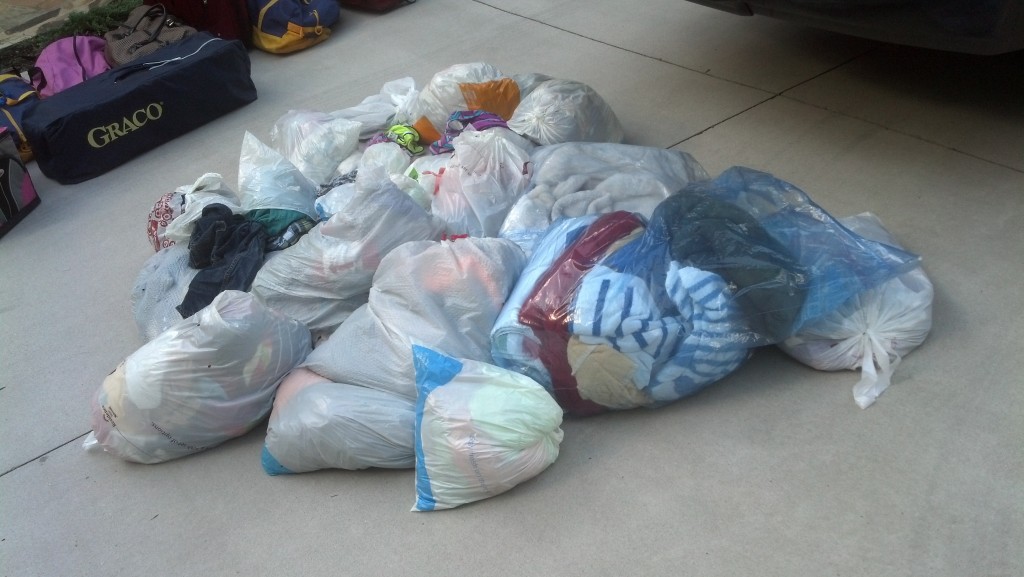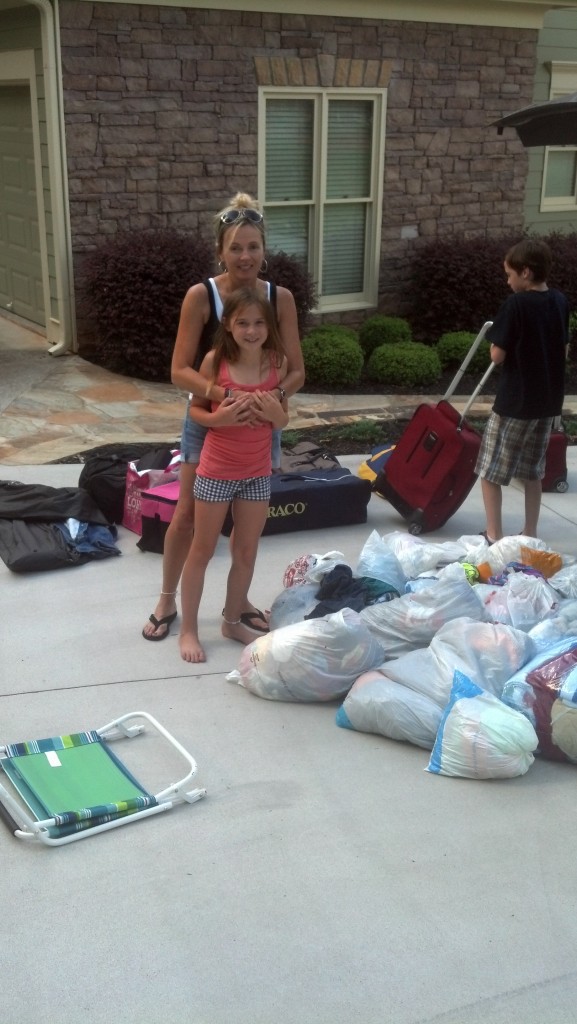 How is your summer going so far?  Any road trips?  If so, to where?  How do you handle bad weather or traffic fiascos when traveling?  How was your Fourth of July?  Talk to me♥!