April is/was (depending on when this finally goes live) Autism Awareness Month.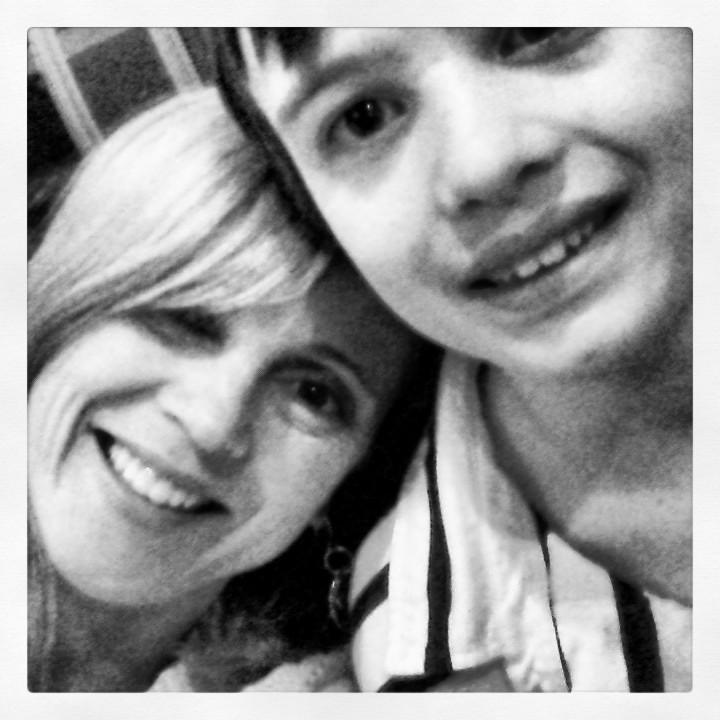 Since I'm the parent of a child who has autism, I felt compelled to write a blog about Autism Awareness.  I feel a great responsibility when I write about autism, because we all have our own story.  I speak for myself and for my family, but not the autism community as a whole.  As with anything, there's good and bad with autism and most people who know me will tell you that I don't like talking about the bad – I choose to focus on the good.  Believe me, this has been an evolution on our journey.  For the sake of authenticity, I have to address the bad, but I'm not going to dwell on it.  And honestly, the good is so much more fun to share.
I'm aware that autism, as with most permanent medical conditions, is life changing.  So far, hearing the words "your son has autism," is the single worst moment of my life (and there have been some bad ones).  Back when we received our diagnosis, I didn't know where to turn, what to do or what to think.  My only reference point was Rainman.   It was a very hopeless time in my life – one I really don't like to revisit, lucky for you!  
Let me just acknowledge – I'm aware there's some really bad stuff that goes along with having a child with autism.
I'm aware that autism diagnoses have increased to an epidemic rate.  I'm aware that we still don't know exactly what causes autism, or the best way to treat it.  I'm aware that autism is a hot button issue for insurance companies, and there's great debate as to what an acceptable treatment is and who should pay for it.  Autism is expensive.  Autism is unpredictable.  I've heard it said…if you've met one person with autism, you've met one person with autism – each case is frustratingly unique.
I'm aware that the schools are overwhelmed.  The number of kids diagnosed has increased, so the need for special education services has increased – drastically.  I'm aware that in some areas, resources and support for autism are scarce.  I'm aware that the autism population is aging and there aren't adequate programs to address their needs.  I'm aware that thinking about the future is scary, so I don't.  I take it one day at a time.
I'm aware that there's much grief, sadness, exhaustion, anger, hopelessness, anxiety and fear that go hand and hand with autism.  It sucks sometimes.  But I'm also aware that there's an abundance of gratitude, support, grace, hope, happiness, acceptance and love in our life, because of autism.
I'm aware that we're fortunate.  We've had resources.  We've had support.  We had the ability to move some mountains (and ourselves) when needed.  We've gotten results.
I'm aware that although it's often really hard to do "typical" things with children on the spectrum, it's worth the effort.  The early years were brutal.  People just don't understand why your kid is freaking out.  There were times when I felt like, "There is no way this is my life!"  I was certain that I was being Punked, or I was having some crazy dream.  Oh for the love of God…my child jut pulled down his pants and is about to pee in the display toilet at Home Depot.  My child just sat at someone else's table, in a restaurant, and ate french fries…from a stranger's plate.  My child just took off all his clothes, in the hallway, at school.  My child just threw his body onto the floor, while pitching the mother of all crying fits, because it was time to leave the bookstore.  See?  Punked.  These are just a few of our experiences – I could fill a book (and hopefully, someday, will)!  All were mortifying when they happened – but in hindsight, I can see the humor in them, because…
I'm aware that laughter can get us through anything.  If I couldn't laugh at our crazy uniqueness, I'd probably cry.  For as little as he says, our Bear is one of the funniest people I've ever met.  Life with him has given us a reservoir of material for stories at cocktail parties.  He also has the sweetest, most contagious laugh in the world.  The humor that he finds in us is just as precious!
I'm aware that I'm a better person because of autism.  I've learned humbling lessons on our journey.  It doesn't matter who you are, your race, what you do, where you live, where (or if) you go to church, whether you're rich or poor – autism does not care.  I admit that I sometimes judged people in my former life, especially people with the out-of-control child.  Oh you better believe I sized them up immediately.  Shame, shame, shame on me.   Karma baby!  I'm raising my children to be aware and to never let someone who's different get picked on.  They know to stand up for those who need it, because they'd want the same for their brother.   My mantra is that we live in the biggest glass house on the block, so don't ever throw stones.
I'm aware that I've grown thicker skin.  I don't let other people's thoughts affect me, like I once did.  I have more patience.  I have more tolerance.  This is not restricted to the special needs community – it's relative to class, religion, ethnicity and sexual orientation.  Kumbaya, my friends.
I'm aware that slow and steady wins the race.  Even with baby steps, we've come a long way.  Barrett's a work in progress, but that's okay, we're still making progress.   We have good days and bad days, but the good far outweighs the bad.
I'm aware that time heals all wounds.  Ten years ago I was frozen.  I was overcome with fear.  I felt like our lives were over.  There were no little voices in the house.  There was no laughter.  There were no adventures.  There was no hope – whatsoever!  Present day, we've got a loud, rambunctious, chaotic house that's full of voices, laughter, joy and hope and I wouldn't want it any other way.
I'm aware of the power of miracles.  We experience little miracles every day.  A prolonged period of eye contact.  Appropriate laughter at a joke.  A hug that is truly reciprocated.  An unprompted request that's verbalized.  A full night's sleep.  Spontaneous declarations.  A nonecholalic  expression of love.  Directions followed – the first time.   A clean trip to the bathroom.  A new food tasted.  It really is the little things that mean so much.  Nothing goes uncelebrated.
I'm aware that a little education and communication can change people's views.  Some people are clueless and I don't mean this in an ugly way.  Some people just don't get it, and couldn't possibly, without walking in our shoes.  I try my best to give people the benefit of the doubt, which is sometimes hard when they shake their head disapprovingly.  If they don't understand, then it's an opportunity to educate them (not preach to them).  Seriously, in an awkward situation, you'd be amazed by how the simple statement, "My son has autism," can diffuse a situation (such as the fact that your child has inappropriately smelled a stranger's hair).  Most people are very understanding and eager to learn.  If they're not, you can't take it personally.  It's them, not you.  I laugh when I think of how they're going to retell the story at their dinner table.
I'm aware that there are angels among us.  I honestly don't know where we'd be today without the gifted skills, kindness and patience of the teachers, parapros, therapists and respite providers who've worked with our family.   Angels, pure and simple.  There's a special place in heaven for those who work with and care for the special needs community
I'm aware that I'm part of a special sorority.  The hazing was Hell, but I'm proud to be part of an extraordinarily brave group of women.  We go by many labels:  Warrior Moms, Autism Advocates, Special Olympics Cheerleaders, Members of the A Team, pieces of the puzzle, wearers of the same t-shirt, Latchkey Moms…we are everywhere.  It's funny, no matter where I go, I meet a sister.   I've had chance encounters in restaurants, hotel pools, parks, public restrooms, waiting rooms, elevators and restaurants.  Immediately, you go deep with the sharing.  There's no such thing as TMI.
I'm aware of what it means to be truly grateful, because I am.  I'm so grateful for all my children, and Bear is a special piece of my puzzle.  He is the ying to my yang.  We balance each other.  When he is happy or has reached a milestone – I feel it deep down in my soul.  I know, so damn corny, but it's so true.  He grounds me.  When I'm having a tough day, I think about how tough each day is for him.  There are no pity parties in our house.  I also know that he's one of the lucky ones.  I know it and I am humbly grateful.
I'm aware that love can conquer all.  Barrett has a family that's devoted to him and we're bonded in a unique way – forever.  We are Team Smithie and we have each other's backs.  Barrett will always be okay, as long as he has his family.  Sadly, there's a high divorce rate in the autism community.  I thank God I chose the right partner (or he chose me?) and our marriage is stronger because of all we've been through.
I'm aware that faith can be tenuous on this journey, but without it, I've got nothing.
I'm aware that kindness and acceptance are all around us.  In the beginning, I shied away from people and gatherings.  I didn't want to inflict our circumstances on others.  I literally went into hiding.  I really underestimated family, friends and strangers because I've been overwhelmed by the support we've received over the years.  There are so many good people who've embraced our family and treated us in a manner that has made me feel like we belong – anywhere.  No awkwardness and no explanations needed.  They accept our boy the way he is and they're raising the next generation to do the same.  They are changing the world.
Oh yes, I am aware.
When did you first become aware of autism?  How has it affected you or your loved ones?  Do you have funny or hopeful stories to share?