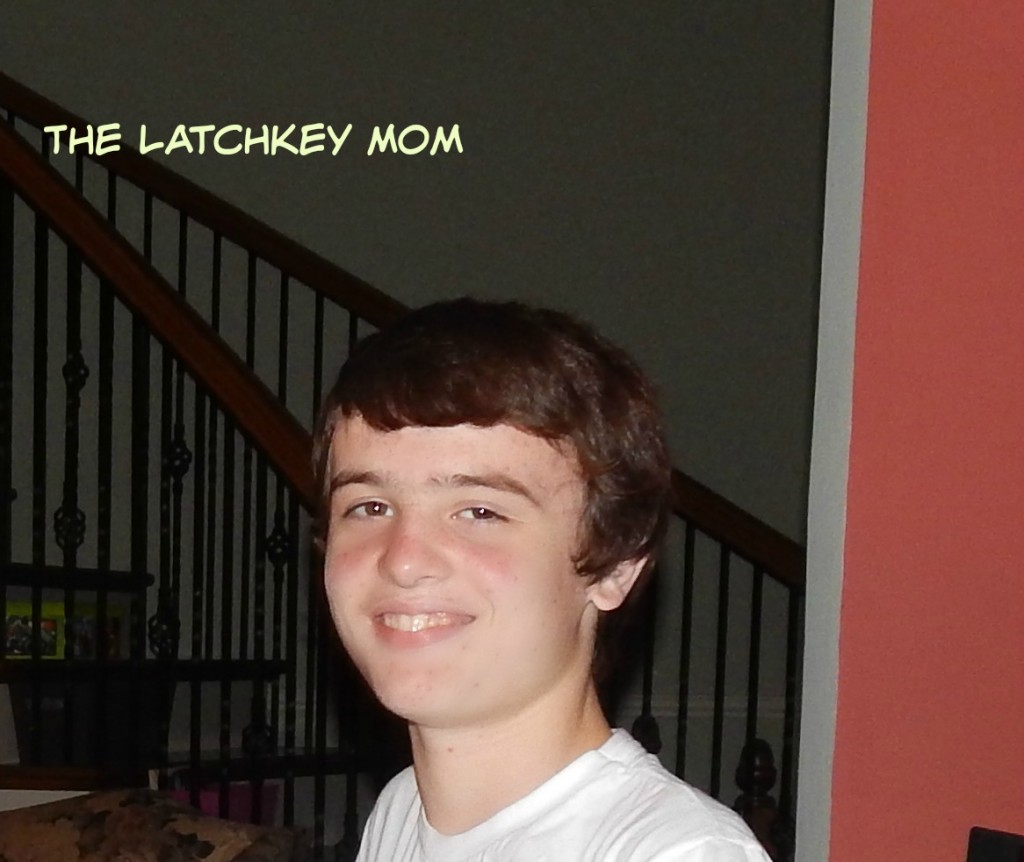 It's been a while since I shared a Bear Bear story, and I have a couple cute ones. Although Barrett is technically verbal, how and when he chooses to speak is always a mystery.  We don't let his silence fool us – he understands what we say and he's taking it all in.  Oh what I wouldn't give to be inside his head for a day!
Discriminating Tastes
A few weeks ago Barrett said to his teacher Bobbi Jo, "I want water." She got a cup and filled it with water from the sink (there's a kitchen in his classroom).  He took a sip, but apparently didn't like it, because he walked over to the sink and dumped it out.
Bobbi Jo said to him, "But I thought you were thirsty.   What do you want?"
Bear answered, "Water." 
Bobbi Jo assumed that he didn't like the tap water, so she took him out into the hallway. She handed him the cup, pointed to the water fountain and said, "Get some water from the fountain."
Barrett said, "No." Saying "No" is huge, because his default answer to most questions is, "Yes."
He then turned away from her, with cup in hand, and walked down the hallway. Obviously Bobbi Jo was curious, so she discreetly followed him.  Bear never turned around to see if she was watching, which is no surprise, because he's a bit arrogant.  He turned the corner and kept walking.  I'm not sure what Bobbi Jo was thinking at this point, but I personally would have assumed he was planning to make a run for it (once bitten, twice shy).  He made it all the way to the gym, and then stopped at another water fountain to fill his cup.  He greedily drank the water, before heading back to the classroom.
Apparently, Barrett prefers the water in the gym.
Barrett's Fan Club
Recently, the middle schools in our county screened students for scoliosis. We were informed of the screening with a notice that was sent home in Barrett's folder.  I laughed when I read it, thinking good luck with that one.
A few weeks later, when I was picking Barrett up early from school (for an appointment), I saw the school nurse. The nurse told me she had a story about him and I immediately braced myself.  Experience has taught me that those words could mean anything.  Just last year, he went nuts by screaming and attempting to escape the clinic when she tried to put a Band Aide on him.
To complete the picture, the secretary, the school police officer and the assistant principal were also in the front office at the time. And everyone was listening.
The nurse told me that she was the one who performed the scoliosis screening for Barrett, although his teacher was also present. As is standard, they asked Barrett to remove his shirt.  Uh-oh.  At this point I got extremely nervous because when he's not in school, my son's uniform of choice is his underwear – and only his underwear.  But thankfully, he kept his pants on.  The excitement came when she directed him to bend over, so she could examine his spine.  As Barrett was bent over, he clearly stated to the nurse and his teacher that, "This was ridiculous."
My jaw fell open. Seriously?  The nurse promised me that's exactly what he said. Ridiculous.
As I was digesting this, Barrett entered the office with his teacher. All the women who I mentioned above where still present and chimed in with their greetings.  "Hi Barrett!"
He smiled and mumbled a growly, "Hello." He leaned over and kissed the secretary on the cheek.  Then he turned and kissed the nurse on her cheek.  He completed his kissing tour by planting wet ones on the cheeks of the assistant principal and the school officer.  I watched, mildly amused, as they all smiled and giggled.
Then, that little sh** smirked at his momma and walked right past me – out into the parking lot!
Ouch. I get more than my share of kisses from my boy, but still – dissing me in public like that?  Not cool, Bear Bear.  Not cool.
I have to confess that the situation also made me a little sad, because I couldn't stop myself from wondering what kind of shameless flirt Barrett would have been had things been different. I feel as though he would have been a Casanova, just like my brother.  And then I realized, regardless of his label, he is just like him.  Autism can't hold back my Bear Bear's charms!
And for the record, his uncle would have been proud – of both the kissing and the dissing.