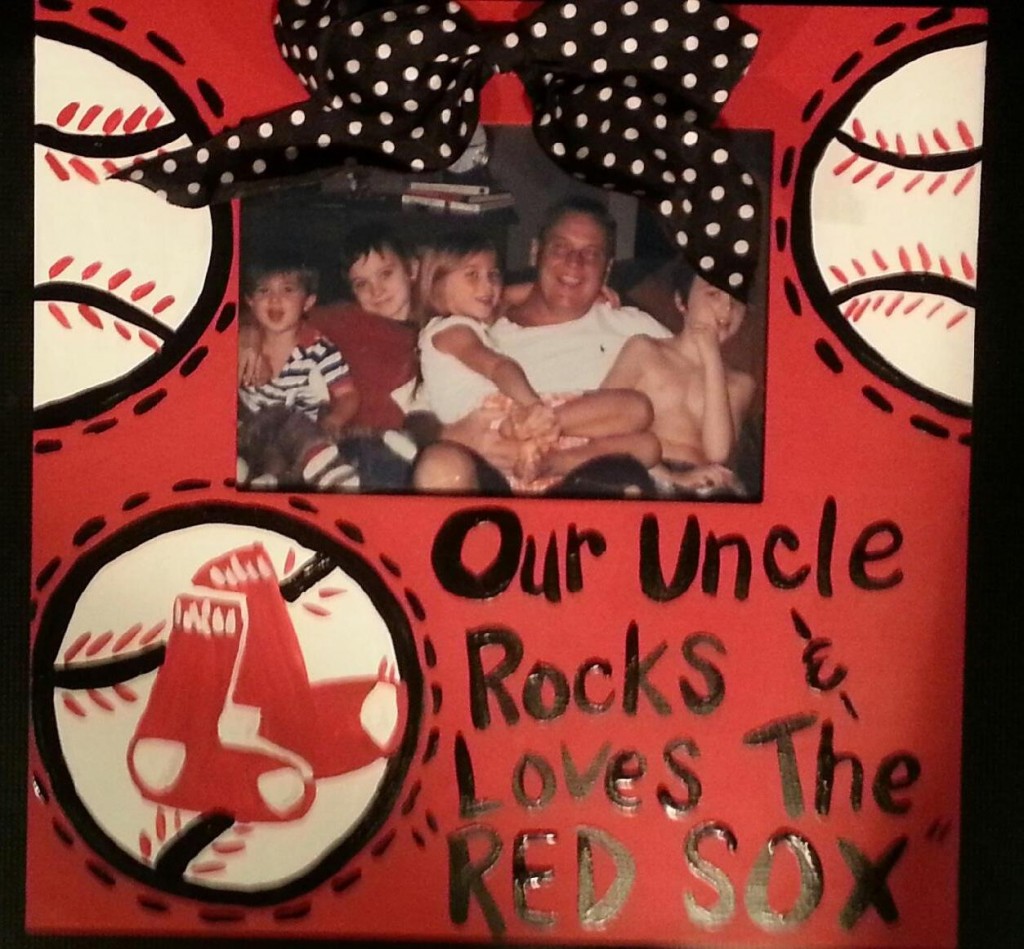 I'm a native of Cape Cod.  I was born a Red Sox fan.  The child of two Bostonians, I had no choice in the matter.  As a Fenway disciple, I knew the Red Sox were the good guys and that the Yankees were the enemy.  I grew up in the Yastrzemski era and Jim Rice was my brother's hero.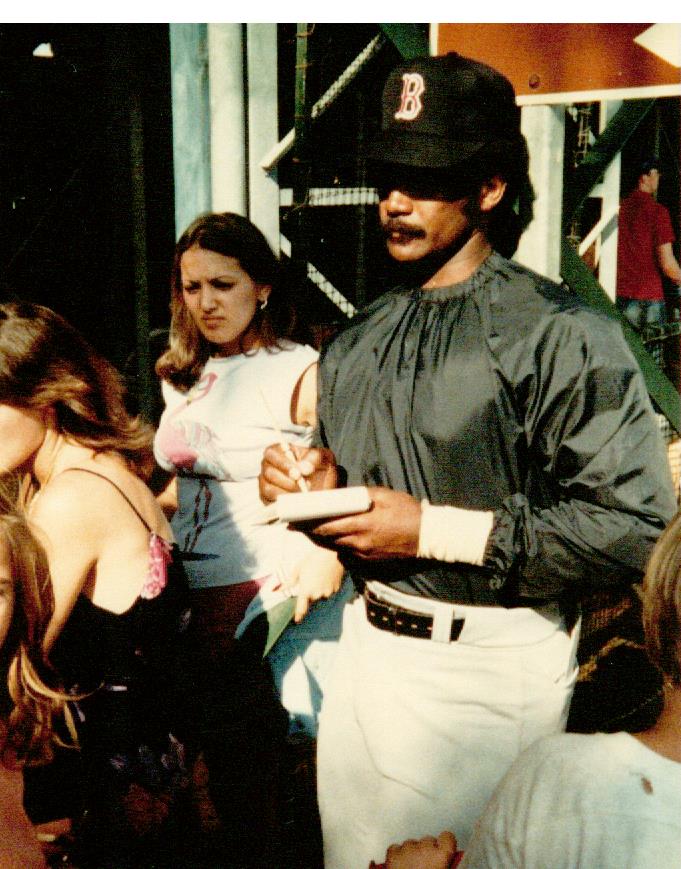 Jim Rice, spring training, 1980 something.  My brother in the lower right hand corner, after getting his autograph.
When I was in the fourth grade, our family moved to Florida.  At that time, the Sunshine State did not have it's own professional baseball team, but it did have spring training.  Whenever the Red Sox rolled into town to play George Brett and the Kansas City Royals (whose spring training home was Fort Myers Florida, only a 30 minute drive north), my family was there.  It didn't matter if we had school that day, it was a parent mandated holiday for us!
Sometimes I feel like I'm the keeper of the family fan flame and that it's my duty to pass the Red Sox love on to my children. I've tried to breed the same team loyalty in them, but it's been hard.   We live in Braves country now and Dad is a Baltimore Orioles guy.  Still, I'm pretty pushy when it comes to cheering for my New England teams, as was my brother.  My brother was huge Red Sox fanatic and he knew everything about them – everything.  Whenever my kids would visit him, Big Papa (his nickname, not to be confused with Big Papi!), would school the kids on the only baseball team they should cheer for.
When the Red Sox finally broke the curse of the Bambino and won the 2004 World Series, I was holding my infant daughter in my arms and talking to my brother on the phone.  I knew they were going to win.  My baby girl, Audrey, had made my world magical and she was going to spread some of her sweet mojo on our team – and she did.  Her mojo's pretty powerful, because she also conjured up another Super Bowl ring for my Patriots that year.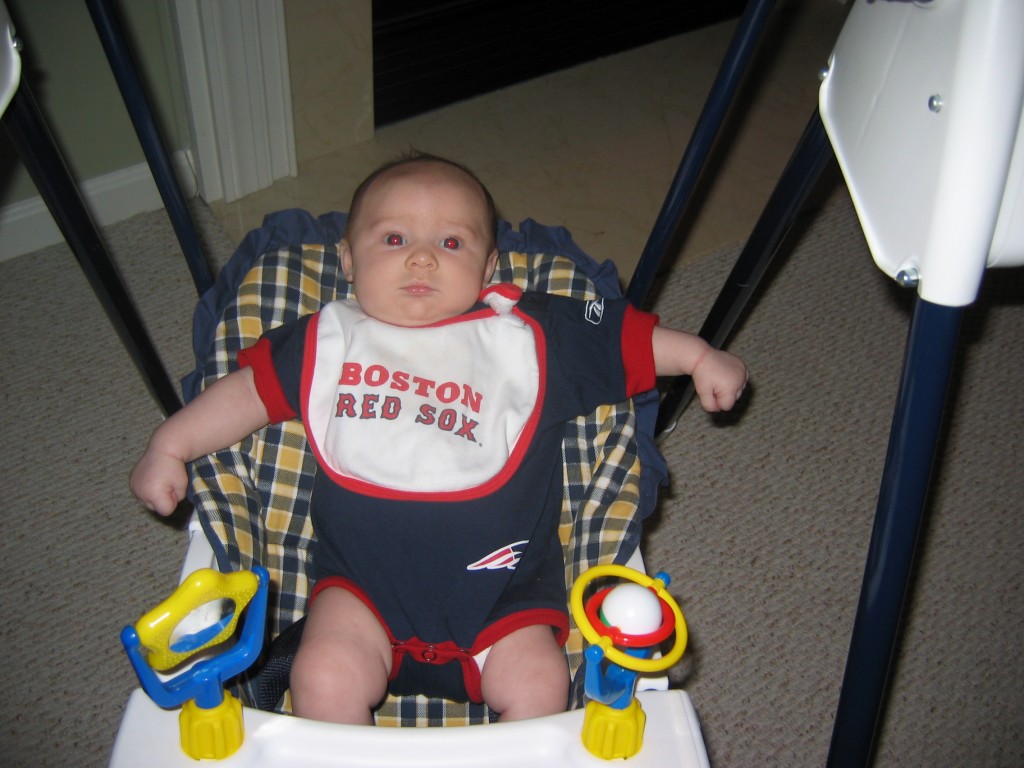 Audrey, 6 weeks old, October 2004.
As the Red Sox celebrated on the field in Bush Stadium that October night, my brother and I cried together on the phone.  They were tears of joy and relief, but also tears of regret and sadness.  The two people who made us the fans we were, were not here to bask in the glory of this victory.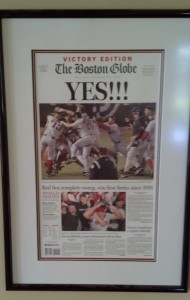 Nine years later, I lost my brother suddenly and unexpectedly.   About a month after he died, his wife Kelly asked me to go with her to see the Detroit Tigers play the Red Sox at Comerica Field.  Kelly's a Michigan girl, and she and my brother attended one of the Boston/Detroit games every year.  She already had the tickets and if she couldn't go with Ed, she wanted to take his family.  We decided to take Hunter and Audrey with us.  It was bittersweet, because it was my children's first major league game and they were going to get to see the Red Sox – all because their uncle was no longer there.
Kelly and I tried valiantly to put on our game faces, but it was tough.  The area surrounding Comerica was alive with anticipation and excitement.  The streets surrounding the stadium were full of vendors and hecklers.  Of course, the kids and I were decked out in our red and white regalia, so we got some comments.  This rattled my son Hunter.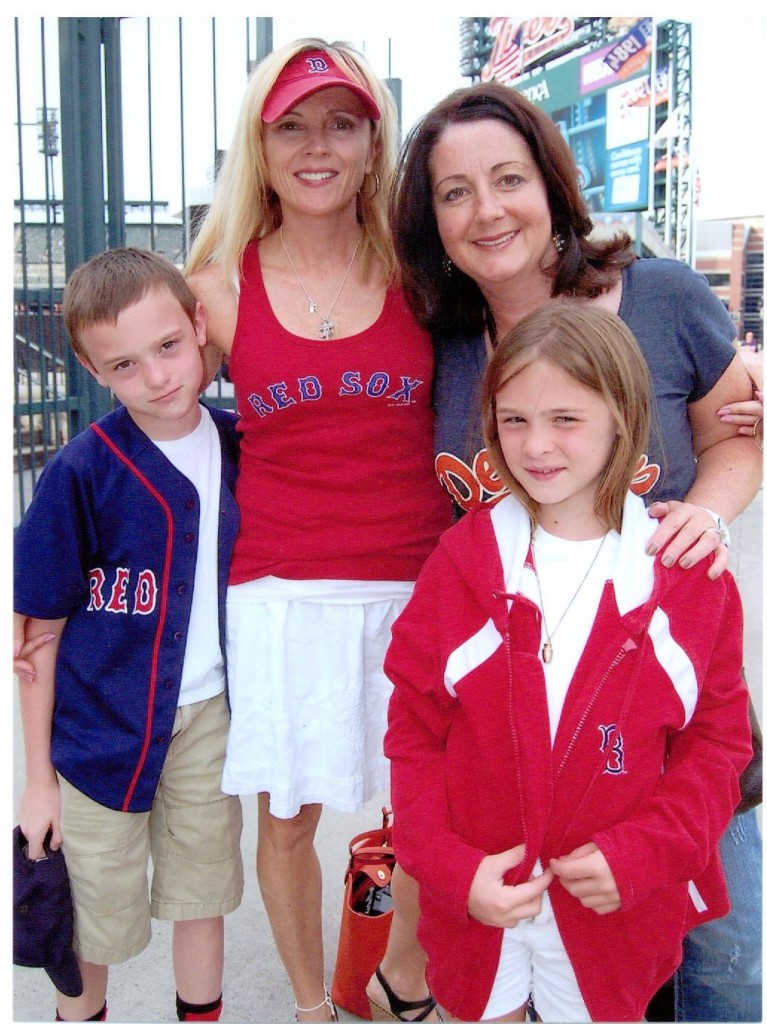 It was June and the Tigers were on a winning streak – they were hot.  I could feel the kids' trepidation as we entered the gates.  Hunter, in particular, looked very anxious.  I started to think I'd made a mistake, maybe it was too soon.  Kids are funny.  I knew they missed their uncle, but they went about their days just as they had before he'd passed.  I don't want to be so cavalier as to say they were over it, but they certainly hadn't been wallowing in grief like their mother.  Hunter commented that maybe he shouldn't be wearing his Red Sox shirt in the Tigers stadium, and I confess, I was not happy.  I was pretty certain he wouldn't be saying that if my brother had been with him.  Man up little dude, and be proud of your team!  Well, I didn't exactly put it that way, but I did think it.  As I struggled to maintain my patience and to reassure him that people were just teasing us for fun, my boy broke down in tears.
The anxiety wasn't because of what he was wearing, it was because of what he was missing.  He wanted his uncle there at the game with us.  Talk about a game changer.  Kelly looked like she was on the verge of tears and Audrey was very shaken up by Hunter's breakdown.  What were we doing there?  We weren't ready for this.
But I also knew my brother and he would have been at the game no matter who had passed away.  Seriously, he would have said, "It is what it is."  He would have gone from my funeral to the game had circumstances been different.  That was my brother and he would want us to put our big girl pants on.  There's no crying in baseball!
My brother and his best friend Sean, outside of Fenway.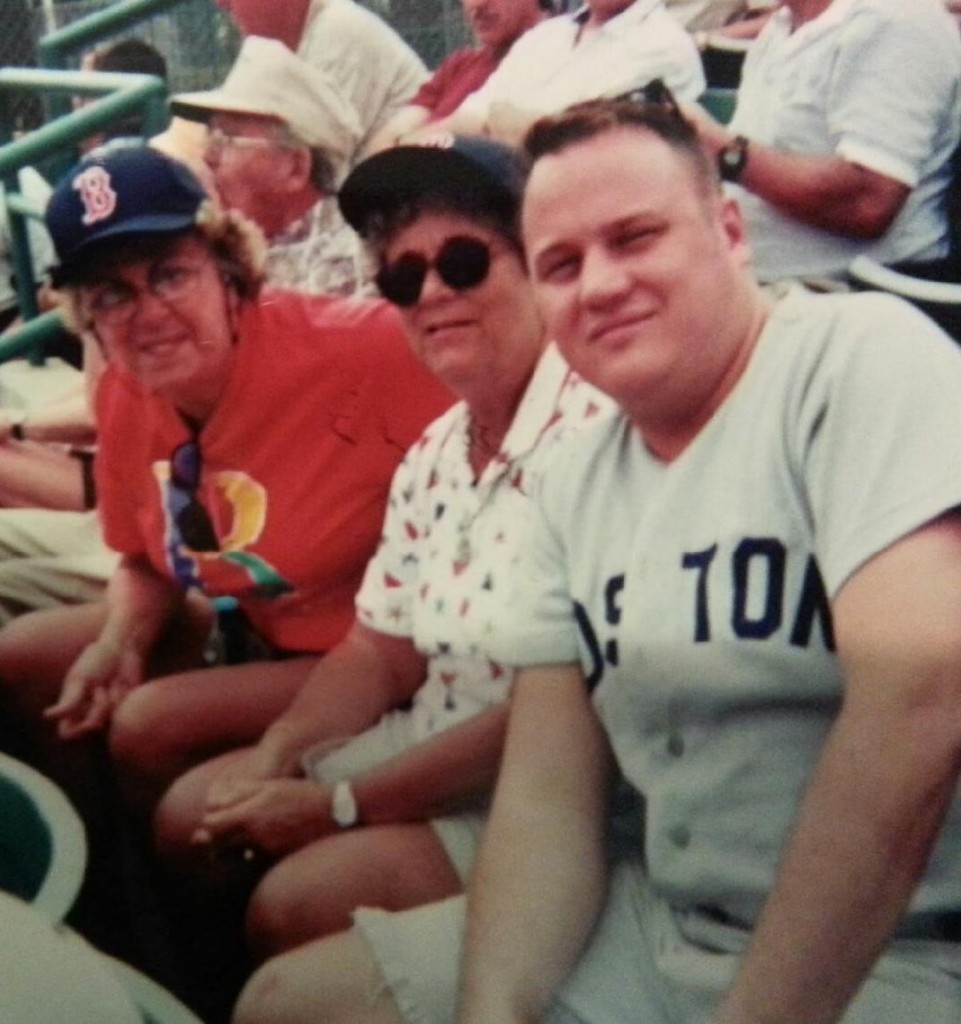 Aunt Ginny, Martha & Edmund at a Red Sox spring training game.
My poor sister-in-law was in no shape to rally the troops, so I decided it was up to me to salvage the night.  I hugged my son and assured him that his uncle wouldn't want him to be sad, especially at his first baseball game.
We found our seats (which rocked) and then the crowd swept us away from our grief.  The music boomed from the JumboTron and the game announcer spoke with the speed and enthusiasm of an over-caffeinated auctioneer.   We couldn't help but get caught up in the excitement.  The wind blew in from the Detroit River and reinvigorated us.  The aromas of the ball park put a smile on my face.  The fresh cut grass, hot dogs, popcorn and stale beer.  The familiar sounds of summers past brought comfort.  The roar of the crowd, the crack of the bat when the ball hits the sweet spot and umpire's call of, "foooouuuullll."  The vivid colors of the clean uniforms reminded me of the first day of school. The Las Vegas sparkle of the scoreboard and the glow of the stadium lights fanned our enthusiasm.  Oh, the delight of sensory overload – yes, please, take me out to the ball game.  We bought the kids some peanuts and crackers and two cold beers for the adults.  Then we watched the game.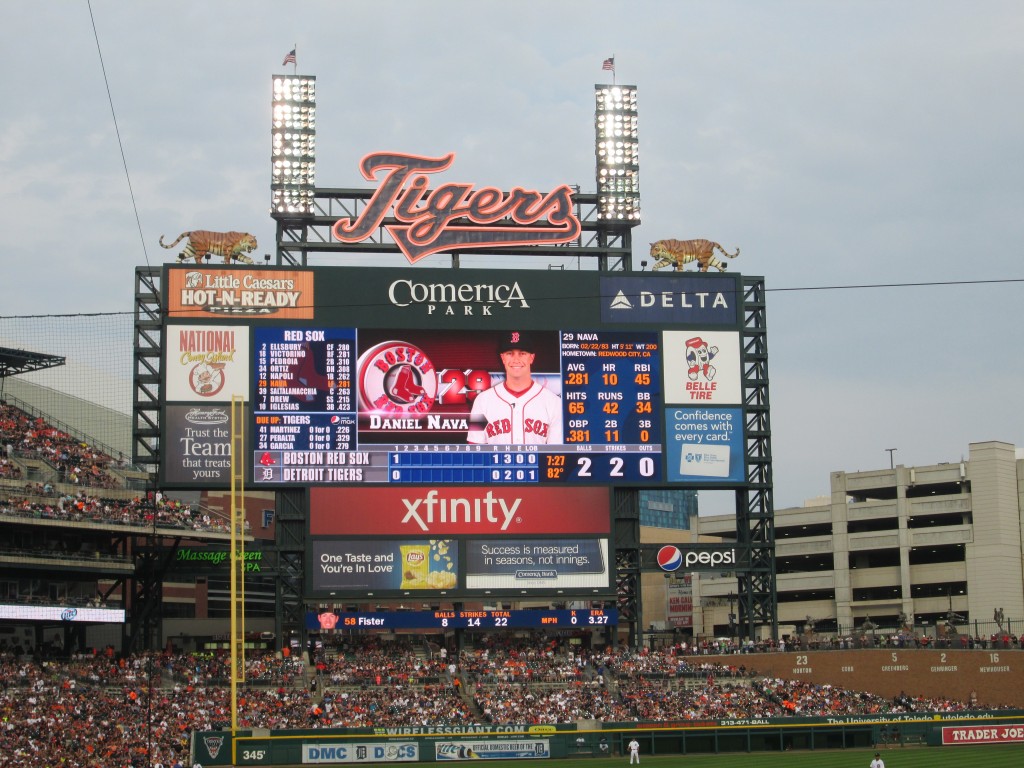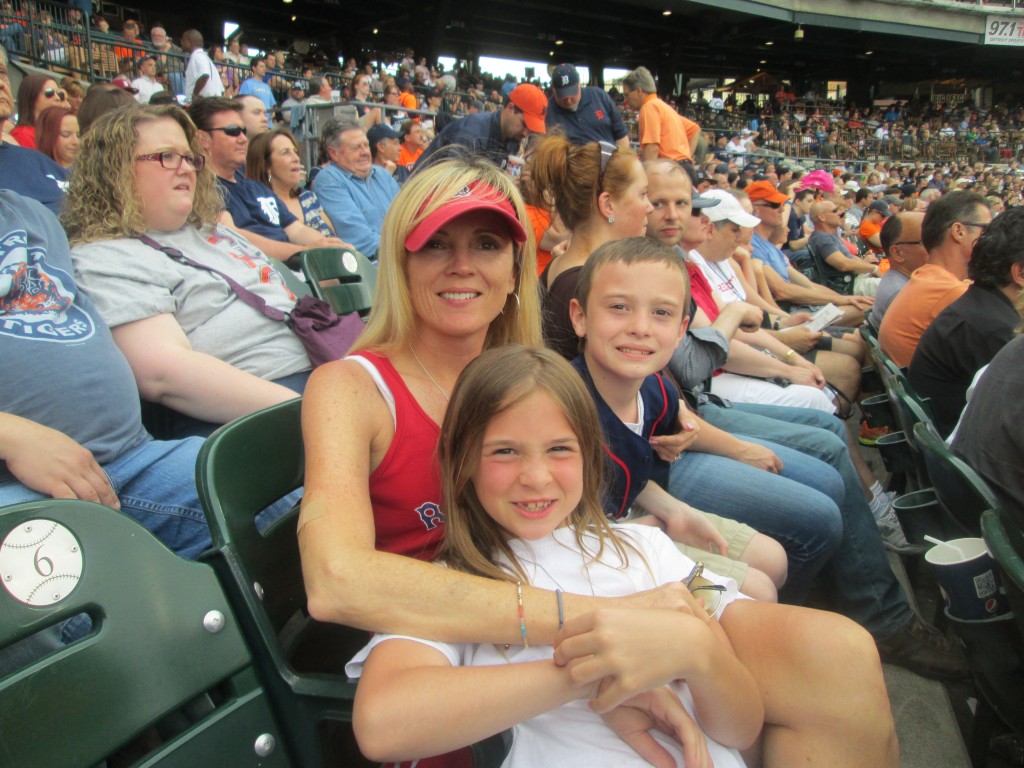 Finally, smiles…sort of.
And what a game it was!  We were sitting right in the middle of a crowd of season ticket holders, but we didn't care.  It was the second of a four game series and the Red Sox were playing really well!  We all started to enjoy ourselves.  The kids were so excited and even Audrey got into the game, repeatedly asking for clarification about the rules.  At one point she turned to me and declared, "They're winning this for Uncle Egggie!"  And they did, 10 -6.  It was the only game the Sox won in that particular series.
The kids became baseball fans that night, and Hunter pledged his loyalty to the Red Sox.  Kelly and I promised the kids that we would take them to at least one game every year.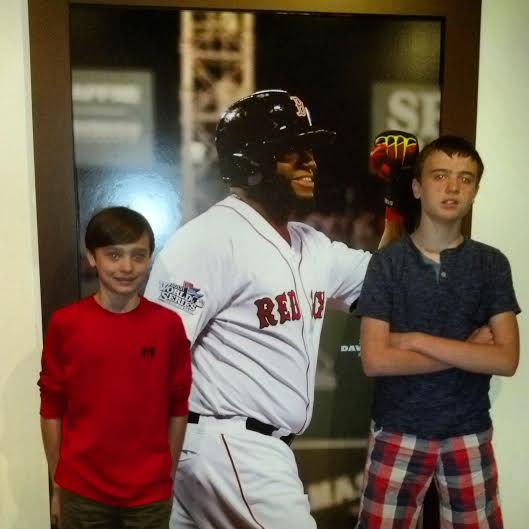 Hunter & Barrett at the Baseball Hall of Fame this summer.
Four months later, Hunter and I watched our team win the World Series and we shared the same kind of tears that I did with my brother a decade earlier.  All for the love of the game and my family.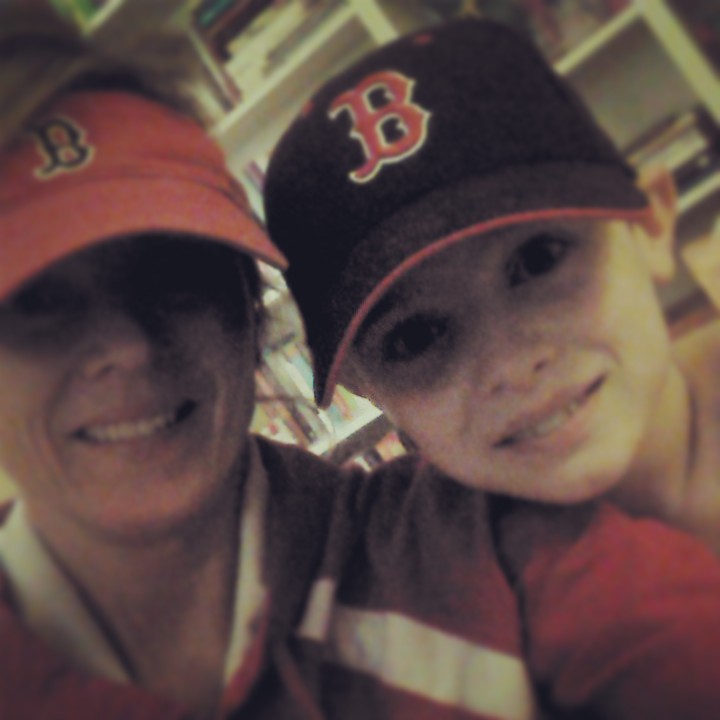 October 2013, post World Series victory.
This post was inspired by the folks at Fanatics, who are running a challenge called "Family Fanatics," asking bloggers how sports have as a way to bring families together.  Fanatics is a leading online retailer of anything related to sports, from Major League Baseball hats and jerseys to signed memorabilia.  Visit the Fanatics website for your team's merchandise.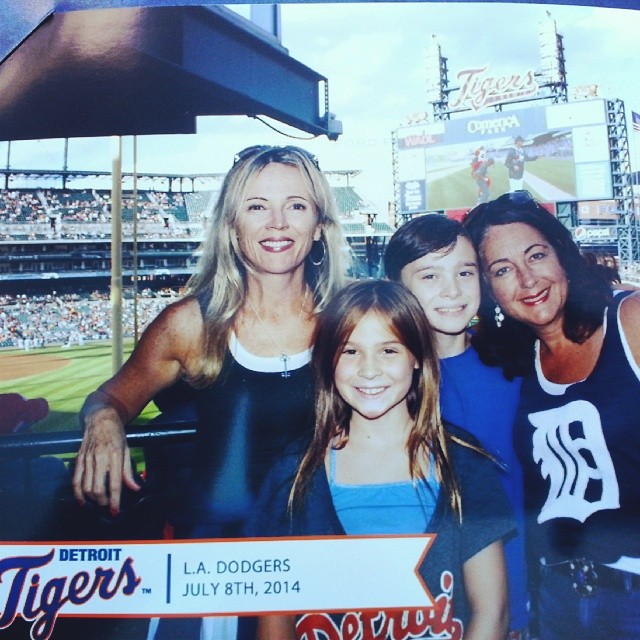 Comerica Field, July 2014.  Some of us were neutral – others went with the home team♥.
 Tell me about you family's favorite team.  Do you attend sporting events together as family?