For me, being fourteen was pretty cool.  In looking back for this post, I'm surprised by how much of being fourteen I remember. One thing is for certain, my fourteen is far different than the fourteen of today. In some ways it was so much simpler and kinder, but perhaps my nostalgia is sugarcoating my memories. There wasn't the pressure there is today, and yet I had so much more responsibility than my children. I also had more freedom, yet they have the world literally at their fingertips.
I'm the mother of two fourteen year-old boys, although for this post I'm going to only be referencing Hunter since Barrett's situation is atypical.
When I turned fourteen, I was a freshman in high school, but Hunter's still in middle school.  I wasn't a prodigy, Massachusetts just had different age cut-offs.  I was very conscientious of my grades and what my parents (and peers) thought of me, Hunter – not so much.
At fourteen, I played tennis and joined my school's tennis team. Frustratingly, I never reached a ranked high enough to play in a match. I lost confidence and believed I sucked. I gave-up. My parents never said a word to me about it. Hunter runs both cross country and track. He didn't initially make the team, but was their manager. He wanted it though, and worked hard to earn a spot on the roster. He didn't give up.  He's really fast, although if he practiced more, he'd be wicked fast. And I'm always nagging him to practice.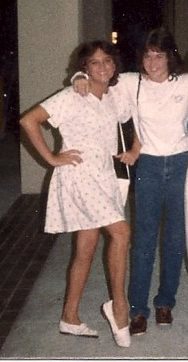 At fourteen, I was very much into what I wore and so were all my friends.  We dressed up to go to school. I loved the surfer/preppy look. I wore designer jeans, and polo shirts with the collar turned up.  I loved to wear dresses and (mini)skirts.   I loved bright colors and I wore a lot of white (that's me on the left, in white) – the more to show off my tan.  I owned quite a few pairs of white shoes: tennis shoes, sandals, flats, pumps.  All in white.
My son dresses horribly.  Seriously, it's a wonder I even let him out of the house (he's a teenager and his moodiness leaves me with little desire to keep him at home).  Gym shorts all the time.  Ugly socks.  And old grungy t-shirts, usually in grey.  When he's feeling spiffy, he'll wear some mesh psychedelic Under Armor or Nike shirt and/or hoodie.  He doesn't seem to care if his colors clash.  Maybe he's color blind.  And heaven help us if we're going somewhere that requires him wear a collar.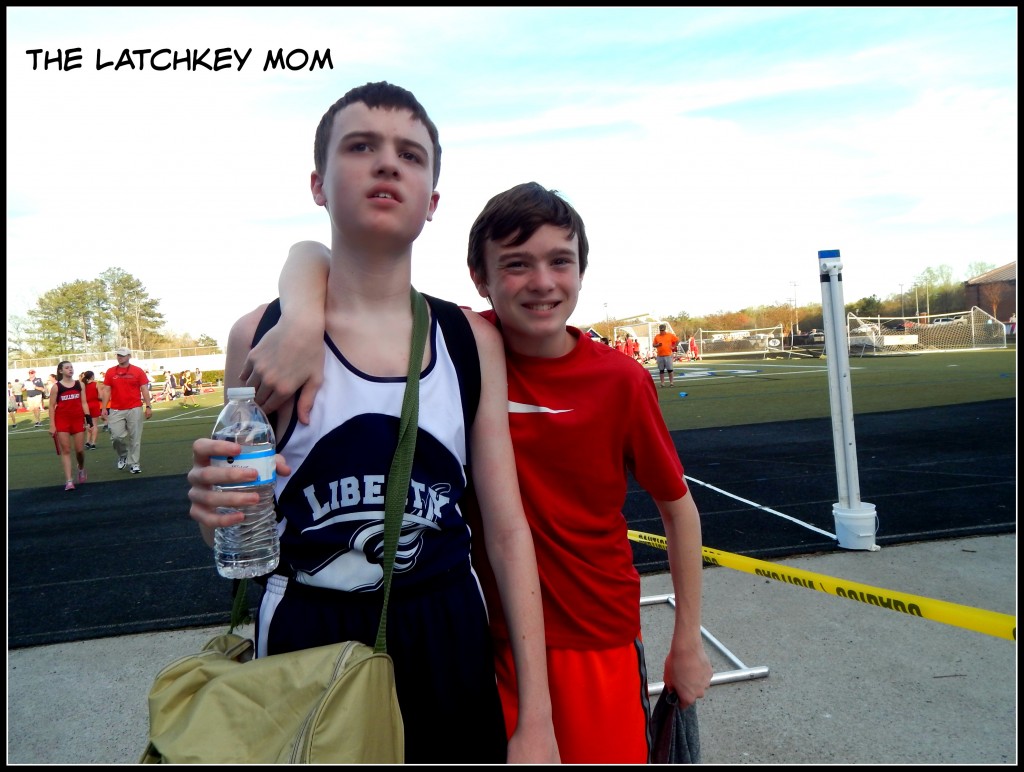 See?  Red Shirt with orange shorts!
At fourteen, I loved the hair bands of the eighties. And Prince. Lordy, I had it bad for Jon Bon Jovi and Paul Stanley.  Hunter's favorite band is Maroon Five.  I got him concert tickets for Christmas.  I thought it would be a fun mother-son date night.  Nope.  He refused to go with me.   I sold the tickets on eBay and kept the money for myself.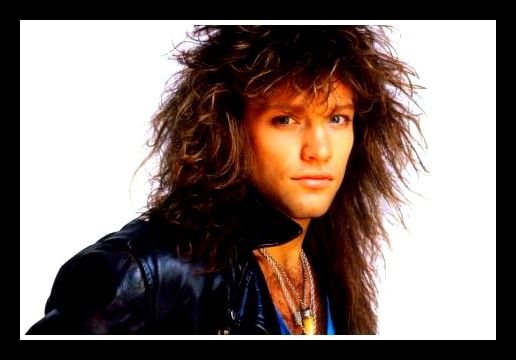 At fourteen, I was still addicted to General Hospital, and the trifecta of Dallas, Dynasty and Knots Landing. Hunter watches WWF (or WWE?) Raw/Smack Down, Motocross, and NASCAR.  The only thing we can watch on TV together is the NFL.
I loved going to the movies, especially if it was a John Hughes film or a member of the Brat Pack was involved.  I loved Rob Low.  And Richard Gere (still do).  Hunter now only goes to the movies with his dad.  And there has to be a Super Hero or explosions.  Just last night I forced him to watch Miracle with me (the Kurt Russell gem about the 1980 American gold-winning Olympic hockey team). I believe it was torture for him. Should be fun to make him watch Rudy, Bull Durham and Field of Dreams!
I was good girl at fourteen, having only kissed a boy once, and then because I was dared.  I almost got my second chance on my fourteenth birthday, however I fumbled it badly. It was really bad and definitely not a kiss. I had lots of crushes, but because of FaceBook, I really can't tell you their names.  I would be mortified, even now, decades later, if they ever fund out. I was very shy, and didn't have a boyfriend until I was fifteen (and then only for four awkward weeks).  My son does not have a girlfriend, and I'm not allowed to ask him if he does – ever again.
So I was a late bloomer when it came to the opposite sex, but I was ahead of the curve when it came to partying.  This was ironic, because I was a nerd. I loved books and hanging out with my parents.  I was a good student and already charting my course to college. But I grew up with parents who were partiers, and well, I partied.  At fourteen I'd already smoked a cigarette(s) and drank beer at a high school party and the drive-in.  Ah yes, the drive-in.  That one dates me a bit, doesn't it?  To my knowledge, my fourteen year-old has not indulged in either a beer or a cigarette.  And if he has/does, I will kick his a**. I'm also pretty sure he has no idea what a drive-in is (either the movie kind or the place that sold beer to minors).
At fourteen I had my first job, as a busgirl in my dad's restaurant.  I worked Monday, Wednesday and Friday nights.  I earned $3.25 an hour, plus tips.  I had chores, and was responsible for my own laundry and I paid for my own make-up, hair products and spiral perms at the salon. My kid doesn't have a job and sadly has very few responsibilities, other than taking out the garbage and babysitting his siblings. If he runs out of shampoo, I'm given an empty bottle and it's assumed that I will replace it. This is bad.  A local DJ calls it the wussifying of our kids. Guilty as charged.
At fourteen I wasn't sure what I wanted to be.  I imagined a glamourous life as a travel agent, interior decorator, or fashion designer.  I didn't really plan on having kids (ha!).  I wanted to live in a high rise apartment, like Mary Tyler Moore. I didn't know what an accountant did and certainly never thought I'd be one.  I didn't think I'd be a published writer, that's for sure.  Hunter has no clue what he wants to do.  He no longer answers "race car driver" when asked. Thank God.  I've met very few people in my life who really know what they want to do, so I'm not worried. I'm more concerned about his getting through the eighth grade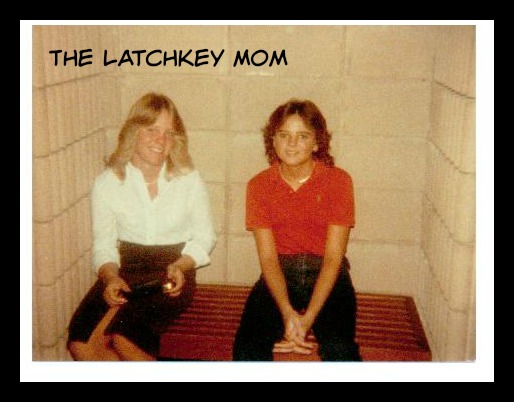 Tracy and me.  Marcie would KILL me if I posted a picture of her at fourteen.
What else?  My best friends when I was fourteen were Marcie Matkin and Tracy Buck.  I'm happy to report, we're still my friends today. I still remember the day Tracy and I saw I saw Sixteen Candles, by ourselves, and I forever pledged my love to Jake Ryan. It was the day of the Junior-Senior Prom. We were freshman, and didn't have dates. So we went to the movies – by ourselves!  That's right, we were dropped off at the theater by a parent, bought our own tickets, with cash we'd earned, watched the movie, and then hung out in the arcade for hours.  With no adult supervision.  At fourteen. For the record, I'm unwilling to drop my kid off at the movie theater with a friend. One, duh, watch the news. Two, Marcie and I "saw" Beverly Hills Cop about twenty-eight times.  One of our moms would drop us off and we'd stand in the ticket line until we couldn't see the car anymore.  Then we'd stand in line at the pay phone and call a friend who had a car to come get us. Yep, we did that. Nope, not dropping my kid off.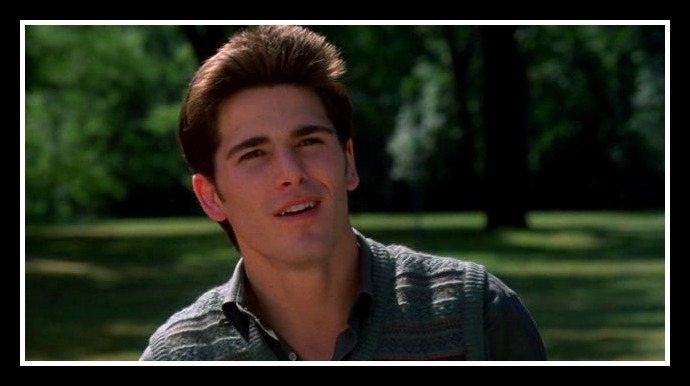 I ate too much candy, drank lots of Diet Coke, read tons of magazines, obsessed about my weight, and loved to lay in the sun.  All the time.  Oh, I regret the sunbathing.  Not really.  Okay, maybe a little.  No, honestly, I don't, but my skin does.
Of course we didn't have cell phones, but I did have a "teenager line."  I saved my money to have my own line, with my own phone number (listed in the phone book) installed in my bedroom.  Tracy's dad worked for the phone company and scored me my much coveted "princess phone."  I did all of this so I could make and receive calls whenever I wanted, because my younger brother was rather popular with the girls and was on the phone constantly.  Unfortunately, once I got my phone he started giving out my number, too.  If they couldn't reach on the house line, they called mine. Not cool.
I was a happy fourteen year-old.  Things were still really good at home.  My parents were healthy, my dad's business was doing well, my brother was mischievous, but he hadn't crossed over into troubled yet. I harbored rosy visions of the future for our family. I still had innocence, and it was glorious. All of this is true for my son, as well.  I hope I can preserve that magic and that fate doesn't have something else in store for us.
What were you doing at fourteen?
This post was inspired by Finish the Sentence Friday.  This week's prompt, "When I was fourteen…"
Our Hosts;
Kristi of Finding Ninee
Dana of Kiss My List
Kerri of Diagnosed and Still Okay