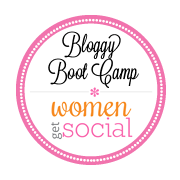 I must confess that after going to my first blogger conference a few weeks ago, I was feeling a bit discouraged. After I recapped the conference and the anxiety it caused, I received several gracious and supporting comments.  To say I was grateful is an understatement.  As I mentioned in that post, I was scheduled for the SITs Girl's Bloggy Boot Camp, which I attended last Saturday.
Having survived my first conference, I was happy to find that I wasn't so nervous this time around. I arrived at the conference hotel a little early, and checked in with ease.  Not a butterfly was felt.  I was pleasantly surprised to learn that I was assigned a table.  That took so much pressure off.  As it turned out, we'd be changing tables throughout the morning and the lunch seating was also assigned.  I got to meet more people by being forced outside my comfort zone.  Genius.
Tiffany Romero of Sits Girls was the opening speaker and she was awesome. I'm kind of in blogger/speaker/girl crush mode with her.  She blew me away.  So funny, wise, friendly, and smart!   Seriously, I was in awe.  She addressed the crowd a number of times throughout the day and I jotted down several of her quotes, because they're keepers.  As I mention in my Things to Be Excited About post, I'm on a positive inspirational kick right now, and this woman fed my hunger.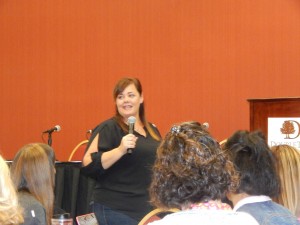 Tiffany covered the basics you need for your blog and social media. Much of it I knew, which upped my confidence, but it always helps to review and reinforce.  At lunch I met two women who are brand new to blogging (one had just downloaded WordPress that morning), so new that they made me feel like an old pro.  I urged them not to panic, explaining that I didn't learn the basics until months after I launched my blog.  They're already ahead of the game by gaining the knowledge from the start.
Media kits were addressed again….ugh!   Apparently I do need one, but I won't use it.  Therefore, it's at the bottom of my action list.
It's important to go to events. Check!  And I'm feeling better about this requirement.
Looking over my notes, here are some of the items she mentioned that are important for the different social media platforms.
Make sure your LinkedIn page is updated and professional. This is apparently very important for many brands. This seems like a relatively easy fix for me, despite my reluctance to work with brands. This I will do. Once I get a new head shot.
Facebook. Oh you wily creature you. FB is like a bad-boy lover (not that I would know, mind you). We are obsessed with "him," we like what he can give us (high profile, traffic), but it always has to be on his terms, and he's the master at playing hard to get and constantly changes the conditions to "earn" his love. All of which makes us want him more. Dammit! Honestly, I don't think anyone knows the answer to the FB question. Tiffany gave a number of blogger examples to follow that she believes are doing it right (Quirky Momma, Happy Wives Club). She suggested that when we do share blog posts of others – which you need to do – that it be from bigger and more popular bloggers than you. Not a problem for me, for obvious reasons (and due to my newfound positivity I will not elaborateJ). I do wonder, though, if that means that my blogging friends would be taking a risk by sharing my stuff, since I'm not a big blogger. Hmm…
She highly recommended the book Platform by Michael Hyatt. Yep, I ordered it.
Twitter. My least favorite platform, but I'm trying. Follow me bloggy friends. Recommendations are to limit the links and increase your participation in conversations. Also, in your twitter profile you should link to your "About Me" page on your blog. Sounds so simple and logical, right? This was an easy change that I can check off my list – I did Saturday night!
Instagram. I have no notes! Why? I don't know. I do remember Tiffany warning us not to break protocol by bombing the news feed with tons of pictures. One to three a day, ladies (and/or gentlemen).
Google+. Tiffany confessed that she really wasn't an expert and introduced another speaker to cover this. I'm sorry I forgot her name, and she wasn't on the agenda. But this was very interesting. I like Google+ and I can't quite articulate why, I just do. The last conference emphatically declared Google+ was dead – many times. But this speaker didn't make such dire predictions. If I'm remembering correctly, and I really hope I am, she said you HAVE to be on Google+, especially for SEO and (I believe) Google Ad Sense. Also – it's Google and they know everything, so you don't want to piss them off.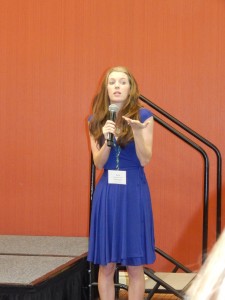 The next session was about affiliated marketing, with Kayla Aimee presenting.  She has built herself an impressive little blogging empire.  She really knows her stuff – so much so that it kind of boggled my mind.  I suggest you visit her site, and search for Bloggy Boot Camp, because she has some great slides and said they'd be up for a little while.  If you write any blogs about baby products, crafting or cooking, her tips could earn you some money. She also wrote a very popular post, "How to Start a Blog," that many in the audience admitted they read and utilized when they launched their sites.
The expert panel was super fun. It was moderated by the charming Jason Maldone (Digital Marketing Director for the Everywhere Agency).  The panel was made up of four very savvy PR professionals from various industries:  Elizabeth Raspberry (Cox Communications), Kristen Stewart (Breckenridge Ski Resort), Allison Gonzales (Carters) and Stephanie Bingham (Belk).  This panel seemed to be very supportive of influencers (apparently the new buzzword on the street for bloggers).  The ladies drank Skinny Girl Margaritas as they discussed what they look for in an influencer.  For instance, if you want to work with Carters, don't be dropping F-bombs in your blog.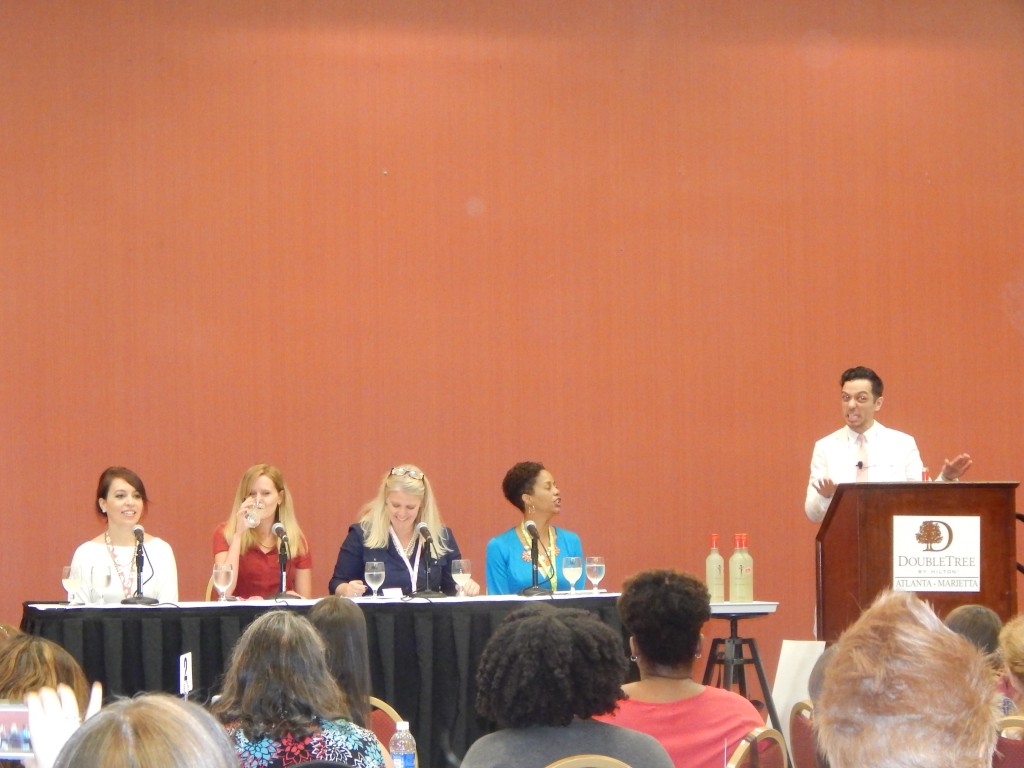 Next up, came Susan Rosati, the woman who founded Personal Black Box. I'm sure it was just me, but even after her presentation, I had no idea what a Personal Black Box was – other than some sort of data collector.  The speaker was very inspiring and totally into Girl Power.  Loved her and the anecdotes about her mother, who was a Rosie the Riveter during World War II.
After lunch, Anna Luther of My Life and Kids, presented on Pinterest.  She is an expert – and teaches a class on Pinterest for Blogging Clarity.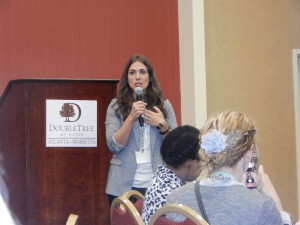 I don't know what to make of Pinterest.  I like it, it reminds me of window shopping, but I'm not sure it's an appropriate vehicle for my blog.  I don't craft, share recipes, document my workouts or give fashion tips.  I think where it would be most beneficial for me would be my Road Warrior Momma blog.  Travel is pretty popular on Pinterest.  Now I just have to find the time to pin five years worth of travel blogs.  And I have to be very careful doing so.  Pinterest just went through a major change and now has a newsfeed that may be as convoluted as Facebook's.
Anna had a bunch helpful tips. You should not pin more than 23 times a day or, and I quote, "you go to Pinterest Jail."  This did confuse me, because I don't go on Pinterest very often, and when I do, I go pin crazy.  The solution seems to be secret boards, but doesn't that defeat the purpose?  Honestly, I am a little baffled, looking over my notes.  Guess what?  Latch Key Momma will definitely be signing up for her class.  Because, even though I was confused, I feel like I could "get it," if properly guided.
Tiffany spoke again and urged those of us on the hamster wheel to get off. She really had my attention at that point, because I often feel like I'm on a hamster wheel – constantly moving and not getting anywhere.  I need to know my END GAME.  I know I want to be a published writer, but I am a little overwhelmed (Katie I hope you're not reading this, because I know I'm supposed to burn that ship) as to how to get there.  I feel like I am running around doing (almost) everything I'm told I have to do, and it's a slow process.  I really need to be more organized and strategic in what I do, and ignore the unsupportive voices in my head.  And as Ms. Romero urged, "Fake it until I make it."
Next up was Liza Hippler of Giveaway Center. Liza sat at the first table I was assigned and she is very sweet.  I've done a fair number of giveaways in the past, all of which were self-funded, and they were angst ridden for me.  Very little traffic and few comments = embarrassing.  And usually, the person who wins is not a regular reader and I never hear from them again.  I just don't feel it's a good fit for my blog.  But if it is for yours – I think you should visit Giveaway Center, because Liza had some great advice.  Unfortunately I didn't write any of it down.
Allison Barrett Carter presented on creating content for your blog – and she rocked it.  Yes, I am biased, as Allison is a friend, but I'd never heard her speak before a crowd before and I was very impressed.   Her mantra?  Just keep writing!  She said that as a blogger, you need to know who YOU are and who your audience is.  She offered great advice on how to find new people (which I can attest works!) for your tribe.  Once you get your readers, it's your responsibility to keep them.  If you get stuck, and you probably will, read other blogs, talk with friends and brainstorm.  If all else fails, reuse old content.  Just write!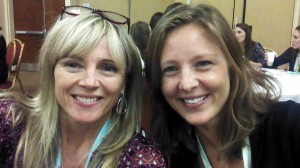 I know I quoted Allison in my last post, but I am going to do it again, because it's a good one.  "Writing is an art.  Writing is a science.  Writing requires attention."
Tiffany and Danielle Smith, author Mom Incorporated: A Guide to Business + Baby, wrapped up the conference by talking about "balance."  I was very relieved when they started out by saying that
the mythical concept of "balance" does not exist, because Lord knows I've never mastered it!  The two women stressed the importance of getting enough sleep, finding nice people and spending time with your family.   They also advised to keep office hours and use technology wisely.  When it comes to offers – "If it's not a 'Hell yeah,' it's a no!"  They told us the world is run by those who show up!
On a personal note, I had the opportunity this week to hear a U.S. Congressman speak to a group of middle schoolers about leadership. Interestingly, he had some of the very same advice.
Did I leave the conference feeling inspired, as I hoped? Yes, most definitely.  The only goal I didn't reach was making a number personal connections.  Don't misunderstand me, I met many interesting, kind and smart women, but it was a little fast paced and I was so enraptured with the speakers that I didn't have much time to engage with my fellow bloggers.  I also missed the party the night before – because we'd promised to take the kids to the county fair.  And I scooted out as soon as the conference was over, because my husband was at the hotel (different from where the conference was) dealing with a major reservation snafu and the kids were possibly going off the rails.  So the blame is on me.  I do have a ton of business cards and I plan to visit some blogs and make connections.
I have an action list as well, so if you don't see a change in my Pinterest page, an update on my "About Me" page and LinkedIn profile or water marks on my photographs – please call me on it!
Have you been to a Bloggy Boot Camp?   Did you go to the Atlanta Boot Camp?  What did you learn?  Were you inspired?