I was given a copy of this book in exchange for an honest review.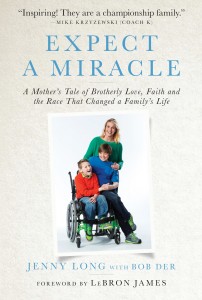 Jenny Long, the resilient and inspirational author of this book, has not had an easy life. Seriously – she experienced more drama and trauma in her first twenty-one years than I have in my whole life. Even though we come from different worlds and have lived very different lives, I feel a bond with her. Jenny is the mother of three boys, one of whom has special needs. She's a warrior sister.
Jenny's oldest son, Conner, is an athlete. Ever since his younger brother Cayden was born, all Conner's wanted to do is to play sports with him. It wasn't meant to be, because at four months of age, Cayden was diagnosed with spastic cerebral palsy. His condition prevented him from speaking and severely limited his mobility. Cayden is in a wheelchair.
One day, Conner came home with a flier for a children's triathlon. He told his mother that he wanted to do the race with his brother. He couldn't be talked out of it. He was confident they could do it. How? For the swimming, he planned to put his brother in a raft and pull him. For the bike portion, he would connect a cart to the back of his bike, pulling Cayden for three miles. For the final leg, he'd push his brother in his stroller while running.
Expect a miracle, indeed. We should all be so passionate and determined. The power of love. I don't want to give away too much about the hows involved in getting all the necessary equipment (which was a financial hardship for the family at the time), but it's pretty cool. There were also a number of people who were instrumental in helping Cayden and Connor do the race. The support of their tribe is incredibly inspirational. And Jenny's description of race day – I wept like a baby.
Since that first race, the boys have participated in more races than their mother can count.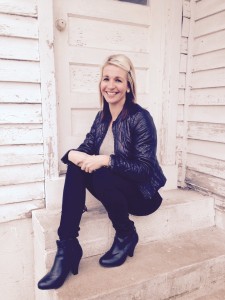 In addition to the boys' story, Jenny shares her early journey as a young girl who lost her mother to cancer. Jenny dropped out of school, got pregnant, and married the baby's father while he was in jail. There are a number of horrifyingly sad events documented in the book. I feel empathy for all she endured, and I appreciate how her young life contributed to her resilience. The woman is warrior, that's for certain, but her story distracted me from her message of brotherly love and special needs advocacy. Frankly, she deserved a book of her own.
Still, as the mother of a special needs son, I loved this book. One my greatest days as a mom was when I got to finally see my Bear run in his middle school track meet, with his brother running alongside, cheering him on. For a special needs mom, those are the moments that are balm for our aching hearts. I get it.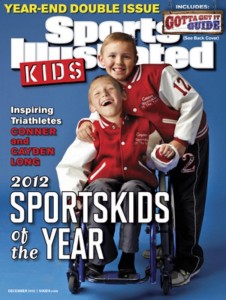 As if all this wasn't enough to fill my heart with joy, in 2012 Conner and Cayden were named Sports Kids of the Year by Sports Illustrated. During the same ceremony, LeBron James was honored as the Sportsman of the Year. Can you say rock stars? When Mr. James got up to accept his award – he could barely speak. He was all choked up after watching the video about Conner and Cayden. He honored them by saying that he would show the video to his sons, so they'd know what they can and should be doing for each other. Mr. James, I have to agree. Hunter, Audrey, and Camden – you better start training, because I may sign Bear up for a triathlon!
Have your tissues ready, because here's the video about the boys:
Here's the video with LeBron's comments. Start watching at 3:33.