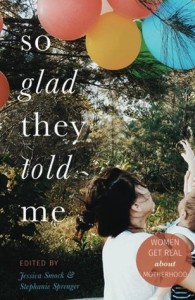 I've been on a reading hiatus lately. In the last two years (2015 & 2014), I've read or listened to over two hundred books. Reading is my passion. So imagine my surprise when I found myself reading less and less this year. The downward trend began went I started working outside the home, because the job devoured much of my reading time. Also, I think I was book-overload. Having read so many books, I found that I was starting to not appreciate what I was reading. I'd often find myself putting down a book and picking up the remote. I know.
Why am I kicking off a book review with the disclaimer that I'm not reading very much? Because I recently finished a book that I loved. A book that made me yearn to read more. A book I could relate to on so many levels.
The HerStories Project's latest anthology is So Glad They Told Me: Women Get Real about Motherhood. It's an extraordinary collection of essays. This book inspired me to write again (I've been blocked!) and to make the effort to get my reading groove back. This book reminded me how words and stories can make you feel less alone in the world.
A little background about the book. About a year and a half ago one of my editors at the HSP , Stephanie Sprenger, wrote an essay for the Huffington Post, "I'm So Glad Someone Told Me." The essay was a response to another HP essay written by a woman who found new motherhood to be a joyous experience. I didn't read the original essay, but from what I understand, the author was rebuking all the women who warned her about the downfalls of being a new parent. Stephanie's response wasn't rebuttal of the woman's happy experience, but a defense of the warnings. Most people are in fact quite overwhelmed by all that having a newborn brings to your life – despite being madly in love with their babies. Some women suffer debilitating post-partum depression. We all have our own story.
Well, Stephanie's essay touched a nerve – in a good way – and it went viral. Stephanie was interviewed in print and on the radio – I think she was even on TV. A hashtag was born #sogladtheytoldme, and women everywhere shared their stories about what they were told about motherhood. The HerStories Project knew this would be a great book – and it is.
The editors of this book, Stephanie and her HSP partner, Jessica Smock, curated a collection from some of today's most talented writers and bloggers. You guys, every essay is relatable – if you don't see yourself, you'll recognized the stories of your friends and family. Here are some highlights from some of my favorite essays in the book (it was really hard to narrow it down!).
I had chills while reading Alison Lee's essay, "Be Where You Are," which is about the time her premature twins spent in the NICU. She wrote about her baby son's inability to cry, because of the tube in his mouth that was helping him breathe. I've been there. The description of meeting her children for the first time, in the NICU, particularly hit home for me. "These were my children, and this was our first meeting. The lump in my throat nearly choked me." I collapse upon first seeing one of my babies. This brought it back it, and yet I loved the essay, because it's about how a friend's advice got her through the experience.
Another twin essay, "Having Twins Will Be Okay," by Nina Garcia, also resonated. I loved how she described her shock at the news, "It didn't feel real, not when I saw the sonogram, nor when I returned home to face these new changes in our lives. I had plans." You know what they say about making plans for your life, right? One of her pregnancy fears was the same one I had, "How will I carry twins, me, so tiny?" You just do! She was grateful for the support of other twin moms she met through an on-line group. What did we do, before the internet?
Amy Dillon's essay, "Six Weeks", addresses the push and pull of wanting to stay-at-home and yet yearning to work out in the "real world." Sixteen years later, I'm still struggling with this. When she returned to work for a six-week project, after being a stay-at-home mom, she concluded: "Those six weeks reminded me that I like to work, and that's okay. They reminded me that I'm lucky to stay at home, but if I don't always love it, that's okay, too. Those six weeks reminded me that neither choice is perfect, and that there's probably no such thing".
While reading Mimi Sager's "Motherhood is Hard," I found myself wishing I'd had her cousin's number when my boys were young. Mimi write's about how she felt like a failure when her son was a newborn, and how sometimes it was hard to console him. One day, as her infant son was wailing on the sidewalk of New York City, she snapped and called her cousin, asking her why she didn't warn her how hard it would be to be a mother. Her cousin reassured her, "It's so hard Mimi. It's so hard. Especially in the beginning. But it gets better, I promise." It was just the right words, and just the right time. By the way, Mimi found her groove and went on to have three more children. I've had the pleaure of meeting Mimi in person (we met through a HSP on-line class), along with some of her children. She is not a failure at motherhood!
"The Lonely Suburban Mom Club," by Kristi Rieger Campbell is a sad reminder that some moms never grow past the complicated world of high school cliques. My heart broke as I read about Kristi's loneliness and how she felt left out by some neighborhood moms, because she's a special needs mom. I've been there and it's not fun. I think that by essay's end, Kristi realizes we can make our own clubs. "I also imagine taking a blanket to the playground, and asking a tentative new mama who may be shifting from foot to foot whether she'd like to sit…Maybe she'll be hoping to become a part of the mom club. I imagine inviting her into mine."
Allison Barrett Carter writes about the monotony of motherhood in her essay, "How to Get Out of Bed Again and Again and Again." I think every mother can relate to this one. She writes about how even after six years of being a mother, she's still exhausted and sometimes just doesn't want to get up and do it all again. She realizes that that's just part of the gig – we're all tired. Why? Because we're giving the job everything we've got. "It means we're doing something right. We're all in." She's now more worried about how exhausted her heart will one day be, when her boys grow-up and leave. Me too.
Tamara Bowen, author of "The New Not Normal," tragically lost her father a very young age. She felt the loss throughout her life, but when her five year-old daughter started kindergarten, the author started having panic attacks. She started to transfer her feelings and memories of what happened to her at that age (the loss of her father, her mother's remarriage, moving, and starting kindergarten) to her daughter. Through writing and speaking with friends, she had the courage to seek help and was diagnosed with PTSD. Her daughter's transition to kindergarten triggered something in her, because her own history. She wrote of her gratitude to those who urged her to seek help. "I'm so glad they told me not to stay silent – and to find that so many others can relate to these transitional pains – and to these small and wide pieces of my story, emphasis on small, but a bigger emphasis on wide."
There are so many mom nuggets of wisdom in this book! Heartfelt advice from mothers who have been there. I promise, you will love this book. I think it would make a fantastic gift for a mom you love. You can order a copy of the book by clicking here – this is NOT an affiliated link. And guess what? It's on sale! You can also check out the other awesome HSP anthologies.