The Ramblers, by Aidan Donnelley Rowley, is a book I've been eager to read. Aidan blogs regularly at Ivy League Insecurities, which is how I first came to know her (and you can read more about that in yesterday's Books of My Life post). She blogged a lot about the writing of this book, but very little about the details. I had no idea what the book was going to be about, which was genius, because it stoked my curiosity.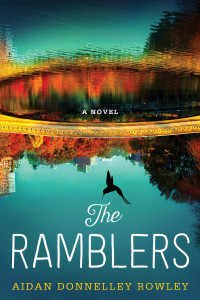 This book takes place over a week in New York City – the week of Thanksgiving, to be exact. It's about three people in their mid-thirties – Clio, Smith, and Tate. Clio Marsh is an ornithologist at the American Museum of Natural History. She's dating the successful hotelier, Henry Kildare, who's totally smitten with her. The feelings are mutual, but Clio's past and her issues with anxiety prevent her from making a commitment to Henry. Clio's best friend is Smith Anderson. Smith and Clio met when they were freshmen at Yale University. Clio was a local New Haven girl, attending the school on scholarship. Smith is from a very wealthy family with homes on the upper west side of New York City and in the Hamptons – she's beautiful and smart. You kind of want to hate her, but can't. Smith's the real deal. Back at school, Smith protectively took Clio under her wing in a way Clio's parents never could. In present day, Smith's getting over a very painful break-up and is somewhat startled by the possibly that Clio may have found "the one" in Henry. She's delighted for her friend, and yet she feels left behind. Her little sister's upcoming wedding is only making matters worse.
Enter Tate Pennington, an old classmate from Yale. Tate just relocated to New York from San Francisco, following the break-up of his marriage. Tate's a bit lost. He recently sold an app to Twitter, which made him a millionaire, and now he doesn't know what to do with his life. The whole technology thing just kind of happened. His true passion is photography. Tate's also been drinking a lot, trying to forget his soon-to-be-ex-wife. After he meets up with Smith at a Yale tailgating party, he begins to wonder if it's time to get his act together.
I love the details of the book – the setting of New York (and the Hamptons), the fancy apartments, a big and splashy wedding, sexy careers, and beautiful people. You may ask yourself, "How can these people, who seemingly have it all, be lost?" This made me think of one of my favorite quotes, "Be kinder than necessary, because everyone is fighting some kind of battle." Isn't that the truth? Aren't we all a bit lost sometimes? Rowley's style of writing is so intimate that I really got to know these characters, and boy – did I worry about them. The glamorous aspects of the book quickly faded to the background, because of the empathy I felt for Clio, Smith and Tate.
Tate's cool. I really liked him – but he's a guy and I couldn't always relate to him the way I did to Smith and Clio. Interestingly, I just read on Aiden's blog that the character of Tate was originally a woman. I'm not so sure how that would have changed the plot, but I'm so glad Tate was Tate. I love the way his story ends – but no spoilers! Smith is my soul sister. Oh, my heart hurt for her heart. Back in the day I was a bit obsessive about my break-ups, so I could really (embarrassingly) relate to her struggles to move on with her life. I also love that she hired a life coach to help her – and her whole organized plan to get over her ex. It was classic.
Clio is the heart and soul of the book and the one whom I identified with the most. Having recently lost her mother, she's processing all the elements of grief – anger, regret, guilt, and loss. As successful as she is, Clio doesn't have a lot of confidence in herself and the scars from her childhood play a role in that. I just wanted hold the poor girl and tell her everything would be alright.
Finally, Aidan is a proud New Yorker who adores her city – and that shines through on the pages of this beautiful novel. Her descriptions of Central Park and the Waldorf Hotel had me planning a trip (it's been way too long since I've been to NYC). As a history nerd, I appreciated all the historical tidbits she includes in the story about the city – most of them pertain to literary landmarks. New York City is a character in the book. And bird lovers will delight in the abundance of ornithological information – the author certainly did her homework.
As you can probably conclude by now, I thoroughly enjoyed the book and recommend it to all. Five stars! I now have officially begun eagerly anticipating Aidan's next novel. Please don't make us wait too long!
Please click here to read yesterday's The Books of My Life interview with Aidan for a chance to win a copy of the Ramblers.