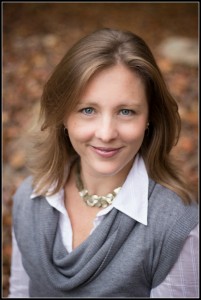 I consider Allison Barrett Carter to be my big sister in the blogging world. This is ironic – because she's actually much younger than me, not that we're counting. I "met" Allison a few years ago, when she commented on a blog post I wrote about the first anthology published by the HerStories Project, which featured one of her essays. A cyber friendship was born. Allison was a tremendous help to me when I redesigned my site a few years ago. Her wealth of blogging knowledge was invaluable and helped me get published on other sites. We finally met each other for real at a conference last year and she's a blast to hang out with.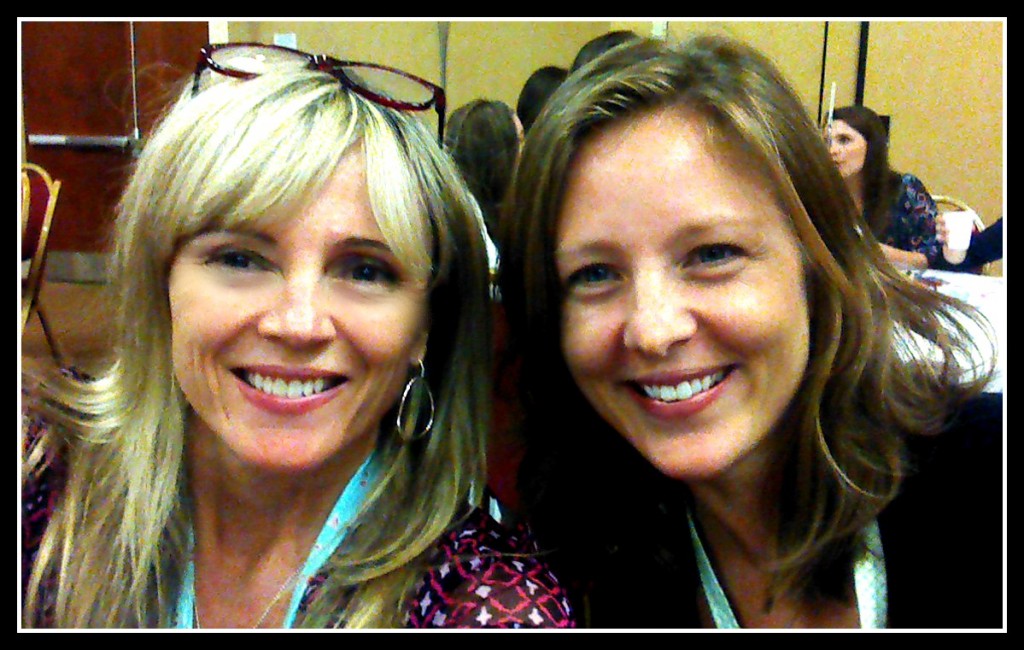 Allison is a prolific writer who's been published everywhere – the New York Times, the Washington Post, Today's Parenting, Redbook, BlogHer, Mamapedia, The Good Men Project, and dozens of other notable sites. Her work has been featured in too many anthologies to list. She's amazing and I love to read her writing. Her other professional titles include blog consultant, columnist, business owner, and co-host of the YouTube show, Bogging 411. And honestly, this is just glimpse into her professional background.  Oh, and she's also a wife, mother, fitness buff, and just moved her family to new city – so I don't know how she finds the time to read, but she does. Here are the books of Allison's life…
What was your favorite book as a child?
I read anything, but rarely more than once. The exceptions: Anne of Green Gables and Emily of New Moon series. I couldn't get enough of anything L.M. Montgomery wrote. Someday I will visit Prince Edward Island. Also, A Wrinkle in Time. I read that book about 10 times I believe.
What was your favorite book that you read for school?
The Westing Game. It was a long time ago, but I loved it. Also, as an English major, I got to read a Danielle Steele novel for school once. I didn't love the book but that was fun – "Dad, it's for COLLEGE."
What's a book that really cemented you as a writer?
I am not sure I am cemented as a writer! But I have to say that the recent Elizabeth Gilbert Big Magic was inspirational and reenergizing.
Is there a book that you've read over and over again?
Um, The Bible? As I mentioned, I rarely read books more than once so that's tough for me. Things I have read a few times: Walden and Leaves of Grass. Also, I went through a long phase of being obsessed with the Beat generation so read Howl quite a few times. It still gives me chills.
What's a classic you're embarrassed to say you've never read?
Frankenstein. Not sure how I got out of reading such an influential book as an English major. But as someone who doesn't enjoy the horror/thriller genre I am not rushing out to remedy this.
What's a book you've pretended to read?
The Goldfinch. I started it and I tried, I truly did, but I just didn't get it.
What's a book you consider grossly over-rated?
The Girl with the Dragon Tattoo. Sorry. I now fully anticipate I will be ostracized. What's a recent book you wish you'd written?
What's a favorite movie adaptation of a book you loved? Worst adaptation of a book you loved?
The Harry Potter series were brilliantly done. The worst was Under the Tuscan Sun – that wasn't even CLOSE to the plot or the characters. They weren't even trying.
The books I read to my children:
We read. A lot. Like, A LOT. My best answer to this is to send friends to my Goodreads list that I have for my kids.
What was an illicit book you had to read in secret as a child?
I was really affected by The Year of the Gopher as well as some scenes in some Judy Blume books! Oh I blush thinking about it.
What's a book people might be surprised to learn that you loved?
The Mortal Instrument series by Cassandra Clare. I devoured those things so fast it was ridiculous. My husband didn't see me for a few weeks.
If there were only one genre that you could read for the rest of your life, what would it be?
Inspirational nonfiction and things that assess the social psyche. I love Malcolm Gladwell, Freakonomics, Brene Brown, etc.
Is there a book you've given multiple times as a gift?
The Good Mother Myth. It is a compilation of essays (one of the first) touching on everything parenting and I love it. I see all of my friends in those pages and it gives solace that we aren't alone and we are all doing OK.
What was the last book that made you laugh out loud, and what was the last one that made you cry?
Laugh out loud: Amy Poehler's Yes, Please. Cry (I am not really a book-cryer): Still Alice made me teary. The one book I remembering weeping over, in a public place nonetheless, was The Red Tent.
What are you reading now?
Follow the River. I can't believe I had never heard of this book but my parents had a copy in their library that I borrowed. I am especially excited as it was written by a Butler University alum and I spent one year there in their English department. Perhaps I sat in his chair??? Can you get good writing karma from sharing a chair?
Books or eReader?
Books. I was into my eReader when I first received it for ease but I miss books. Plus, it started hurting my eyes.
Do you keep your books or pass them on?
Depends on the book! Novels and pop fiction, I pass it along if I own them (I try to get them from the library). But classics, parenting and inspirational books I keep.
Do you have a favorite place to read?
Everywhere! Honestly, I will read anywhere. Using Audible I can even "read" while driving!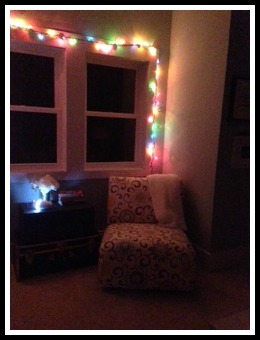 Do you have a favorite bookstore?
My favorite bookstore ever was back in downtown Chapel Hill – The Bookshop of Chapel Hill. They had rows and rows of books, signed Jack Kerouac documents and other rare finds, it smelled like old books, they even sold the illusive Bobbsey Twins, and they had cats that lived there! I don't need a fancy coffee counter – give me rare finds and a cat.
♦
Allison, I am not worthy! So many books that I've never heard of, and I read a lot. You must visit Prince Edward Island, it's beautiful. And the Ann of Green Gables house is just like it's described in the books. I also loved Big Magic, I may need to read it again, to reignite my writing in January. I'm relieved by your comments about The Goldfinch. I know it was one of the hot books of the year, but I'm not really interested. I didn't read the Dragon Tattoo series, but my husband tried and I think he agrees with you! And a close second to my choice of women's fiction (for one genre, rest of my life) would be inspirational nonfiction, as well. I love those kinds of books. Thanks for participating!
You can learn more about Allison by visiting her site, Allison Barrett Carter and you can follow her on social media by clicking the links below:
Please share your comments and questions for Allison, below. You can read previous "Books of My Life" posts by clicking the links. If you're interested in participating, please email me.
Books of My Life: Tamara (Like Camera)