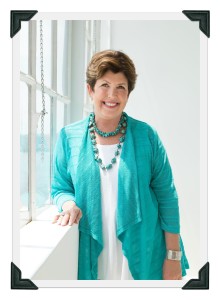 As many of you may know, I was once upon a time an aspiring romance novelist. I joined the Georgia chapter of RWA (Romance Writers of America) and attended their monthly meetings. The first person I met was Patti Callahan Henry, who became a friend. She in turn introduced me to her friend Kathy, who at the time was making the jump from mystery writer to woman's fiction, writing under the pen name, Mary Kay Andrews. I was immediately intimidated. She was a journalist for the Atlanta Journal Constitution and the author of ten novels – many of them nominated for national awards. I had cocktails with her at one conference and found myself enthralled with her newspaper stories and some industry gossip she shared. Then I moved to Maryland…I think it would have been fun to spend more time with her. She is delightful!
I have read all fourteen of Mary Kay Andrews' novels and loved them all. Her latest, The Weekenders,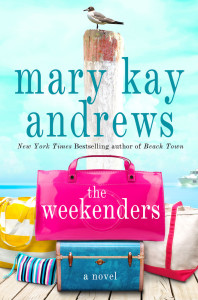 is set on an island off the coast of North Carolina and full of family drama, romance, and of course a mystery with crime-solving antics. The book will be released tomorrow and you can read my review over at Chick Lit Plus. But today, Ms. Andrews is here to share the books of her life.
What was your favorite book as a child?
Hmm. Toss-up between SWISS FAMILY ROBINSON and LITTLE WOMEN.
What was your favorite book that you read for school?
GREAT EXPECTATIONS
What's a book that really cemented you as a writer?
Toss-up between A CONFEDERACY OF DUNCES, by John Kennedy Toole and Pat Conroy's LORDS OF DISCIPLINE.
Is there a book that you've read over and over again?
GONE WITH THE WIND
What's a classic you're embarrassed to say you've never read?
Anything by William Faulkner
What's a book you've pretended to read?
WUTHERING HEIGHTS by Emily Bronte
Is there a book that you didn't understand what all the hype was for?
MOBY DICK
What's a recent book you wish you'd written?
WHERE'D YOU GO, BERNADETTE, by Maria Semple
What's a favorite movie adaptation of a book you loved? Worst adaptation of a book you loved?
REBECCA was best, I could only stand five minutes of the movie adaptation of COLD MOUNTAIN.
The books you read to your children:
HARRY THE DIRTY DOG by Gene Zion, MADELINE, THE BOXCAR CHILDREN
What was an illicit book you had to read in secret as a child?
There wasn't one. My parents didn't censor our books.
What's a book people might be surprised to learn that you loved?
THE LAST BOY: MICKEY MANTLE AND THE END OF AMERICA'S CHILDHOOD by Jane Leavy.
Who is your favorite character?
Toss-up between Eloise and Louise Penny's Inspector Armand Gamache
If there were only one genre that you could read for the rest of your life, what would it be?
Mystery
Is there a book you've given multiple times as a gift?
STILL LIFE WITH BREAD CRUMBS by Anna Quindlen
What was the last book that made you laugh out loud, and what was the last one that made you cry?
THE NIGHTINGALE by Kristin Hannah made me cry, ENCHANTED AUGUST by Brenda Bowen made me laugh.
What are you reading now?
NIGHT NIGHT: SLEEP TIGHT by Hallie Ephron, THE CROSSING, by Michael Connelly
Books or eReader?
Books, unless I'm on the road.
Do you keep your books or pass them on?
Both
Do you have a favorite place to read?
The sunroom in my house.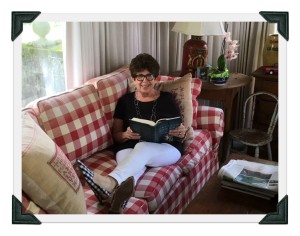 Do you have a favorite bookstore?
Several, but QUAIL RIDGE BOOKS in Raleigh is a stand-out.
♦
It is so funny – I think Moby Dick is the most mentioned book in these interviews (you either love it or hate it or have NEVER read it). I forgot about Cold Mountain – I walked out of the movie! I've never read Faulkner, loved Where'd You go Bernadette (I think it's going to be a movie?!), and The Nightingale broke my heart. Sobbed. Although I adored Gone With the Wind – it is soooo long, I cannot imagine reading it again and again. I'm impressed! Thank you so much for participating.
You can follow Mary Kay Andrews at the following places:
Please leave Kathy/Mary Kay a comment below.
Related Posts:
The Books of My Life: Liz Fenton and Lisa Steinke
The Books of My Life: Nina Badzin
The Books of My Life: Aidan Donelley Rowley
The Books of My Life: Jane Porter
If you're interesedt in participating in The Books of My Life, please email me!