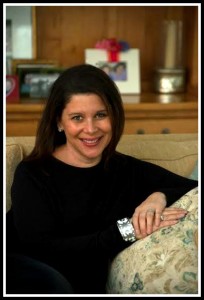 Greetings my friends! I just got back from my road trip on Saturday (late) night and my head is spinning. I have so many thoughts and feelings to share. My fingers are itching for the keyboard, but they've sadly been very busy with the dials and buttons of my washing machine and dryer. I have many family stories to share and thoughts about everything we were lucky enough to experience. And of course, I also spent a lot of reading and listening to books. One of my favorites of the summer was The Two Family House by Lynda Cohen Loigman.
Brooklyn, 1947: In the midst of a blizzard, in a two-family brownstone, two babies are born, minutes apart. The mothers are sisters by marriage: dutiful, quiet Rose, who wants nothing more than to please her difficult husband; and warm, generous Helen, the exhausted mother of four rambunctious boys who seem to need her less and less each day. Raising their families side by side, supporting one another, Rose and Helen share an impenetrable bond forged before and during that dramatic winter night.
When the storm passes, life seems to return to normal; but as the years progress, small cracks start to appear and the once deep friendship between the two women begins to unravel. No one knows why, and no one can stop it. One misguided choice; one moment of tragedy. Heartbreak wars with happiness and almost, but not quite, wins. Moving and evocative, Lynda Cohen Loigman's debut novelThe Two-Family House is a heart-wrenching, gripping multigenerational story, woven around the deepest of secrets.
Okay, so this book really upset me.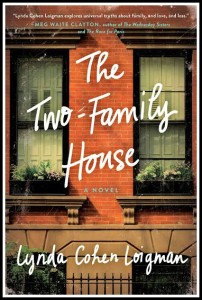 I cannot tell you why – but I was VERY worked up. Also, there's one character that I just couldn't empathize with – at all. That's all I can say, because I don't want to give anything away. Despite my personal angst – I couldn't stop reading this book. I didn't know where (or how) the author would take the story. Ms. Loigman is a very brave writer, because aspects of this book will likely evoke visceral reactions from the reader. Or maybe it's just me? I don't know, but I want you to read this book so we can dish. Oy!
But seriously, the book is beautifully written, with a complicated plot. This is a debut novel, which blows my mind. Loigman is talented and has created a cast of characters that you'll never forget. And I must warn you – you'll need tissues. You can purchase the book here (this is NOT an affiliated link!)
Please join me as Ms. Loigman shares the books of her life.
What was your favorite book as a child?
Although I grew up in western Massachusetts, my mother grew up in Brooklyn, New York. I never visited Brooklyn when I was little, but I used to ask my mother questions about it all the time. When I was ten years old, my mother gave me her copy of A Tree Grows In Brooklyn, by Betty Smith. The main character, Francie, was a young girl who loved to read, and I was too. But the main attraction of the book for me was the description of the place I knew to be my mother's childhood home. It was my favorite book because I felt like reading it taught me more about my mom.
Is there a book that you've read over and over again?
I reread books all the time. A Tree Grows In Brooklyn, Marjorie Morningstar and Edith Wharton's The Custom of the Country are some of my favorites.
What's a classic you're embarrassed to say you've never read?
I didn't read The Bell Jar until last year, and I'm so glad I finally read it! There are many other classics I haven't read – War and Peace is at the top of the list.
Is there a book that you didn't understand what all the hype was for?
I don't like writing negative things about other people's books, so I'm not going to list any titles, but there will always be books that don't live up to expectations. For me, the books that disappoint the most are the ones with the big sexy storylines that just aren't that well written. There might be a great hook, but not much else, and sometimes those books get hyped.
What's a recent book you wish you'd written?
I wish I had written Alice Hoffman's The Marriage of Opposites. The way she writes about painting, about color and light, is so beautiful and transformative. It's a wonderful story about love and loss, but the passages about painting are the most magical to me.
The books I read to my children:
I love Eloise, and I read that to my children a lot when they were little. The illustrations are so clever and my son always loved the part about Eloise riding up and down the elevator in the Plaza. I also read Edward Eager's Half Magic to them over and over.
What was an illicit book you had to read in secret as a child?
I was born in 1968, so Judy Blume's books were a huge influence. She seemed to have a book for every stage of a young person's life – Blubber, Are You There God, It's Me Margaret?, and Deenie were all very meaningful to me at different points during my childhood. Her book Forever came out in 1975, so I was too young to be aware of it then. But by the time I was twelve, it was the book all my friends were talking about. My best friend's older sister had a copy, and we used to hide in her bedroom closet and read the sex scenes.
What's a book people might be surprised to learn that you loved?
Other than the Harry Potter books, I'm not much of a fantasy person. But surprisingly, The Game of Thrones books have a real grip one me. Both J.K. Rowling and George R.R. Martin managed to create enormously detailed worlds, and I love getting lost in them.
If there were only one genre that you could read for the rest of your life, what would it be?
Right now I'm obsessed with historical fiction, so I'd have to choose that.
What was the last book that made you laugh out loud, and what was the last one that made you cry?
Last summer I read A Man Called Ove while I was on vacation with my husband. He thought I was having a breakdown because I kept alternating between laughing out loud and sobbing uncontrollably. I finished it in one day, but by the time I was done, my eyes were swollen and my nose was bright red.
Do you keep your books or pass them on?
It depends. If I think a book is something a friend will enjoy, I will lend it to him or her. But I usually like to have it back.
Do you have a favorite place to read?
At home, in bed.
Do you have a favorite bookstore?
My favorite bookstore is Bunch of Grapes Bookstore in Vineyard Haven on Martha's Vineyard. We try to go every year, and I always find something new that I haven't seen anywhere else. Plus, they have a great young adult section for my kids.
You can follow Lynda Cohen Loigman here:
Please leave comments for Lynda below.
Other Books of My Life Posts:
TBOMY: Tamara from Tamara like Camera
TBOMY: Author Aidan Donnelley Rowley
TBOMY: Liz Fenton & Lisa Steinke