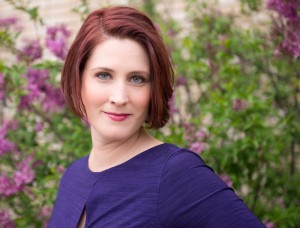 I'm so excited today to be featuring my friend and editor at The HerStories Project, Stephanie Sprenger, for a Books of My Life post. After years of reading posts on her blog, Mommy, For Real, and exchanging comments and emails, this summer I finally got to meet Stephanie while I was in Denver on our family road trip. We had a couple of cocktails and talked about life, writing, and of course books! Stephanie is funny, thoughtful, intelligent, dedicated, hardworking, and gorgeous. I wish we lived closer.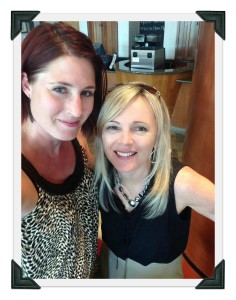 I'm very grateful to Stephanie and her HerStories partner, Jessica Smock, because they gave me my first published-on-paper-in-a-book by-line. It's because of them that I can call myself a published author. They selected my essay, "The Longest Winter," to be a part of their HSP anthology, Mothering Through the Darkness. They also gave me my first steady writing paycheck, by hiring me as their assistant editor for the HSP's monthly Voices column. By the way, I must take this opportunity to make a pitch. We are accepting essays for October and November. We pay for original work! October's theme is Fear and November's is Gratitude. Click here for details.
Stephanie and Jessica have continuously inspired me with all that they have created. They were two women who met over the internet and bonded over a book! They became virtual friends and together decided to form a website that would share stories about women's friendships. The HerStories Project was launched in 2012. The response was overwhelming and they published a book of friendship essays, and then there was a second book. While all this was happening, both women went on to be published at many prestigious sites. They developed multiple curricula for on-line classes, to teach other aspiring writers abut blogging and getting published. I myself am a graduate of two of their classes, and one of my essays, the most personal piece I ever wrote, was published at Full Grown People. By the way, both ladies are mothers to little ones and also have day jobs. Stephanie is a board certified music therapist, who works with special kiddos like my Bear, and Jessica is a teacher. And I almost forgot, Stephanie is also a co-producer for Listen To Your Mother Boulder show.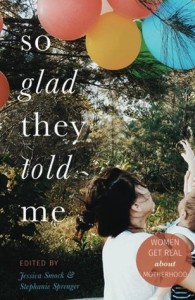 The HerStories Project's latest book is, So Glad They Told Me: Women Get Real About Motherhood. First, I think the book's cover is a shoe-in for my Best Cover of the Year Award. Secondly, the collection of essays in this book is fabulous. I'm halfway through the book and will share my review soon. Guess what? I'm giving away a copy! Just ready Stephanie's interview and leave a comment for a chance to win. I'll randomly pick a winner on Monday. You can also order a copy on Amazon! (an unaffiliated link).
♦
What was my favorite book as a child?
I can pick more than one, right? J The Secret Garden, Anne of Green Gables, From the Mixed-Up Files of Mrs. Basil E. Frankweiler.
What was your favorite book that you read for school?
Catcher in the Rye . . . a cliché, but true!
What's a book that really cemented you as a writer?
I remember reading Elizabeth Berg a lot as a young adult—I think What We Keep was the first book of hers that I read, and it inspired me so much to read an author who really got inside people's heads. Her characters were so real, and vulnerable, and human, and the way she managed to convey things that everyone thought but never said aloud definitely influenced me as a writer.
Is there a book that you've read over and over again?
I don't often re-read, but I think I read the final Anne of Green Gables Book—Rilla of Ingleside—a dozen times as a teenager. I couldn't bear to be done with the series! Also, as soon as I finished Night Circus, I picked it right back up and read the entire thing again—I've never done that before or since.
What's a classic you're embarrassed to say you've never read?
I've never read any Jane Austen. There, I said it.
Disappointing, overrated, just not good: What book did you feel you were supposed to like, and didn't? Do you remember the last book you put down without finishing?
I thought I was supposed to like Kafka, but I hated him with a passion and skimmed the last half of The Trial. It was torture to force myself to finish it, but I was in a book club that was reading it. I hate putting down books without finishing them! My oldest daughter recently congratulated me when I told her I'd finished a book I hated! (It was the follow-up book to the Girl with the Dragon Tattoo series, and I wanted to love it but found it boring and confusing.)
What's a favorite movie adaptation of a book you loved? Worst adaptation of a book you loved?
I thought Gone Girl was a fantastic movie. I hated The DaVinci Code movie with a passion.
The books you read to your children:
My oldest and I are currently finishing the last Harry Potter book. It's been SO fun to re-read them all with her! Our first read aloud book was The Secret Garden. LOVE.
What's a book people might be surprised to learn that you loved?
I loved the All Souls Trilogy. (Vampires, witches, etc.) Could not put them down. (OK, fine, I loved the Twilight books, too…)
If there were only one genre that you could read for the rest of your life, what would it be?
Oh, I love dramatic fiction.
What was the last book that made you laugh out loud, and what was the last one that made you cry?
I laughed out loud reading Don't Get Too Comfortable by David Rakoff, and I cried during All the Light We Cannot See.
What was the last book that you told people they have to read?
All The Light We Cannot See. But I did say that about Night Circus, too. I loved that book so much.
What are you reading now? What will you read next?
The Bitch in the House, and probably The Bitch is Back, coming out this month! Also alternating in the Outlander series for some great escape fiction. J
Books or eReader?
Mostly books. Only the eReader when I'm having some sort of pressing situation, like, I can't wait five more seconds to get a book, etc.
Do you keep your books or pass them on?
I love to share my books, but I generally get them back from people at some point. Most of the time…
Do you have a favorite place to read?
My bed, propped up against lots of pillows, with the heating pad behind my back. Or, if it's nice outside, my hammock chair on the back patio. It was a birthday gift from my husband, and I love it.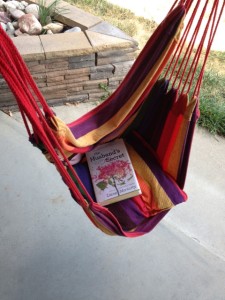 Do you have a favorite bookstore?
The Tattered Cover in Denver is fantastic, but I have a fondness for Book People in Sioux City, Iowa where I grew up. I could have spent all day there as a child.
♦
Kafka? I can't believe you even tried to read him. I am not worthy. I wish I'd known you were an Anne of Green Gables fan. I went to the Green Gables house a few road trips back, when we were on Prince Edwards Island.  I loved the Gone Girl movie, too. And I can't wait for Girl on a Train to hit theaters. I was surprised about the vampires, didn't see that one coming:). And I am extremely intrigued by the fact that you are reading a book titled, The Bitch in the House. Fiction or nonfiction? Tell me more!
Don't forget to leave a comment for a chance to win a copy of So Glad They Told Me. You can learn more about Stephanie by visiting her at the following places:
You can see other author and blogger Books of My Life posts  by clicking here.