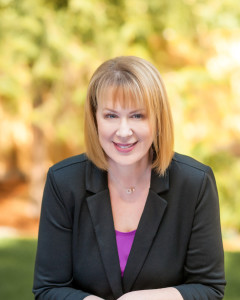 #1 New York Times bestselling author Susan Mallery writes heartwarming and humorous novels about the relationships that define women's lives—family, friendship, romance. She's best known for putting nuanced characters into emotionally complex, real-life situations with twists that surprise readers to laughter. Because Susan is passionate about animal welfare, pets play a big role in her books. Beloved by millions of readers worldwide, her books have been translated into 28 languages. Susan lives in Washington State with her husband and two ragdoll cats. Visit her online at SusanMallery.com.
Today is publication day for Suan Mallery's latest novel, A Million Little Things.
This novel is a twisty tale of family dynamics that explores what can go terribly, hysterically wrong when the line between friendship and family blurs… 
Zoe Saldivar is more than just single—she's ALONE. She recently broke up with her longtime boyfriend, she works from home and her best friend Jen is so obsessed with her baby that she has practically abandoned their friendship. The day Zoe accidentally traps herself in her attic with her hungry-looking cat, she realizes that it's up to her to stop living in isolation. 
Her seemingly empty life takes a sudden turn for the complicated—her first new friend is Jen's widowed mom, Pam. The only guy to give her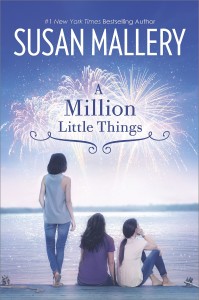 butterflies in a very long time is Jen's brother. And meanwhile, Pam is being very deliberately seduced by Zoe's own smooth-as-tequila father. Pam's flustered, Jen's annoyed and Zoe is beginning to think "alone" doesn't sound so bad, after all. 
You can order a copy of her book on Amazon or Barnes and Noble.
What was your favorite book as a child?
I had lots of favorites, and they changed almost constantly. One that stands out in my memory was The Little Princess. I wanted to be Sara Crewe and have an adventure.
I was a voracious reader right from the time I began to know the difference between A and B. I was an only child, and we lived in a neighborhood with no other kids my age, so I spent a lot of time alone in the summer and over holidays. Books were my salvation.
My dad and I had a deal. He would take me to the library every weekend, and I was allowed to check out as many books as I could carry. I got really good at carrying a large stack of books! I read every one at least once. Some, I read two or three times before returning them.
My parents quickly discovered that sending me to my room was no punishment because that's where all my books were! They began to send me to the bathroom instead—so naughty me, I started hiding books under the sink and behind the toilet. I would lie down in the bathtub with a book and happily lose myself in a story. I didn't tell them about that until I was an adult—only to discover that they knew all along. Parents can't be too upset about a kid who loves to read, right?
What's a recent book you wish you'd written?
I'm really into YA books. I think some of the best writing that's being done right now is in YA. I think it has to do with the power of teenagers' emotions. Everything is high stakes when you're that age, and then when the authors add truly high stakes (sometimes life and death), it makes for a riveting read.
As much as the idea appeals, I don't think it would be appropriate for me to get into writing YA because it would lead young readers to my other books, which are not exactly PG-rated. However, the book I'm working on right now does have a teenage girl as one of the three heroines. (This is a Mischief Bay novel, a follow-up to my book A Million Little Things, which comes out February 28.)
I haven't been a teenager for a while, and I don't have any children, so I needed to do some research to get into the mindset and to make sure that my character was a teen of today. So much has changed with technology and with our society in general.
I put out a call to a few of my most enthusiastic readers to ask if they had teenage girls who would be willing to talk to me before I started writing the book, and I connected via Skype with a group of girls from around the country. It was so helpful!
What was an illicit book you had to read in secret as a child?
I started reading Harlequins when I was about thirteen. The mother of a friend had shelf after shelf of romances at her house. It started innocently enough—when I spent the night there, I would read one of the books after my friend had gone to sleep. Before I knew it, I was addicted, and I began to "borrow" them, sneaking a book or two into my bag or under my coat to take them home. I always returned them! My friend's mom quickly realized what I was doing and she told me I could borrow as many books as I wanted. Little did I know at the time that my teenage addiction would lead to a career I love!
 What's a book people might be surprised to learn that you loved?
I'm really into World War II spy novels. Give me a hidden cache of Nazi gold, and I'm so there!
 If there were only one genre that you could read for the rest of your life, what would it be?
Romance, first, last, and always. I still find romance novels more satisfying than any other kind of book. I love the positive message they send about the world, that there is someone out there for everyone, and if you open yourself to love and work to overcome your conflicts, you can achieve happily ever after. And I know lots of happily married people who are proof that love exists, and it can last forever.
Do you have a favorite place to read?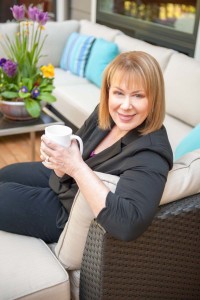 My favorite place to read is out on the back porch—but only on sunny days, which are few and far between here in Seattle. On gloomy days, I like to kick back on the sofa inside, with my feet on my husband's lap and the cats curled up around me.
Thank you Susan. I really appreciate you sharing your thoughts about your favorite books. You can learn more about Susan by following her at her website an don social media:
Thank you Susan! Please leave comments for Susan below. And don't forget to order her book!