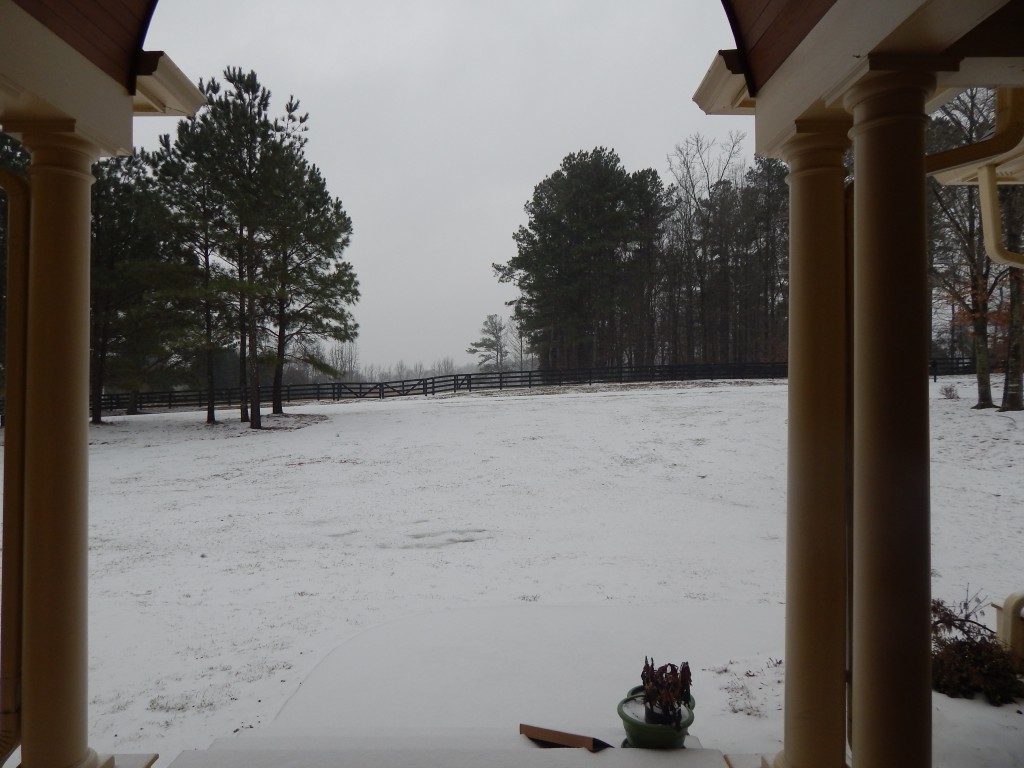 Mom woke up at 7a.m., after a rough night of sleep.  I have a sinus infection/cold and the ice pelting our bedroom chimney all night didn't help me sleep well.  As I was brushing my teeth, I heard a door slam, so I went to investigate.  "Thomas" (a.k.a. my husband) was bundling Audrey and Cammy up in the Ranger, for a ride in the snow.  I was thinking to myself, you've got to be kidding me.  Its freezing and they're insane.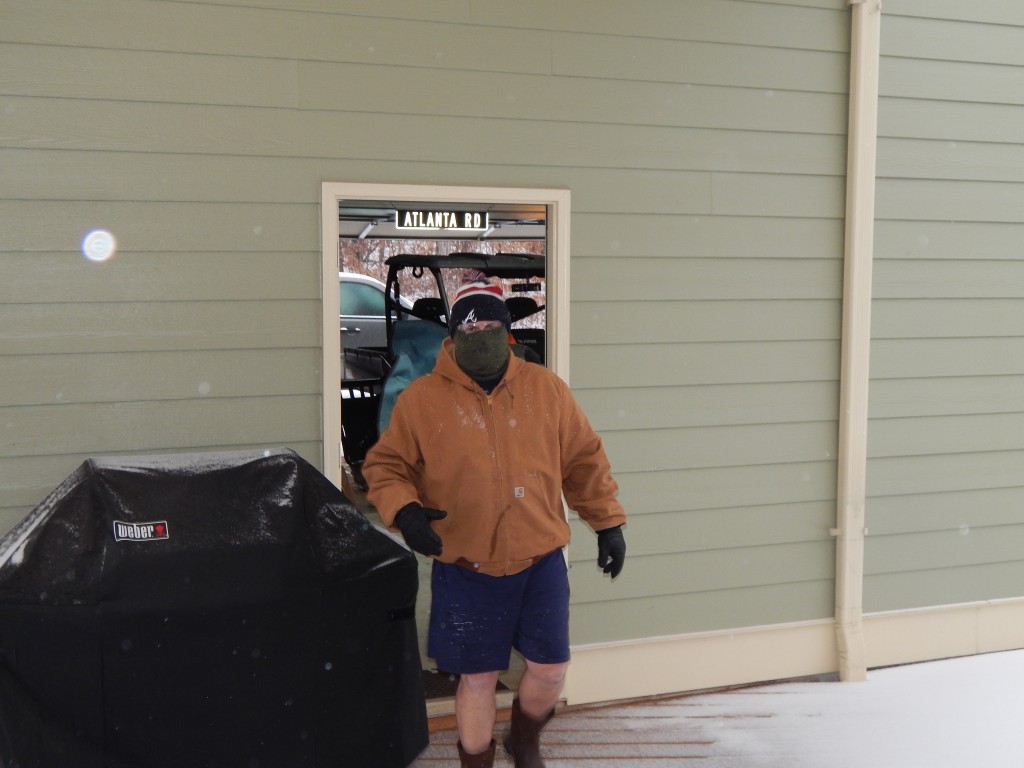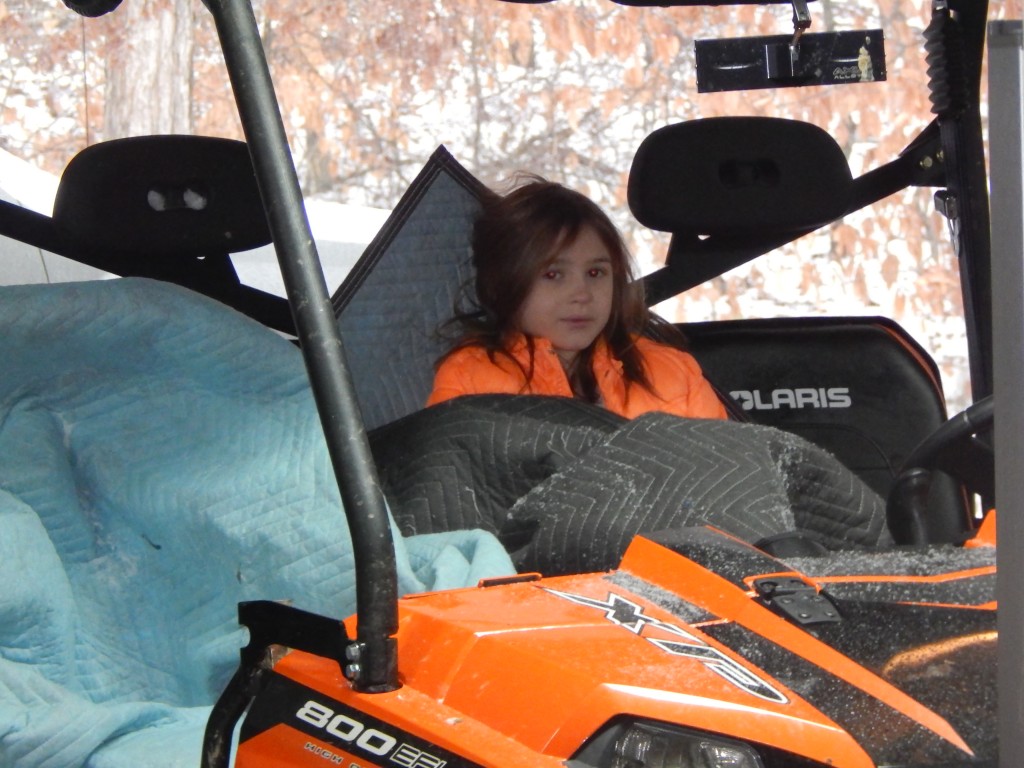 I made my coffee and began the process of making pancakes, only to discover that I was out of my shake mix, so had to resort to Bisquick.  I'm not doing carbs currently, but Thomas couldn't resist and he had his first taste of white flour in a month.  We were off and running.
When I finally looked at my phone, I saw that I'd been inundated with texts and phone calls from friends, most of whom live up north, checking in to see if we're okay.  Wow, it's going to take Atlanta quite a while to live this winter down.  I called Grand Ginny and she laughed at my distress over the possibility of an extended school year (7 snow days and counting).  This will totally mess up our Road Trip Itinerary, by the way.
At 9:00 a.m. Hunter sauntered down the stairs.  Nice of you to join us, Hunter, but you missed breakfast dude.
Based on the dire forecast from the news it looked like the odds of us losing power were good.  I made the executive decision to run the dishwasher and do all the laundry I could, until I couldn't.  A hot shower, too.
At 9:30a.m. mom was showered and dad was working in the basement.  Barrett was doing a puzzle.  Hunter was watching Olympic hockey.  Audrey was dancing to loud music in the basement.  Camden was curled up in master bedroom watching Tom & Jerry.  There was a tent in the keeping room?  Guess no one was in the mood for family bonding, so I decided to work on an essay that was really frustrating me.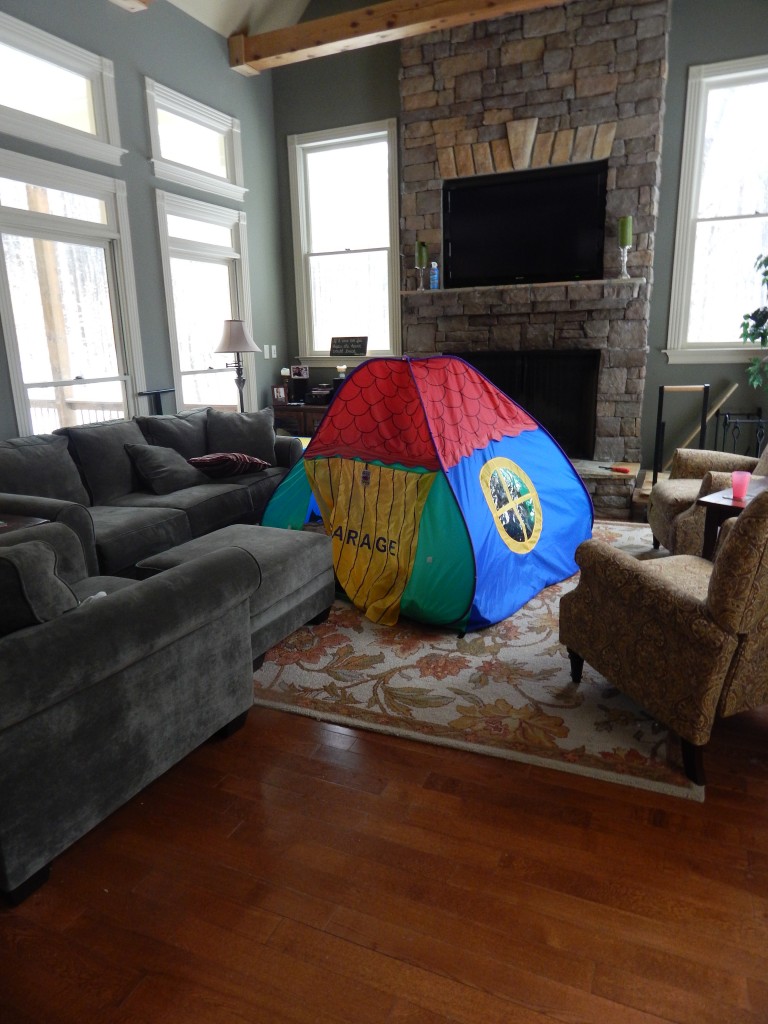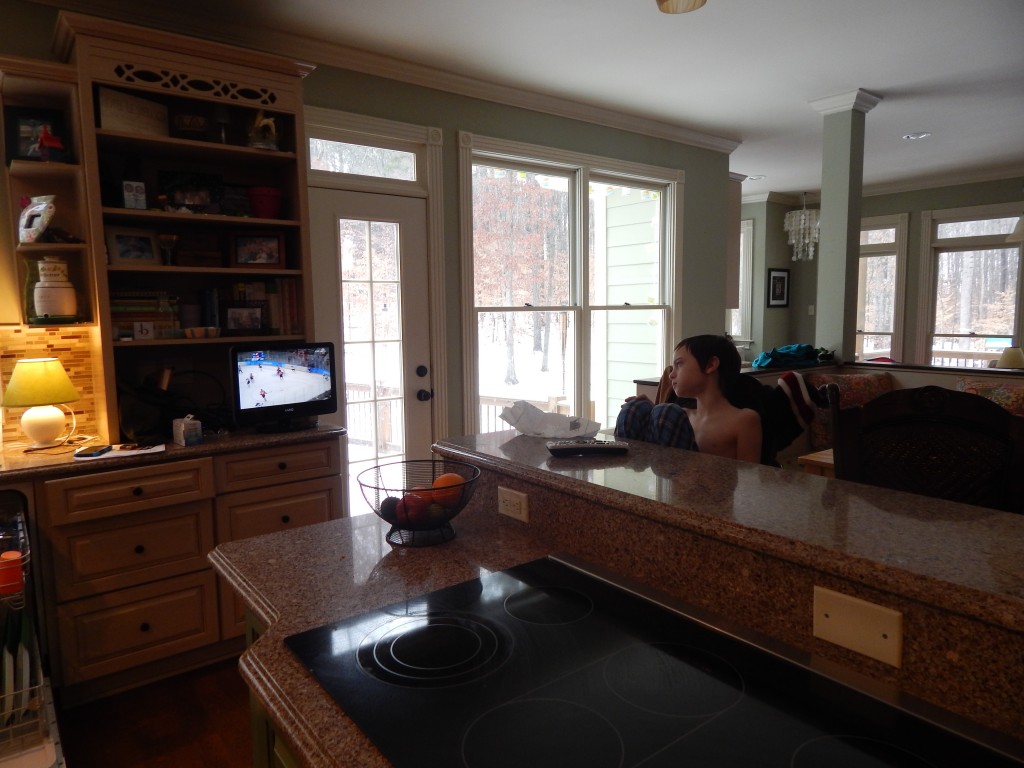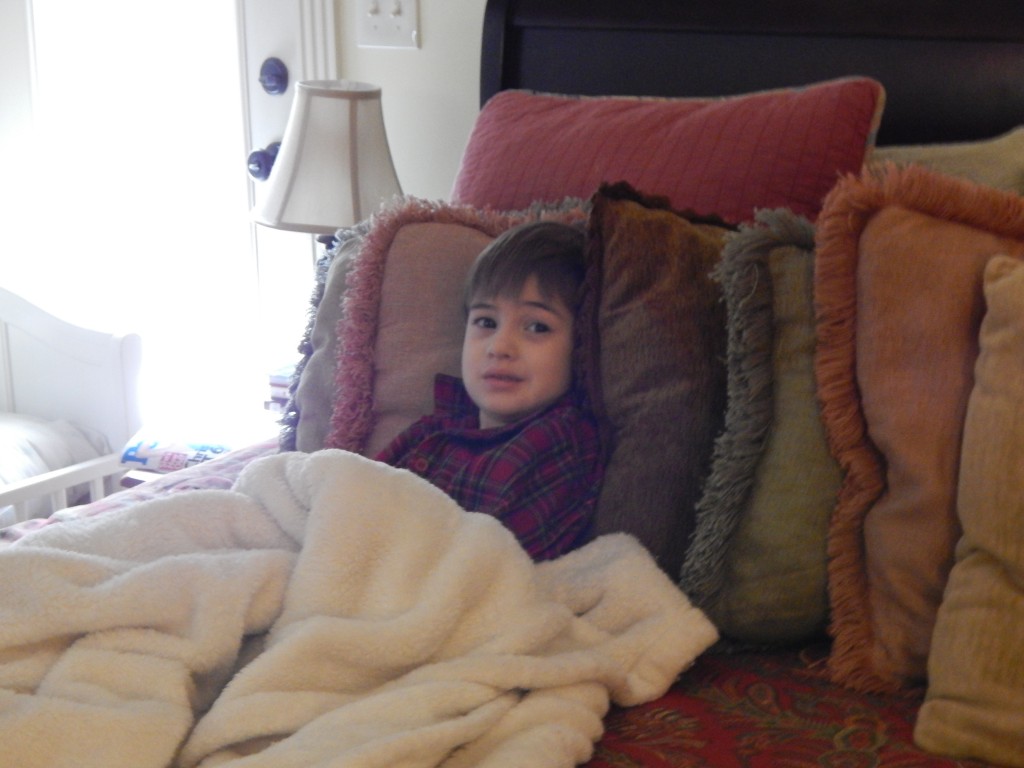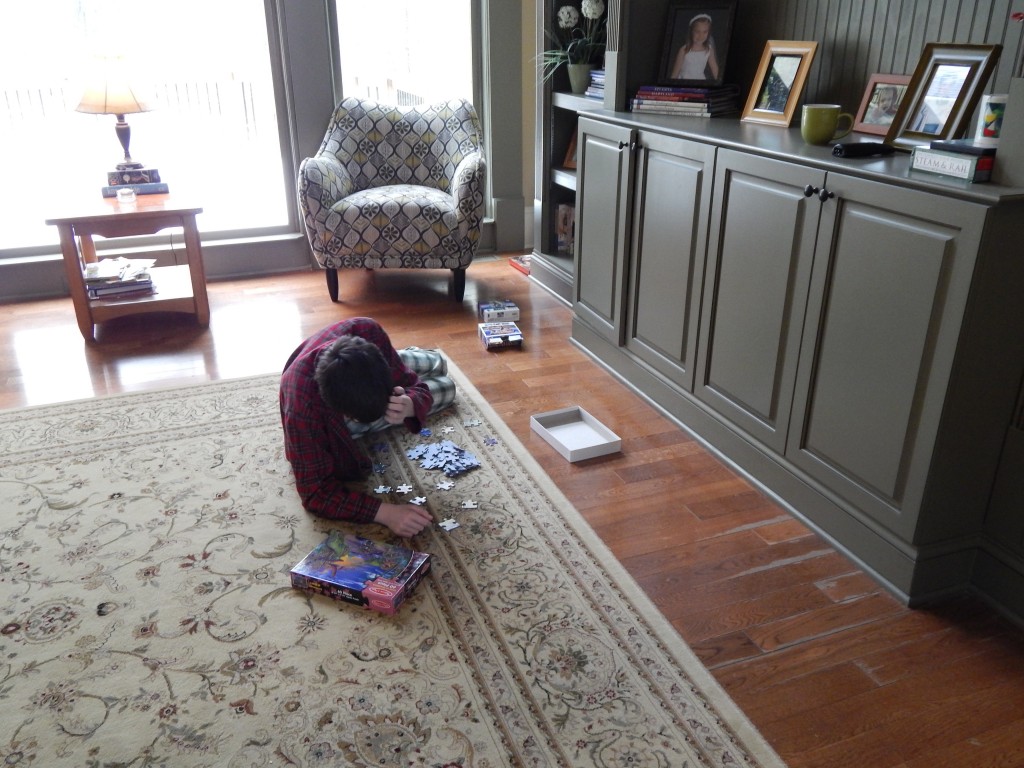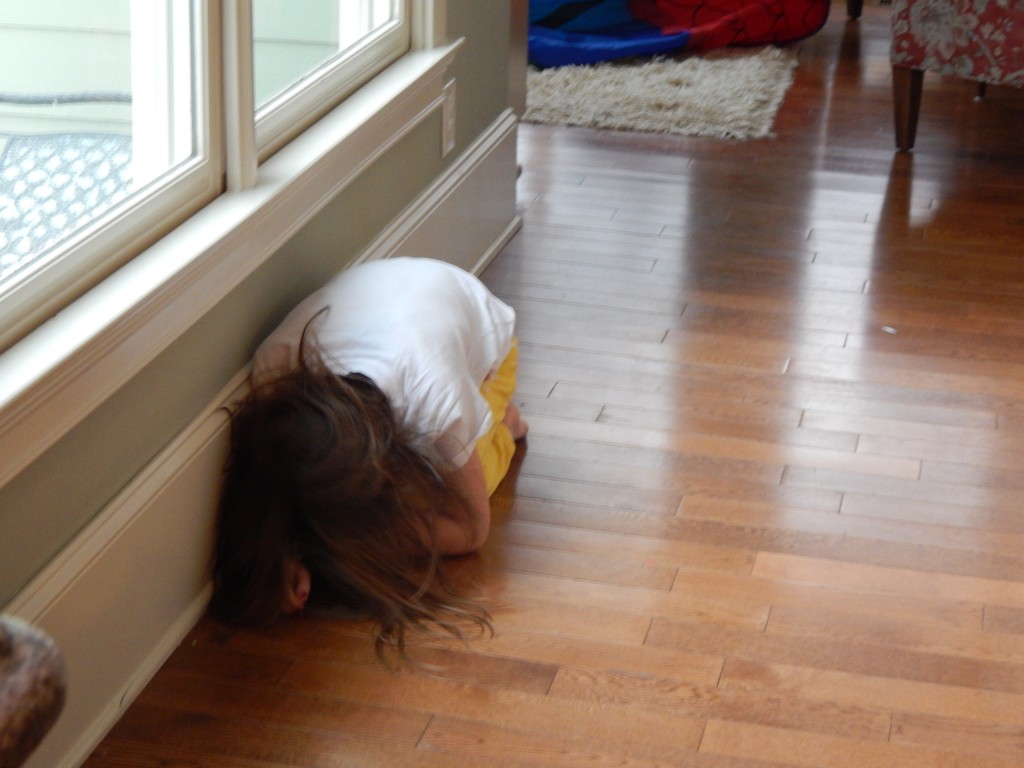 Phone rings – no school tomorrow.  Fabulous.
10:30a.m. our neighbor Conner showed up.  I could tell he was bored.  He told us that he has a sled, so Thomas told him to go get it.  In the meantime, Thomas made lunch for the boys.
Everyone disappeared for a while and it was blissfully quite, except for Bear in the basement.  I cursed myself because he'd somehow found the computer mouse I'd hidden.  (I was trying to keep him from being on the computer all day.)
I continued doing laundry, as everyone's snow clothes were wet from the morning.   From the window, I watched Thomas drag all the kids on the sled with the Ranger.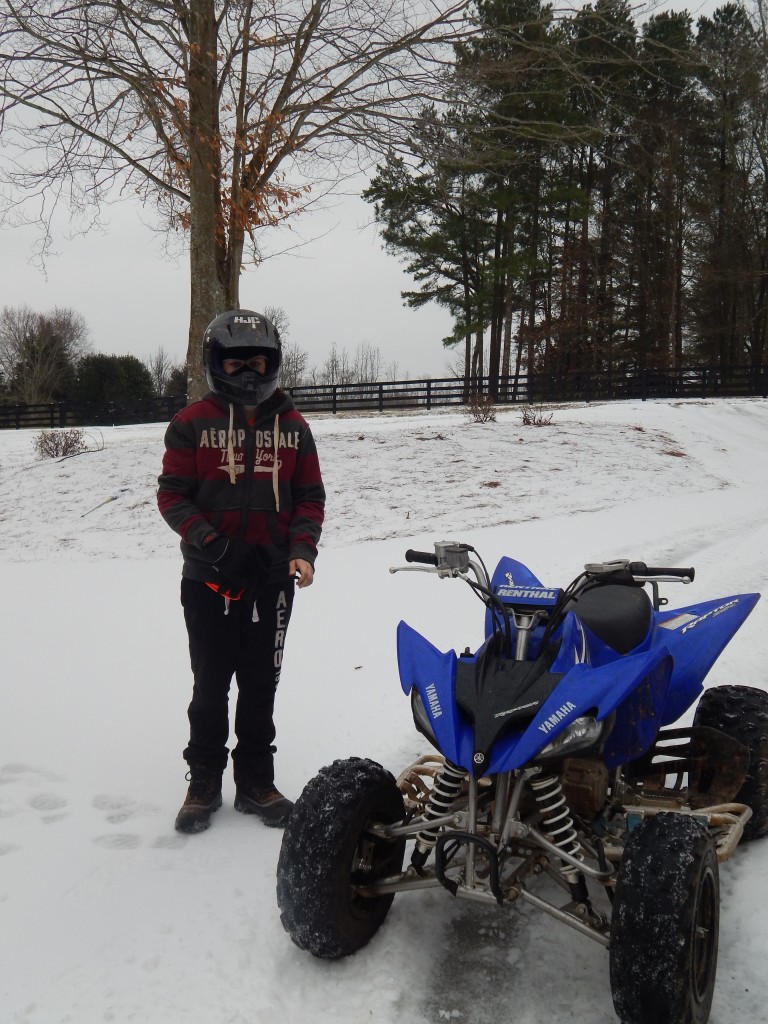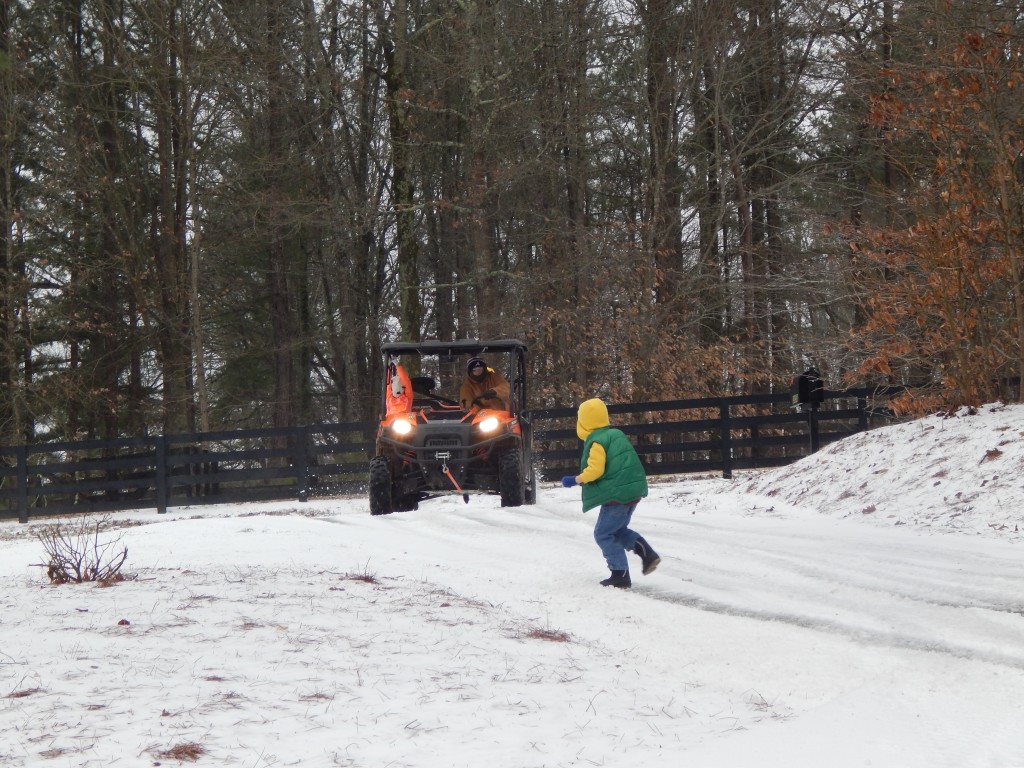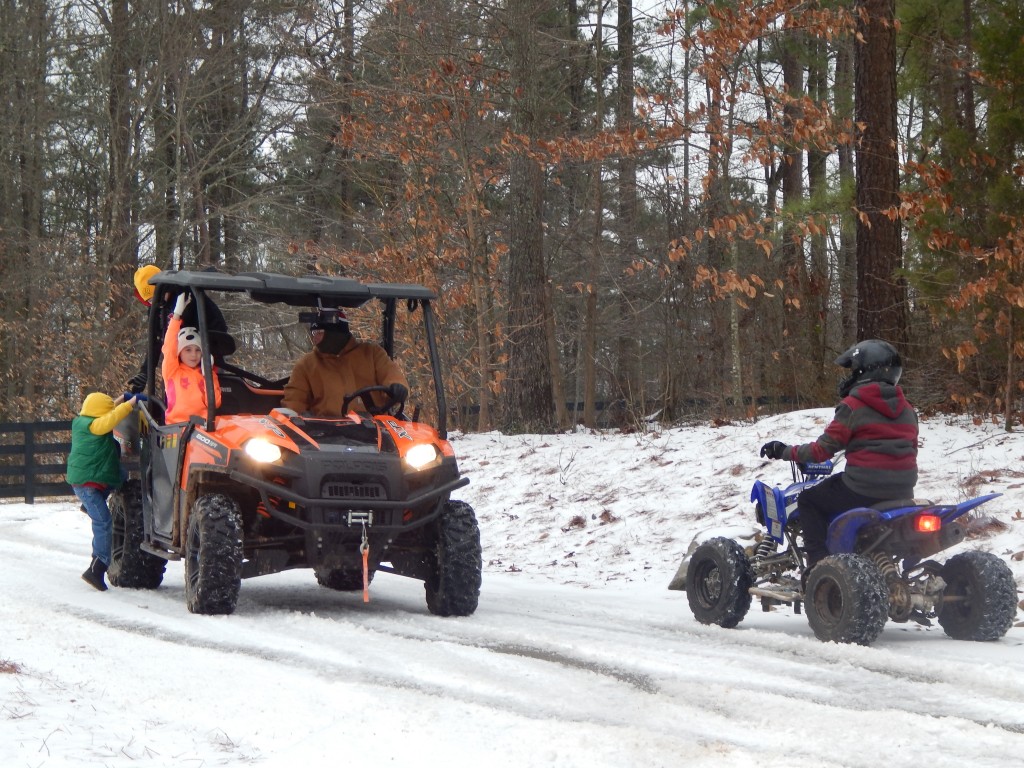 More wet clothes.
1:00p.m. Hunter and Audrey get in a HUGE fight.  Screaming – bloody screaming.  He chased her down the stairs yelling, "Give it to me!"  She ran to the other side of the couch, so they chased each other around it, screaming all the while.  One of them threatened to kill the other.  I got up from my desk to investigate.  Audrey was holding a flash drive, that Hunter claimed was his.  I told Audrey to give it back, because she doesn't even have a computer.  She claimed that dad bought her a flash drive last year, for school.
I asked her what's on it.
"Nothing, we never used it."
I'm considering this when Hunter shouted that it was his.
So I asked him what was on it.
"Nothing."
Guess what?  Now the flash drive is MINE.  Get you're a**** upstairs and go to your rooms.  And while you're there, do something constructive, like study!
I went back to my office as they yelled at each other, while ascending the stairs, over whose fault it was that they had to go to their rooms.  Then there was a big crash above my head.  Hunter and Barrett's room, which isn't carpeted, is directly above my office and I swear, sometimes it sounds like they're going to come through the ceiling.  I had to go upstairs to investigate.
Camden was crying because Hunter had ordered him out of his room.  I told Camden that he wasn't in trouble, but he had to leave, because Hunter was in trouble.  I walked him to his end of the hallway, where the playroom is, only to discover that it looked like a bomb went off in the playroom.  I looked in on Audrey, who is sitting on a huge pile of stuffed animals, coloring.  I told her to help Camden clean up.
"But I didn't make the mess."
I didn't reply, but gave her the death stare.
She got up.
I went to Hunter's room and he was on You Tube – not studying!
"EVERYONE OUT OF THEIR ROOMS AND CLEAN UP THE MESS IN THE PLAYROOM, NOW!"   There was a shrill to my voice that even scared me.   As I descended the stairs, I was startled to see that Conner was still here.  Oh shit.  Now I was really embarrassed.  I apologized to Conner, who was as polite and forgiving as ever of my parental shortcomings.
I decided then that Barrett couldn't be on the computer either, because I was just in that type of mood.  I went down to the basement and booted him off, taking the mouse away.  He laughed at me and then tortured me for the next hour or so by pacing incessantly and cackling.  My head started to pound.  I almost, almost gave in, but then I decided to get him in the tub.  Hot bath = calm Bear.
I tried to work some more.  And then I got a text picture of a beach in Florida, from a friend who is much smarter than me, because she got the Hell out of Dodge.  It was not lost on me that Thomas and I cut our staycation short for "the storm" and now my mini road trip for the long upcoming weekend was on the chopping block.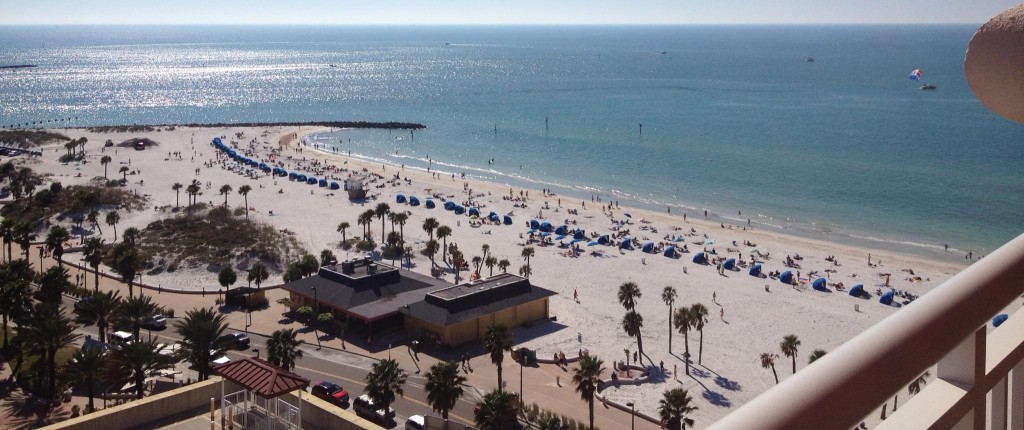 Audrey asked if she could have the last French Bread Pizza – Bear's favorite.  Ah, negatory my dear.  But then we found another in the garage freezer.  I preheated the toaster oven, and she told me "she could do it."  Fine, go for it.
I went back to work.  Then I heard Thomas come up for another round of Ranger sledding.  Everyone went outside, except Bear, who continued to jump up and down, on his bedroom floor – right above my head.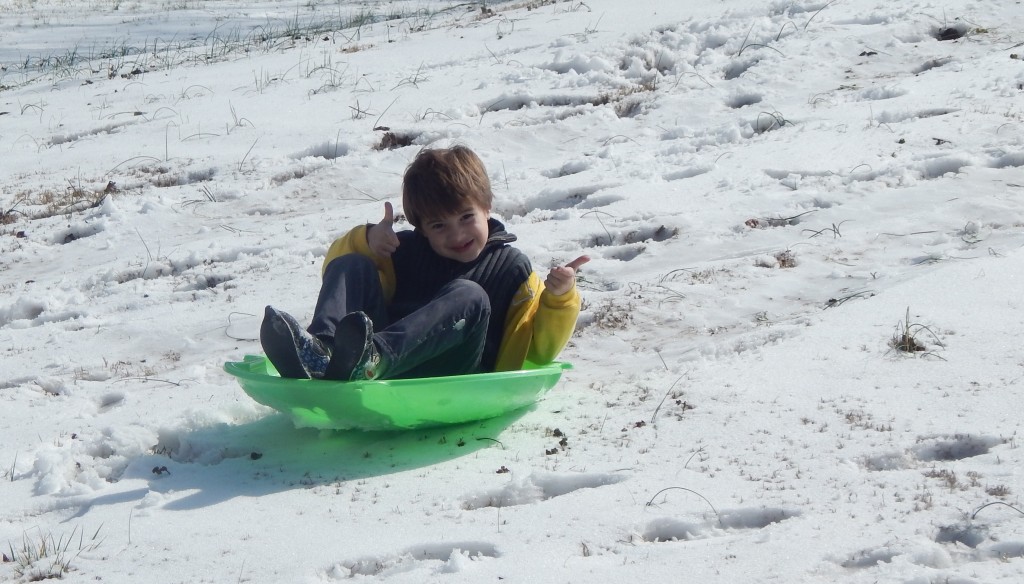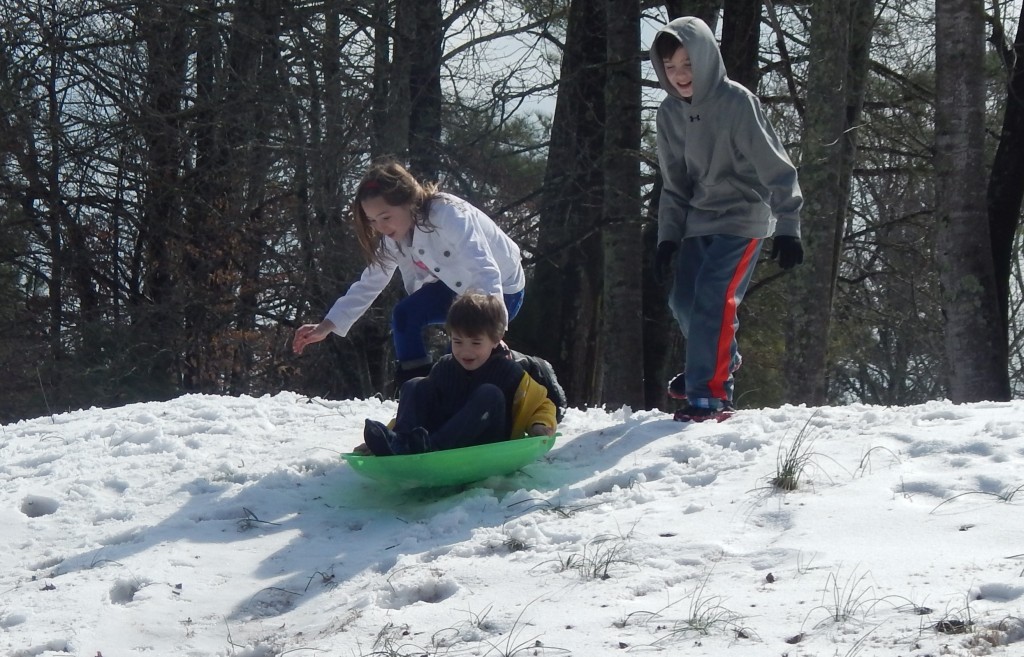 I went to check on the laundry.  As I walked through the kitchen, I smelled burning pizza.  Audrey had gone outside with all the boys, forgetting all about the French bread pizza.
An hour later, Camden asked for lunch.  I explained that dad had made hamburgers for the boys at noon and there was pizza an hour later.  Where had he been?  His response was, "Did you actually yell 'lunch time'?  Cause I didn't hear it."
The next couple hours, well I don't really remember all the details.  More laundry, mom yelling, refereeing and catcalls of "I'm hungry!"  And the tent was moved to the family room, I'm not sure why.
5:00p.m. Audrey was filling out her Valentines on my office floor (why I don't know, as it'll be St. Patrick's Day before she's back in school again) and Barrett peeled away my post-it notes, page by page.  I heard the roar of the Ranger and looked out my window to see Thomas disappearing down the street.  I remarked to myself that he was the biggest kid of us all, and Audrey said, "You got that right!"
When Thomas returned he informed me, with glee, that he'd taken his off road vehicle on the road and did donuts in the parking lot of the empty McDonalds, "With impunity!"
My head still hurt, I didn't even want any wine.
Thomas and I tag teamed dinner, which was grilled cheese and tomato basil soup from Casa Nuova (thank you Maria!).  Then we all settled down for family movie night – Night at the Museum.  A little popcorn and a little Ben Stiller.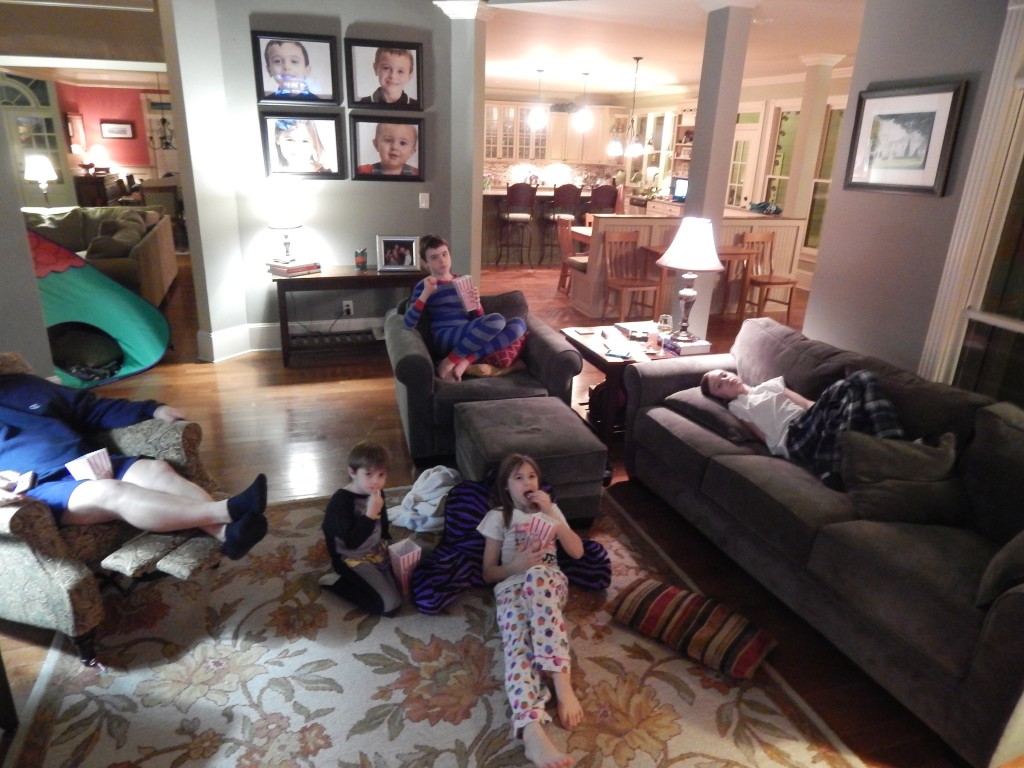 But it had been a long day, and some of us were fading.  Mom and dad somehow managed to negotiate a compromise that resulted in a deal for us all to watch the second half of the movie the next night.
At 9:00 p.m. mom paroled the house.  Bear was asleep in his bed, Hunter was fake reading.  The playroom was not picked up, and Audrey and Camden were MIA.  Upon further investigation, I found them in the basement, asleep inside the tent.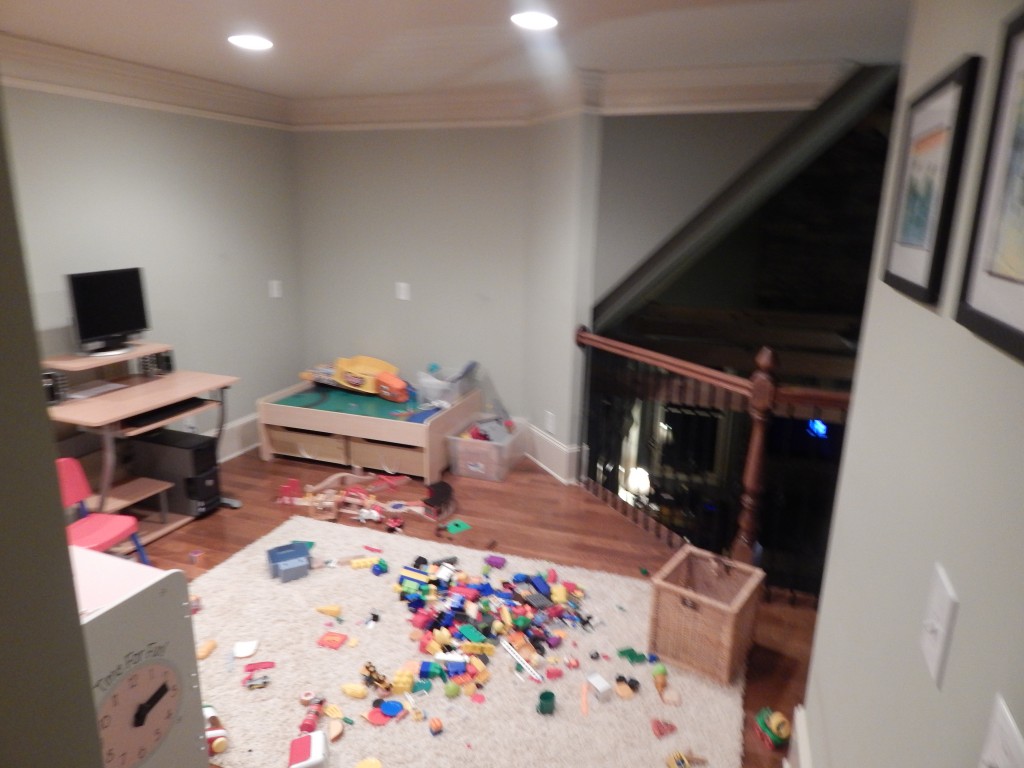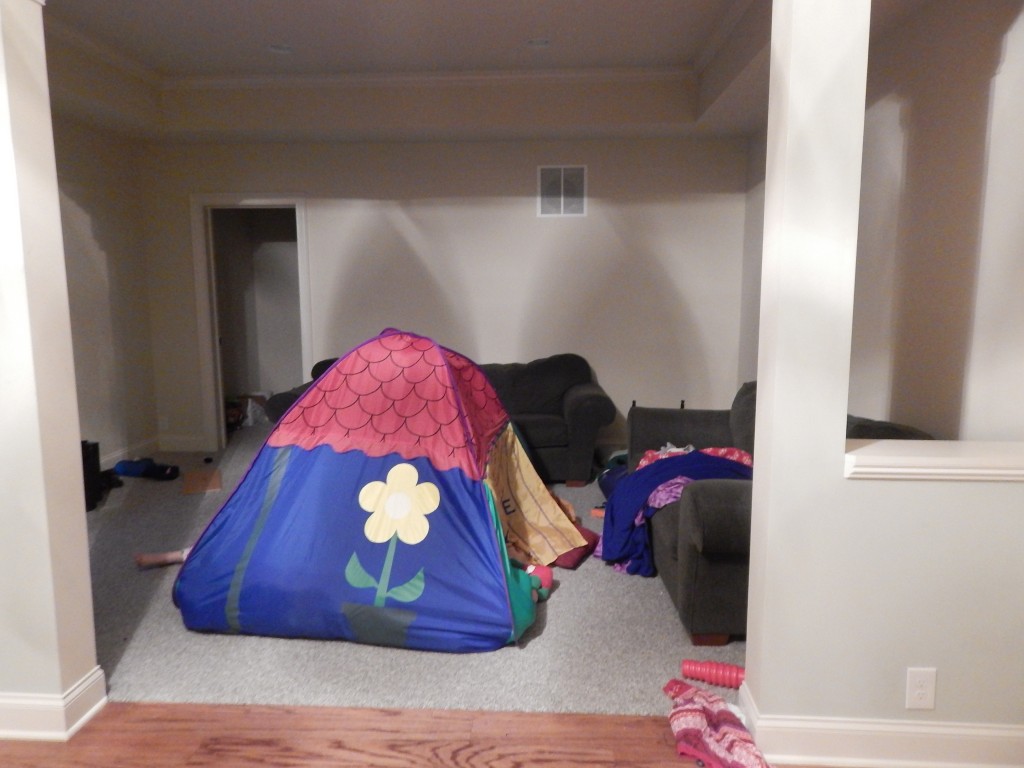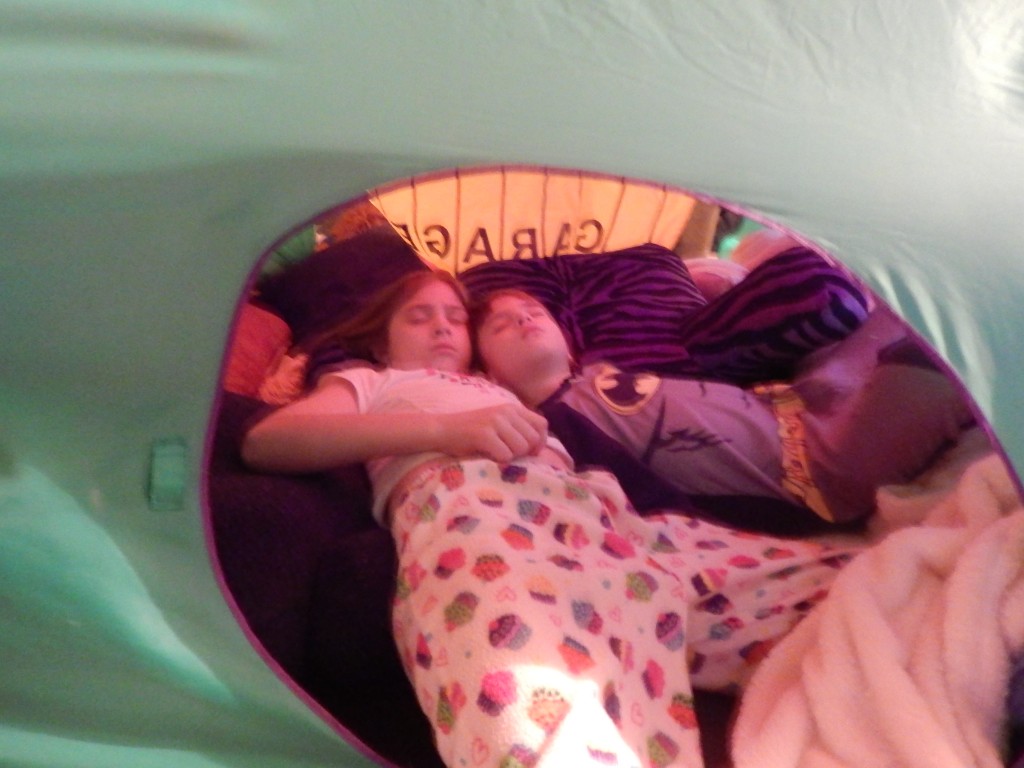 My head still hurts:(!
Please tell me about your snow days!