It's no secret that I haven't produced much original material on my blog lately. It's not that I haven't wanted to – I often have essays and ideas swirling around in my head. They just never seem to make it to my fingertips. I fear that I've seriously lost my writing mojo. The first week of summer break, I attempted to write over at Road Warrior Momma, but my heart just wasn't in it. For one thing, the kids were pretty well behaved on our trip, so I didn't have any funny stories to tell. Also, the mini-road trip was more like a family/class reunion. With the exception of Mystic, Connecticut, all places we stopped were cities that we'd been to many times before and I didn't know how to spin it for my readers. I don't know why, but I've not feel compelled – at all – to share my words.
The negative consequence of this is that my writing has turned to crap. Currently, at my "real job," I do little writing – only emails that basically inform various people about some financial document that's attached. How creative can I get with that? I'm learning that it's true, writing is a skill that you have to exercise daily (at the very least), in order to maintain some semblance of talent. With the HerStories Project's Voices Column on hiatus for the summer, I've only been writing my New Releases Column for Chick Lit Plus and even that's been a hard fight. Sometime I feel as though I'm faking it.
I've decided to write a Currently post, to keep the words flowing.
Currently, I'm feeling guilty. I hate guilt, but being Catholic, I swear it's become part of my DNA. I feel guilty for working this summer, because my house is a mess and the kids are bored. I feel as though I'm letting my family down, and yet I am also helping them by working. It's a weird Catch 22. I also feel guilty for taking too many trips this summer. I had to go back to work to pay for them, however I now feel guilty because I'm bailing on my job for weeks at a time. They've been cool about my schedule, and yet I still feel badly. I also feel selfish, because perhaps I should be working and saving money for things that most responsible adults would – college, retirement, home improvements. But I want to travel. And I'm also not sure if the kids really want to do it anymore. I don't know…
Currently I'm frustrated about the state of our world. I hate what's happening to our country on many fronts. I'm usually a political junkie, but honestly, my heart is broken over the lack of civil discourse in the country. And I fear for our options from both parties. I'm sorry, I just do.
Currently I dream about numbers. I used to dream about having encounters with rock stars. Those were the good days. Would you believe I woke up the other morning realizing I'd just had a dream about closing the accounting period on time for an audit? What the freak is up with that?
Currently I'm grateful for many blessing in my life. I recently had a very scary medical issue come up. I was terrified, and it wasn't fun or easy. Honestly, I'd already planned my funeral. For those of you who don't know, I can be quiet dramatic. I'm so happy and relieved and grateful to report that my close call turned out to be okay. It's funny though. Something as dramatic as that – you'd think I'd have a new lease on life? I was ecstatic for a couple hours and then it was back to the grind.
Currently I've been trying to read more. Yes, you read that right. One of the causalities of "going back to work," is that my leisure reading time has seriously diminished. Oh, how I miss my books. But on our vacation I did manage to read and listen to quite a few. Some of my recent faves include: Eligible by Curtis Sittenfeld, Sunshine Beach by Wendy Wax, In Twenty Years by Allison Winn Scotch (who will be feature for next week's Books of My Life!), The Assistants by Camille Perri, and The Nest by Cynthia D'Aprix Sweeney.
Currently I've been watching the O.J. Simpson documentary on ESPN. I am riveted! I also started season two of Netflix's Bloodline, but I'm nervous. This season seems like it's going to be darker – and my favorite character is in a very bad situation. I get angsty just thinking about it.
BTW, I started writing this post two weeks ago! See? I have lost my mojo. I've gone back to it a few times and I don't know. I'm not sure if it's share-worthy.
Currently I'm typing this on a plane, enroute to San Francisco to celebrate a big birthday for my husband. We almost didn't make the trip. We've had a number of things occur in our lives lately that put the trip in limbo. Over the weekend we finally just concluded – WE NEED THIS. It's be so long since we've been away, just the two of us. But I'm also rather lost without my little road warriors. I'm hopeful that the trip (two days in the city and two in Sonoma) will rejuvenate me, because next week the kids and I head out on our summer road trip! Hopefully. Lately, I keep waiting for the other shoe to drop.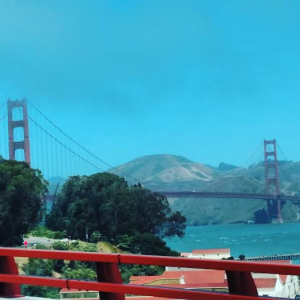 I'm going to try and be better about posting – maybe just short little posts about, I don't know – whatever. We'll see…
What are you doing/thinking/reading/watching currently?