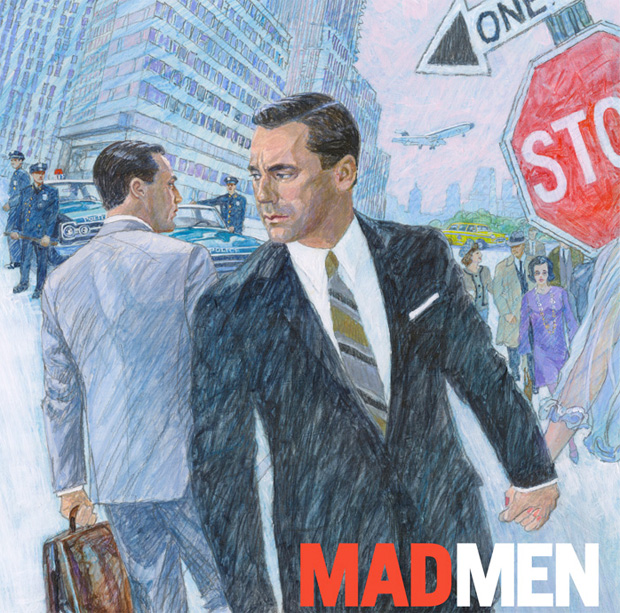 Everybody is mad for Mad Men, or at least that's how it seems.  It's been everywhere recently – magazine covers, commercials, entertainment websites and in the blogosphere.    I was shocked by the level of buzz.  Pleased, but shocked.  I love Mad Men, but sadly, I have only a handful of friends who watch, despite my pleading.  In an attempt to get one friend to watch, I lent her the first season for about six months (yes Ms. Chamblin, I am talkin' to you) and she didn't watch a single episode.  I cannot fathom, I was aghast.
I loved Sunday's premier double episode – The Doorway.  It was a darker episode and gave the viewers a lot to contemplate, many pivotal mad momments.  That's one thing I love about Mad Men, I'm convinced that I know the characters and their motivations better than anyone!  On Monday mornings I scour the net looking for recaps and breakdowns and  I'm always amazed by the multitude of ways in which the various TV critics and bloggers interpret the episodes.  I usually find my favorite recap at Entertainment Weekly. 
About 3.4 million viewers tuned in for the premier episode (down slightly from last year's premier episode).  However, these numbers are considered good, because it's AMC.  Still, its mind boggling, as the number one scripted show on television last week, The Big Bang Theory, averages seventeen million viewers.   On the same day that the Mad Men premier aired – Duck Dynasty, also on cable, scored almost nine million viewers.  Really?   I've never even heard of that show.  Although my husband informed me, after reading this, that the show is awesome.  What – evah.
Sunday's dark episode sparked many writers to exam Don's obsession with death and mortality.  The video recap at Rage Against The Mini Van raged against the darkness, albeit in a very funny way.  They were frustrated by the unexplained new characters and the changed appearances of some the old characters – the boys in Creative had drastically changed their hair.  I get the frustration, because I was often confused, but it's nothing new.  I think Weiner (the series creator and writer) gets off on making the audience wonder what the hell is going on.  Sick, but it sure makes people rush to the water cooler!
I wanted to have a Mad Men party for the premier.  How cool would that be?  Kind of appropriate since all I want to do when I watch the show is smoke and drink martinis.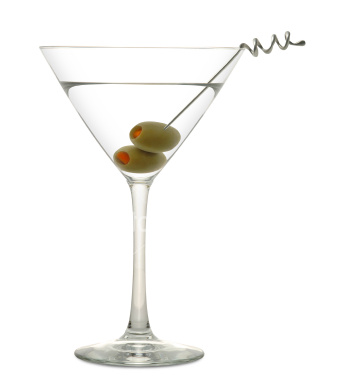 Now if only I knew more than six people who watch it!  There are many sites, including Martha Stewart, that explain how you can plan your party and how to drink like Don.  For real.  Swedish meatballs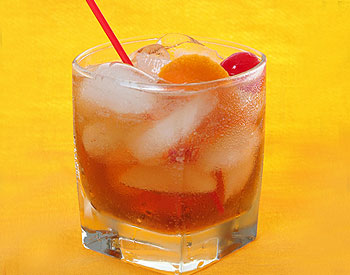 with a Old Fashioned, anybody?   We could have a lively discussion about nicknames for Don Hamm's Schlong (seriously), because there's actually a blog about this appendage.  Apparently the actor doesn't like underwear.  This has proven a distraction to some viewers.  I've never noticed this, but I can assure you, I will be checking it (cough) out from now on.  Appropriate attire would be required to attend my party.  Sometimes I think I was born in the wrong decade, because I would kill for Megan Draper's wardrobe.   There are endless sites, stores and fashion magazines copying the Mad Men look.  You can even get a fashion recap on each episode.
The look of the characters is so authentic, you don't realize that the actors and actresses have completely transformed themselves.  When I see the actors in their real life versions, I'm usually shocked.  Kudos to the costume and makeup departments.  There's recently been some big name guest stars who were so unrecognizable, that I had no clue that they were even on the show, until it was reported by the media.
Betty Draper (she'll always be Draper to me) is a character most people seem to hate.  Personally, I detest Pete Campbell – he truly gives me the creeps (can't even write about him)!  Betty is cold, selfish and arguably a little off her rocker.  I love her.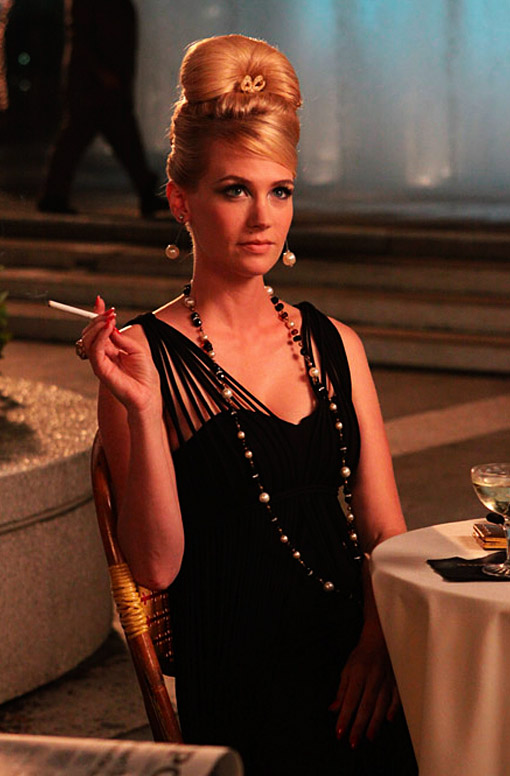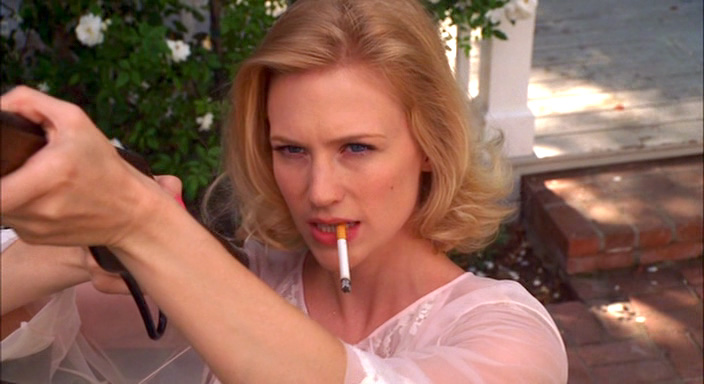 I was so mad when she moved to Rye with Henry, into the "Munster's house."  Who in their right mind would leave Don, even if he was really (a) Dick (aptly named)?  That girl is a head case for sure, as demonstrated by her very messed up attempt at seduction on Sunday.  Cue the Psycho music.  Last season Betty gained some weight and people are up in arms that Betty's still "fat"!  Poor January Jones must spend hours in make-up.
I love the fashion, but the sets are just as intriguing.  Don and Megan's penthouse is possibly the coolest home on television.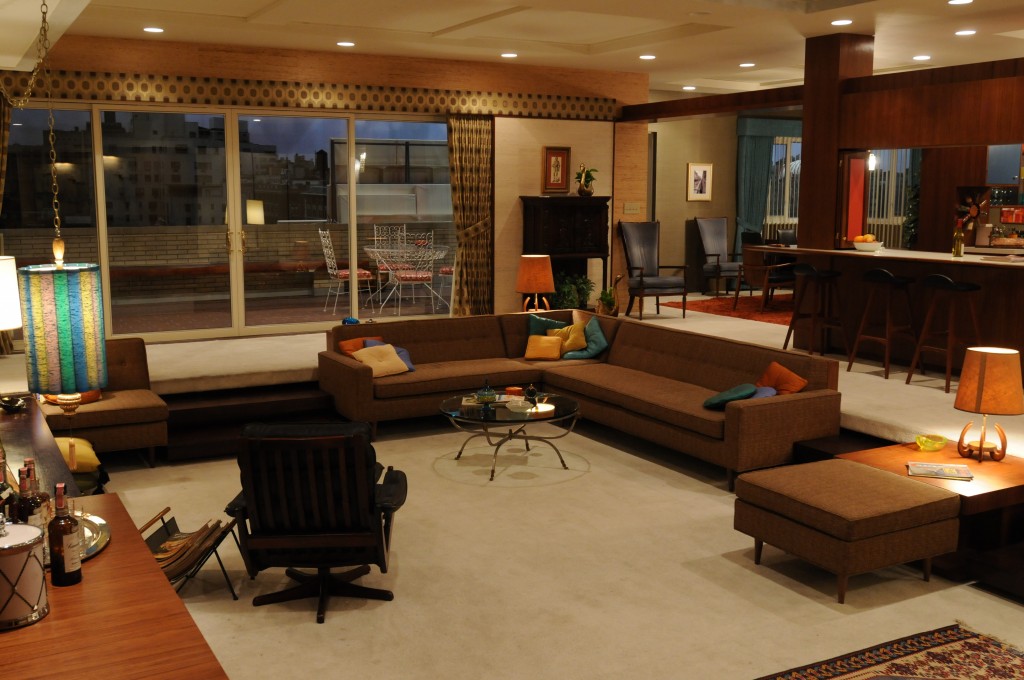 The props are awesome, too.  I loved all the 1960's Christmas decorations that we now consider retro.  The huge television remotes; the funky lamps; the clunky, coiled phones; and the typewriters!  The magazines and newspapers are also actual throwbacks, with authentic headlines.  I know this, because people actually check and verify.  For the guys, the excitement is usually about the cars, even the Wall Street Journal has chimed in on this.
Things are looking cooler, because it's now 1968 and it's very bright.  Prior to the broadcast, the internet was abuzz with "what year will it be?"   Every season starts months, or a year or more from the end of the last season's finale.  This means a guessing game for the audience, as we wonder what in the world our friends have been up to.  Given the time period and the experiences of Jane and Peggy in the office, many viewers have been salivating at what role they will play in the burgeoning woman's moment.  And of course women's reactions to Peggy's new job and Joan's role as a partner were analyzed.  It's fascinating to see what life was like back then, especially the way women were treated in the work place.  I think it's funny, although at times appalling, watching it forty years removed.  I would love to get Sheryl Sandberg's take on this show.
Speaking of funny…Roger Sterling is the funniest character on television.  Somebody please, please give this man an Emmy!  The Huffington Post put together a reel of Roger one-liners that is freakin' hilarious!  Roger is now in analysis and I love how he's trying to figure it all out.  He's still looking for something – the Silver Fox doesn't plan to go gently into the night.
This brings us back to Mr. Draper.  Last year, it looked like Don had found his something, but alas, our antihero has strayed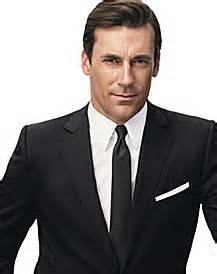 again.  I have to say I wasn't all that upset about his latest affair.  Megan drives me a little crazy.  Everyone has their favorite girl for Don, I don't know why, but I want to see him back with Betty.  I know, I know.  I honestly can't explain why.   Don's a complex character, obviously, and there's a litany of material out there, focusing on what makes him tick.  I don't think we'll ever know, but we'll keep watching.  In the meantime, the obsession with the show that 3.4 million of us have, will no doubt continue.
I'm guessing that if you type Mad Men or Don Draper with anything else (fashion, booze, adultery) into your search browser, you will hit pay dirt.  Last week, The Hollywood Reporter gave Mad Men a number one power ranking, based on all the internet and journalistic buzz.  AMC wrote an article about it that was tweeted this morning – kind of similar to this blog.  Damn, if only I was quicker in posting this!
Are you a Mad Men Lover?  Do you watch it?  Who is your favorite character?  Did you like the premier episode?  If you don't watch, for God's sake, WHY?