This summer, my friend Julie lost her husband, Mike.   Julie is the publisher of My Forsyth magazine, where I'm a contributing writer.  Julie is  generous and kind, and from all the tributes I've read, so was her husband Mike.  Grief is complicated and personal and I hope and pray my friend will soon find some peace.  In this month's issue of My Forsyth, Julie honored her husband by featuring an essay he wrote a few years ago, after losing a friend.   I was deeply touched by the article.  In the wake of Mike's passing, his words are haunting – and beautiful.  With Julie's blessing, I've featured his essay here at the LKM to honor him.  I hope you'll read it.
"Death leaves a heartache no one can heal, love leaves a memory no one can steal."
In Remembrance of Mike Brennan
(1955-2014)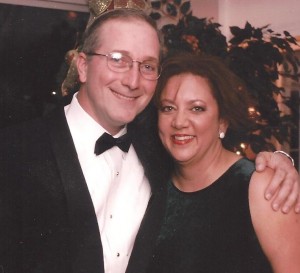 ♠
Passings & Crossings
This month marks the anniversary of the passing of fine man who I am privileged to have had as a friend, even for a short time.  Thinking of him caused a gallery of other faces to appear and linger a while in my thoughts – family, friends, and loved ones who enriched my life for all too short a time before crossing over to what lies beyond.
The important people in our lives have a varied and everlasting effect upon us.  Like long-gone masterful composers, they permanently stamp little vignettes in our memories that we can call forth at will to warm the heart or swell the spirit.  Their acts of kindness, courage and selflessness provide a beacon that we can use to steer clear of moral hazards in the dark nights of the soul that occasionally afflict every human being.
For example, it was hard to watch an active, athletic mother who raised and fed six children from diapers to adulthood struck by brain cancer, eventually leaving her unable to feed even herself.  But is impossible to forget it when, in a two-year battle that first invalided, then ultimately claimed her, she never quit, never gave up, never lost heart, and she never complained.  Even once.  She looked a terrible fate in the eye, and never blinked.  I hope that I never have to find out whether I have that kind of guts.
Every day, people are passing out of our lives, taking with them the memory and knowledge of a different world.  It is quite a sensation to truly realize how frail and how fragmented is our tenure here, and yet how far goes the influence of our tiny moment in the sun.  The world around us is so complex and so vastly improbable that its very existence might only be thought of as a miracle.  I suspect for those for whom time is short, there is a vivid and intense appreciation of that fact.
And so I treasure those occasional odd moments of detached lucidity that I think of as "Joe Black" moments – drinking in an experience with every sense fully awake, savoring every nuance, as if both for the first and last time.  As if a small voice in a dim corner of the soul is telling me that I might never get another chance.  You never know.
Take a moment now and then to drink in a spectacular sunset, or to notice the way the air smells just before a summer thunderstorm.  Pause to watch the ballet of a hundred fireflies at dusk.  Really savor the way your wine enhances a well-prepared meal.  Listen to the haunting violin solo in Scheherazade, and imagine it as the voice of an imprisoned princess, wailing for her lover.
It is all too common these days to become totally buried in a fast-paced career and a high-energy lifestyle.  Santayana defined a fanatic as one who redoubles his efforts after losing sight of his goals.  Even if we admit that a certain amount of fanaticism may be a necessary ingredient in an active lifestyle, there in one thing we should remember always: The goal is to live well.
 This piece originally appeared in My Forsyth.