It's been a wild couple of weeks for firsts. I'm starting to comprehend why LuAnn Cahn originally came up with the concept for her Year of Firsts – it truly is invigorating to try new things. I discovered fun modern day conveniences (April 10th and 16th) and experienced unique events (April 5th, 19th & 22nd). I learned some family history, mastered some new skills (April 14th and 18th) and confirmed a few long held suspicions that certain activities just aren't for me (April 4th and 17th). If you missed the first two I Dare Allie installments, you can read about my dares by clicking the links at the bottom of the blog. For my latest adventures, continue reading.
April 1st, 2014 – I had my picture taken with the Easter Bunny. The kids and I were at the 12 Oaks Mall in Northville, MI when we ran into the Easter Bunny. The twins had their picture taken with him years ago, but I'd never captured an Easter Bunny moment with all four kids. Then I realized that I'd never had my picture taken with the famous bunny – a first was born.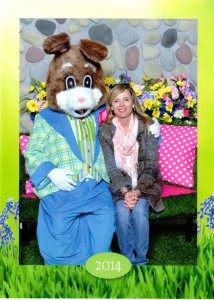 April 2nd, 2014 – The kids and I toured the capitol building in Frankfort, KY. I have to say, Frankfort is one of the cutest little towns I've been fortunate to stumble upon. I wish we'd stayed the night, but we already had reservations in Lexington. I also discovered one of the coolest bookstores I'd ever been in: Poor Richard's Books. We also visited our first Governor's mansion.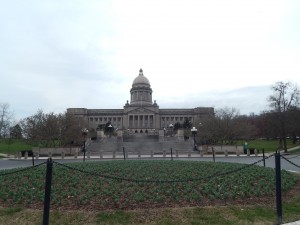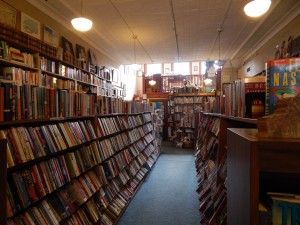 April 3rd, 2014 – I pitched my first article to a newspaper, the Forsyth Herald. I was approved to write a 350 word column on Exceptional Children's Week.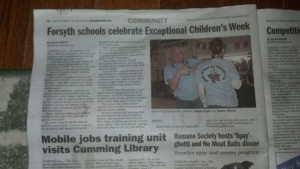 April 4th, 2014 – I cleaned and deveined shrimp (yuck) for scampi.
April 5th, 2014 – My husband and I hosted a wedding at our house. My friends, Lise and Tony, got married on our front porch and had their reception on our decorated driveway (honestly, it was gorgeous)! It was wonderful, and the spectacular weather added to the perfect day. A blog about all the festivities, complete with pictures, is coming soon!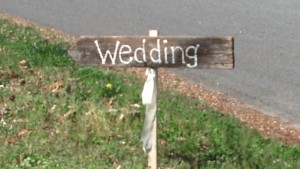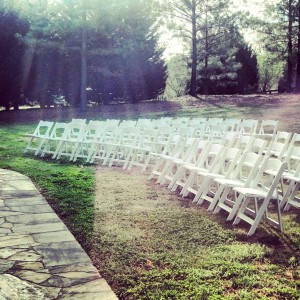 April 6th, 2014 – I took a walk in the rain. I was planning to go for a walk to exercise, when the sky opened up. But I still went for it! On that walk, I also made a big personal decision that I'm not ready to share with the world, but cautiously optimistic about it.
April 7th, 2014 – I ran into a major technical problem and I was determined to solve it myself. I discovered that for recent videos I took on the iPad (Lise and Tony's wedding ceremony being a major one), I was holding the iPad incorrectly while filming. This is not a problem when viewing the video on the device. However, once I transferred the videos to my computer, they were upside down or sideways. There was no easy fix. I've researched the problem, downloaded apps and watched You Tube videos – determined to fix this myself (plus, hubby dearest loathes Apple and isn't inclined to help). I still haven't rectified the situation, unfortunately. But all the effort I put into it definitely is a technological first!
April 8th, 2014 – I ate a praline. Yes, even though once upon a time I lived in New Orleans, I'd never tasted one before. Only recently have I been willing to try different types of nuts – I've traditionally stuck to peanuts. I also don't care for nuts in my food, so combining my new nut into a cookie was kind of a twofer.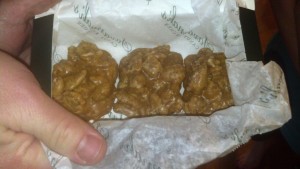 April 9th, 2014 – I volunteered to work at a track meet. I was responsible for assigning the runners their lane and heat numbers, and ensuring that they placed the numbers in the proper spot. Y'all, the middle school brain is out there – and I'm both shocked and relieved. Shocked by how many kids don't know the difference between their left and their right. Relieved that it's not only my son who can be an airhead.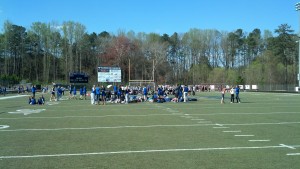 April 10th, 2014 – I had my first Google Hangout. It was cool and made me feel very Jetson-like.
April 11th, 2014 – I wrote a fan letter to another blogger. An actual letter in the mail! This particular blogger's prose consistently touches me and I was compelled to tell her so. On the same day, I also called a local news station with a scoop!
April 12th, 2014 – I made quinoa from scratch. I got the recipe (Garlic Vegetable Quinoa) from my fellow Clean Eating Challenge blogger, Holly at Dessert Momma. I've had quinoa before, but it was cooked (processed) in the microwave or ordered in a restaurant. It was pretty easy, and tasty.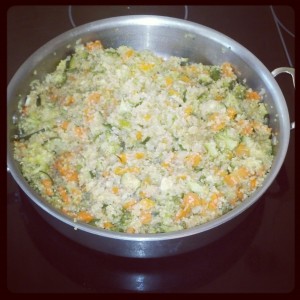 April 13th, 2014 – I played tennis with my kids. I played tennis as a child – through the ninth grade. I took a lesson a couple years ago as a refresher, but then did nothing further. Hunter and Audrey have been taking lessons for years. Recently I've been so impressed with how they've progressed, that I decided to venture out on the court with them. I was so excited, but it didn't have the same magic as I witnessed when they played with their coach.
April 14th, 2014 – I went on a quest for my grandfather's obituary (prompted by the writing of my blog post, Where I'm From), and any information I could gather about his foundry. I called the editor of the Lowell Sun, who informed me that their digital archives didn't go back to 1979 (the year he died). He advised me to contact the research desk at the Lowell Library, where I hit pay dirt. Not only did I get his obit, but I also obtained a number of articles about his foundry from the 1960's. One article detailed an armed robbery in which my grandfather was held at gunpoint, when he was 72 years old! I also finally discovered the actual location of the foundry, which turns out is now part of the National Park Service's Foundry Park.
April 15th, 2014 – I joined the blogging organization, SITS Girls and signed up for my first Blog Conference.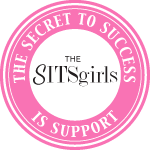 April 16th, 2014 – A few weeks ago, I signed up for a Stitch Fix delivery. I'd read a blog at Rage Against the Minivan about the services, and Kristin Howerton posted some great pictures of her outfits. I was intrigued enough to fill out Stich Fix's profile questionnaire. Six weeks later, my loot came and I loved it!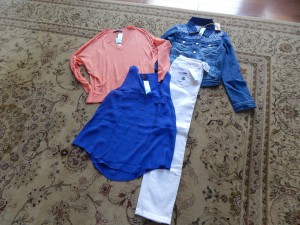 April 17th, 2014 – I ate bison, in the form of a burger. I was extremely nervous and I'm still not quite sure how I feel about the meat. I'm in no hurry to try it again, so maybe that's a clue.
April 18th, 2014 – We got a new car, in anticipation of this summer's road trip (the last three road trips had taken a toll on my former ride). It's fancy dancy and I had to attend a tutorial to understand how all the bells and whistles work. Repeat – I had to be taught how to use my new car. Really? Seriously though, I'm in awe of what this car can do for me. What an amazing world we live in.
April 19th, 2014 – I'm sure most of you are sick of hearing about our CPK odyssey, but it sure has been the gift that keeps on giving! On this day, Barrett and I were interviewed by a reporter about our experience at CPK and all that has transpired since then. #mombarrettonTV!
April 20th, 2014 – Rich and I had a big talk with one of our kids (no, not the sex talk) that we always knew we were going to have to have. We'd been debating for quite a while about the when and the how. Then, it just happened organically and it wasn't fun, but it wasn't terrible either. It was also the first Easter I'd spent helping till a garden.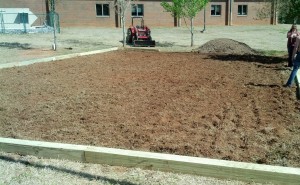 April 21st, 2014 – I had my first blogger link-up, courtesy of Mama Kat. It wasn't a popular post – I think it may have gotten lost in all the CPK hoopla and Autism Awareness posts. But I'm no longer a link-up virgin – so get ready blogger world, here I come!

April 22nd, 2014 – I attended a garden dedication ceremony in my son's honor. I won't regurgitate all the details, for fear of being labeled a narcissistJ – but this all happened because of this blog. So grateful for my readers!~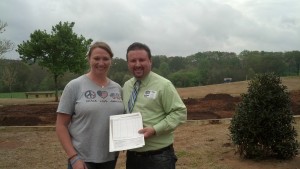 April 23rd, 2014 – Crazy week, Daddy was out of town, I dropped the grocery store ball. The kids and I had banana splits for dinner. #sonoteatingclean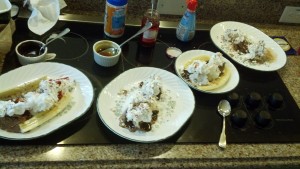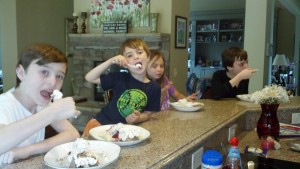 April 24th, 2014 – I dropped my son Barrett, who has autism, off at school in the carpool lane with no one there to meet him. I think he thought I was joking. His teacher told me he got off the bus on his own, and I was curious to see if this was truth or urban legend. I told him to open the door and get out. He laughed, but did it. I rolled down the window and said, "Go to class, Bear." He laughed again. He walked towards the front door, but stopped and turned back to look at me – I wish I'd had a camera. The look on his face was so priceless. He was smirking, but also communicating an are you for real? vibe. One minute later, before I'd left the grounds, his teacher had texted me, "Barrett made it to class." Very cool.
You can read about my earlier firsts here:
Alright, seriously, I'm still looking for ideas and suggestions to try that don't involve jumping out of a plane or anything else that might void my life insurance. I'm also curious to hear if you've done or tried anything new. Please share.