Hello friends, I have to confess that I've been struggling with my project.  It's very hard to come up with something new EVERY SINGLE DAY – and expensive!  But I'm not a quitter, so I will soldier on, but you'll have to forgive me if some of my firsts are snore-worthy.  If you're not having fun reading about  one, you can be assured that I probably didn't have fun doing it.  Also, I'm making a slight amendment (hey, it's my project – I can manage it as goJ).  If a first happens to me, through no effort on my part, I'm still claiming it!  Plus, I haven't heard many suggestions from my peanut gallery…hint, hint.

For those of you who are new to I Dare Allie, you can read about my inspiration here.  And earlier update posts here:
Friday April 25, 2014 – I co-hosted an autism fundraiser with my friend Bernadette.  I'd never hosted one before, because I believe I've tapped the donation wells one too many times for the kids' schools and the affiliated PTAs.  This, however, is a cause near and dear and Bernadette made it a "girl's night" party with Stella & Dot jewelry.  In addition to 20% of all sales being donated to the local chapter of Talk About Curing Autism (TACA), which was started by my friend Jackie Moore (one of the Autism Angels I featured last month), most ladies also wrote personal checks to the organization.  Buffie Jubard, who works for Stella & Dot, is very passionate about giving back to the community.  She shared my blog and information about TACA with some other clients, who donated their proceeds to the charity as well.  We raised over $2000 dollars – and had a lot of fun!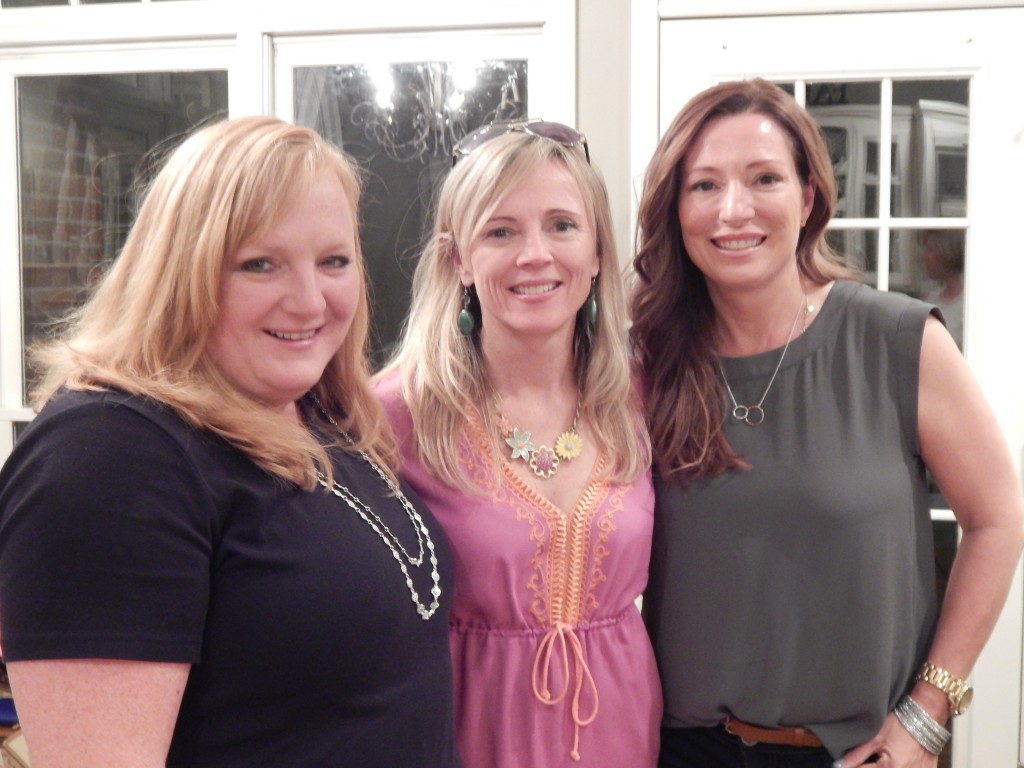 Bernadette, Me & Buffie
Saturday April 26, 2014 – I ran in a 5-K with my kids.  No, not my first 5-K (although it was my first one since being diagnosed with arthritis in my hip), but it was pretty cool to run one with Hunter and Audrey.  My, they're growing up.  Hunter kicked butt – finishing in less than 24 minutes!  Aud wasn't as fast, so I had to hang with her.  But this I do know – I can run faster than a third grader.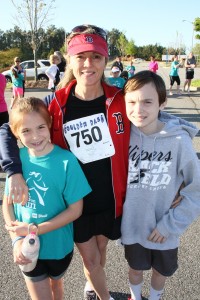 Sunday April 27, 2014 – I designed my first LKM newsletter, using Mail Chimp.  Since I have been blogging a lot more often, I was afraid I'd start to irritate those of you who signed up for LKM updates.  I canceled the update emails and set it up so that you'll only get weekly correspondence from me.  The newsletter lists all the blogs (with links) that were posted the previous week and gives a preview of the week to come.  Do you like it?
Monday, April 28, 2014 – I did Hot Yoga!  It wasn't as hot as I thought it would be, but I did break a sweat.  It also wasn't as hard as I'd anticipated.  I like it and will continue to get my Namaste on!
Tuesday May 29th, 2014 – I went to the Opera.  My friend Marcy graciously agreed to attend with me (because my husband vehemently refused!) and we made a night of it.  We had a wonderful dinner at Milton's and then we were off to pretend we were sophisticated.  The show was The Barber of Seville ("Figaro, Figaro…") and was a comedy, but I didn't find it to be too funny.  I was really hoping to have an aha moment – "Oh, I get it!  Yes!  Where have you been all my life, Opera?"  Nope, didn't happen.  At intermission Marcy and I sat in the lobby looking at our programs – neither one willing to say what was really on her mind.  Finally Marcy said, "You want to go?"  I replied, "Hell yeah!"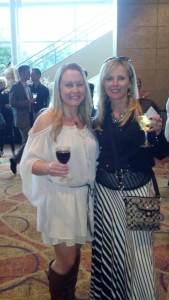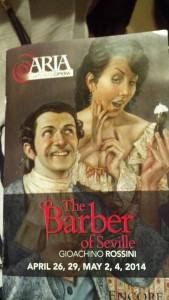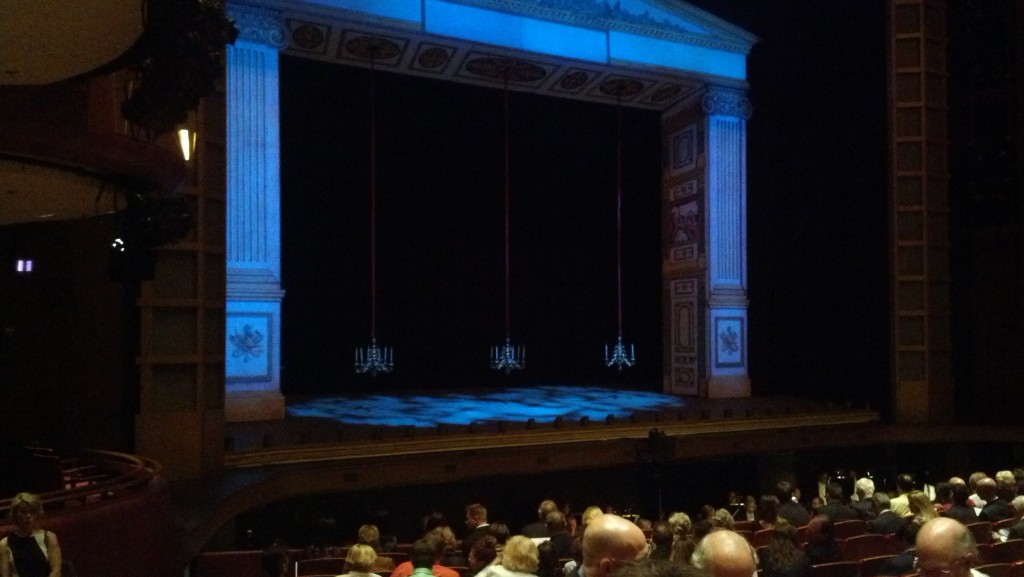 Wednesday April 30, 2014 – I was interviewed by our local paper, the Forsyth Herald.  I was actually interviewed the week before, but the article was featured on this day – the first time I've appeared in the paper (other than wedding, birth and death notices).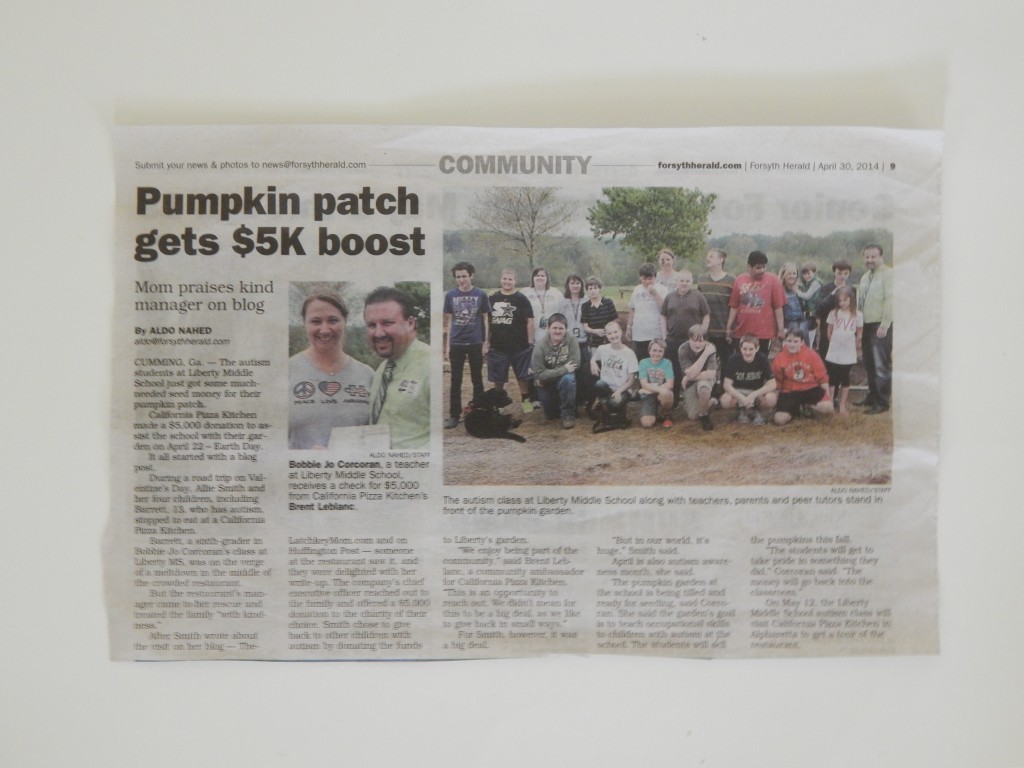 Thursday May 1, 2014 – I was promoted from contributing writer to staff writer at My Forsyth Magazine – complete with business cards!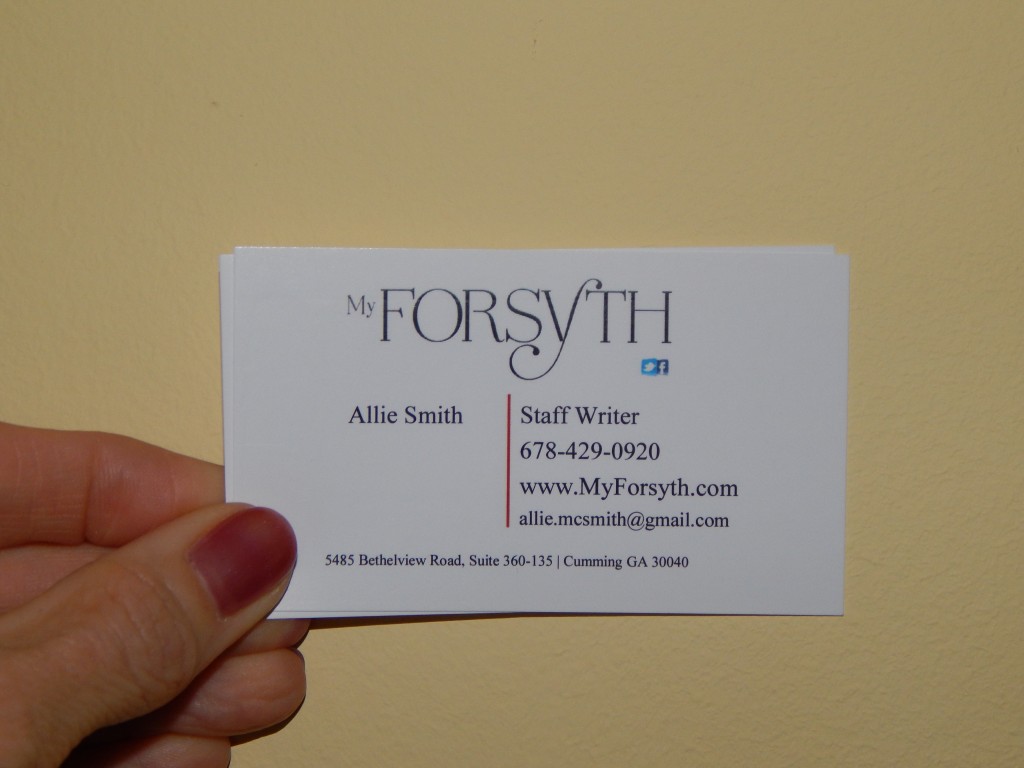 Friday May 2, 2014 – I hung out in downtown Grand Rapids.  Last summer the kids and I went to the Gerard R. Ford Presidential Museum – but we drove there and back to Detroit in the same day.  I was in town for the weekend, for a family wedding, and got the opportunity to hang out in a cool little city.  Nice people, clean, safe and it was beautiful.  The only complaint I have was that it was freezing!  May 1st and it was in the 30s.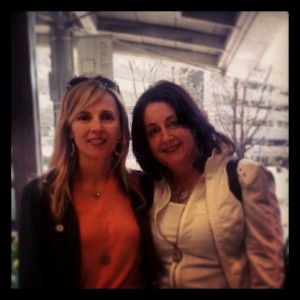 Kelly and I about to hit downtown Grand Rapids!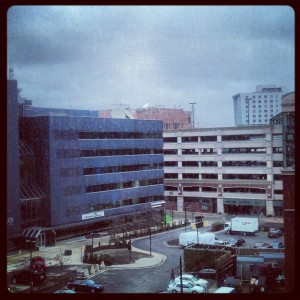 Saturday May 3rd 2014.  I went to the wedding (which was fabulous) and danced.   My sister-in-law was my date and she challenged me to dance with five people I didn't know (or barely knew).  It was very much outside my comfort zone (I was a wallflower in high school and college) but I awkwardly met the challenge.  One guy (really a boy) was a bit freaked out.  I believe his exact words were, "I don't understand what's going on!" when I grabbed his hand.  Nice. I also dance with a monkey – but sadly, that wasn't a first.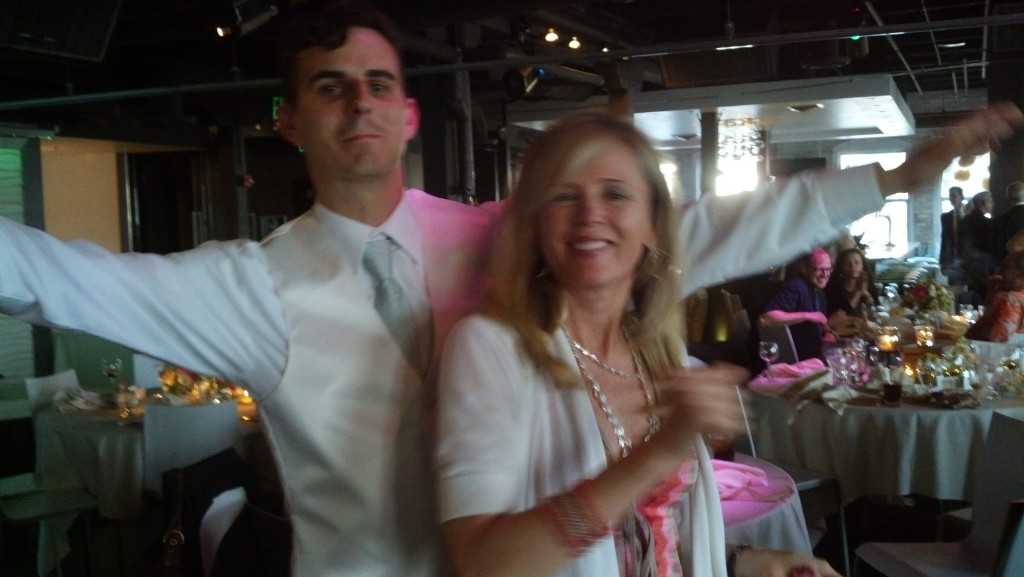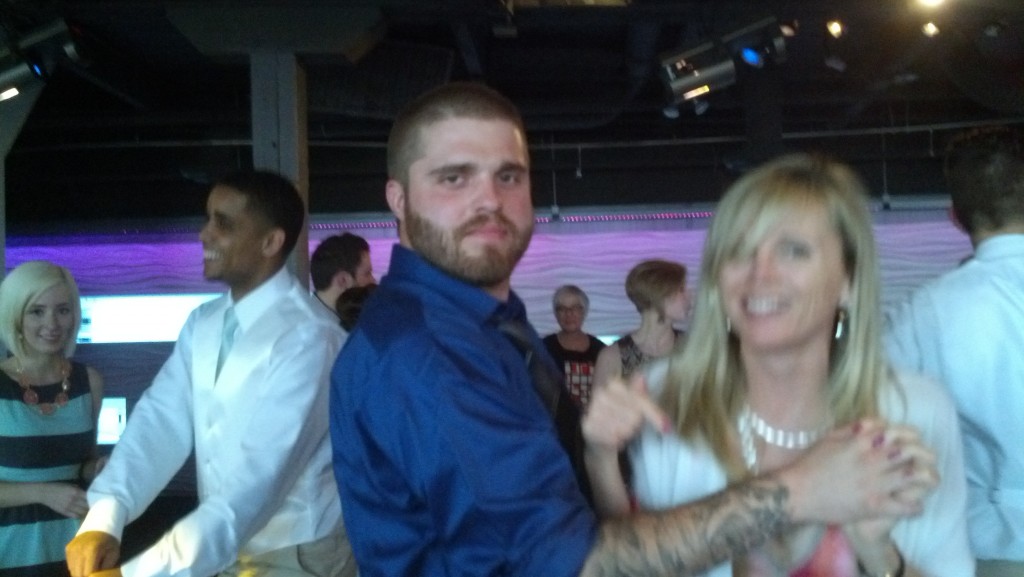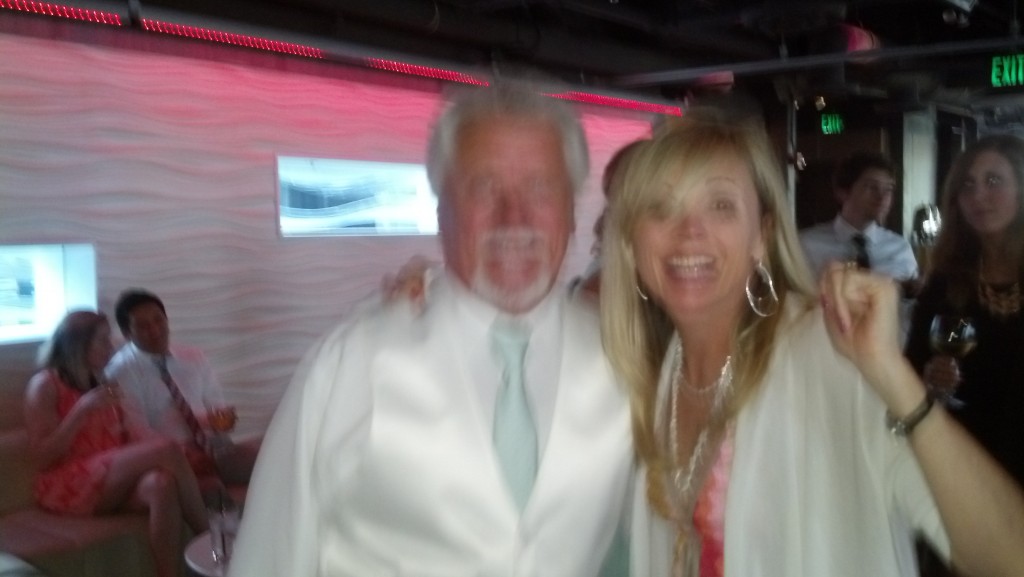 Kelly is not the best photographer…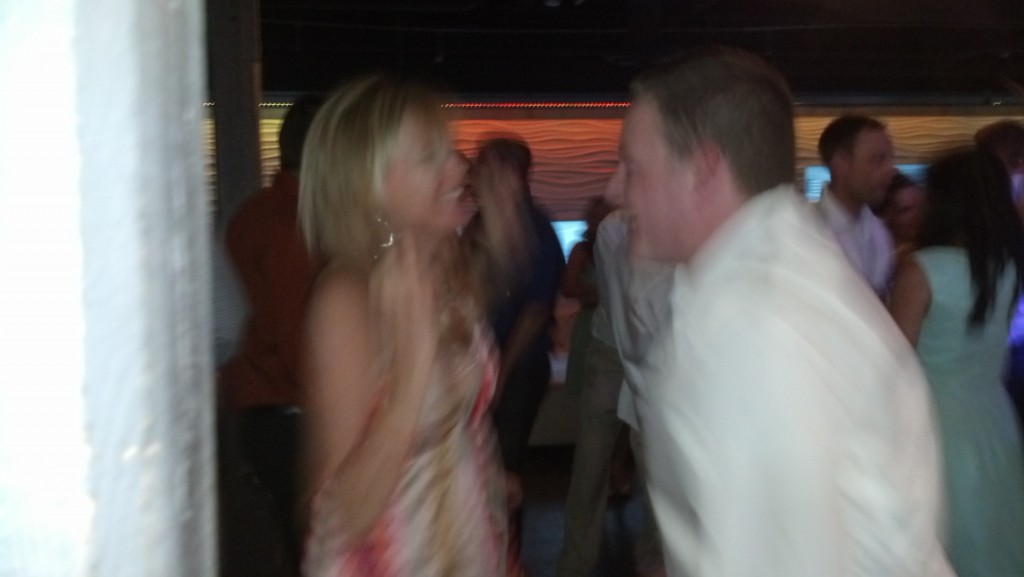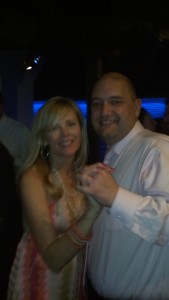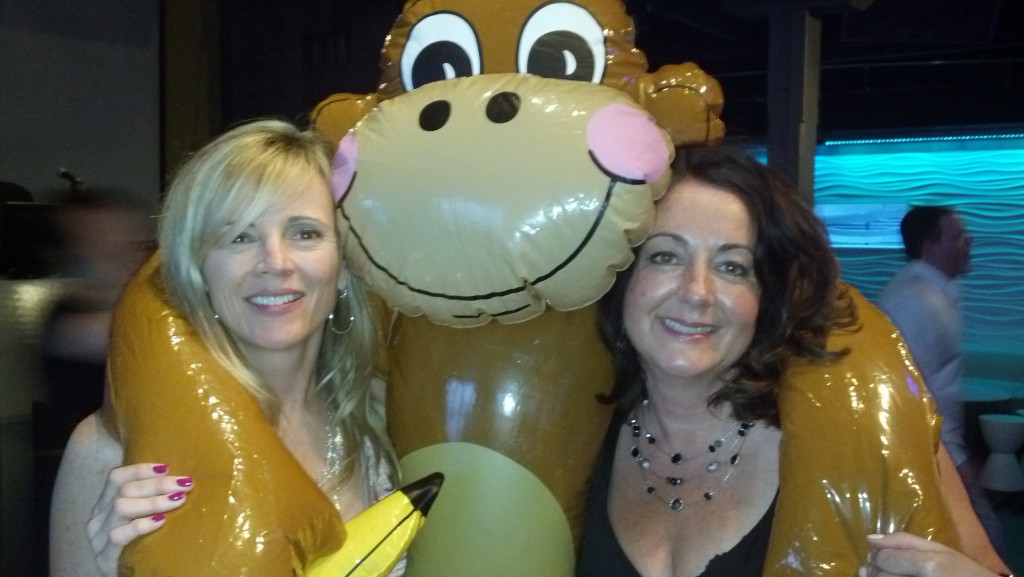 Sunday May 4th, 2014.  I had a writing binge.  Being away for the weekend was an unbelievably fruitful writing opportunity.  I managed to bang out five separate drafts of articles/reviews/blogs in the early morning hours, at the airport and on the plane.  Amazing what one can do without internet and children.
Monday May 5th, 2014 – I fell for (or rather went along with) a spiel.  I was at the grocery store with my two youngest children, when I was approached by the store manager with a "ticket" for a "free gift."  I was immediately wary, remembering the motto of my 12th grade economics teacher, "There is no such thing as a free lunch."  The manager told me to report to the middle of the store in five minutes to get my gift.  I hurried up with my shopping – so that I'd be out the door before the five minutes were up.  The kids weren't having it, they wanted me to get my free prize.  I'm the mom who always says "no."  Really, sometimes I say no before they finish asking (there's a first – a day when I only say yes).  I decided to say yes for a change, and I let them drag me to the designated area, which had a cloth covered table.  I was going to get a pitch – that was for sure.  I was antsy and kept looking over my shoulder.  I will spare you the boring details, but I stayed for the whole thing.  It was entertaining to watch Audrey engage with the gentleman, who I'm sure regretted inviting her to the table.  I got my free flash light and purchased the damn product they were selling.  #sucker.
Tuesday May 6th, 2014 – I drove out of state (2 hours to Chattanooga, TN) to see an author speak and have her sign my book.  Insane?  Yes, but so worth it.  The author was Glennon Doyle Melton and she was mesmerizing.  I have a girl crush, an author crush and a blogger crush.  I got to speak with her privately for ten minutes, talking to her about my brother and she was just so lovely.  I also met some very cool women!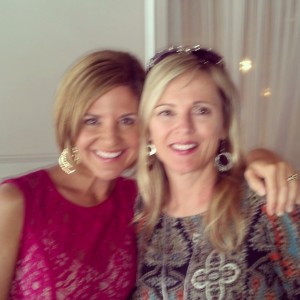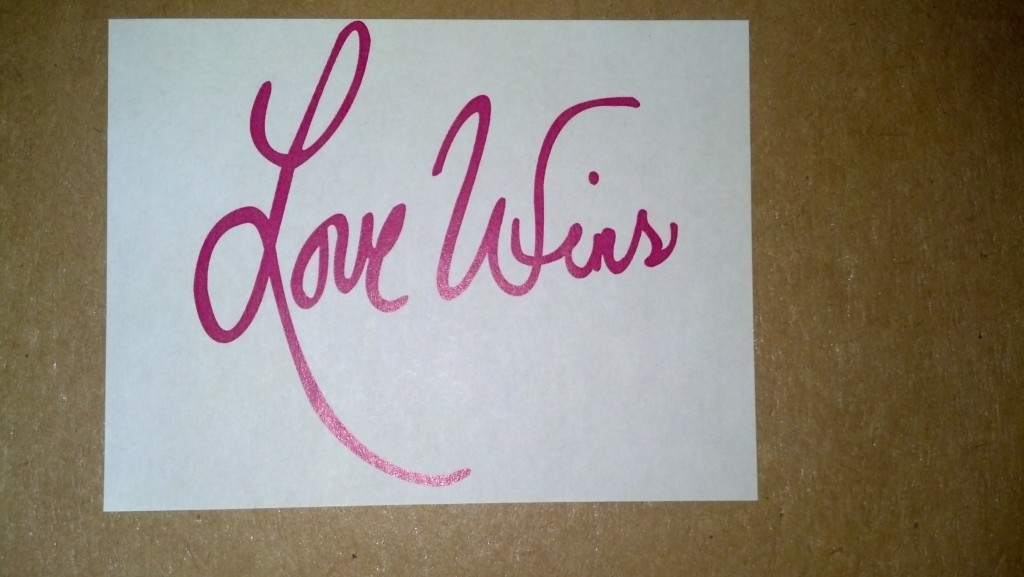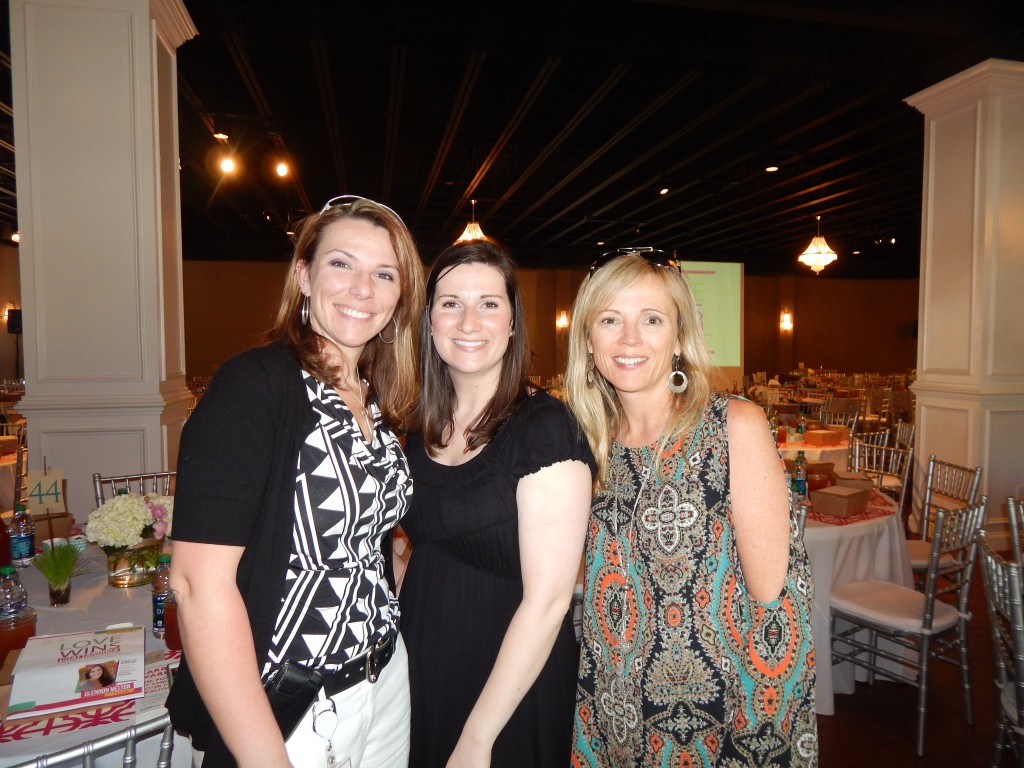 I met sisters Heather Wilson & Holly Cooper, who sat at my table with their mom, Aldonna.  I had the best time with them.
Wednesday, May 7th, 2014 – I ate an enchilada.  It was nasty.
Thursday May 8th, 2014 – I mowed the lawn.  It wasn't hard (we have a rider mower), but I did feel the pressure because Mr. Man is very territorial about his lawn – and he watched me the whole time.  Also, I had a horrible hay fever attack that night.  It was brutal.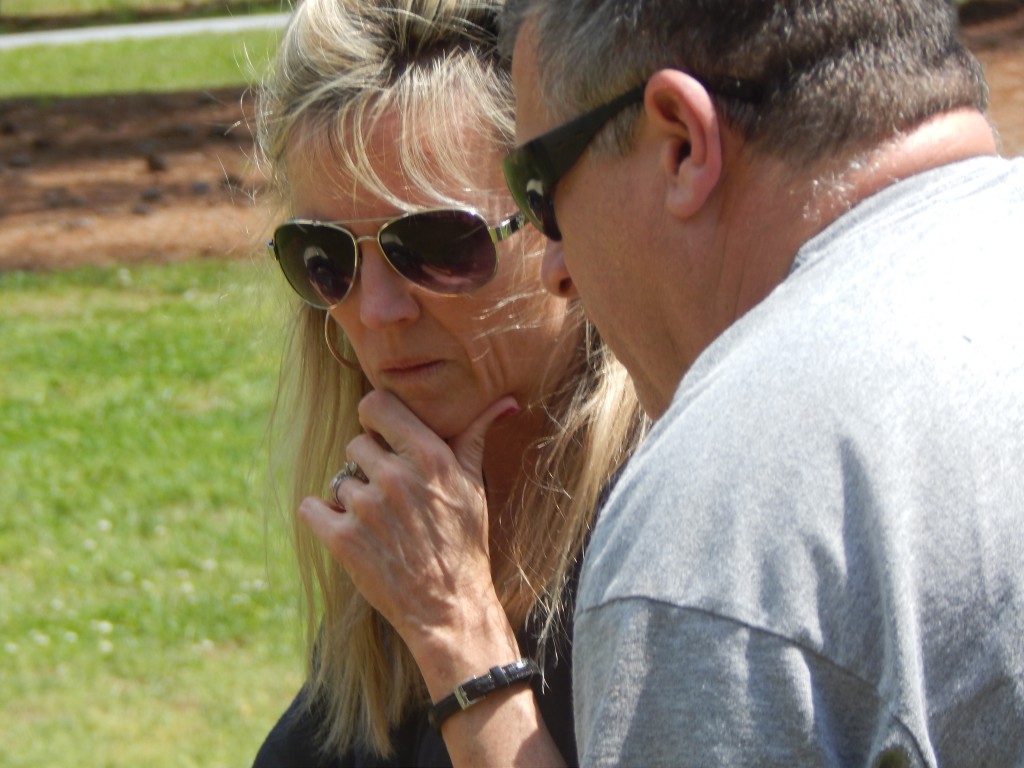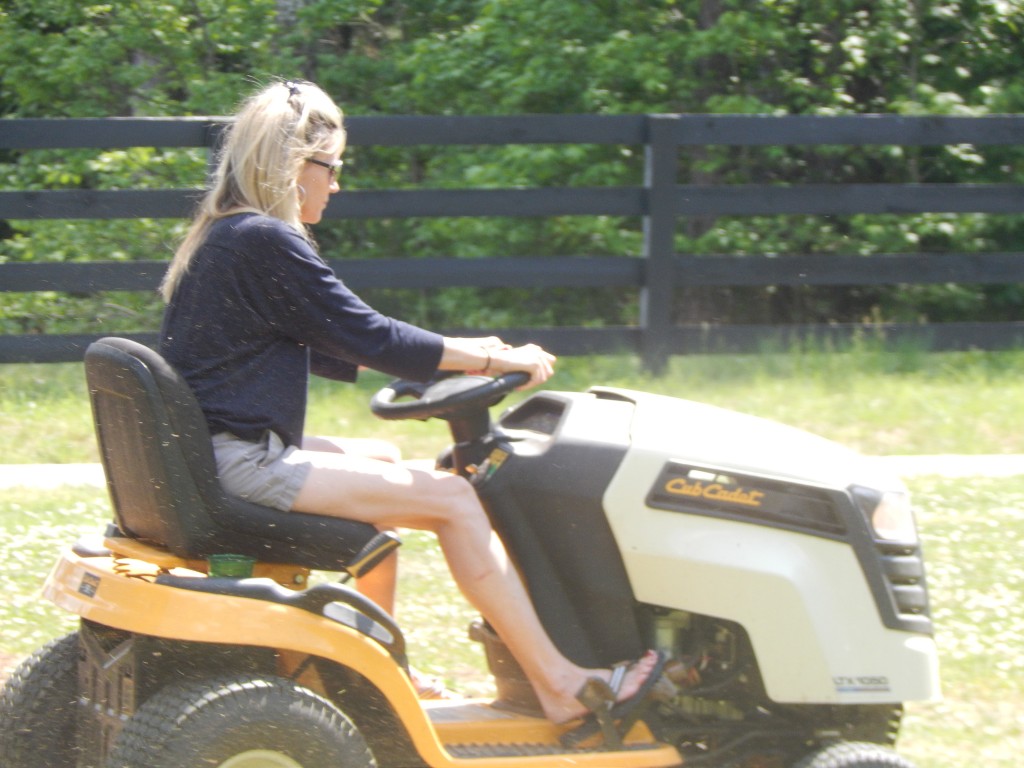 Friday May 9th, 2014 – I realized, after watching Blogger 411, that I was doing my Latchkey Mom Pinterest board all wrong.  I spent a couple hours fixing it (I hope).  Fingers crossed that I got it right.  If anyone is inclined to go to my Pinterest LKM Board to try and re-pin something and report back to me – I'd be ever so grateful.
Saturday May 10th, 2014 – I (helped) repair furniture.  I helped my husband fix one of our chairs that had a broken leg.  This involved a saw and a drill and I have the wounds to prove it.
Sunday Mat 11th, 2014 – Mother's Day.  We played a family game of softball (in actuality the ball was plastic), which turned out to be surprisingly fun – with the exception of a bat throwing incident.
Monday May 12th, 2014 – I signed up for Rafflecopter, in anticipation of an upcoming blog giveaway, and spent some time playing with it so I would understand.
Tuesday May 13th, 2014 – Analyzed a dream.  I've been having some weird dreams that I've never had before.  In my dreams I've been driving off of a cliff, which is unsettling given the upcoming road trip!  I remembered my friend Lise once telling me about a website that helps figure out what your dreams mean.  Apparently I'm either feeling the pressure of too much to do, or I'm feeling out of control of my own destiny.  Yes, and yes.
Wednesday May 14, 2014 – I participated in my first Twitter Party.  I don't think I made much of an impression.  As a newbie, it took me a while to catch on, and I was doing so on my phone (kids had a dentist appointment).  No one commented on any of my tweets, so I felt like a big fat #loser.
Thursday May 15, 2014 – I had coffee with someone who reads my blog (and lives close by).  Although I met this person years ago, we were barely acquaintances.  I was very touched when this person reached out to me after reading something on the blog that resonated.  It's so gratifying to know that something I wrote touched someone  – and enough to want to meet me and talk.  I'm so grateful and looking for to getting to know this person better.
Friday May 16th, 2014 – I had my blog retweeted by a published author (who I do know, but I didn't realize she was reading my stuffJ).  Thank you Jane Porter!
Saturday May 17th, 2014 – We took Barrett to his first dance recital.  Dance recitals are tough on most adolescent boys, but it's especially brutal for someone on the autism spectrum.  Unbeknownst to me before I'd decided to do this, this particular recital of Audrey's ended up being the longest program she's ever danced!  We were there for three hours.  Bear did it though, with the help of my phone to entertain him.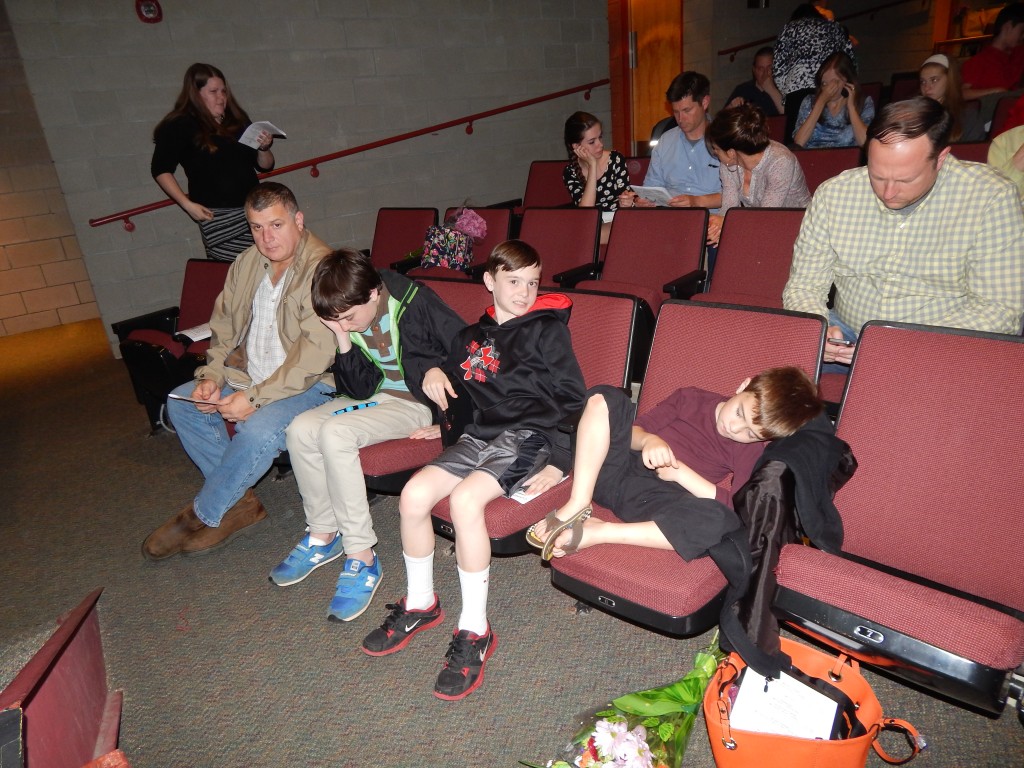 They look thrilled don't they?  This was intermission.
Sunday, May 18th, 2014 – I walked in my first autism walk.  I had not done it before, because I was afraid that it would be too emotional for me.  I almost bailed at the last minute, because it was pouring rain that day.  But I needed the first, had to live up to the expectations of my donors and would have probably faced the wrath of Bear's teacher if I didn't show up (she was the team's leader).  I wasn't going alone – I dragged all four kids with me.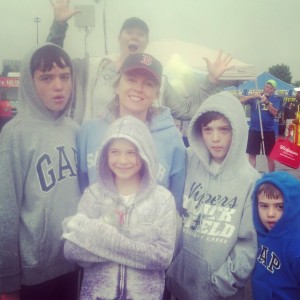 Monday May 19th, 2014 – We had a big state primary this week and we've been inundated with political propaganda.  Shamefully, I'm not very cognizant of politics at the local level – ironic since it's what probably affects us the most.  I decided to do my homework before I voted.  It wasn't fun, I didn't feel enlightened and I'm more confused than ever.
Tuesday May 20th, 2014 – I cleaned out a fireplace.  Not much more to say about that one.
Wednesday May 21, 2014 – I had my first article posted in the travel section of the Huffington Post.  The first of what I hope will be manyJ.
Thursday May 22nd, 2014 – The Special Olympics re-tweeted me.  Okay this may be cheating since I used Jane porter a week ago, but this was huge for me (and produced a lot of blog traffic).  I didn't even follow the Special Olympics on Twitter (but I do now), yet they somehow saw my blog post, The Sweet Olympics.  They favorited it, replied to it and re-tweeted it!  Boo-yah!
 What have you done recently, for the first time?  Please share – I dare you!