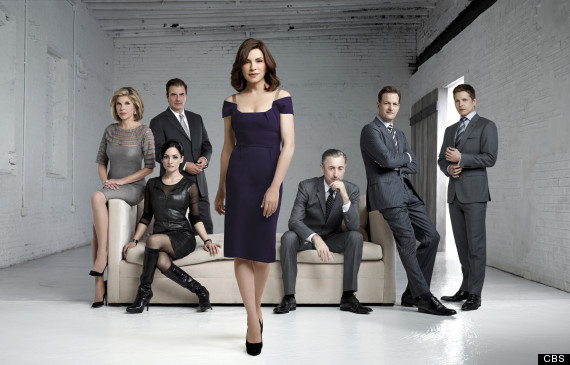 Spoiler Alert!
I was in such of state of shock after watching this week's episode of The Good Wife, entitled "Dramatics, Your Honor." Dramatic, indeed.  I was truly blown away.  I did not see it coming and I heard that phrase uttered over and over by other fans.  I'm a little embarrassed by how strongly I reacted because I was quite literally shaking and when the scenes for next week rolled, so did my tears.  I'm a grown woman, and I took this way too personal. 
The show's creators, Robert and Michelle King, played this brilliantly.  It was a miracle that in this digital social media age, they managed to keep this plot bombshell a secret, which made the impact so great, because we did not see it coming.  How did they do that?  Who in the world would have ever imagined that Will Gardner would be killed off the show?  Will Gardner!  Based on internet hysteria, I was not alone in my stupefaction. The writing on the show is so good, that we genuinely care about these fictional characters.  Most episodes are intense and viewers are already on the edge, which only enhanced the emotional impact (and fallout).  The sudden and unexpected death of Will, who many hoped would one day ride off into the sunset with Alicia, catapulted me to moments when I've been on the receiving end of similar phone calls.  It was a perfectly executed "gotcha moment."  Now that's good television – but it doesn't mean I gotta like it!
Right after the episode aired, the executive producers posted a letter of explanation to the fans on CBS's website.  Me thinks they knew they were going to be in trouble.  Twitter apparently went crazy as well.  I'd recorded the show, because I went to bed early, and fortunately the first thing I did once all the kids were gone Monday morning was turn on my DVR.  I'm grateful that I didn't see or hear any spoilers. I suffered the sucker punch in real time, and I'm not sure it would have been as gut-wrenching if I'd known what was coming  As noted above, my reaction was a little over the top.  I think the excerpt below, from the Daily Beast, offers a great explanation as to why.
From the Daily Beast:
"There was something in the passion that Will and Alicia shared that made distance a meager hurdle. The brutal honesty and reality of death speaks to the truth and tragedy of bad timing for these characters. Will's death propels Alicia into her newest incarnation." In killing off Will's character, the executive producers not only furthered the "Education of Alicia Florrick," what they view as the heart of The Good Wife, but also use it to explore the "irredeemability of death"—how we as humans deal with sudden death of loved ones.
Irredeemability of Death – oh yes.  Who hasn't come to that realization at some point in their life?  Will and Alicia were not on good terms when that bullet shattered all our hearts, so Alicia and the audience will never know if Will forgave her for abandoning ship.  And we'll never get our happy ending.  How cruel is that?  Ah, but life in not fair.
Grief can sometimes make people behave very strangely and uncharacteristically – so I'm sure there will be high-stakes drama in the shows to follow.  The teaser for next week guarantees that we'll need a box of Kleenex.  No more Will?!  How is that possible?  I wasn't even really Team Will. Sometimes I was, but I had a soft spot for Mr. Big – ah, I mean Peter.  Admittedly, I think some of my sympathy for his character was based on my love for Big (both characters portrayed by Chris Noth), which occasionally caused me to "forget" that Peter was incarcerated for sleeping with a prostitute.  When Peter's hair seemed to rapidly turn grey overnight, I soften a bit on Will – who was never a saint.  I've suffered a turncoat loyalty for both characters since the series began, so what do I do now?
The obvious drama for the rest of the season will focus on Alicia's reaction and how she deals with her loss.  Will she reach out to Diane professionally?  Will she reconsider her sometimes questionable choice of clients?  And of course, how does this affect her marriage?  Oh la la!  The fallout won't be limited to Alicia either.  Diane lost her partner and best friend.  Kalinda lost her "brother."  The state investigators lost their key witness.
I'm sad.  I'll keep watching, of course, but things will never be the same on The Good Wife.  Our fictional grief will be processed – denial, anger, bargaining, depression , but eventually we'll have to accept that Will is gone.  But, it still sucks!
Did you see the episode?  Were you freaking out?  How do you feel?  What do you want to happen?