So this is a "checking in" post.   We're finally back from our month long road trip (which was documented at Road Warrior Momma).  I tried my best to post new material during June – I was able to participate in a few link-ups and write some book reviews, but that was about it.  This was my first road trip as a full time blogger, and it was really hard.  Along with the obvious difficulties of finding the time to write with four kids distracting me, I was trying to hashtag and Instagram everything we saw, to get more street creed in the travel blogosphere (I did score Cape Cod Guide Book as a follower!).  Plus I was trying to write an article for My Forsyth Magazine.  It hasn't gotten any easier since our return, either.  We were in town for a week and there was too much going on and I just couldn't get myself to sit down in front of the computer.  I've had zero motivation.  So what's a blocked writer to do?  Hit the road again, of course. 
Don't worry, I have no plans to document our Michigan adventure ad nauseum (but keeping my options open to share a summary).  I'm just hoping to recharge and catch up on my backlog of reading and meet some of my approaching deadlines.  Samantha and Joanne, if you're reading this – I promise I'm on it!  July New Releases and Legacy Traditions are on their way, soon.  I also need to take the time to return some of the blogger love I received while on the road.  I'm very grateful to my cyber sisters who checked in on my travel updates.  When I logged into Blog Lovin' after I got home – I discovered I had 315 posts to catch up on!  I plan to read each and every one of them and find out what all my friends have been up to this summer.
I'm emulating my friend Allison's "currently" posts to let you know what's going on and hopefully spark some feedback about what you all are currently doing.
I've been listening to tons of audio books in the car.  I'm listening to my tenth one since hitting the road on May 27th.  Some of my favorites were:  The Gift of an Ordinary Day (by Katrinia Kenison and Wild (Cheryl Strayed).  Wild was tough to listen to in some parts – I am very squeamish.  I am not fond of grieving daughters, needles, bugs, camping, frogs or dead toenails….ewwww.  Still, I really enjoyed the book.  I also loved Sarah Jio's new one, Goodnight June.  And, almost forgot, finally experienced Rainbow Rowell's Eleanor and Park.   Fantastic.  Loved the nostalgia and I hope it'll be a movie one day.  Anyone know if it will?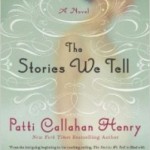 I've read some great books this summer.  My favorites were Vanessa Diffenbaugh's The Language of Flowers, Pattie Callahan Henry's The Stories We Tell, Rob Lowe's Love Life and Taylor Jenkins Reid's After I Do.  One book (review coming soon on Chick Lit Plus), kept me up late at night – I finished it in one day.  I love when that happens.
I haven't seen any movies in the theatre this summer, but I really want to see Jersey Boys.  While home for one week, I did finally watch The Great Gatsby, which I loved.  And my other half insisted that I watch the movie Waiting, an old Ryan Reynolds movie about waiting tables.  I'd never heard of it and reluctantly agreed.  I grew up in the restaurant business and put myself through college waiting tables and this was the closest thing I've seen to the real deal.  There is one exception – I have NEVER seen a kitchen staff do what those mean men did to one nasty customer's food.  Honestly, I've never witnessed that happen, but everything else in the movie – oh yeah.
I've been very lazy.  We're staying at my sister's house in Michigan, and she works – a lot.  So basically, I'm the woman of the house and I ain't doing much.  I'm an obsessive bed maker.  I won't get into a bed unless it's made – even when I'm sick.  Well, I'm embarrassed to tell you there are four unmade beds today, at 12 noon, and three out of five people are in their pajamas.  And one of those PJ clad little people is outside playing with neighborhood children.
I'm not working out.  In the last seven weeks, I have run perhaps 3 miles?  I have not lifted a weight.  I have not gotten my Namaste on.  I've tourist walked and that's about it.  I am a sloth.
I am not eating clean (and apparently not alone, ahem ABC, if you're reading).  Fresh, clean food is hard to come by on the road and I'm actually craving it.  During my week at home I did do some home cooking – but it was not of the healthy variety.  I'm not creating many culinary delights in Michigan either, but I am taking advantage of the delicious pantry at A Matter of Taste (a fantastic local restaurant with a busy take-out store).  I'm getting my vegetable fix, for sure, but it's take-out, so it can't be good for me.
I'm dreading back-to-school.  I think something is wrong with me, I'm one of the few mothers who doesn't want her kids to go back to school.  I like our carefree summers, with very few calendar obligations.  Hunter has joined the local cross country club and his practices are at 6:30a.m. (thanks to the Georgia heat).  During our brief time at home, the reality was too much for me!  I don't want to go back to the driving-everyone-everywhere-they-have-to-be way of life.
I've been enjoying a social media sabbatical.  You know what?  I like it.  I wish that cyber social networking wasn't so crucial to blogging and freelance assignments.  I love being unplugged.  I hate looking at things on my phone and at the end of the day, in the hotel room, the last thing I want to do is surf, and that is liberating!  Unfortunately, there's a direct correlation between my diving blog traffic and my disengagement with social media.
I've no clue what's going on in the world.  I'm a little bit of a news junkie and I know it's not necessarily good for me.  Most of the year, I like to know what's happening.  That's not possible when you're sleeping in, there's one (or no) television set, you can't find a newspaper, you only listen to audio books and you're discovering new places, things and people.  The cares of the world, other than where to eat dinner, the local weather forecast, and what time the museum closes, fall by the wayside.  There's a calming sense of "all's right with the world" that obliviousness brings.  It's blissful – and I like it.  But I know the early morning school routine that waits inAugust will bring me my daily dose of the Today Show and blow all the world's chaos right back into my life.  Until then, I'm enjoying my tranquil bubble.
I'm contemplating some parenting conundrums.  I need help or advice, if you have experience with teenage acne, nail biting or friends moving away.  Growing up, I had "normal" skin issues.  There were pimples (I hate that word, even typing it make me squirm) for sure, but honestly, I was lucky.  One of my sons has it real bad and nothing I've done has helped.  I'm going to take him to a dermatologist when we get home, but I really don't want to go the medication route.  Any topical suggestions?  I've also been witnessing one of my children gnaw away at their fingers all summer and it's gross.  This child is self-conscious about it, so no names, but we're getting desperate to nip this habit in the bud.  It just looks really bad.  I'm also freaking out a little wondering about the motivation of such a habit.  Is something really bothering my child that he or she doesn't know how to handle?  Or is it some form of oral fixation?  Am I over-thinking this or worrying needlessly?  Finally, I've learned that the families of two of my son's really good friends are moving, and this is going to serve my guy quite a blow.  I don't know how to tell him.
That's what's going on in my world.   I should have my final road trip update posted in the next couple of days, hopefully followed few other things I'm working on.  But enough about me, what I really want to know is what's going on with my friends and if you all have any reading, viewing or parenting suggestions for me.  Please share below.
What are you reading?  Have you seen any movies this summer?  Are you enjoying your summer?  Do you check out in any (or all) areas of your life while on vacation or at home during the summer with your kids?  Are you excited or anxious about the start of school? This will probably only be a current issue for my southern friends – northerners have just started summertime!  Have you had to deal with a child's acne?  Nail biting?  Loss of friends?