Dental Drama
 Autism presents all kinds of challenges.  Let me tell you, there are exploding landmines everywhere and just going to the dentist can often produce an explosion.  The twice-a-year appointments on the calendar are dreaded events,  which take lots of planning and fortitude.
Finding a dentist is no easy task.  It takes a special professional willing to take on the challenge, and believe me, they are hard to find.   A simple trip to the dentist can make anybody nervous, even those who don't have major sensory deficits.   I remember the first time I had a cavity filled.  The huge needle full of Novocaine terrified me and the sound of the drill gave me nightmares for weeks.  Gives me chills just writing about it.  I was never going to go through that again – and I never did.  Fear is a great motivator.  Brush your teeth kiddos.
Imagine what it's like for a five year old, who doesn't always like to be touched, can't sit still and has oral motor issues?  Yeah – not fun.  Despite reading books about going to the dentist, watching dental videos and writing social stories, Bear was never prepared.  Over the years we've left the dentist's office with our tails between our legs and tears in our eyes.  In the early years, I used to go back to the exam room with him, but that seemed to cause more stress for Bear.  In recent years I've sweated it out in the waiting room.  Sometimes I could hear him screaming, other times, the infamous "Bear Siren" (words cannot describe).  Once, while having a tooth extracted, he had to be restrained in a contraption that I don't think Houdini could have escaped from.  The experiences were often brutal (for both mother and son).
Well today my twelve-year old reached a major milestone.  In less than thirty minutes, he had his teeth cleaned, examined and X-rayed – not peep out of him.  The hygienist escorted him into the waiting room with the biggest smile on her face.  "He's growing up mom."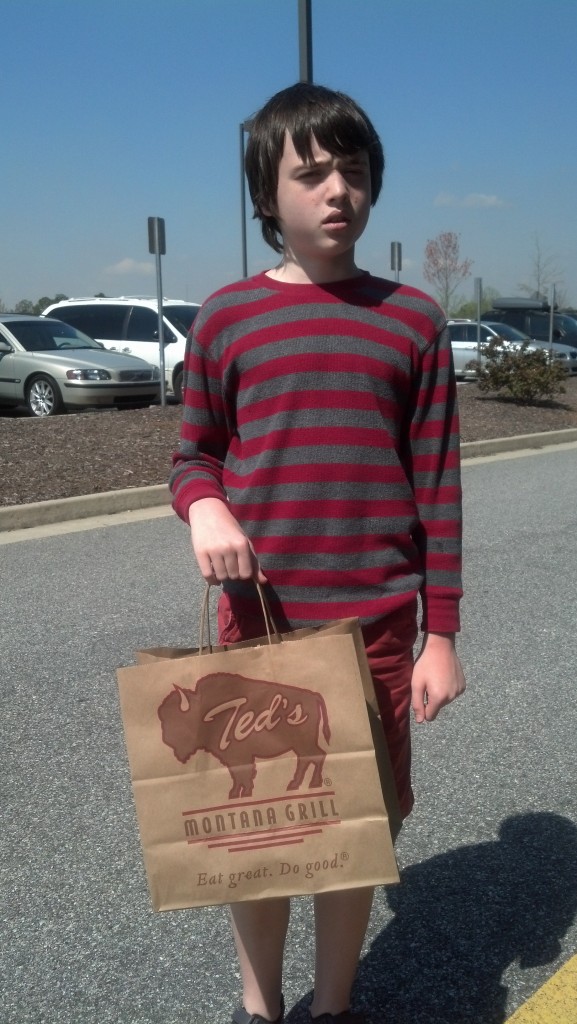 He did it!
I told Bear that I was so proud of him and gave him a big hug.  He mocked me with a smirk and an "Ahhhh."  I told him he'd get the lunch of his choice, before going back to school.  I fully expected him to say, "McDonalds".  Nope.  Bear surprised me once again by declaring he wanted, "Ted's."
"I beg your pardon?  Ted's?" (As Montana Grill, where we dine occasionally, but haven't in quite some time.)
"Yes," he replied emphatically.
So off to Ted's we went…