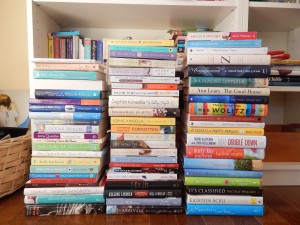 It's no secret that I love my books.  This year I read (or listened to) 102 books!  Shocking, even for me.  In 2013, books were my entertainment, my escape, my therapy.   I read more nonfiction than I usually do and some darker fiction, which is a bit outside my comfort zone.  Suffice it to say, I had trouble believing in the "happily ever after."  I've compiled my reading stats, because once a number cruncher, always a number cruncher.
Number of books reviewed:  26  (For My Forsyth, CLP & CLC)
Books I read that were written by a first time author: 25
Authors I read for the first time:  58
Top three Genres:
1) Chick Lit/Woman's fiction
2) Memoirs
3) Tie –Books of Grief
                 3)  Books on the craft of writing
Formats:
♦ Audio Books: 53 (great for road trips, carpool & housework)
♦ Traditional Books: 29 (shocked by this low number)
♦ EBooks: 14 (because I had no other choice)
♦ Multiple Formats: 6  (Books that I listened to and read, because they were just so good, I couldn't wait for the car).
Most read authors:
♦ Jane Porter – 4 books
♦ Jen Lancaster – 4 books
♦ Wendy Wax – 4 books
♦ Anna Quindlen – 3 books
♦ Pattie Callahan Henry – 3 books
I've compiled more than the typical "top ten," but please indulge me, since I did consume so many.   I've broken the books down into two categories, fiction and nonfiction, listed in alphabetical order.   You can also check out last year's favorites, which are more light-hearted books.
Fiction
A Hundred Summers by Beatriz Williams.  This book transported me back in time to the upper class world of Manhattan in the 1930s.  This is a story about love, friendship and family.  The clever plot is intriguing and addresses issues relating to class, race and dark family secrets.  It's so good!
And Then I Found You by Pattie Callahan Henry.  This is a bittersweet story about a women reuniting  with the child she'd given up for adoption eighteen years earlier.  The story is based on real life events and although heartbreaking at times, it will also leave you feeling hopeful.
Gone Girl by Gilliam Flynn.  So not my type of book, but I loved it.  I only read it because of peer pressure (it was on every single 2012 "Best of" list).  It is such a wild ride!  Let me just say, Nick and Amy are two of the most screwed up people I've ever had the pleasure to read about.  I cannot wait for the movie to come out, starring Ben Affleck.
Sweet Nothings by Janis Thomas.  This beautifully written book was my first review for Chick Lit Plus.  Thomas writes with raw honestly, tinged with a humorous self-deprecation, about the fears and uncertainties of starting over.   The book is full of interesting and unique characters and mouthwatering descriptions of baked goods.  Do not read on an empty stomach!!
The Engagements by J. Courtney Sullivan.  This book is a fascinating look at the diamond industry, from the mines of South Africa to the advertising offices of New York City.    The book tells the story of four very different marriages over a 100 year period and how the symbol of a diamond, representing ever-lasting love, affected each union.   Sullivan cleverly tied all four storylines together by the end of the story.  It was quite a surprise!
The Good Daughter by Jane Porter.  This is book number 2 in the Brennan sisters trilogy.   It's hard to pick a favorite, but I found Kit's story compelling.   Kit is the "good" sister who is bravely starting her life over at forty.  Kit's got a lot going on with taking care of her terminally ill mother, working full time, and juggling all the drama in her family.   She's also contemplating motherhood.  But she does it all with grace and gets her much deserved happy ending.
The Good House by Anne Leary.  This is a story of Hildy, a grandmother with a serious drinking problem, and of her small secret-filled New England town.  Hildy Good is a complicated heroine, who I found to be obnoxious, arrogant, insightful and funny – even when I pitied her.  It's a compelling, realistic and brutal portrayal of alcoholism, with a bewitching plot.  The movie is in development, with Meryl Streep and Robert De Niro rumored to star!
The Husband's Secret by Liane Moriarty.  This was a great book, with a deceiving book jacket.  Had I known what it was about before I started reading, I think I would have passed.  Thankfully, I did not.  Moriarty hooked me from the beginning and I couldn't put the book down.  The secret, which I figured out before the reveal, is a game changer.  I loved the epilogue, because I'm a girl who muses about choices we make and the roads not taken.
The Interestings by Meg Wolitzer.  Okay, this was my 2013 peer pressure selection.  Not my usual read, but I was curious after reading about all the NYT Book Review/Chick Lit dissing drama involved.  I didn't want to like it, but I have to admit that I kept turning the pages, despite myself.  The writing is excelent and I loved the decades-spanning plot, but I didn't find the group of friends to be as interesting as they thought they were.   Some I liked, others I definitely did not.  Still, I bought quite a few copies as gifts this year.
The Life List by Lori Nelson Speilman.  I love the premise of this book.  A mother passes away and before her daughter, Brett, can receive her (substantial) inheritance, she must complete the life list she made when she was twelve.  Sounds crazy (buy a horse, perform on stage), but momma knew what she was doing.   A grief-stricken Brett reluctantly attempts to meet the goals of a 12 year-old and in doing so, she rediscovers her true self and begins to heal.
The Partner Track by Helen Wan.  This book was fun and fast paced and all about girl power!  Ingrid is an Asian American lawyer who's living her immigrant parents' American dream by slaving away at a prestigious NYC law firm in her quest for partnership.   With discrimination, nepotism, corporate sabotage and clandestine office romances, the plot keeps you guessing and the ending is reminiscent of the movie Working Girl.  I was so excited reading the climax scenes that I was pumping my fist in the air, chanting "You Go Girl!"
The Theory of Opposites by Allison Winn Scotch.  I absolutely loved this book.  Willa has traditionally always taken the safe route, which she believes was mapped out for her by "the universe."   After a series of bad breaks, she decides to tempt fate and draw her own map. The questions about fate and destiny and how much power our choices have over our lives have always intrigued me.   It's never too late to take chances and re-plot your course.  Jennifer Garner has optioned the book for a movie.
Where'd You Go Bernadette? by Maria Semple.  This was one crazy fun book.  Bernadette Fox is a (former) genius architect, a mother of a teenager and a discontented wife, who hates all things Seattle – all things!  She's not a happy woman.  Her scathing comments about her neighbors, her city and the Culture of Microsoft are hilarious.  It's no wonder one day she just disappears.   Her daughter's quest to find her and bring her home kept me engaged and charmed to the very end.
Z: A Novel of Zelda Fitzgerald by Therese Anne Fowler.   This is a fictional take on the life of Zelda Fitzgerald, as told from "Zelda's point of view."   Sometimes I had to remind myself that Zelda did not write the book.  From what I researched, much of the novel is based on fact.  For me, it was a fascinating introduction to a woman who was ultimately brought down by her love for and devotion to Scott, a man who had his demons.  Oh, this one made me cry a few times.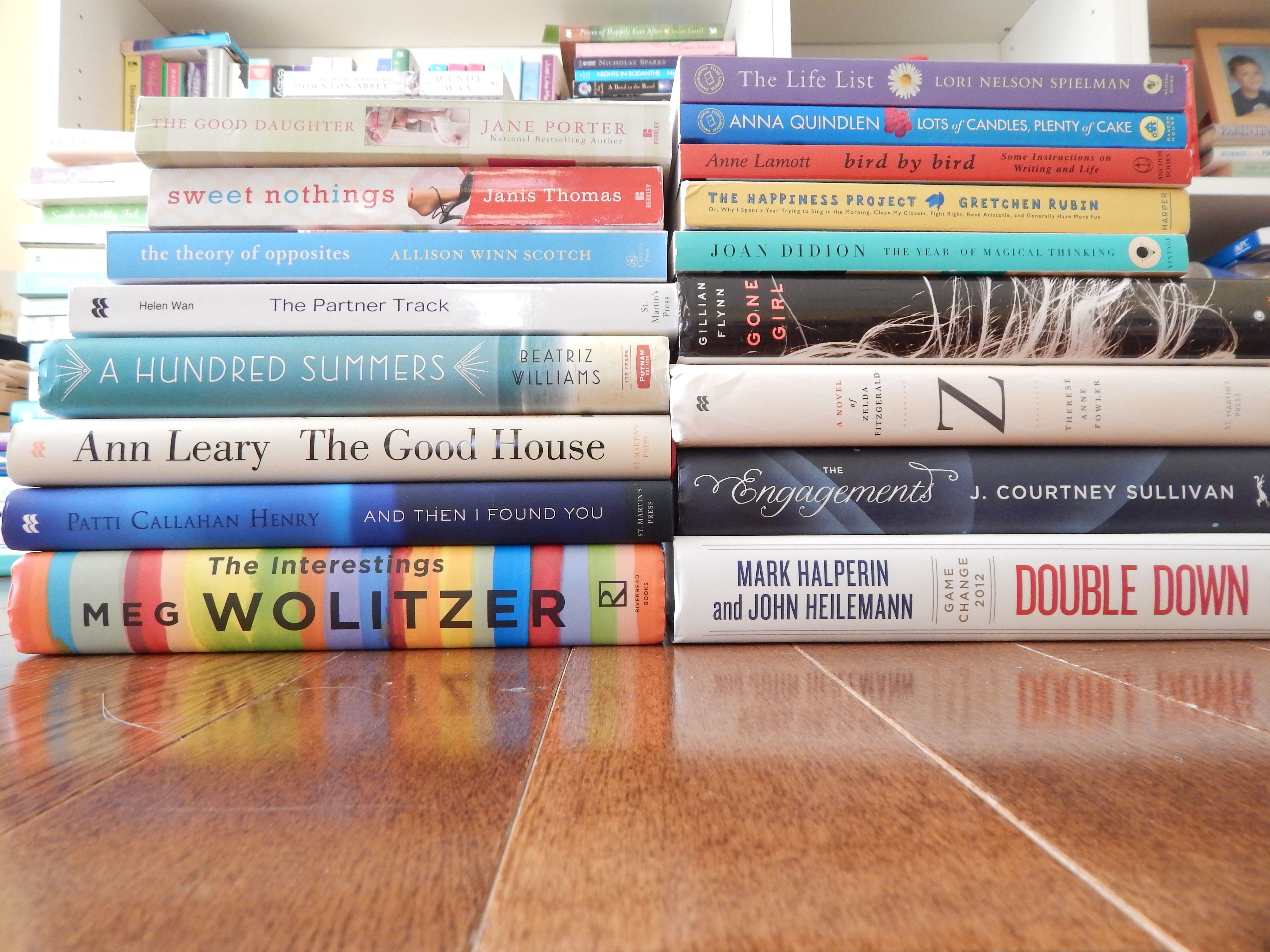 Nonfiction
Bird by Bird by Ann Lamott.    For me, simply the best book on writing I've read.  It's part memoir, part writing guide.  I learned so much about writing and life.  I want to go out to dinner with Ann Lamott and pick her brain for hours.
Detroit:  An American Autopsy by Charlie LeDuff.  I spent a lot of time in Michigan this summer, specifically in the Detroit suburbs.  Detroit declared bankruptcy during my time there and I wanted to learn more about the city and what happened.  Learn I did.  The city has a fascinating history.  Detroit's downfall is both tragic and baffling.  The book serves as a cautionary tale and should be a must-read for all city officials and urban development professionals.
Double Down by Mark Halperin and John Heilemann.  I'm a little bit of a political junkie and this book is a follow-up to the 2008 bestseller, Game Change, which I devoured.  Double Down is a comprehensive analysis of the 2013 race for President and it's full of juicy and pertinent details.  Regardless of your political affiliation, you will be dumfounded by some of what you'll discover.
Johnny Carson by Henry Bushkin.  Johnny Carson will always remind me of my parents, because they watched him every night.   After reading this eye-opening account of his life during the time when the author was Carson's lawyer, I'm not sure what to think.  What a complicated man!  It seems he was very different from his television persona.  Sadly, I didn't hear or read about anyone in his life disputing this account.  A little shocking at times, but always entertaining.
Lots of Cake, Plenty of Candles by Anna Quindlen.  A memoir about motherhood, marriage, girlfriends, and writing.  After reading this, I felt a wiser.  My favorite parts though, were her memories and reflections about her mother, who passed away too soon.  Sadly, I could relate.
One Summer, America 1927 by Bill Bryson.  I loved this book and learned so much.  It is a history book, so I know I won't convince many to read it.  Much of what happed in the world that summer still affects our lives today!  Interestingly, much of what society worried about during that time has come full circle today.  You know what they say, those who don't learn from history…
Still Foolin' 'Em by Billy Crystal.  I know I said I wasn't going to rank my favorites, but this one just might have been my number one.  Crystal's frankness and self-deprecation about his family, career, religion, and aging was endearing.  He's also – big surprise! – very funny.  This book made me laugh, cry and think.  It made me happy.
The Happiness Project by Gretchen Rubin.   I know I'm late to the Happiness Project bandwagon.  I guess this year I was sad enough to finally read it.  Witten in a wonderfully friendly style, it's full of useful tips and ideas on how to make your life happier.  It sounds like a momentous undertaking, but it's actually very simple and helpful.  My office has been clean and organized for four months, which has made me very happy, indeed!
The Year Of Magical Thinking by Joan Didion.  This is a beautiful memoir of grief.  It chronicles the year following Didion's husband's sudden, unexpected death.  It is at times painful and heartbreaking, but if you're grieving, you'll feel as though it was written for you.  She resonated with me on such an intimate level that I felt like I could have written the book (although not so eloquently!).  Reading the book was a turning point for me, and truly served as a defibrillator for my heart.
Still with me?  Sorry to blather on but I enjoyed some good reading this past year.  I also have quite a backlog to get through.  Plus, there are many books that will be published this year.  I'm eagerly anticipating new ones from Jen Lancaster, Emily Giffin, Jojo Moyes, Elin Hilderbrand and many, many more!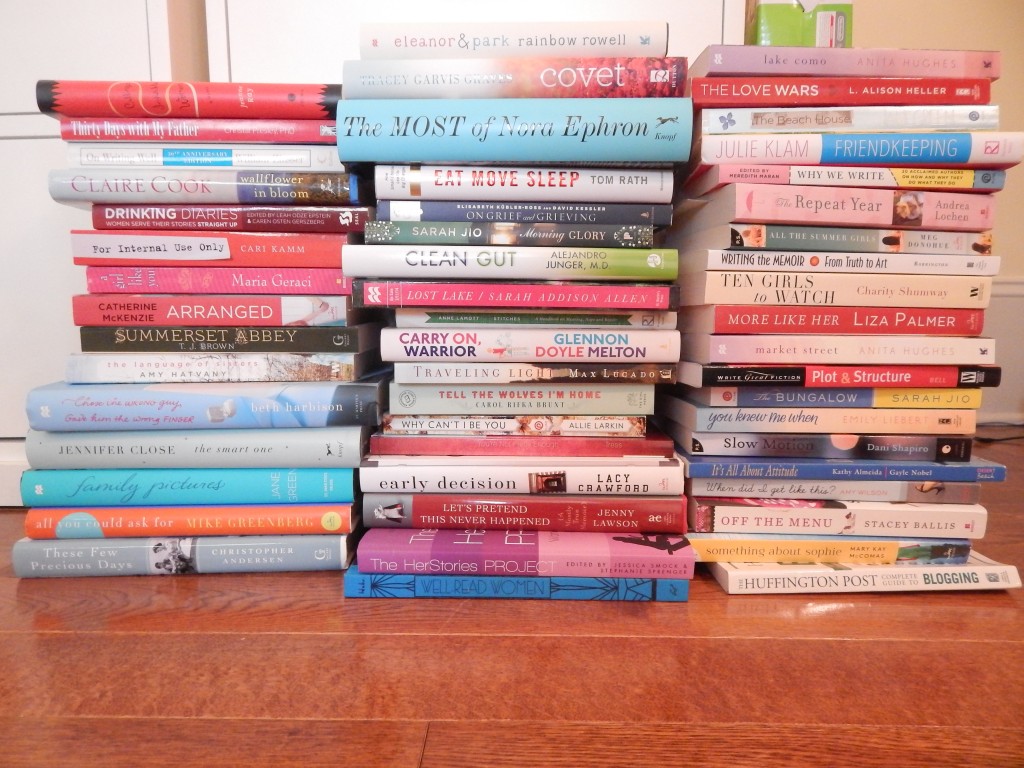 Some of my intended 2014 reading.
So what were your favorite books of 2013?  If you haven't read any of the above, do any sound interesting to you?  What books to be published in 2014 are you excited for?