I'm an unabashed book nerd.  I love writing about books and would do it exclusively – if I thought anyone would read/enjoy it – but my stats say otherwise.  So, alas, I have backed off on the book reviews.  But ironically, my "favorite books of the year" posts have traditionally done well, so here we are again.  I did a lot of reading this past year my friends, beating my numbers from last year.  I consumed roughly (more on that below) 105 books.  It was split evenly between fiction and nonfiction, with a variety of subgenres. 
What I read (and didn't):
105 books.  52 were fiction and 53 were nonfiction.
59 were traditional paper books.
I only had to read THREE ebooks this year – yay!  I have a chip on my shoulder about ebooks.
I listened to 72 audio books.  I prefer to read fiction, but typically listen to nonfiction (although I often also buy the book for reference).  My total numbers don't add up, because if I'm really enjoying an audio book, I'll also read it in paper form when I'm not driving.  Also, I only listen to unabridged audio books.
I read some really bad books this year.  Looking over my list – there are eight titles that I really, really didn't like.  I'm too scared to name names and didn't have the guts to rate them badly on Goodreads either.  Also, there were 12 books that I just couldn't finish.  With one book I couldn't get past page fifty, and for another, I stopped just forty-five pages shy of the finish line.
Who I read:
This year I fell in love with Sarah Jio.  Actually, that's probably not a fair statement, as I've always loved her, but I finally caught up on her backlist.  I read five of her books.  The other author I indulged in was Adrianna Trigiani, with three books (I enjoyed her Valentine series).  I doubled up on Anna Quindelin, Edmund Morris, Jojo Moyes and L. Allison Heller.  I was introduced to sixty-six new (to me) writers, twenty-six of whom were debut authors.
I only published fifteen book reviews last year.  I've slowed down on my reviews, because honestly, it was taking me away from books I wanted to read.  Also, my editor at My Forsyth has now promoted me to features, so I'll no longer be reviewing books for them.
My reading was varied as usual, but my top three genres were memoir, chick lit and women's fiction.  I also read a ton of anthologies and books on writing.  In contrast to last year – literary fiction, grief, and self-help took a nose dive.  I'm okay with that.
Below are my favorites for this year, along with a few honorable mentions.  They're broken into fiction and nonfiction, and listed alphabetically.  Also, some were not published this year, but read in 2014, and therefore eligible for the list.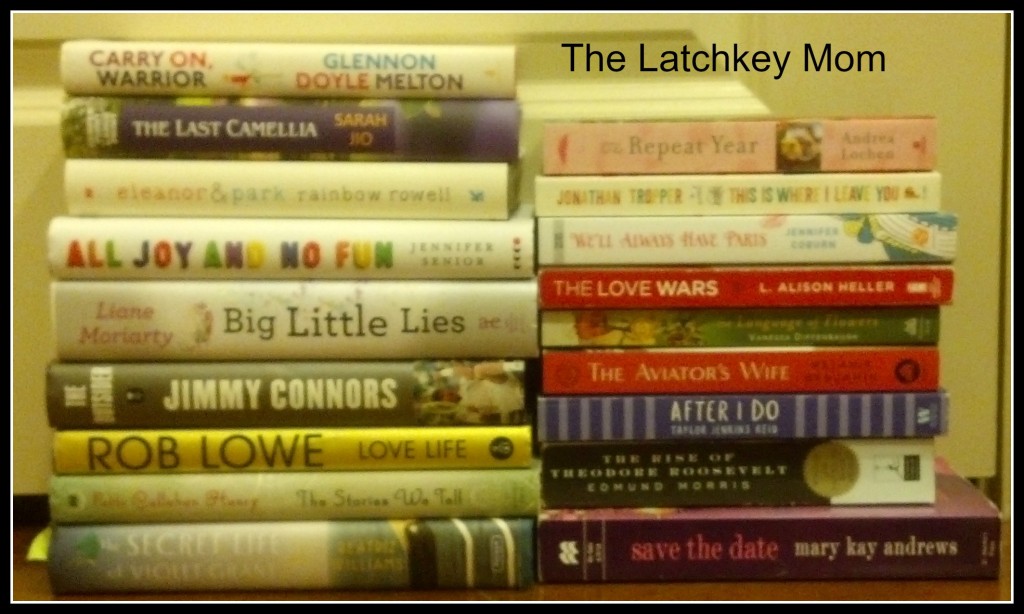 Fiction: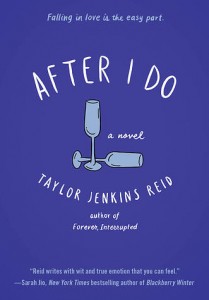 After I Do by Taylor Jenkins Reid.   This was a juicy account of a marriage falling apart.  When Lauren and Ryan reach an impasse in their marriage, they decide to "take a break" (think Ross & Rachel) for one year.  Lauren is devastated and reconnects with her family as she begins a year-long journey of self-discovery.  The book analyzes what it takes to make a good marriage and the value we place on happiness.  I went back and forth with my opinion as to whether or not Ryan and Lauren should reconcile.  The author kept me guessing until the very end.  I read it in one day (review).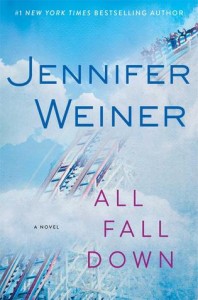 All Fall Down by Jennifer Weiner.  This novel was not a fun or light read.  It was a departure from the typical Weiner fare, but I found the story of Allison riveting.  Allison is a stay-at-home mom who doesn't find her picture perfect life very satisfying.  To cope with the boredom and her guilt, she takes pills – lots of them.  It was heartbreaking to read the painful details of Allison's descent into addiction.  The rehab portion of the book, and the lengths that Allison goes to, to deny her addiction were raw and horrifying (review).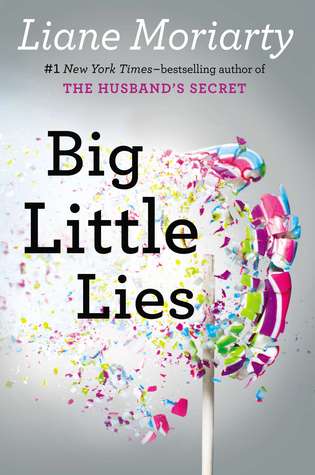 Big Little Lies by Lianne Moriarty.  Fun and intriguing.  This story, about a school fundraiser that ends with the death of a parent, is set in Australia.  But I assure you, any American suburb could easily be substituted.  The characters are a bit stereotypical, but certainly realistic.  The mystery was fun and not easily guessable.  This book was the closest I got to a thriller all year, and I couldn't put it down.  I read that a miniseries is in development with Reese Witherspoon and Nicole Kidman slated to star.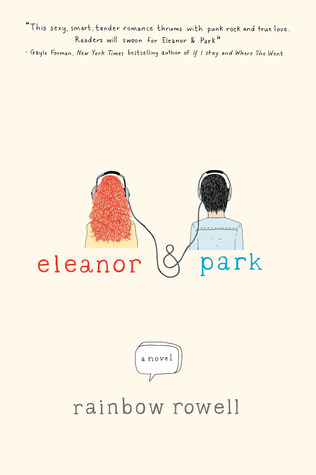 Eleanor & Park by Rainbow Rowell.  I'm not a big fan of young adult, probably because I have no desire to go back to being one!  But this one was all the buzz last spring and I had to go for it.  I'm glad I did.  The romance of two teenage misfits, Eleanor and Park, was poignant.  It made me pine for my high school crush(es).  My nostalgia was amplified by the 1980's setting.  I pity the poor adolescents of today.  There's nothing quite like expressing true love with a mixed tape.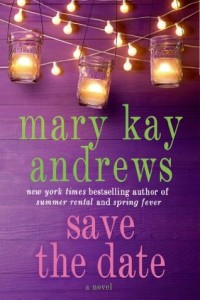 Save the Date by Mary Kay Andrews.  Okay, so this was my favorite fun read of the year.  There's a reason Ms. Andrews is one of the reigning queens of the summer beach read.  Her books are usually set in the south, with quirky fun characters, beautiful venues and delectable descriptions of food.  Add a dashing anti-hero and a mystery involving family antiques and you've got yourself a good time (review)!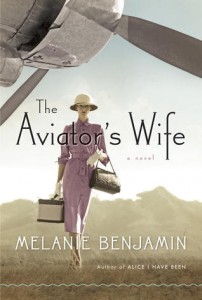 The Aviator's Wife by Melanie Brown.  This beautifully written novel is the fictional account of the marriage of Charles and Anne Lindbergh.  The book paints a glamorous and complicated picture of a vagabond couple who was hunted by the press and who paid the ultimate price for their fame and fortune, without ever really recovering their hearts or their glory. The ending, which my research verified as historically accurate, is a game changer that will make you question how we, as a society, worship our heroes (review).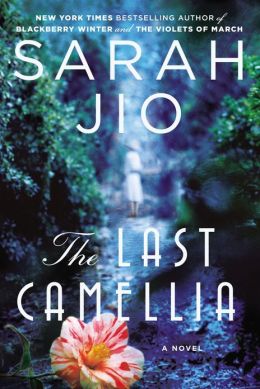 The Last Camellia by Sarah Jio.    I read several Sarah Jio books this year and loved them all.  But I had to pick one as my favorite, which was hard, but this story stuck with me.  Flora is a young American botanist who goes to work as a nanny for an English family in 1940.  She disappears from the family's estate and is never found.  Sixty years later, Addison stumbles upon the mystery while visiting her in-laws in England.  I found the botany mystery involving flower thieves to be surprisingly intriguing, especially set in the turbulent time period of World War II. The book is full of intrigue, family drama and romance.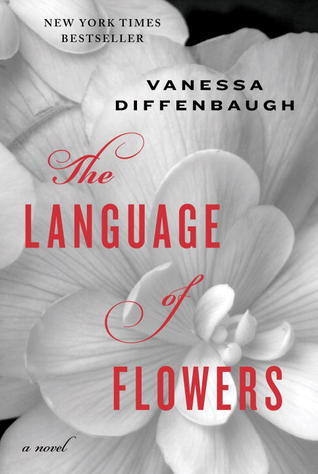 The Language of Flowers by Vanessa Diffenbaugh.  I had no idea that the language of flowers even existed, but apparently, it really does.   During the Victorian period it was used for romantic expressions.  Victoria Jones, a child who spent her life in the welfare system, learned about the language from a foster parent.  She uses it to express her feelings.  When she's emancipated at eighteen, she ends up on the streets of San Francisco, but eventually gets a job at a florist shop.  Victoria realizes she has a gift for helping others through her flower arrangements.  Her story is heartbreaking, but once she's forced to confront the secrets of her past, Victoria may have a second chance at happiness.  This book was so outside of my comfort zone, but I loved it.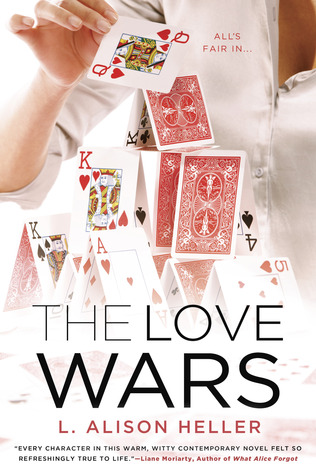 The Love Wars by L. Allison Heller.  This book reminded me of last year's The Partner Track (by Helen Wun), because much of the drama takes place in a law firm.  Molly Grant is a disenchanted lawyer who's working hard to reach her five year anniversary at the prestigious Bacon Payne law firm, so she can earn her six-figure bonus and pay off all her student loans.  After switching from corporate to matrimonial law, she finds herself dealing with a narcissistic boss, and emotionally unstable clients.  Molly goes rouge when she agrees to defend a woman in a custody case against one of the law firm's biggest clients – and she does so on the down low.
The Repeat Year by Andrea Lochen.  This was a very cute twist on Groundhog Day.  Olive finds herself in her ex-boyfriend Phil's bed on New Year's Day 2012, or so she thinks.  Olive is shocked, because they broke up months ago and she doesn't remember how she got there.  She soon realizes that it's 2011 – which doesn't make any sense.  You see, she's already lived through 2011.  For some reason, the Universe is having her live it all over again.  She's determined to fix her relationship with Phil in this go-around.  Unfortunately, the guilt of her actions from the previous year haunt her.  Perhaps fate is trying to teach her to let go?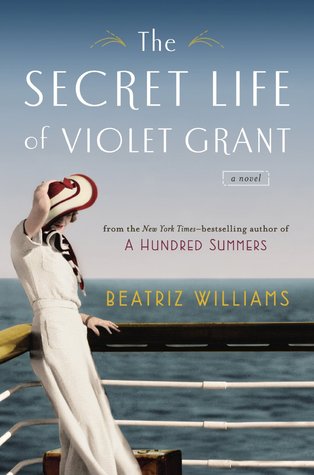 The Secret Life of Violet Grant by Beatriz Williams.  This was a saucy page turner!  In 1964 Vivian Schulyer receives a package in the mail that is addressed to Violet Grant – an aunt that Vivian was unaware she even had.  The contents of the package send Vivian on a mission to discover what happened to her Aunt Violet.  The reader learns of Violet's fate with alternating chapters set in World War I.  Williams wrote one of my favorite books of last year, A Hundred Summers.  The major characters from that novel make appearances in the 1964 chapters, which was a surprising treat for me.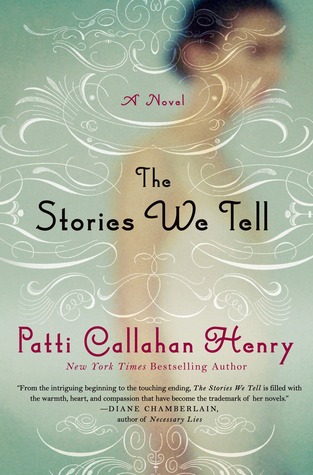 The Stories We Tell by Pattie Callahan Henry.  Eve Morrison's husband, Cooper, and her sister, Gwen, are involved in a serious car accident.  One person can't remember what happened, and the other isn't exactly telling the truth.  The plot of this story has it all – family drama, sibling rivalry, mid-life marital stress, unrequited love, teenage angst and a mystery to boot!  The book dives deeply into the questions of memory.  I found this to be the most fascinating part and it really resonated with me.  Memory is an intangible and puzzling mix of physiology and complex human emotion – and we all have our own versions (review).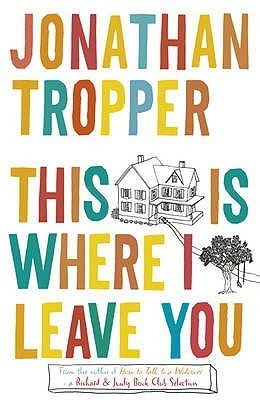 This is Where I Leave You by Jonathan Tropper.  This was my first Tropper novel and I was hooked.  I bought the book after seeing the movie trailer (always have to read the book firstJ).  Apparently I was in the minority, but I also loved the movie.  This is the story of the Foxman family sitting Shiva for the family patriarch.  Over the course of seven days, family rivalries, dramas and secrets come out.  I found the family's dysfunction to be hilarious.  You know what they say – we can't pick our family!
Nonfiction: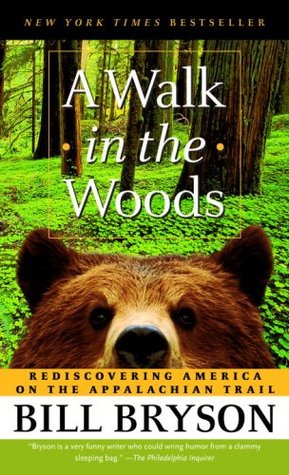 A Walk in the Woods by Bill Bryson.  I'm not sure how to describe this book.  I love Bryson's voice.  He is clever, witty and funny. One year, he just decided he was going to hike the Appalachian Trail and write about it.  This was first published in 1998, way before Cheryl Strayed wrote her book.  I actually enjoyed this more.  His observations of America – both its people and the land are insightful and sometimes inspiring.  In actuality, he didn't walk the whole trail.  He got off midway through and then picked up again in New Hampshire weeks later.  Also, he didn't finish, but had a valid reason for not doing so, which I won't spoil.  The book is very entertaining.
A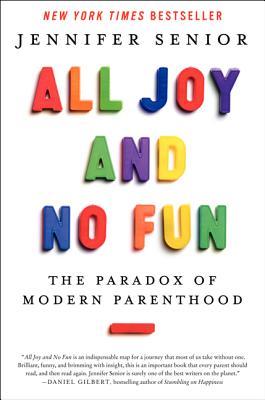 ll Joy and No Fun by Jenifer Senior.  This book on parenting was very eye-opening for me.  I wish I'd read it a decade ago (impossible since it was published in 2014).  This author takes the unique angle of asking how children affect the lives of parents, rather than the other way around.  Senior's findings are based on extensive research and extremely interesting.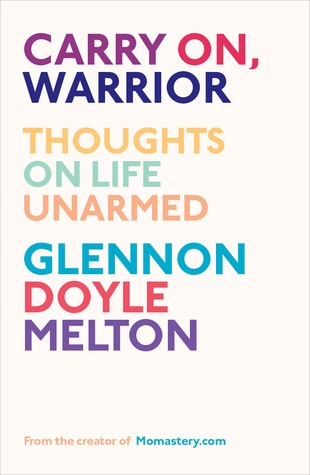 Carry On Warrior by Glennon Doyle Melton.  This is a fabulous compilation of Glennon's ( of Momastery) most popular posts and some new material.  Resilience is a central theme of most of her essays, because Glennon is a warrior who has battled back from addiction and bulimia.  She has no secrets and is very open about her colorful past.  Her raw honesty about her faults and the mistakes she's made will disarm anyone who may judge some of her choices. My favorite essays address the struggles she's had finding her footing as a mother.  Her stories and musings are so relatable that I could see myself and my friends on the pages. Glennon's writing is poignant and charming (review).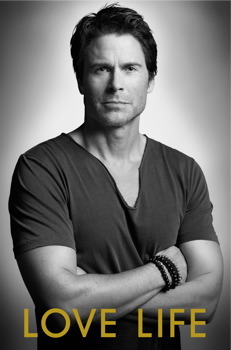 Love Life by Rob Lowe.  I love Rob Lowe and his fist memoir, Stories I Tell My Friends, was phenomenal.  So I had to read this and was not disappointed.  Lowe shares some more great stories and his reflections on being a dad will warm your heart.  He's funny, eloquent, down to earth and surprisingly deep. His love for his family, his craft and his country is evident throughout the book.  He delves more into his journey of sobriety and for that, I truly admire him.  I really hope he continues to write more books.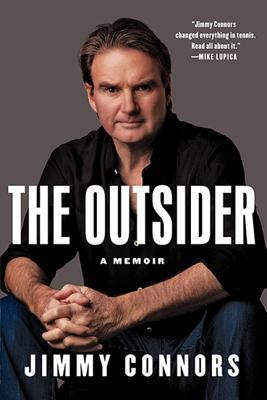 The Outsider: A Memoir by Jimmy Conners.  This book is full of scoop, making it a guilty pleasure.  I grew up with parents who played and watched tennis.  For men's tennis, the 1970s and 1980s were the glory days and Conners dominated for a significant portion of that period.  His analysis of fellow players and his high profile rivalries are insightful, if at times petulant (this is Conners we're talking about). Tennis lovers will rejoice because he goes into great detail about several of his big matches.  I really enjoyed reliving some of them.  I also appreciated his opinions on how the game has changed over the years (decades). His colorful personal life is also addressed and he left little, if anything, out.  Chris Everett could not have been happy about this book.  Ms. Everett, the ball is now in your court.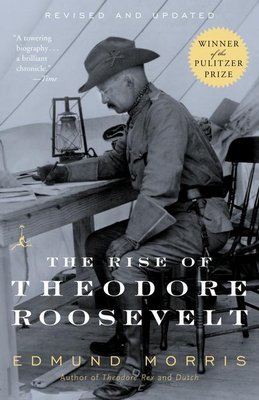 The Rise of Theodore Roosevelt by Edmund Morris.  I learned more from this book, than I did in twelve years of history courses.  What a fascinating man.  Morris has written three biographies of TR, all of which won awards.  This one covers Roosevelt's life from birth, until he became President, following McKinley's assassination.  He was forty-two at the time and had already conquered the west, written numerous books, practiced law, led the Rough Riders in Cuba and held the offices of New York State Assemblyman, New York City Police Commissioner, Assistant Secretary of the Navy, Governor of New York and Vice President of the United States.  Phew, I'm exhausted.  I also neglected to mention he fathered six children and read at least one book a day.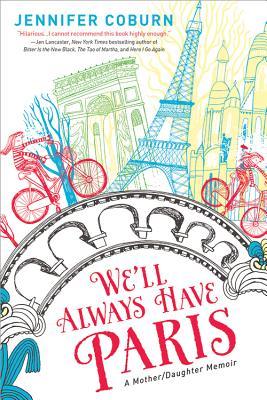 We'll Always Have Paris by Jenifer Coburn.  This book chronicles the adventures of a mother and daughter as they travel across Europe (there were multiple trips).  The book is more than a memoir or a travelogue, it's also story of grief. Jennifer, the mother, lost her dad to cancer when she was nineteen. Since his passing, she's had a fatalistic view of life, feeling as if she were living on borrowed time.  Losing a parent is an ache that never really goes away, flaring up periodically like a virus you just can't shake. Jennifer's memories of her father are interwoven with moments she and Katie share on their adventures, which help Jennifer break free from her fears and anxieties (review).
Honorable Mentions, by Genre:
Biography – See above.
Diet/Health – I read seven books, but not one scored a five stars from me on Goodreads.
Chick Lit – Your Perfect Life by Liz Fenton and Lisa Steinke.
Historical Fiction – The Girl You Left Behind by Jojo Moyes.
Romance – The Look of Love by Sarah Jio.
Women's Fiction – The House on Mermaid Point by Wendy Wax.
Memoir – This is the Story of a Happy Marriage by Anne Patchett.
Miscellaneous Nonfiction/Anthology – My Other Ex:  Women's True Stories of Losing and Leaving Friends, edited by Jessica Smock and Stephanie Sprenger.
Parenting – See above.
Writing – Naked Drunk and Writing by Adair Lara.
My Random Superlatives:
Best Audio Book:  Yes, Please by Amy Pohler – read by the author, who is utterly charming – and of course, funny.
Favorite Character:  Vivian Schyler, in the Secret Life of Violet Grant.
Favorite Hero:  Jack Finnerty, in Save the Date.
Most Hated Character:  Dr. Walter Grant in The Secret Life of Violet Grant and Perry from Big Little Lies.
Favorite Title:  Chose the Wrong Guy, Gave Him the Wrong Finger by Beth Harbison.
Dumbest Title:  Heroes Are My Weakness by Susan Elizabeth Phillips.  I was so embarrassed to buy this book and immediately took off the cover, so no one would see the title.  Why'd I buy it?  I'm a loyal Phillips fan – although this book was not one of her better ones.
Favorite Book Cover:  The Look of Love (love the retro feel) by Sarah Jio & Your Perfect Life by Liz Fenton and Lisa Steinke (simply beautiful).
Favorite Passage:  "I hope," he said with a sigh.  "I just wish we could have saved her.  I've turned the story over in my mind a hundred times, and I still can't make any sense of it.  I miss her so much."  He looked up at the big star that sparkled overhead.  "You know, I've thought an awful lot about this, and I think that people are like those stars up there.  Some burn faintly for millions of years, barely visible to us on earth.  They're there, but you'd hardly  know it.  They blend in, like a speck on a canvas.  But others blaze with such intensity, they light up the sky.  You can't help but notice them, marvel at them.  Those are the ones that never last long.  They can't.  They use up all their energy quickly.  Mum was one of those."  – From The Last Camilla by Sarah Jio.
Book I Wish I'd Written:  We'll Always Have Paris by Jennifer Coburn – because that would mean I've done Europe four times!!!  Also, she's a really good writer.
Book I've Purchased the Most as a Gift:  Carry On Warrior by Glennon Doyle Melton.
Biggest Let Down:  For me, it was Covet by Tracey Garvis Graves.  It wasn't a bad book, but compared to her blockbuster debut, On The Island?  Not so much.
Most Overrated (imo):  Omnivore's Dilemma by Michael Polan.  This book was tough to read – all the science and the horrifying evidence that our food is probably killing us.  Depressing, with few options.
Book That Made Me Laugh the Most:  A Walk In the Woods by Bill Bryson.  Laugh-out-loud funny – especially his descriptions of fellow hikers.
Biggest Surprise:  The endings of Big Little Lies by Liane Moriarty and Morning Glory by Sarah Jio.  I didn't see either one coming!
Book I Didn't Think I'd Like, but I Did:  The Language of Flowers by Vannessa Diffenbaugh.  I more than liked it, I loved it.  My friend LynnAnn gave me this book – thank you!
Juiciest Revelation:  Each and every detail that Jimmy Conners shared about his relationship with Chris Everett.  Oh, he kissed and told!
Random Observations:  I read six books that were about flowers or featured a main character who was a florist.  In ten of my books, England was the setting for some (or all) of the story.  Twelve took place during a period of war (six in WWII, four in WWI, one in the Civil War and one during the Revolutionary War).
I Cried the Hardest:  The Fault in Our Stars – for obvious reasons.  Love Life by Rob Lowe – oh, he gutted me with the story about taking his son to college.  Buckets.
Oldest Book I Read:  The Rise of Theodore Roosevelt by Edmund Morris (published in 1979).
Most Anticipated Books of the Coming Year:  Some of my favorite authors have books coming out this year:  In the Unlikely Event by Judy Blume, It's You by Jane Porter, I Regret Nothing by Jen Lancaster, The Idea of Love by Pattie Callahan Henry, Beach Town by Mary Kay Andrews, Maybe In Another Life by Taylor Jenkins Reid, and Better Than Before: Mastering the Habits of Our Everyday Lives by Gretchen Rubin
I'm also linking this post up with Mama Kat's World's Greatest Writer's Workshop.  I chose prompt #3, "It's Book Review Time."

 So what were your favorite books of 2014?  If you haven't read any of the above, do any sound interesting to you?  What books to be published in 2015 are you excited for?