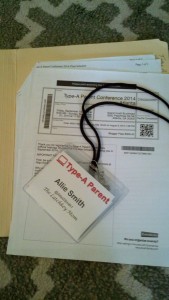 Most of you know that I attended the Type A Parent conference for bloggers last week.  As promised, I'm going to share the highlights, low points and what I learned at my first blogging conference.  This is kind of messy and just thrown together.   So please forgive the structure (or rather the lack of).  I'm giving a minor play-by-play and some random thoughts.
My weekend got off to a rough start, which I wrote about yesterday. Fortunately, I arrived at the hotel where the conference was, just in the nick-of-time.  While in line to get a coffee, I saw a fellow blogger (she was wearing a badge) and introduced myself.  Her name was Jana.  Her voice sounded very familiar to me and I quickly deduced that she was one of the producers for Listen to Your Mother Atlanta.   I met her last winter when I auditioned for the show.   She was very sweet and I asked her if I could follow her around like a puppy.  Well, not exactly in those words – but pretty close.  Jana was kind enough to oblige. 
For the keynote, given by Mack Collier, author of Think Like a Rock Star: How to Create Social Media and Marketing Strategies That Turn Customers Into Fans, I sat with Jana and her friends, most of whom were from out of state.  We all exchanged business cards and chatted.  The women at the table were conference veterans and they were multitasking while Mack was speaking.  Mr. Collier's speech was about "How to Create Fans and Build Community."  He had some great advice, but it seemed to me to be geared more towards the "big blogs."  This would turn out to be the daunting theme of most presentations.
The next session,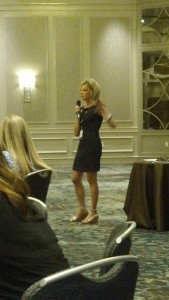 "Think Like a CEO," was moderated by Dan Morris and Rachel Martin of Blogging Concentrated.  It was one of my favorite presentations, even though almost nothing they discussed applied to me.  Dan and Rachel were very entertaining and kept me engaged.  They were all about the money – how to make it, and not necessarily with sponsored posts.  They had some great ideas for income generation (ebooks of series, affiliated links and t-shirts).  Again, doesn't necessarily apply to me, primarily because I don't have the numbers required to make it worthwhile.  They also stressed the importance of "bringing your readers home."  In an ideal world, the majority of my readers should come organically, from readers clicking on email notifications or regularly visiting my site.  They cautioned against depending on Facebook as a primary traffic source, which was music to my ears!!!!  I don't like having to sell myself on social media.
But how do you bring them "home?" They didn't really elaborate (to be fair, they ran out of time).  Although, this is a perfect segway to ask you to sign up for my newsletter – hint, hint♥ (sign-up on the side bar and the bottom of the page).  I only send one a week.  As suggested, I try to make my loyal readers feel special, by sharing content in the newsletter that isn't featured on the blog.  It's kind of like a rock star VIP fan club.  Get it?  Thinking like a rock star.
Next up was, "Finding Your Voice." I really enjoyed this one, because it was about writing the content.  I like my voice, but I do tend to shy away from being "raw" (I've been told this more than once).  It was at this point that I got a tweet from Allison Carter asking me if I "heard that?"  The other memorable point the speakers made was that the story you feel you cannot tell, because it's too embarrassing, personal, revealing, gross or raw – is the one you HAVE to tell.  But I still don't know if I can do that?!?!?!?
I had lunch with Allison and it was so nice to actually meet her in person! Allison and I connected last year when I wrote a post about a book she contributed to.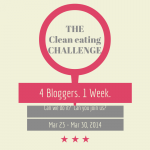 Allison invited me to join her Clean Eating Week . Our relationship has grown through email, Google Hangouts and phone calls.  She's a mentor, an inspiration and a delight to spend time with in "the real world."  She introduced me to her North Carolina posse and they took me under their wings.  I will be forever grateful to these ladies for hanging with me all weekend!  I was ready to join my friend from the first table and start house hunting in North Carolina.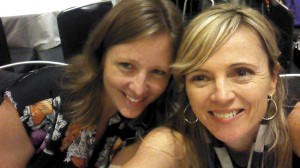 The rest of the afternoon was spent in breakout sessions about "Freelance Writing" (hosted by Miranda Wicker and Susannah Barbee), "Make Your Small Blog Business a Big Deal" (moderated by Julie Cole of Mable's Labels and Lisa Lehmann of Studio Jewel) and a keynote panel about the relationship between brands and PR firms.  The panel discussion was fun from the audience perspective, because quite a few bloggers stood up and basically said, "We're not going to take it anymore." Read Allison's post on Go Dansker Mom to learn more of what went down during that session.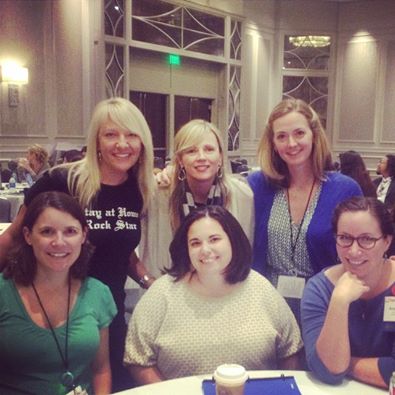 That was day one! My brain was hurting.  I skipped the meet and greet with sponsors and went to my hotel room.  I was truly wiped out and ready for a cocktail, room service and an early bed time.  But then the little voice in my head kept whispering, "Network.  Reach out.  Find a tribe."  So I peeled my weary body off the bed, tracked down my new friends on Instagram and asked what they were doing for dinner.
I met the ladies at a local restaurant and we had dinner and talked blogging. It was so refreshing to talk with compadres, instead of boring family and friends (yes, I've seen their eyes glaze over more than once) with this topic.  In addition to my North Carolina friends, I met some west coast bloggers.  All the women at the table had impressive resumes and I have to admit, I felt like the shy, new kid on the block, who was really short and wearing clothes that were out of style.  And English wasn't my first language.  And yes, I'm exaggerating a little, but I did feel somewhat out of place.  When it came time for me to tell my story, I'm ashamed to admit I broke out the Huffington Post story, just so that I'd have some street creed.  Damn, talk about shameless name dropping.
It was time for some wine. And I have to say I did feel a bit better after I quickly drank my glass of chardonnay.  Not proud of it, but true none the less.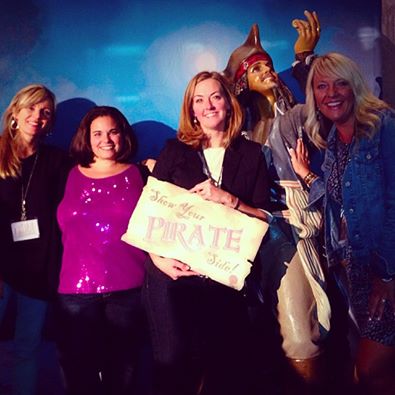 Then it was off to the Disney party. It was okay, but I'm really not a Disney person.  I mean I like Disney, but I don't love Disney.  Disney was a sponsor and it was nice of them to "host" the party, but I was tired and it was hard to break out the small talk, after doing it all day.  And yes, I realize from everything I read before getting to the conference, that real connections are made at the parties.  But I wasn't feeling it.
Fortunately my friends weren't feeling it either. Cary, Kristin, Ashley and I retired to the hotel bar and bonded.  Seriously, we got to really talk – and not about blogs!  I think it was the highlight of my day.  Smart, funny and compassionate women who are just trying to make a difference in this world!
Day two was a tough one for me. I ended up having a major panic/anxiety/inferiority complex super-storm whip up in my head that pretty much depleted all the enthusiasm and optimism I had from the day before.  Day two was a reality check.
The day kicked off with a keynote panel of "community leaders." The speakers each started their own community of niche bloggers.  At least I think that's what they did, because they lost me pretty early on.  There was a lot of talk about numbers, and that was the thing that started my twitching.  I do not have the numbers.  These women have the numbers, huge numbers – of followers, hits, likes.  Mind blowing numbers.  Then, during the Q & A, one woman was embarrassed to ask a question because she was a "small blogger," with only 2000 followers on Facebook.  Shut the front door people – all you have to do is look at my LKM Facebook page to realize this sent me down the river of shame.  If 2000 is small, what the hell am I?  Irrelevant?
The other biggie I remember from this session was that one of the speakers explained to us how to beat the infamous Facebook algorithm. Are you ready?  Post your content from your blog once a day on FB.   Post one "What have you been up to?" post.  Share content from four others sites.  If you share the love, FB will open the gates to your page.  Do it every day.
FYI – I've tried this, and I have found that more people are "seeing" my page. Not sure if this is the key, or as another speaker explained, FB has recently decided to be more magnanimous about sharing bloggers' content.  For what reason?  Nobody knows.
The next session was "Negotiating Your Rates". This one dealt another blow to my self-confidence with the public revelation by one blogger of her numbers (in the multiple thousands), and how she negotiated a three post deal with a sponsor for $1800!  Not kidding.
Next up was "SEO and Traffic Building" – which delivered the final nail on my coffin. Meta descriptions, key words, tweet decks, alt tags, stop words, wtf?  Holy shit – I did not understand a thing that was discussed.  Seriously, it could have been delivered in Mandarin and I would not have noticed.  Absolutely clueless.  I almost cried, which I realize is a tad melodramatic, but man, was I confused – and dumfounded that I'd been so clueless.  Literally – I just threw my blog up and started writing.  Probably not the best business plan.
I was pretty out-of-it in my next session, "How to Be a Click Magnet," as my mind whirled about the fact that for the last year and a half  I have not done one thing to "optimize" my posts. I so haven't been thinking like a rock star or a CEO.
The speaker for the "Click Magnet" session was awesome, Mr. David Griner from Ad Weekly, but again, so out of my league. But he did make me think about blog titles.  Below is a snapshot of his bullet points for what a good title must have: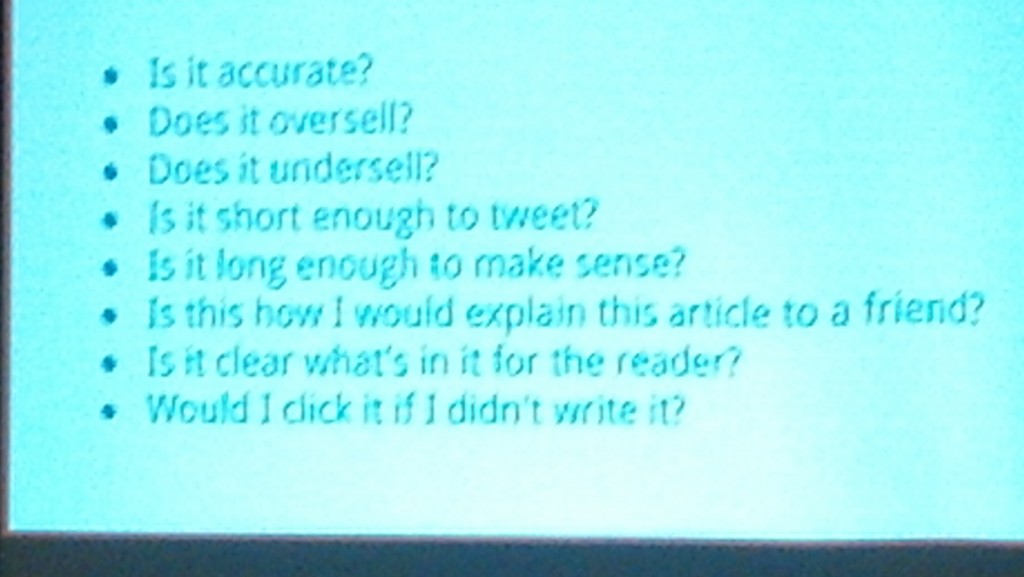 My last session of the day was about photography and the speaker, Lucrecer Braxton, was very funny, but I'd checked out at that point. I really was completely gobble smacked.  I'm embarrassed to say I decided to bail.  During the day my husband had sent me some picture of my kids (he took them up to Lake Lanier for Hunter's cross country meet and they tailgated and hung out for a couple of hours) and I got really homesick.  I also hadn't seen my husband in a few days, because he'd been out of town and arrived home after I left.  I missed him.  So, I grabbed a drink with my NC friends, and then went home.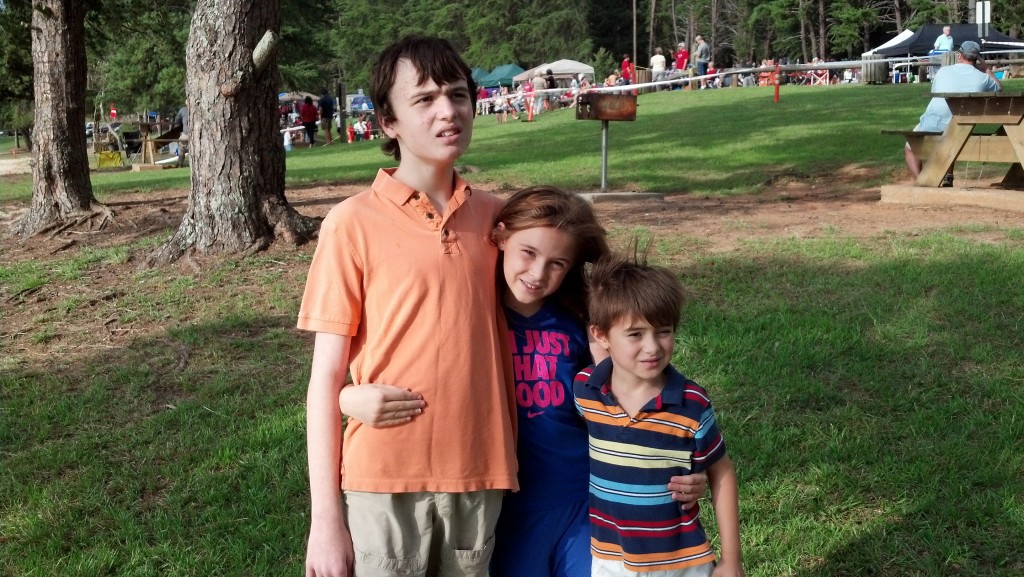 It took me a week to write this post because I was so discombobulated by all that I learned. But time and distance have given me some clarity and this is where I think I am.
I'm not a "big" blogger, which I knew. Most of the things I learned that made me panic, really don't apply to me. Maybe being smaller has its advantages.
I don't think I want to work with brands. This won't be a problem, because the odds are that I'm not the blogger they're looking for.  It comes down to a numbers game.  I'm never been a salesman and it's too late to start now. I don't have a product to sell, per se. But all the speakers did emphasize that the blogger is the product. This is hard for me, because I get self-conscious about writing about, me, me, me – even though it's my blog. But does that make me a narcissist (of course it does)?
I want to write. That's really all I want – and to be read. If I want to make money from writing – I need to write a book (oh, and sell it) or aggressively pursue freelance writing (which is not often sexy or creative). Writer for hire!
I want to start conversations. I want to learn about and from other bloggers. I love reading about their lives. I want community and support and comments and reciprocity, because I am willing to do that for other bloggers. I'm huge fan of blogging and I actively seek members for my tribe and I'm always flattered and grateful when it's returned.
Writing is my hobby, my therapy. When I lost my brother last year, a friend advised me to write it out – even if no one ever sees it. That is what I need to work on – letting people see me, but I'm still really scared.
Next time I need a conference more focused on writing and getting published.
This is so long, isn't it? I'm sorry.  At this point it can only be bloggers who are still reading.  Here are some other random tidbits from the conference:
♦  I'm not sure everyone was listening to the speakers.  It's been a while since I attended a professional event – but I was astonished by how many people were looking at their phones and not at the podium – and typing and texting away!  Like 75%!!!  I don't know, but I found it kind of disconcerting.  But maybe I'm old school.  Maybe that's why I don't have the numbers – because of my social media trepidation/anxiety.
♦  The majority of the speakers warned that Facebook was going to "die" like MySpace. They hammered that home a few times – don't count on FaceBook!  Although, of course, no one knows what's coming next.  Apparently last year it was Google+, but no one I encountered is a fan.  It's kind of dead.  Go figure – because I like it.  I'm always behind the curve.
♦  Very few brands and PR firms are willing to pay bloggers.  Only the big sites get the big money.  And often, compensation is in the form of product.  Most speakers who were bloggers urged everyone to STOP doing that.  Value yourself.
♦  Only work for free if you need to establish a resume.
♦  If you want a kick-ass media kit, apparently Blog Clarity is the site to visit.  I don't think I need a media kit.
♦  I have a bad business card, with no profile picture. And my head shot sucks, too.  This was all communicated me a in friendly way.
♦  Cliques are alive and well.
I need to find a local group to network with. Cary Heise from Stay At Home Rock Star saw a need where she lived in North Carolina for women mompreneurs to help each other with ideas, support and advice.  She formed Vend Raleigh, which is a professional group for women who own their own businesses from all professional areas, including bloggers.  It is a collaborative organization – not competitive.  Doesn't that sound nice?  The advice and suggestions I received from various members, in just two days, was very helpful.  I need a group like this, because I met some truly savvy businesswomen and I want to spend more time with people like that.
I was hoping to find a tribe, and I think I did manage to recruit a few, but there were only a handful of bloggers I met who I could identify with (and the ones I did, I really connected with). This goes back my problem of not having a niche.  I'm definitely not a fashion blogger, a Pinterester, a fitness blogger, or a spiritual blogger.  Am I a book reviewer? Yes, but I've been trying to move away from that.  A special needs blogger?  Yes, but not exclusively.  A travel blogger?  Absolutely, but only in the summer and Road Warrior Momma has been badly managed and marketed (I think the term is optimization!).  A mom blogger?  Well yes, but the mom blogger is an end all catch all and really, the only element that qualifies me is that I have children.  I don't organize, do crafts, make anything, clip coupons (although I should!) or share recipes.  This just popped into my head, but I'm kind of like a mutt – a little bit of everything mixed together.
Overall, I did learn a lot and I'm grateful for the connections I did make. I'm attending the SITs Girls Bloggy Boot Camp in a few weeks, which is supposed to be considerably smaller and less brand focused and hopefully better suited to me.  I spoke to a friend this week, who's also a blogger, and she said that she's always left conferences feeling super-charged up and inspired.  I didn't get that, which makes me sad.  But perhaps, it just wasn't the right conference for me.
That's all I have. Messy and scattered, but hopefully helpful to those of you who were curious.
Thoughts?