The Aviator's Wife
By Melanie Benjamin
A Book Review by Allie Smith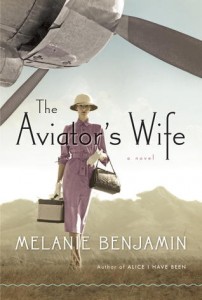 The Aviator's Wife by Melanie Benjamin is a fictional version of Anne Morrow Lindbergh's life, focusing on the years she was married to Charles Lindbergh. It was a very turbulent forty five years, for both the Lindbergh's and the world in general. I found myself fascinated by these "characters" and needing to know more. I've since ordered biographies of both Anne and Charles, as well as books authored by each of them.
Anne Morrow was a shy college senior when she was introduced to the heroic, world-renowned aviator in 1927. After a quick courtship and marriage, the newlyweds traveled the globe by air. Charles taught Ann how to fly and she became the first licensed female glider pilot in the country, as well as an expert radio operator and navigator. Together, the first couple of the air set a number of aviation records.
They had it all, until the 1932 kidnapping and murder of their first born child, Charles A. Lindbergh Jr. Following the conviction and execution of the kidnapper, the Lindberghs fled to Europe where they lived in self-imposed, heartbroken exile for a number of years. It was during this time that Charles became an "isolationist" with extremely controversial ideas that many believed were anti-Semitic. The hero was no more.
Running away did little to heal the grief of the bereaved parents. The marriage slowly splintered apart and never fully recovered. Once back in America, both became celebrated authors and their images were somewhat rehabilitated. Anne focused on raising their five children, while Charles traveled the world for "work." Charles Lindbergh was an expert pilot with unwavering bravery, but he was not necessarily a good man. His family suffered because of his "greatness." The characteristics that enabled him to make history also kept him from being the man his family needed.
This beautifully written novel paints a glamorous and complicated picture of a vagabond couple who was hunted by the press and who paid the ultimate price for their fame and fortune, without ever really recovering their hearts or their glory. The ending, which my research verified as historically accurate, is a game changer that will make you question how we, as a society, worships our heroes.