"I awoke this morning with devout thanksgiving for my friends, the old and the new." – Ralph Waldo Emerson
These are my girls, Marcie and Michele!  This picture was taken a few weekends ago, in St. Pete Beach.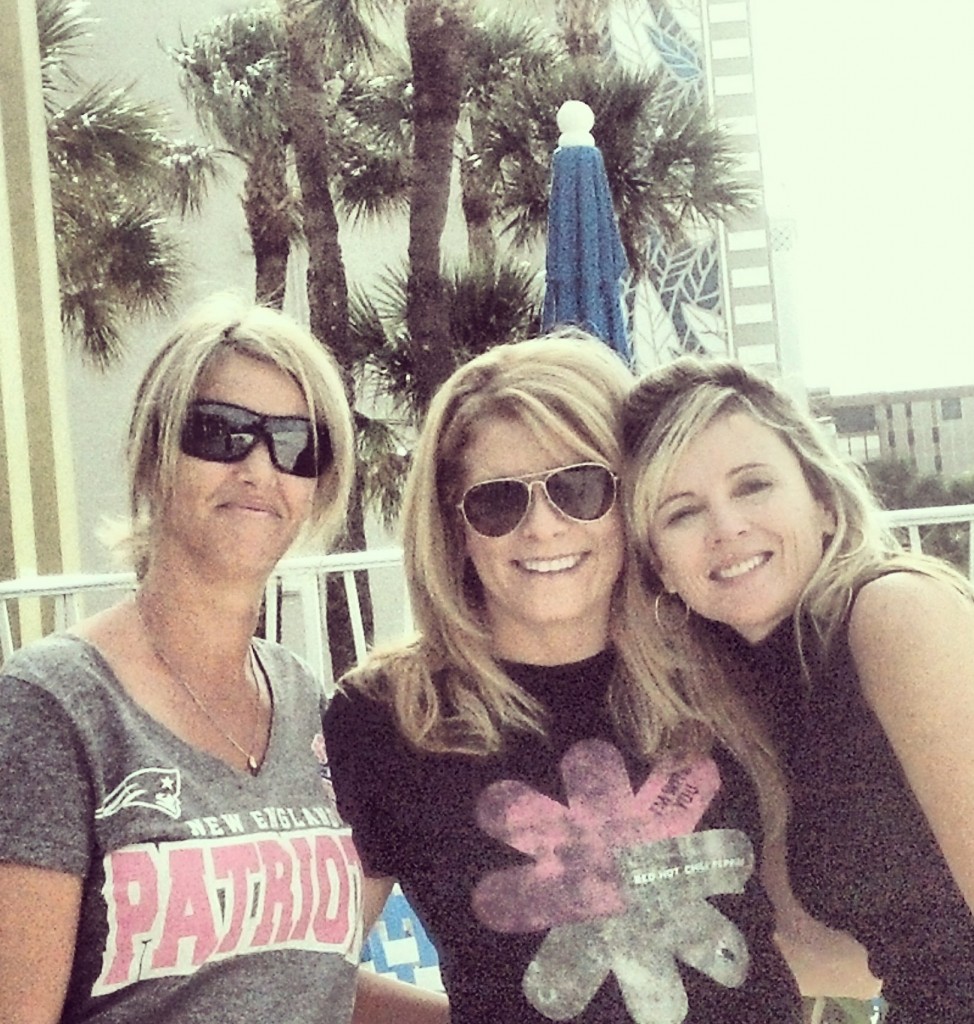 I was there with two of my kids, who also happen to be their Godchildren.  Marcie and Michele came to see them, and to be with me as I said yet another goodbye to my brother.
My brother Edmund and his wife Kelly were married on the beach in St. Pete.  That weekend, eight years ago, was the best weekend – so much fun, so much joy.  Kelly's family fell in love with the area and they often return for a huge family reunion.  Kelly's big family is the best kind, because they all get along.  I love them and they always make me feel like I'm one of them.  This trip had been in the works before Edmund's passing.  Kelly decided that since we'd all be together, she wanted to spread Edmund's ashes on the beach he so loved.  We had a memorial service for him with poems, champagne, toasts and lighted Chinese lanterns.  Oh, and lots of wind!  It didn't quite turn out as we'd planned, and I know my brother was laughing from above, as we all chased the lighted fireballs down the beach.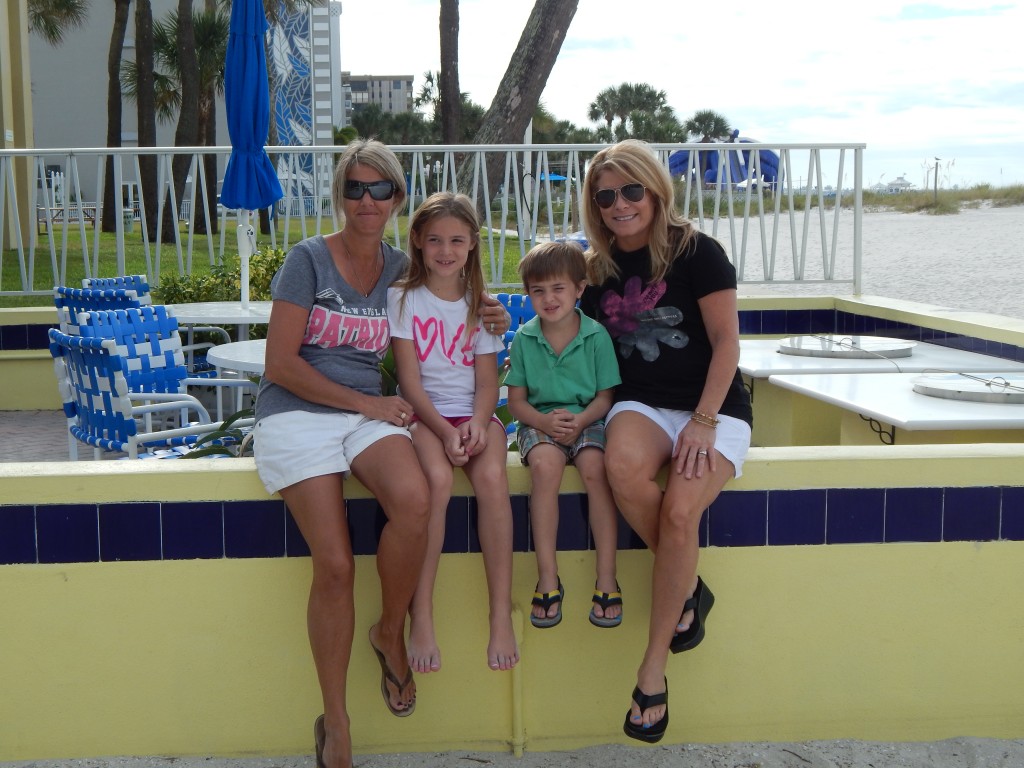 But this isn't about Edmund, it's about my girls.  I met Marcie when we were in the fourth grade, and then a few years later, at fourteen, we met Michele.  We worked together as hostesses at The Naples Dinner Theater.  That's decades of friendship that have sustained me through many tough times.  I thank you for being my friends, for always being there and for showing up when I need you.  It's been said that 80% of success is showing up.  I think this is true of friendship, as well.   My girls were there and it meant the world to me.  Edmund loved you both, as I know you both loved him.
Later I tried, ineptly, to explain how much I've appreciated the support over the years, through the good and bad times.  Sometimes I feel like being my friend must be a lot of work.  First Mom, then Dad, now Edmund.   Seriously, I'd be leery of getting too close me!  As I struggled to explain what I felt were the inequities of our friendship, Marcie insisted that I was being ridiculous.  She remarked that "We all have sh** to deal with."    I guess that's true and one of the many blessings of long friendships.  History.  My girls knew me when, as I know them.  We know each other's stories.
I've been ruminating about what and how to write about my love for them.  After many failed attempts, I realized my words would never be enough because our friendship has not been defined by words, but through actions.  I was flooded with so many memories – good, bad and funny.   What would my story be like, if not for all the moments we've shared?
Popcorn Fridays in Mr. Williams' Portable at Naples Park Elementary.
Marcie taping "Eye of the Tiger" on a tape recorder, from the radio, so I could learn the words (and be as cool as she was).
The Naples Dinner Theater.
Bussing tables at Ferrara's.
Vanderbilt Beach.
"Welcome to the Jungle."
The Born in the USA concert with Michele, her dad and her little brother.
Sneaking out – oh, we were very bad.
Singing "Like a Virgin," standing with our heads out the sunroof of that red Impulse.  Whose car was that?  What a stupid thing to do, by the way.
When Michele and I ran into my mom at the Kiss concert, where I was NOT supposed to be.  Nor was she, I should add.
Grad Night, High School Graduation, Senior Cruise.
Marcie picking me up at the airport after mom died.
The two of you holding me in the bathroom, just before mom's funeral, when I became completely unglued.
Marcie (who to this day denies it, but my dad, who could not keep a secret, ratted her out) calling my father to inform him that I was dating a man she did not like, to enlist his help getting me to see "the light."
Spending the first Christmas after Mom died with Michele's family.
Michele driving me to work at the Christmas Shoppe at Maison Blanche every day over college Christmas break, because I didn't have a car.
Road trips to Gainesville.
The Penn State/Miami game.
Many, many memorable post Patriots game phone calls from a pissed off (and sometimes tipsy) Marcie.
Late night, middle-of-the-night phone calls, when someone just need to vent.
Drinking scorpions in Quincy Market and then racing up and down the aisle of the "T" on the way home.
Taking a public transit bus, by myself, at 16, to meet Michele in downtown Los Angeles (I was spending the summer with friends in Long Beach and she was vacationing with her family).
July 4th in Fort Lauderdale.
Marcie was in the car, the first time I ever drove and I almost took us into a ditch!
New Year's Eve on the Naples Trolley.
Marcie flying to Atlanta to go wedding dress shopping with me, so I didn't have to do it alone.
One of you calling me every day when I was on bed-rest for three months with the twins.
Tears, lots of tears, and more tears over stupid boys.
Tears, lots of tears, and more tears over children.
Lots of giggles over beer and eventually good wine.
Epic practical jokes (remember the one that ended with Mrs. V bringing Marcie flowers at the hospital?).
Weddings, baby showers, baptisms, birthdays, more babies, funerals.
When Marcie and I, along with four children and multiple strollers, navigated the streets of downtown DC.
Family dramas, so many dramas – but at least we knew and understood the players and therefore – no explanations or backstory was needed, in a valiant quest for Starbucks.
Autism, epilepsy, cancer, aging parents.
Aqua Net, Poison perfume, Liz Claiborne, Jordashe jeans, Izods,  aqua blue eyeliner.
From the playgrounds of Naples Park to the battlefields of middle age, from Tickle Pink to Veuve Clicquot, from shoulder pads to maternity clothes, spiral perms to highlights hiding grey hair, Clearasil to La Mer, from the hair rock bands of the 1980s to, well, the hair rock bands of the millennium.  Who would have ever imagined, as we cruised around Palm River, in Michele's candy red apple Mustang, that we'd be where we are today?
I love you both very much and I hope and pray that I've been as good a friend to both of you, as you've both been to me.  As the song goes, "You can't make old friends."  This is true, because even though I have many new friends, who I love as old friends, we don't have pictures like this!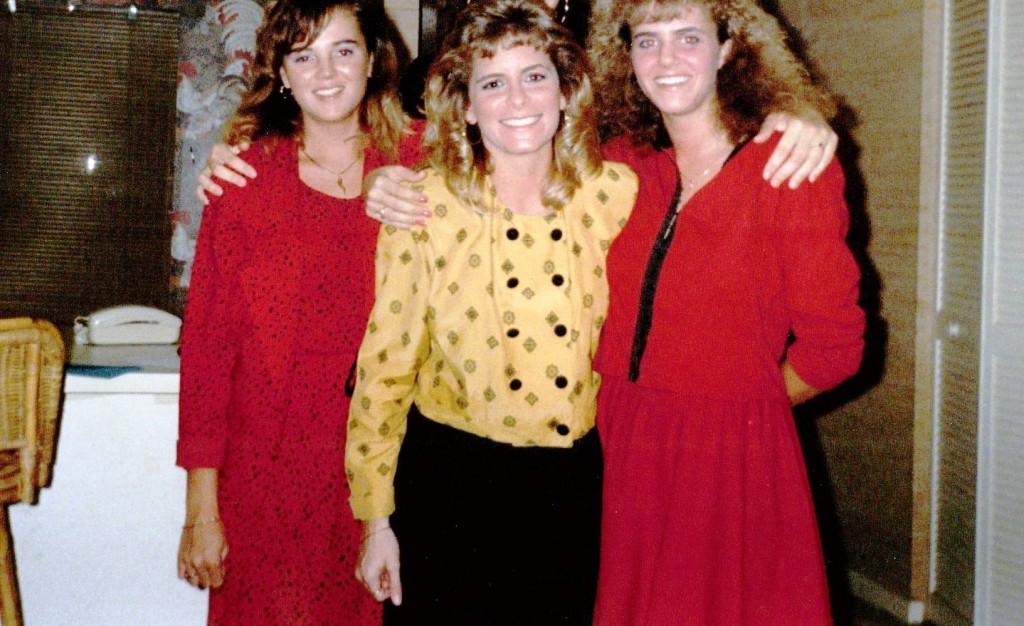 Please tell me about your girls!