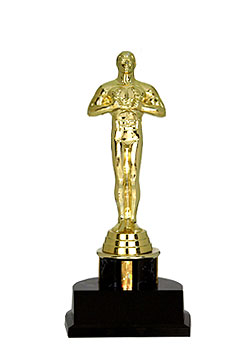 As you may know by now, I love the Oscars!  It's a big night in my house, one which my family has come to dread.  I want dinner served, eaten and cleaned up by the time the show starts.  I have command of the remote and everyone must take an oath of silence – and no one may ask me for anything.  Tuck yourselves in, my sweeties. 
My husband is not a fan of awards shows.  He watches the opening with me and the first award.  He constantly heckles and gives negative commentary, so I don't know why I insist on this commitment from him.  As I was watching E! and doing the dinner dishes, he kept complaining that the "reporters" (Kristen Cavellari and Kelly Osborne, really?) didn't know any adjectives other than "amazing." I'll be damned if he wasn't right.  Every other word out of their mouths was "amazing."  And then I got irritated and turned it off!  He's a total party pooper.
Guess what?  I'm a party pooper, too.  During dinner, I looked at my husband and remarked that I didn't think I could stay up for the whole show.  I was tired.  Sadly, watching this year was a chore.  I just wasn't into it, and didn't even finish my second glass of champagne.  Shocking, I know.  LynnAnn, remember the year we watched together and had two bottles?  The show was so flipping long and there was so much that I just didn't care about.  They really need to boot all the technical stuff.  I'm so sorry Hollywood, but we just don't give a damn.
I love Ellen, but she really seemed nervous during the opening.  She's no Amy and Tina, which is too bad.  I think she seriously offended Liza Minelli.  That was awkward.  During the show, she spent most of her time in the audience, which was sometimes amusing.  Overall, I thought it was a weak performance.  Ordering Pizza?  I don't get it.
My Other Random Thoughts (most were written as I was watching):
Jared Leto – I love you.  I've never seen anything you've ever been in, nor listened to your music, but I'm now a fan.  You won over every mother on the planet with that speech.  And I have to agree with Ellen and my friend Michele, you are very pretty.
Kim Novak – oh my!  Yet another cautionary tale for plastic surgery.
Looking good – John Travolta and Kelly Preston.  He's lost some weight and gained some hair – and she looks phenomenal.  She looks so young, yet not fake or plastic.  Perhaps the Church of Scientology has discovered the fountain of youth?
The dresses were disappointing.  Was it just me?  I thought most of the dresses were dreadful or boring.  The ones I chose as favorites weren't even that great, but I had to go with something.
Yays: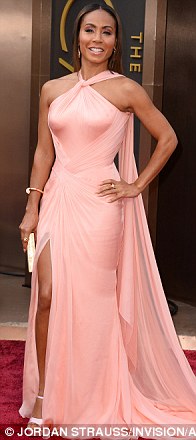 Jenifer Lawrence
Sandra Bullock
Jada Pinkett Smith (my favorite)
Kerry Washington
Nays:
Kate Hudson
Bette Midler
Kristen Chenoweth
Portia De Rossi
Angelina Jolie
The please eat award:  Kelly Ripa.  Good God.  She was emaciated!
The inclusion of the humanitarian awards in this year's ceremony, well I don't recall that ever happening before.  This begs the question, did they include it because Angelina Jolie got an award?
Okay, how many of you retweeted the group selfie?  Seriously – be honest!  For the record, I did not, because I don't care for everyone in the picture.  I have Hollywood grudges.  And Jared Leto was cut out – not cool.
I was bummed that Jennifer Lawrence didn't get a second Oscar, because I LOVED American Hustle – and she was mesmerizing in it.  I didn't see 12 years a Slave, I'm too scared, but from everything I've read – Lupita deserved it.  I really liked her speech, too.  Very classy.
I adored how Bill Murray honored his friend, Harold RamisJ.  Who ya goin' call?
PINK!!!!  I love her so much.  Simply amazing.  I hope this version of Somewhere Over the Rainbow available for download tomorrow.  And she looked gorgeous!
In Memoriam – Glen Close was such a downer.  I get this is the short straw in presenter terms, but so dour.  Okay, I'm being a bit nasty, but I was tired and bored at this point.
Bette Midler singing Wind Beneath My Wings????!???     WHY!?!?!?!  Seriously – worst Oscars ever.  I don't get it.  Really?  This isn't 1989.  And why does this year's memoriam get such a "production."  We want to be entertained people!  This was too maudlin – over the top.
Sorry. At this point I was very frustrated.
All music performances (even the buzz killing Bette Midler) were fantastic.
LOVED the speech by the people who wrote Let It Go.  I am human, first tears of the night.
Alright, alright, alright – Mr. McConaughy♥!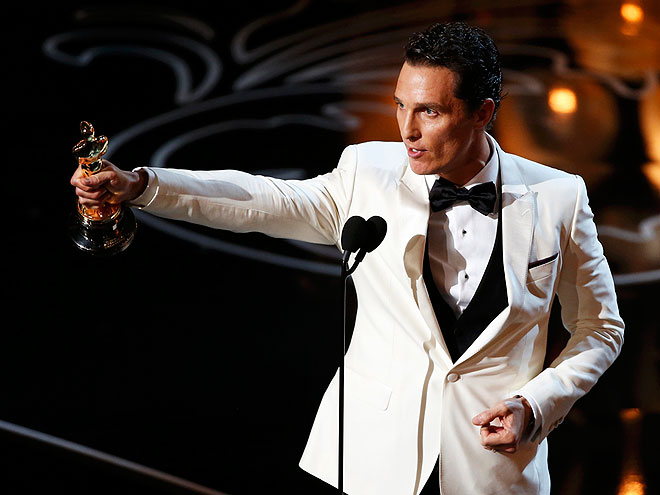 12 Years A Slave vs. Gravity.  I saw neither film, I have no horse in the race.  But how did 12 Years win Best Picture, but Gravity won Best Director, Film Editing, Sound Editing, Sound Mixing, Cinematography, and Visual Effects?
My picks:  In the big six (acting categories, directing, best picture) I got six out of six right.  I went with the odds, not my heart.  There were no surprises, all the favorites won.  Can I just say again, I LOVED American Hustle?  It got 10 nominations and won not one Academy Award.  Wha wha?  I don't understand.
Many thanks to Michele for hanging with me, via text!  Sorry for my sassiness Missy.  I miss you and love you.
Please share your thoughts about the show.  Did you see any of the movies?  How'd you do with your picks?  Did your favorites win?  Did you stay up for the whole thing?  Did you tweet the selfie? Best dressed?  Worst dressed?