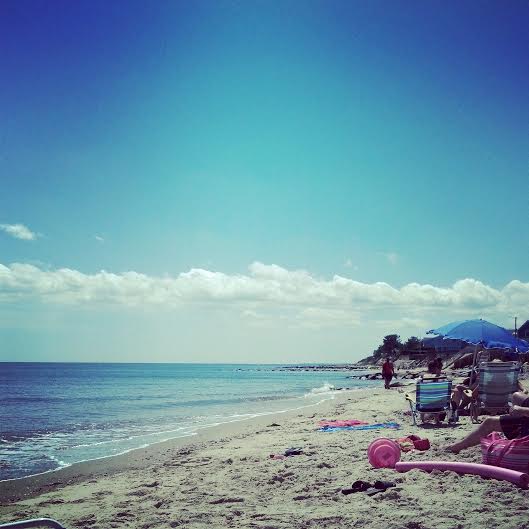 For most of my life, whenever I've needed to chill out and get away from it all, it was to the beach I ran. I love the sound of the waves crashing onto the shore, it's like an elixir for me.  The sensation of sand between my toes always soothes me and the sun's warm embrace melts away my troubles.   I actually enjoy being at the beach by myself.  I have no desire to chat in that environment.  I want to read, relax, think and sometimes sleep.  Nothing seems insurmountable as I look out to the horizon – nothing. 
These days, the closest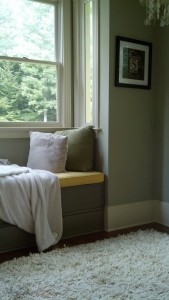 beach is five hours away. Yes, it's very sad.  So when push comes to shove, and momma really can't take it anymore, I hit the highway in search of my happy place.  This doesn't happen often, so when I need quiet time I retreat to my little corner.  My home based sanctuary is a well cushioned window seat, nestled away in a back corner of my house, with a view of the woods.  Other comforting touches are pillows covered in soft hues of my favorite colors (yellow and green), a shag carpet and gentle lighting.  To achieve a Zen-like state, I need silence, so I only retreat there after the children leave for school or they've all gone to bed.  I light a candle and pour myself some coffee or wine – depending on the time of day.  I usually spend my quiet alone time reading a book.  But lately, my moments of solitude have been spent in deep contemplation.  You see, I find myself at a crossroad in my life.
I've been stuck for quite a while. Over the last couple of years I've been doing laps on the suburban mommy track or dealing with the grief I suffered after the loss of my brother.  I've either been paralyzed with sadness or frantic with the minutia of life.  Although I know my responsibilities as a mother are very important, they sometimes can be mundane.  When someone you love dies young, you are made painfully aware of how short our time here is, so you'd better make the most of it.  The day-to-day routines and my loss created a storm of restlessness mixed with regret inside of me.  I believe that the feelings, longings and insecurities I've been experiencing have traditionally been labeled a mid-life crisis.  But, let's agree to call it something else, shall we?  Maybe I'm entering a renaissance period.  Or I'm commencing my second act.  Or perhaps I've been watching too much Oprah.  Whatever you want to call it, I'm ready to make some changes and that entails having some goals!
Oaky, don't laugh at what I'm about to tell you. Last week, I started a ten day "Wild, Free, Alive – Manifesto Adventure," which is the vision of the vivaciously inspiring Katie Day Oden.  Her program urges women to uncover their desires and truths, so that they can live their lives again, fully in the moment, with excitement, free from fear.  That sounds pretty cool, doesn't it?  She has formed a sisterhood (dubbed #skinnydippers, since we're now part of her Skinny Dip Society!) that's embarking on this ten day adventure by drafting our own personal manifestos to help us achieve our best life.  Each day Katie offers a new challenge and then you write, tweet and Instagram your response.  For instance, one day I was asked to describe how I define living in the moment and to consider what feelings I may ignore, instead of fully experiencing the moment.  I know, kind of deep right?  And somewhat uncomfortable.  Think about this in terms of your goals, what do you not let yourself do – even try to do, because of that voice in your head?  Personally for me, it's the voice that in my head that tells me I'm not good enough.  I'm good, but not good enough.  For this exercise Katie wanted to know how I'd live in the moment, if I didn't let my fears get in the way.  I was working on something that's almost finished, but couldn't complete without being honest, by admitting something I wasn't proud of in my relationship with my brother.  But I have to own it, because that is the only way to get past it.  My Twitter response was, "I'm living in the moment by  writing honestly."  This will also please my blog consultant, ABC, because it's pretty raw.
My Intagram response to her challenge: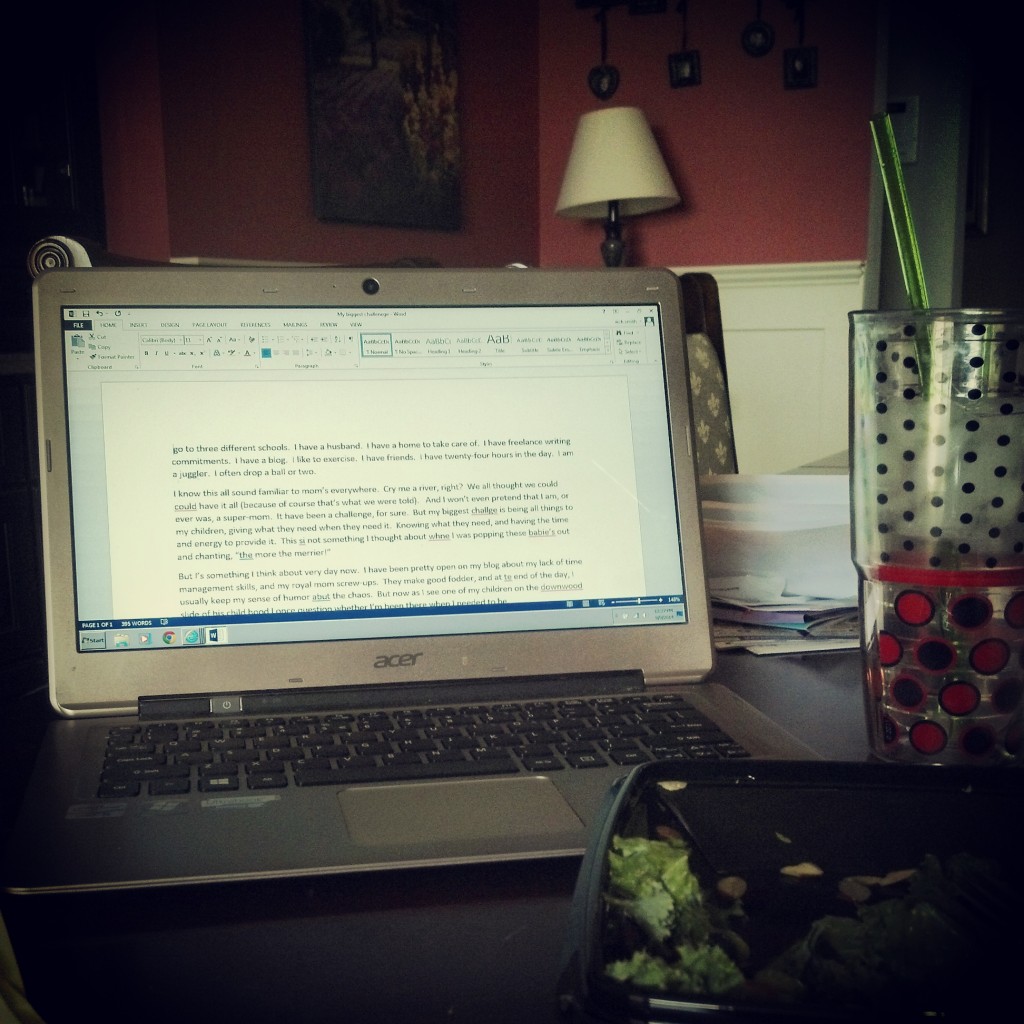 I'm a day behind on my #skinnydipsociety manifesto. This is me, living in the moment, writing honestly and eating a blueberry and kale salad. #yum #amwriting
Side Bar:  Yes, us skinny dippers eat well, thus the kale shout out!
The whole deal is to dig deep to discover what you really want, despite your fears. Then to free yourself from the shackles of self-doubt, naysayers and fears, so you can come up with a plan to change your life.  To achieve your dreams.  She's actually succeeded in getting me excited about the possibilities of….everything and anything.  The last time I got on a happy train like this was circa 2007 with The Secret.  Remember that hoopla?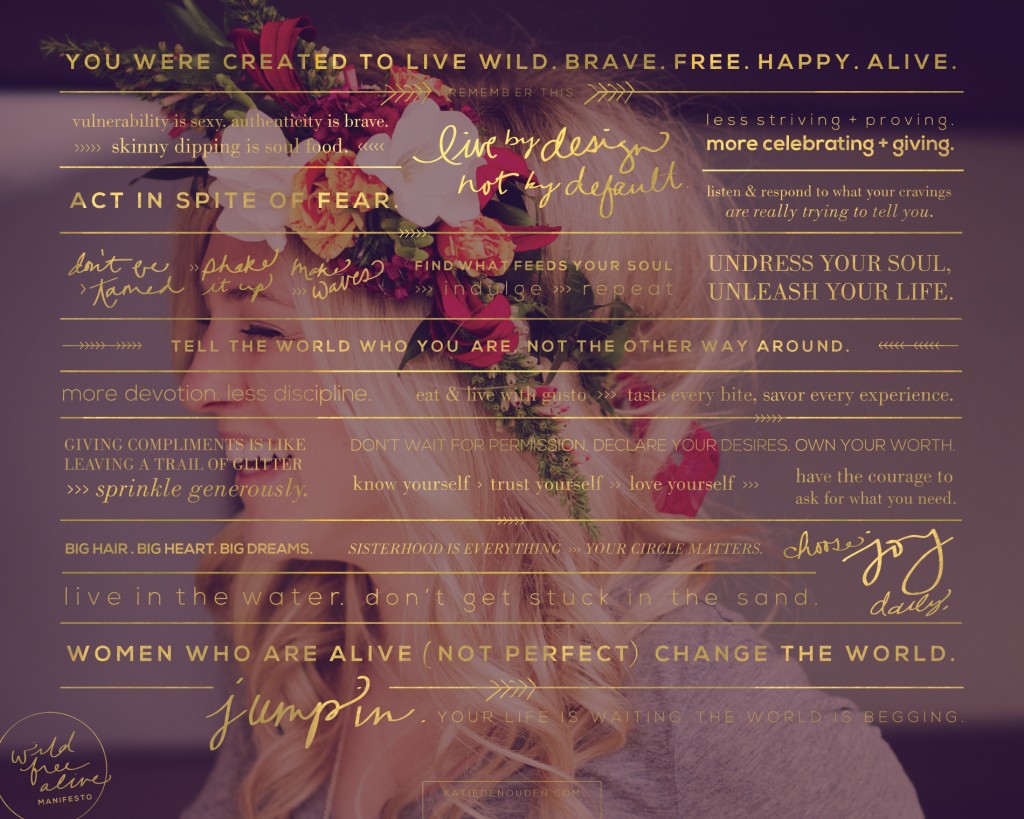 Katie's Manifesto
My manifesto isn't final – as Katie stresses, it's a fluid document. But when it is finished, I'll share it here, I promise.  Till then, I'm dreaming, planning and doing!
This Post was inspired by the Mama Kat's World's Greatest Writer's Workshop.  This week I took advantage of two prompts, because I too am "losing it" (Mama Kat's tag line) – literally.  I swear that I read somewhere that one of the prompts was to share a picture of your quiet place.  But apparently, I dreamed this up, or mixed it up with somebody else's prompt.  Here I was, thinking I was so clever combining two prompts!  But it's written and I ain't starting over, so I apologize.  My post is a combination of the imagined (the previously mentioned quiet place), and the real, "Write a post inspired by the word: goals."
Where is your quiet place? Do you have any goals?  You gotta have goals.  Bonus points if you remember what movie that came from!