Over the years I've written a lot about my love of travel and the benefits of embarking on our epic (in my mind) family road trips each summer. I have insatiable wanderlust! One of the things that fuels my desire is that we get to visit family and friends on our trips. I've lived in many places, and of course we live in a time when people move often and far, for work or school. My friends are spread out from sea to shining sea. I also have a really tough time letting people go. I'm pretty good at keeping in touch, and my Christmas card list is long (and distinguished, lol). I often joke that that once you're on my list – it's tough to get off it.
As hard as it is for many to believe, I was a very shy kid and making friends was tough. The girls who fill my childhood memories are still my friends today. When I was growing up, my parents didn't have a lot of friends, and we rarely had people over. I used to envy my friends whose families always seemed to be having get-togethers. I wanted to have people round, but it was always just the four of us.
My husband once told me that I have abandonment issues. I was a little offended, but after considering his observation, I decided that he was right. My parents were alcoholics, and my mom died when I was eighteen. My brother was sent to live with relatives when I was sixteen. I was lonely and scared of people leaving me. A few of my early boyfriends didn't help my insecurity, either. The irony today is that I would love for everyone to leave me alone for an hour, a day, or a week. Seriously – you may leave for while….
When I meet someone and we connect, I don't want to let those people go. Over the years I've had many "big sisters," "big brothers," "moms," mentors, teachers, friends and coworkers whom I cherish. Having four kids has only made my family grow. Chances are, if my kid adores your kids, then I adore you and you're in the circle. Ditto for teachers and speech therapists and dance instructors. Lest we forget my blogger friends, many of whom I've grown close to over the ether, as we share our stories. If I get the opportunity to meet you in person, I'm taking it!.
This summer I had the privilege of seeing so many friends and family. My only complaint is that each and every one of the visits was too short. If you will indulge me, I'm going to share pictures and a little story about my peeps. This was a big summer, because someone (ahem, not me) had a BIG birthday and our trips (and my going back to work, grr) were part of the celebration. It was an epic, joyful summer!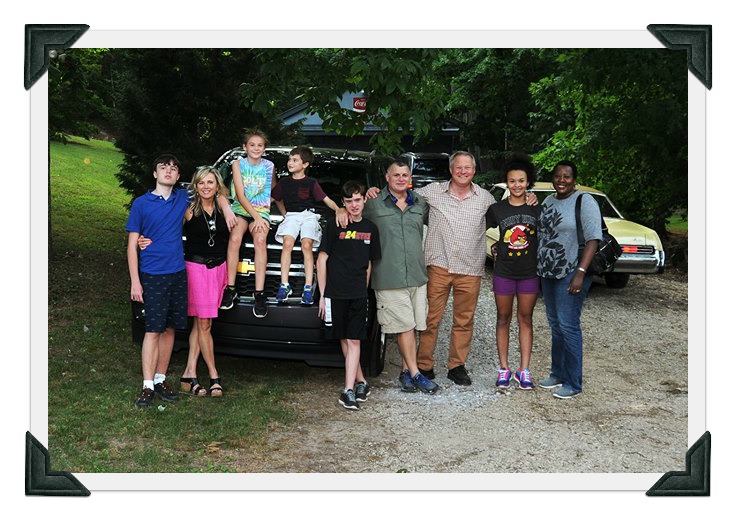 We stopped in Chattanooga, Tennessee to meet up with one of Rich's friends from high school. Rich and Dennis have a shared passion for old cars, so our rondevuex was at a Chrysler Show. I hadn't seen Dennis since our wedding (he was our last-minute videographer). I really enjoyed seeing him again – and meeting his wife, Chris, and daughter, Faith.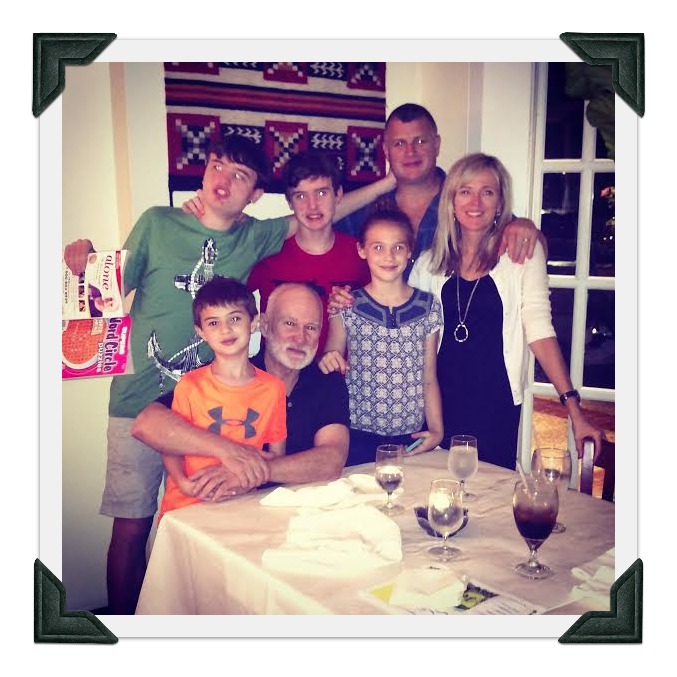 Our next stop was Washington D.C, where we got to spend time with Uncle Lance. The kids adore their Uncle Lance – and he spoils them rotten by showering them with cash for their road trip spending money.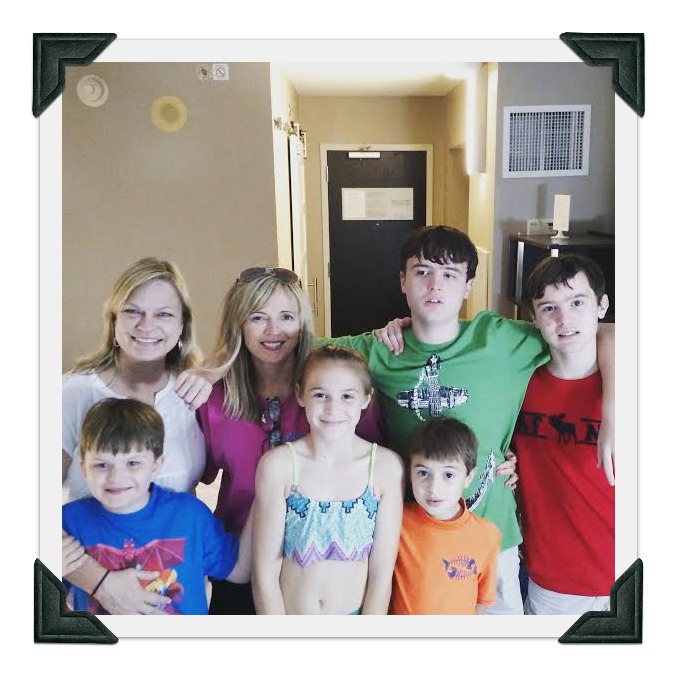 In D.C, I also got to meet up with my blogging sister, Kristi Campbell! I was so honored, because Kristi battled a motorcycle rally, bad weather, and closed Metro stations to get to us. I love my Kristi! Her son Tucker is adorable and soooo funny. And apparently he fell for Audrey, so you never know what may happen on future visits.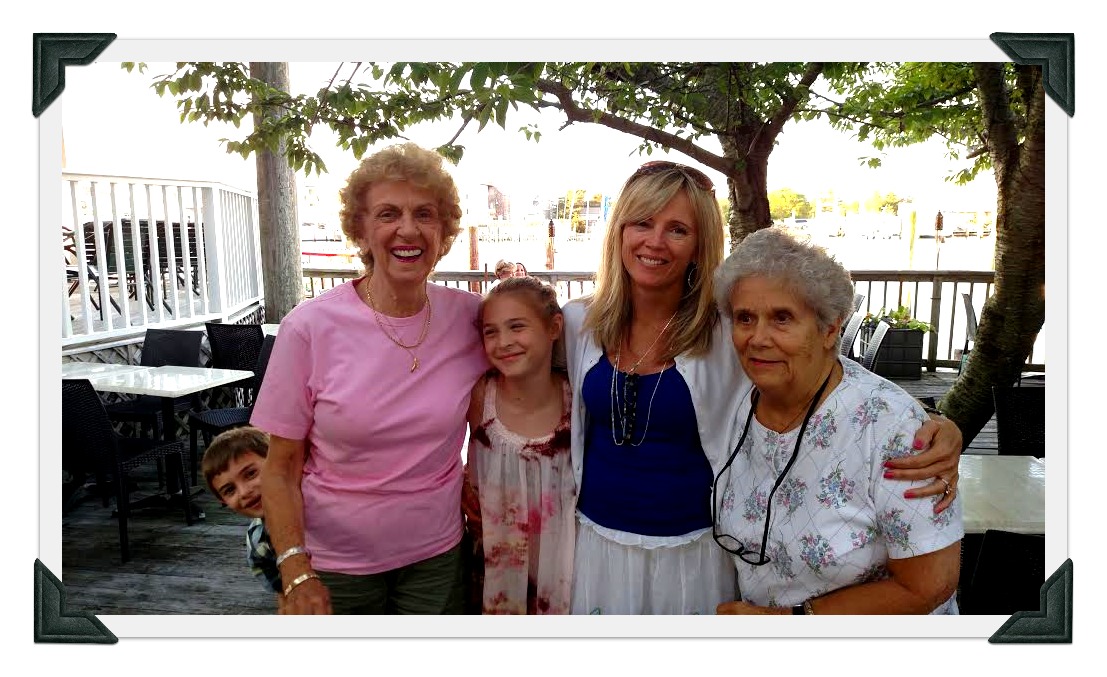 We discovered Rehoboth Beach a few years ago, after my Aunt Ginny retired there. The kids fell in love with Rehoboth. They love the beach, the boardwalk, the carnival rides, the ice-cream, and of course Grand Ginny and Martha. Mom and dad love the food (an oyster lovers haven) – and one of my favorite bookstores is right on Rehoboth Ave. When planning our trips, the kids repeatedly asked me if we were going to Rehoboth. Of course! Can't miss time with Grand Ginny.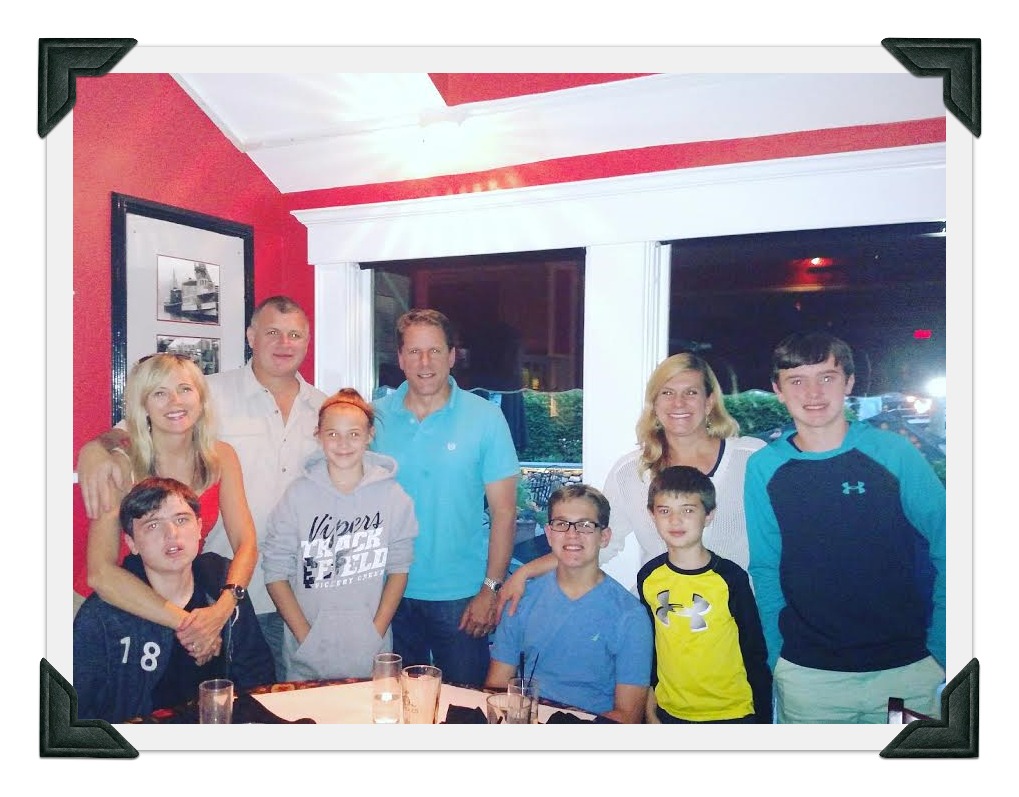 We didn't get to spend as much time in the northeast or our beloved Cape Cod this summer, but we did stop in Mystic CT to see another high school friend of Rich's, whom I'd never met.  It was so much fun hearing old high school stories. We were treated to a wonderful dinner in Old Mystic – but man, was it cold!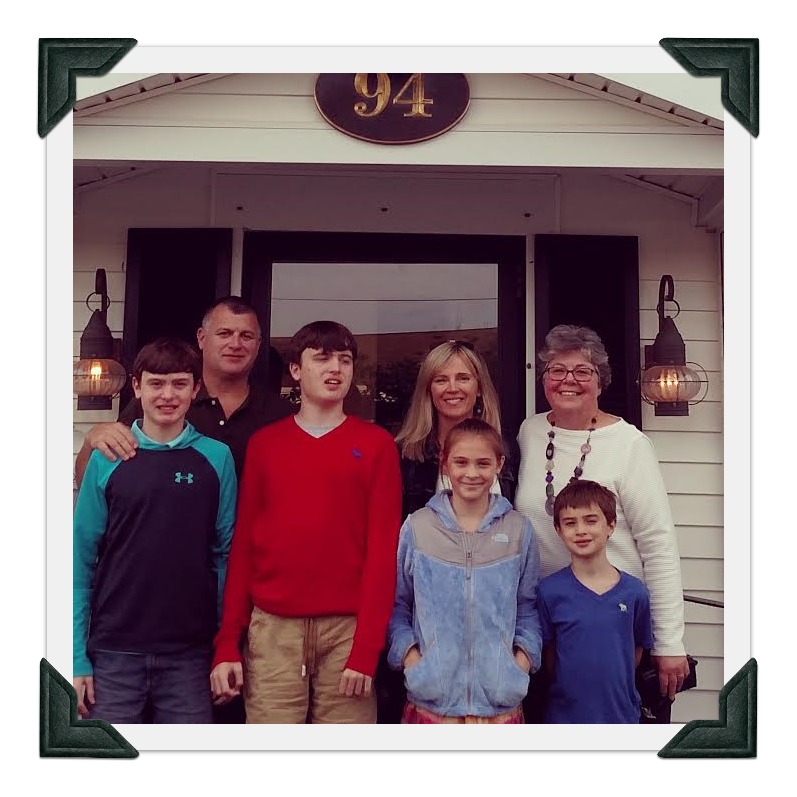 On the Cape we had dinner with an old McGrath family friend, Leslie. Leslie is so interesting to talk with. She's a degreed gerontologist who works as a social worker setting up programs for the elderly. That's a very rough description of what she does (sorry Leslie), but talking to her about her work is so interesting and I wish there were more people like her in the world.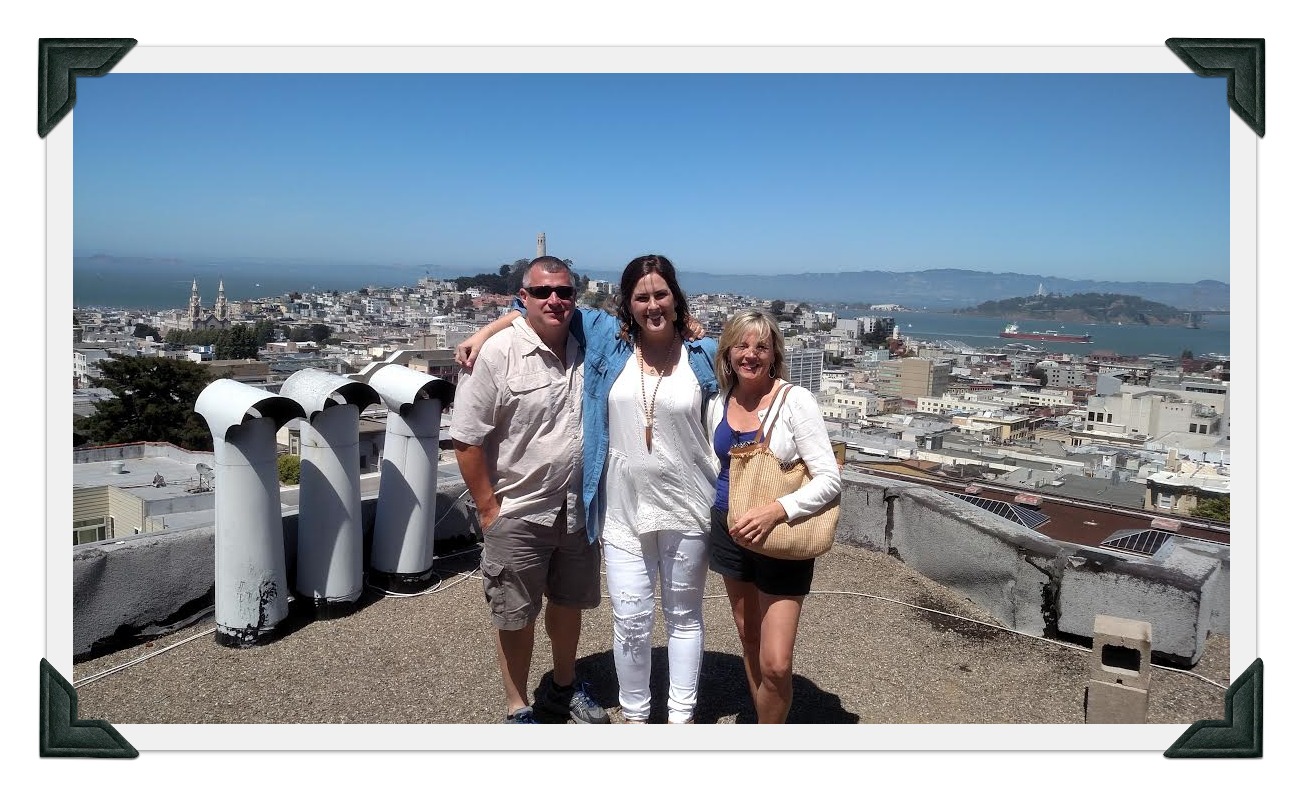 We spent Rich's birthday weekend in Sonoma, and it was fabulous. On our drive from the airport, I snapped a picture of the Golden Gate Bridge and shared it on Instagram. A few hours later I got a text, "Are you guys in San Fran?" I replied with "kind of, why?" Well the daughter of some friends of ours, from Rich's first job in Atlanta (going back two decades here) had just moved to San Fran two weeks prior. We met Briana when she was five! She was the most precocious little girl we'd ever met. Today she is a beautiful twenty-something working woman living the life (her apartment is in Nob Hill!) in my favorite City. We made time for lunch and it was so much fun! (But man of man, do I feel old).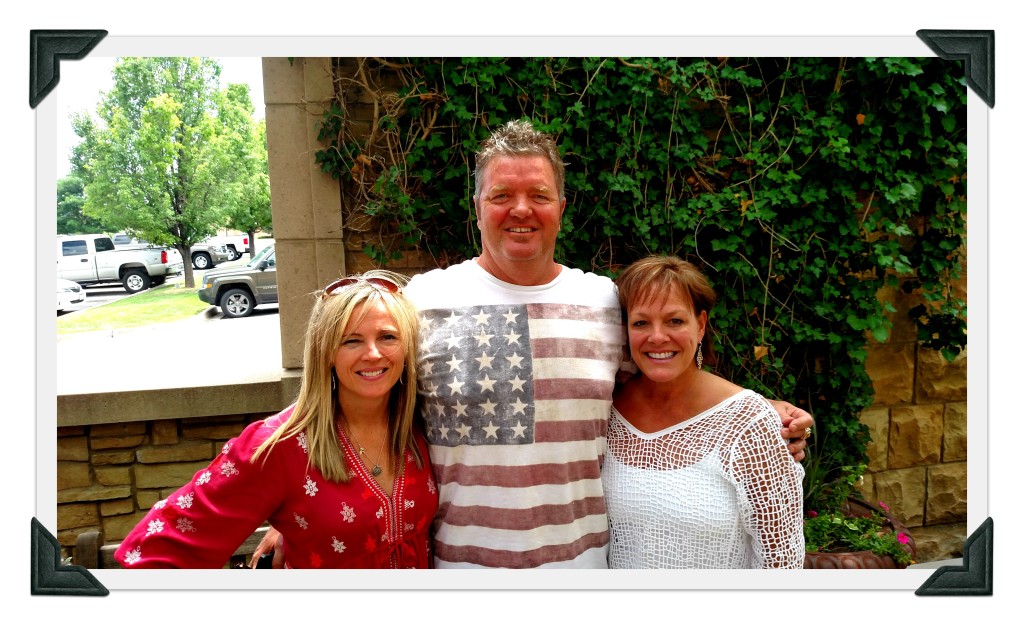 After I graduated with my Masters Degree, I had to prepare to sit for the CPA Exam. I didn't get a job right out of college, so I kept waitng tables to support myself while I studied for the exam. I worked at a waterside restaurant in Fort Lauderdale, where I made a ton of money and had fun while doing it. So much so that even after I passed the CPA, I kept working there for a year, ignoring the call of "the real world." Deb and Steve were two of my coworkers. They were newly married when I met them – down-to-earth and obviously devoted to each other. I loved them then instantly, and I love them now. Steve really didn't like the guy I was dating at the time, and made no bones about it. He made me promise to stop – and I did (he was so right). They eventually also joined the real world and moved to Denver for their careers and to start a family. Their boys are now both out of high school! How is that possible? Anyhow, we had a fun lunch on the Forth of July and I was able to finally introduce Steve to the good man that I married. I'm happy to report, he approved!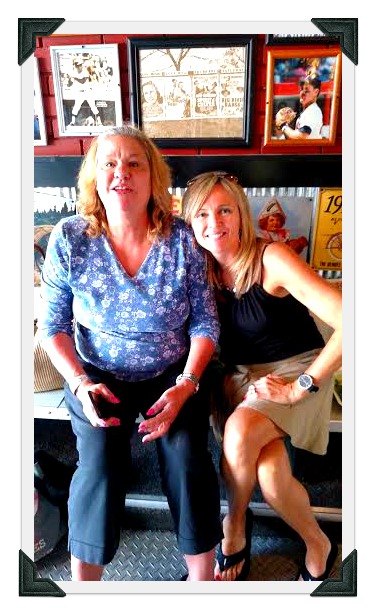 While we were in Denver, I drove to Cheyene, WY one day to have lunch with an old friend from my days at the Ritz Carlton. I worked at the Ritz while I was an undergrad. I had many different jobs at the hotel over the course of four years. Jane was from my retail year, and she was a hoot. I remember working in the pro-shop with her on the weekends, and she'd sometimes come in with a hang-over. I'd cover for her while she took a nap in the storage room. Oh, memories. She's now the mother of three ADULT children (again, feeling old) and lives in Wyoming, where she cares for her aging parents. This was my longest-in-the making reunion. We attempted the math and believe we hadn't seen each other since I graduated with my Bachelors…in 1991!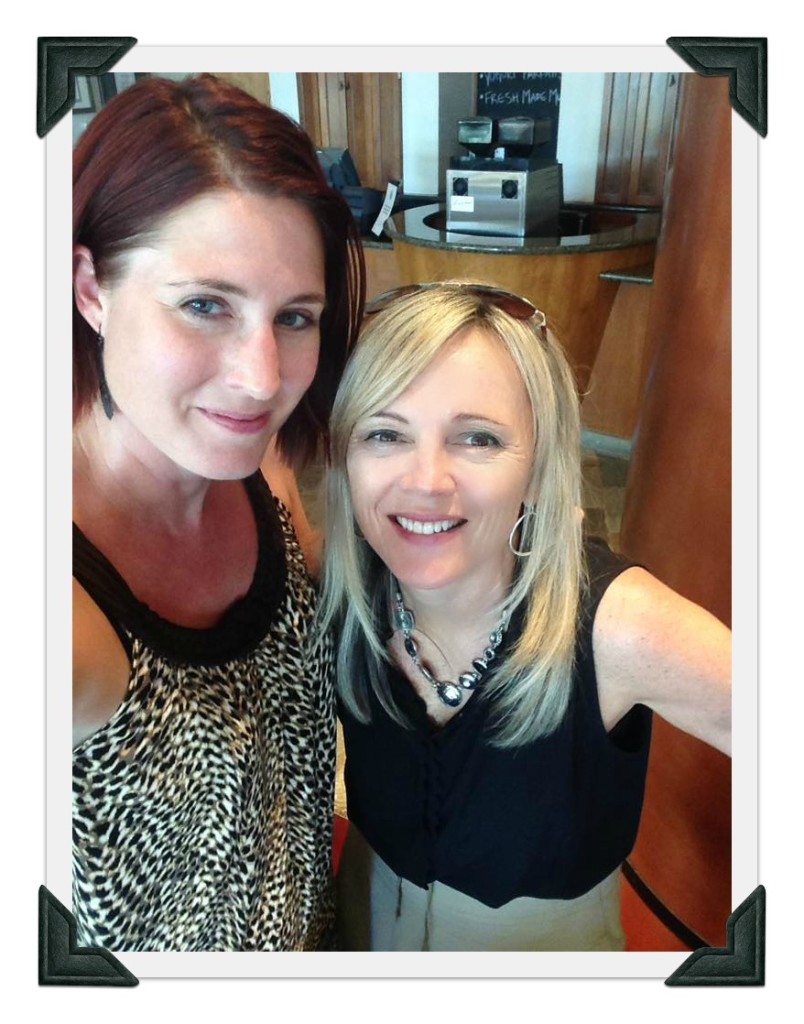 In Denver (popular place) I also finally got to meet Stephanie Sprenger, one of my editors at The HerStories Project. Okay, this is going to sound weird, but here goes. I knew Stephanie was pretty – I've seen many pictures of her, but in person, she's stunning in a blow-your-mind kind of way. I could not stop staring at her skin, it's flawless. Girl crush aside, she's so fun, and super cool to talk to. There was no awkwardness what-so-ever. And she has some plans for the HSP that have me excited!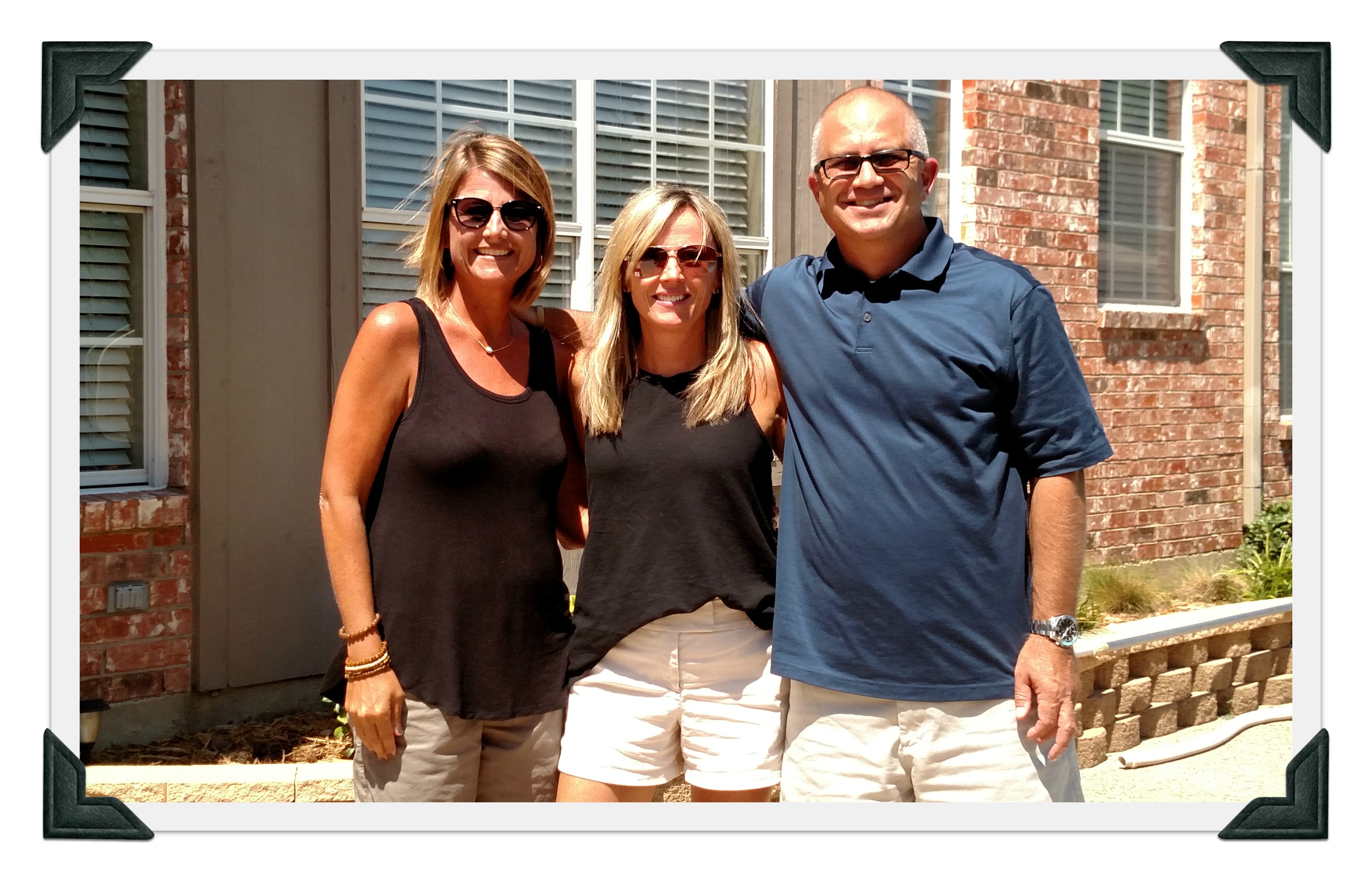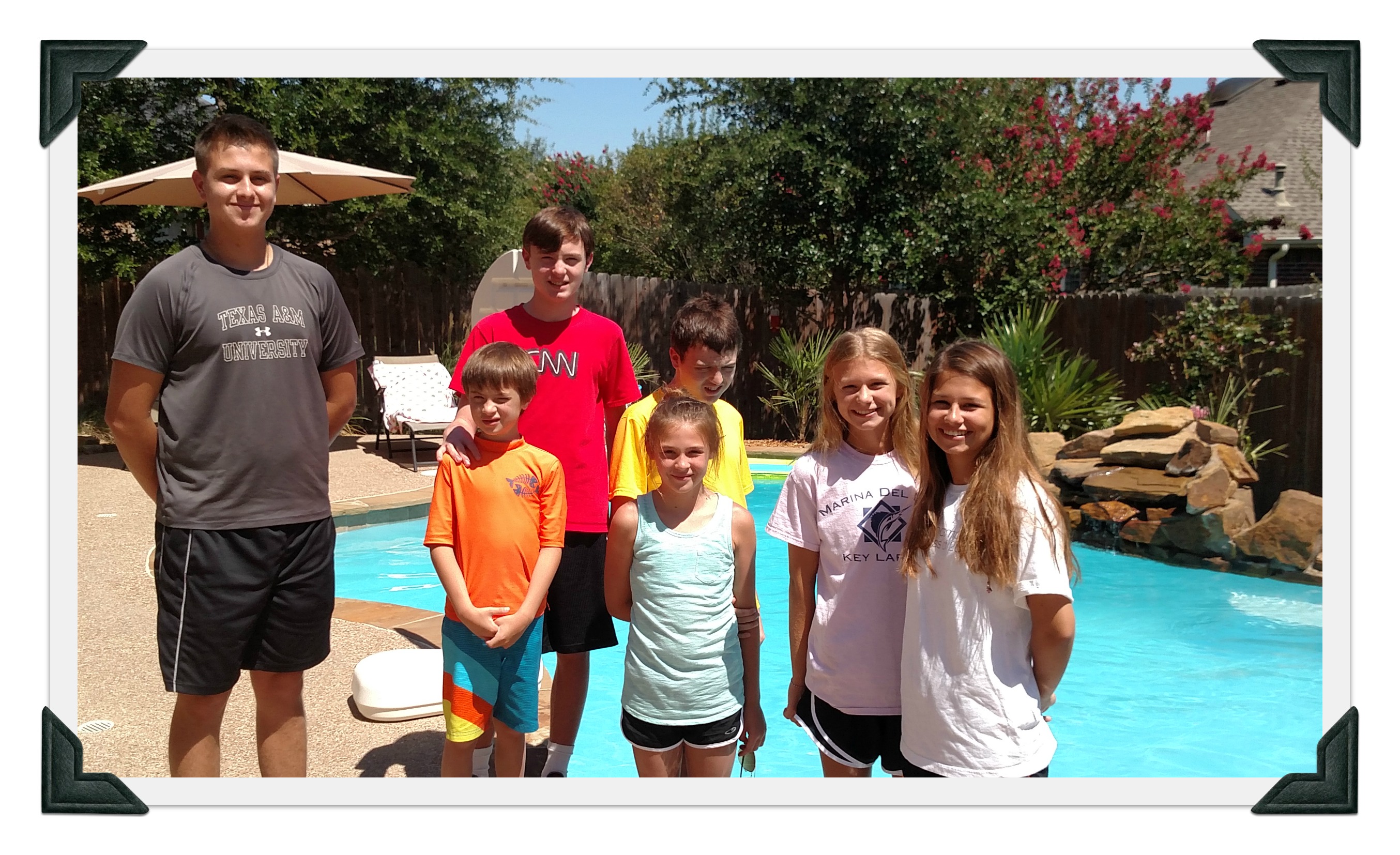 Another Ritz reunion, this one in Dallas. But it was also a high school reunion. Cheryl and I go back to 6th grade! And we graduated together from USF. I met Jerry when I was working at the Ritz. A few years later I was honored to be in their wedding – and I'm thrilled to know they're as happy today as they were back then. They have three gorgeous kids, and we talked nonstop. I swear I barely caught my breath. Our visit was too short, too short, too short!
We also got to spend time with the Bernier family while we were in Dallas. We were neighbors when we lived in our first home in Atlanta. I met Barbie after her mom flagged me down while I was out walking the boys in the neighborhood. They were only 8 months at the time, and Barbie was on bedrest with her twins. Her mom was our matchmaker. I love how whenever we're together, it's like no time has passed. And even though the kids haven't lived in the same town for ten years they're able to connect, too.
I'd be remiss if I didn't also mention that we were lucky enough to have friends and family visit us in Atlanta this summer as well. We love having guests! Hint, hint.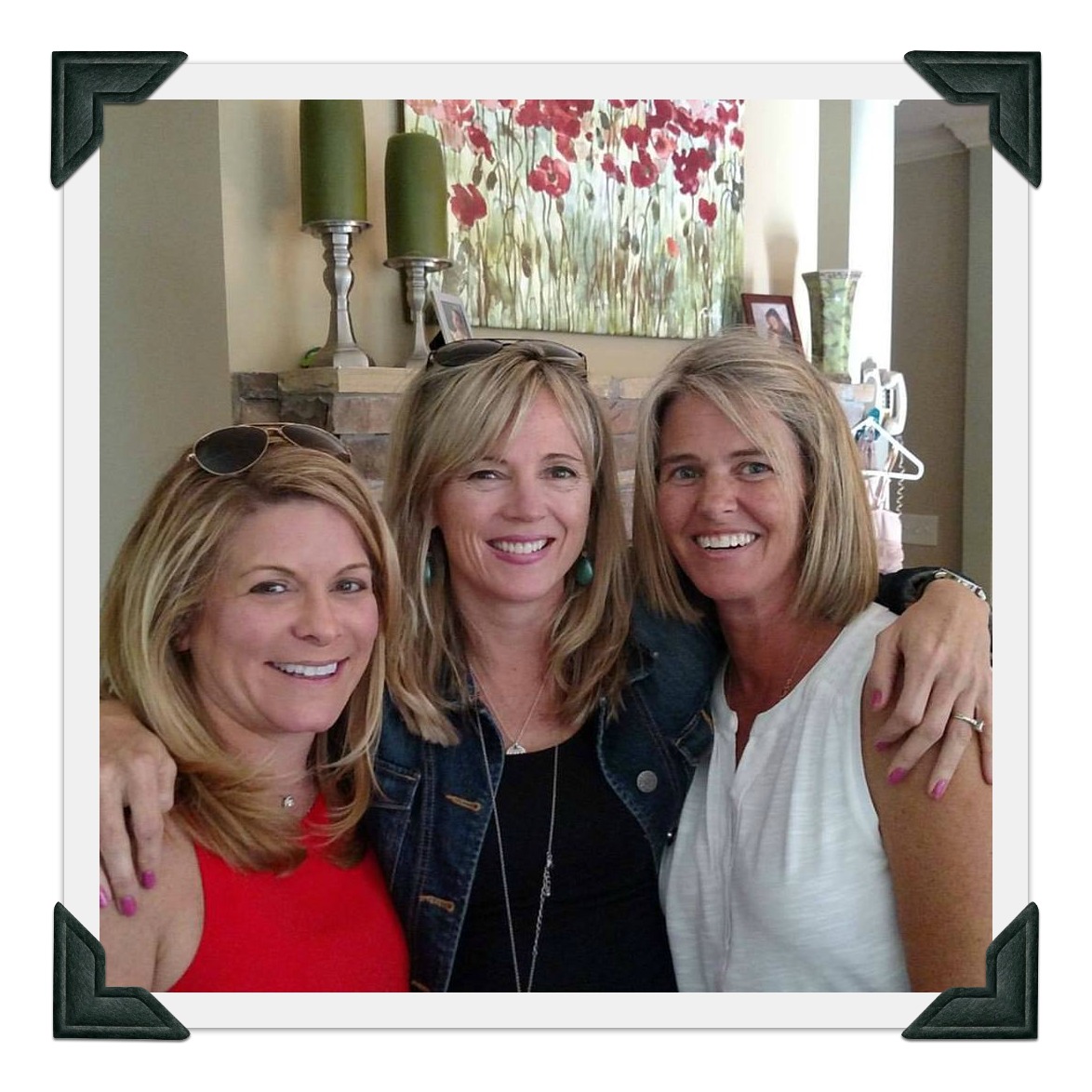 Marcie & Michele, two of my oldest and bestest friends, came for visit to help celebrate Camden (1st Communion) and Audrey (5th grade Graduation). Michele is Camden's Godmother, and Marcie is Audrey's. Only problem with their visit was that I was so damn busy with the kids that they spent most of their time with Rich. The three of them had a blast and I am very jealous.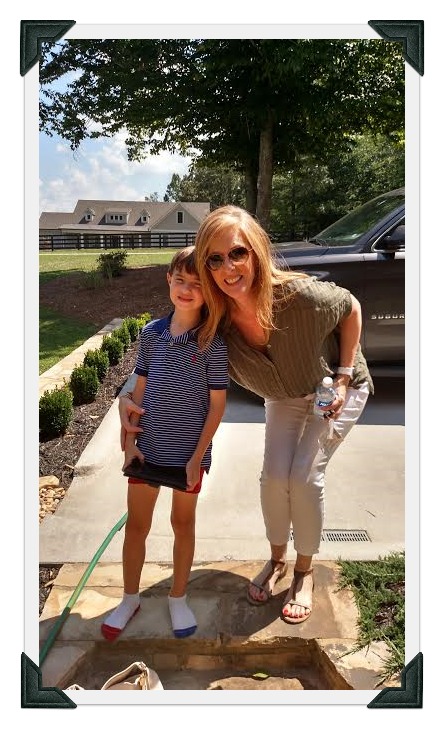 Auntie Shell stopped by for what was probably the shortest visit on record – but we'll take what we can get. Only Camden and I got to see her. I wish you could have seen his face when he got off the bus and saw her sitting on the porch. She was in and out, in from Seattle, out to Tuscaloosa, to help her son (a sophomore at Alabama) move into his first apartment!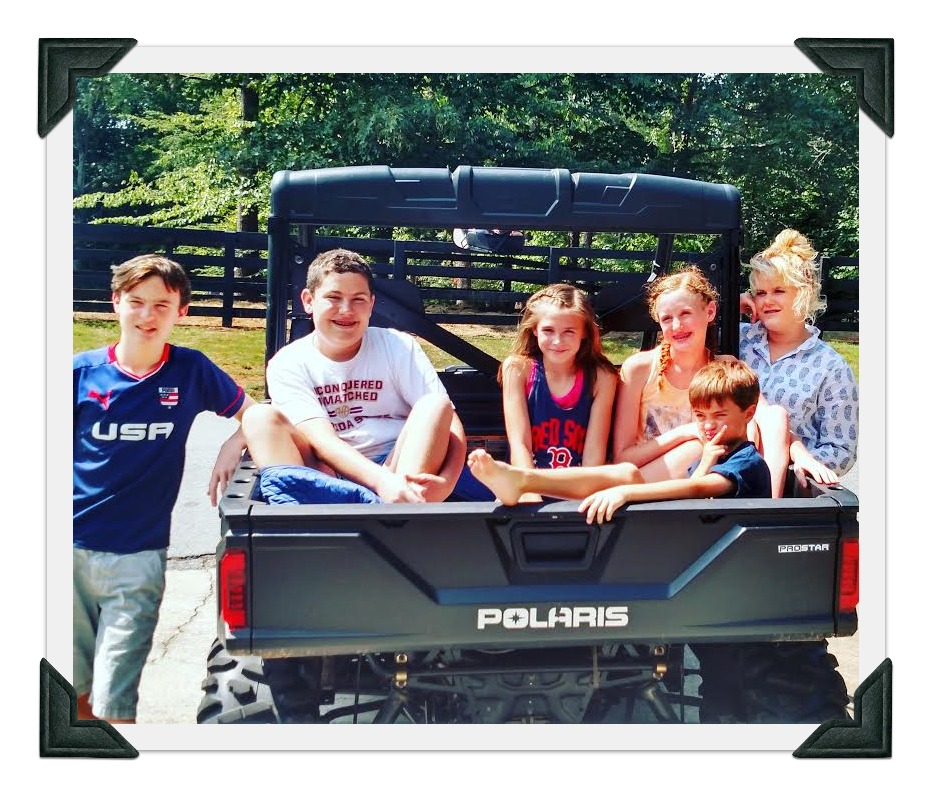 Our last visit of the summer was with the Cochran Cousins. In what has become a tradition, they stop at our house on their journey from Florida, where they spend part  of their summer, to their homebase in Michigan.  This year's visit was abbreviated, because we had to go to a funeral. Still, we were able to squeeze in some quality time.
♥
Thank you to all our family and friends for your time, patience, generosity and love. Until we meet again – we love you! Call me! Write! Visit! Remember, I miss you always and my life is so much better because you're all a part of it. I mean that.
Who did you get to spend time with this summer?
I'm linking up with Finish the Sentence Friday, hosted by my buddy, Kristi from Finding Ninee. One of this week's sentences is, "This summer…"