Autism parents have the same fears as typical parents . We're afraid of something bad happening to our child, about their futures, and that our children won't have friends. Unfortunately many of these fears are amplified by different aspects of autism. Some children on the spectrum are nonverbal; others have a tendency to wander off; some experience great anxiety; and others suffer from seizures. I know my greatest fear is that I will lose Barrett, because he does have a bit wander lust, like his momma. Autism service dogs help alleviate many of these fears.
Blue and Dublin are two autism service dogs who belong to classmates of Barrett. Service dogs are different from therapy dogs, and have protections under the law that allows special needs individuals' public access with their dogs. A service dog is task-trained in specific areas to serve the person that that they are with.
We don't have a service dog for Barrett, but after some of my son's antics over the last few weeks – I'm seriously considering it. He's been a handful, but that's a post for another day. Today I want to introduce to two special four legged friends, Blue and Dublin. I'll confess that when I heard that there'd be service dogs in Bear's classroom, I was nervous. I thought it would make things a little crazy for Barrett. Barrett loves dogs and on occasion has visited canine friends in the neighborhood without permission – from any party! I imagined a scenario where Barrett would think the dogs were for him and this being a problem with his classmates. As with most mommy-worries, it was all for nothing.
I'm in Barrett's classroom quite often, and I usually forget that there are dogs. They just blend in. I was there once during a class period change, and it was quite chaotic with all the peer buddies, three teachers, therapists and eight students. The dogs seemed unaffected by the noise, which was impressive. I remember being overwhelmed.
Randi, the "mother" of one of the service dogs, has talked to me quite a bit about what it was like to get a dog for her son, Ben. It's quite a process and very expensive. Yet, the benefits of having one of these dogs far out-weigh all the hassles involved in getting one. Why haven't I pursued it? Mostly selfish reasons: the road trip, money, and time spent training the dog. I know, I know. Maybe one day.
Meet Blue and Erik, aren't they cute?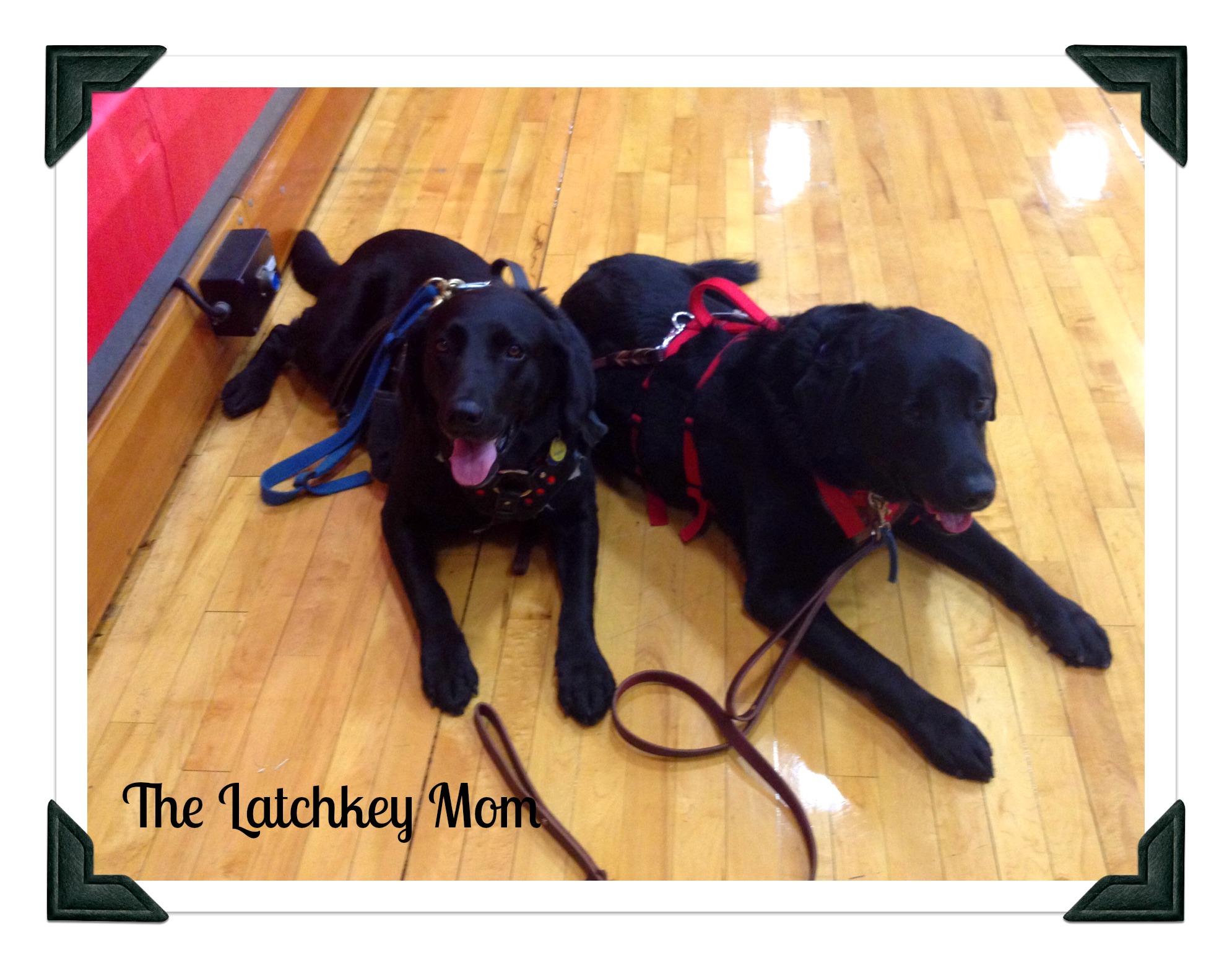 I interviewed Deanna and Randi, moms of Barrett's classmates, about their experiences with service dogs. They're members of my autism sisterhood and I really admire them. They're dedicated, kind, and work very hard to help their sons be the best they can be. Continue reading Autism Angels: Blue & Dublin →