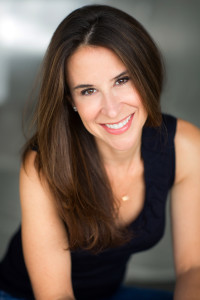 There are times when I read book that I feel as though the author wrote the story just for me. Allison Winn Scotch's book, The Time of My Life (published in 2008), was one of those books. It really resonated with me – I couldn't stop talking about it and bought a dozen copies as gifts. I loved the title, book cover, and the description of the story. I actually remember when I bought it (remember, I'm a book nerd). I had gift card for my birthday and I was very tired, because Cammy was still a baby. I was treating myself to a coffee and some Barnes and Noble time and remember reading the book's blurb and feeling like, wow, this sounds like me. Researching Allison to write this intro – I realized that TTOYL was in fact published on my birthday! I love Jillian's story and the questions about timing and fate and all the "what if's" we ask ourselves when we feel like maybe this isn't the life we're supposed to have. Oh, but of course, it is.
I wrote a fan email to Allison and she graciously wrote me back. I visited her website, and was thrilled to discover that she had a blog for writers. I loved her blog and followed it religiously.
A few years ago, Allison made the brave decision to publish her own book, after years of success with a big publisher. If you want to background on that – visit her website. The book was The Theory of Opposites, and it's fantastic (you can read my review here). So good in fact, that Jennifer Garner snatched up the movie rights. How cool is that?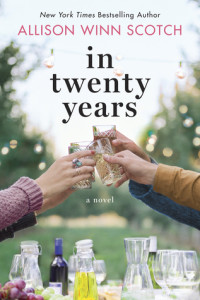 Allison's latest book is In Twenty Years, will be published on Friday, July 1st. It's about a reunion of college friends, almost twenty years after they all lived together while attending the University of Pennsylvania. It's not exactly a happy reunion. They come together at the request of their dead friend and housemate, Bea. Bea's attorney has asked the to meet at the house where they all once lived, on what would have been Bea's fortieth birthday. And some of the friends aren't exactly speaking to each other. The book is full of drama, grudges, temper tantrums, and hurt feelings. But it's also about forgiveness, and remembering who we are and where we came from.  For my fellow bloggers, there's a character named Catherine  who has a life-style blog. Her stresses will make your heart race! In Twenty Years is soooo good and one of my favorite reads of the summer. You're going to love it. (and you can order it here).
I am very excited to have Allison here, sharing the books of her life.
What was my favorite book as a child?
I read a lot as a child, I'm sure that most authors will tell you that, but one that stands out to me, all these years later, is Blubber by Judy Blume. I'm not sure if it was my first introduction to bullying, but I remember reading it really wide-eyed and finding the behavior just…shocking, audacious, really. And thinking about it over and over again – the mean girls, the words they used, the cruelty. I don't know if that was my favorite read or just one that stuck with me, but I can still feel it, tangibly, all these years later.
What was your favorite book that you read for school? I want to say in eighth grade or so, we were assigned Lord of the Flies, and I found it really revelatory at the time. I guess it gave me a lot to ponder: survival of the fittest and all of that. It's still something to examine decades later, but at twelve or thirteen, it felt like a real life lesson.
What's a book that really cemented you as a writer? I have a lot of influences, but in terms of cementing me, it's Good Grief by Lolly Winston. I was struggling through a manuscript, my first, when an editor friend read it and suggested that I read Good Grief not from the perspective of a reader, but as a writer. First of all, I loved the book, but second of all, it was the first time I read something with an eye for structure and character development, not just reading it for enjoyment. It completely illuminated how to craft a book, which is very different than the art of simply reading it. Anyway, I finished it and figured out how to actually write a decent novel (or so I hope), and from there, I scrapped that manuscript my editor had read and went to work on what became my debut book.
Is there a book that you've read over and over again? It's funny: I really don't reread. I think this speaks to my Gemini-nature. J I just thrive on the newness of something, and I really very rarely retread old territory. Take that as a metaphor for my general behavior too!
What's a classic you're embarrassed to say you've never read?
Oh gosh, seriously, probably plenty of them. I mean, of course I read all of the assigned reading in school, but it's not like I'm going to pick up War and Peace right now. So…I guess War and Peace? No, in all seriousness, these days, I just believe in reading for enjoyment, not for say, educating myself for the sake of educating myself, so unless I really am dying to read a classic, I can live with myself for skipping it.
Is there a book that you didn't understand what all the hype was for?
I'm sure plenty of them, but I'd never say so in public. 😉
What's a recent book you wish you'd written?
I've been on a thriller kick recently, and while I don't know that I wish I'd written it, I read The Kind Worth Killing, and thought it was just brilliant. Not a book I could have written because the twists and turns honestly shocked me (in the best of ways), so I admired the hell out of it, and in that sense, definitely, I'd have loved to have created something as wonderful. The other book, which I read years ago, that I wish I'd written was Then We Came to the End by Joshua Ferris. It wasn't a book for everyone, but I LOVED it, and I was so in awe of his ingenuity that I just, well, wish I'd written it!
What's a favorite movie adaptation of a book you loved? Worst adaptation of a book you loved?
Well, I think we can all agree that there have been a ton of terrible adaptations, but one of my absolute favorites is About a Boy. I've seen the movie a million times, and I truly love it each and every viewing. I even watched it with my kids recently, and they too, loved it. I guess in that vein, Bridget Jones's Diary is also wonderful. Maybe the key is to just put Hugh Grant in any adaptation and you're set. (Oh wait, wasn't he in that terrible adaption of Cloud Atlas? Ok, scratch that theory.)
What was an illicit book you had to read in secret as a child?
Hmmm, Flowers in the Attic? I don't know if I had to read it in secret, but if not, looking back on the subject matter, it sure seems like I should have!
If there were only one genre that you could read for the rest of your life, what would it be? No, stop, unfair question!! I don't know, it's funny: I used to never read historical fiction, but I've found lately that if it's done well, it's done AMAZINGLY well, so…perhaps that because I learn something with each reading. That said, thrillers are real page-turners for me, and I, of course, love bookclub fiction, my genre, so…I plead the fifth.
What was the last book that made you laugh out loud, and what was the last one that made you cry? I sobbed and sobbed and sobbed – to the point where I think my dogs were concerned about me – at The Nightingale, and I recently finished Be Frank with Me, and definitely laughed out loud.
Books or eReader?
I go back and forth, but right now, I'm into books: before I was reading on the Kindle app on my iPad, and I would get too distracted with other things on it. That said, I just got the new Kindle Oasis (sooooo excited), so ask me again next month!
Do you have a favorite place to read? We have a little nook in our bedroom with a cozy little white loveseat…I do tend to read in bed at night, but if I have time to squeeze in some reading time during the day, you'll find me there. With both dogs at my feet. It's kind of perfection.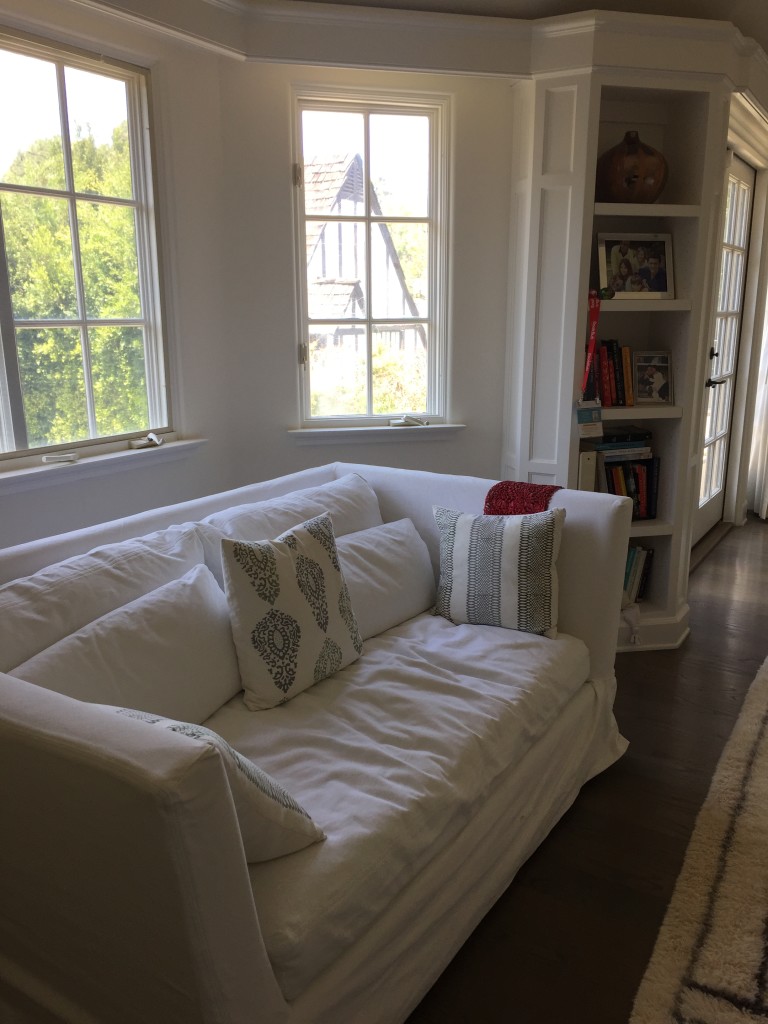 Thanks Allison! I think I remember reading about the book Good Grief on your blog. I'm going to add it to my list. I adored About a Boy  – and Bridget Jones Diary is a movie that I liked better than the book! I re-watch it every Christmas (and cannot wait for the next movie – that as thankfully kept Mark Darcy alive!). Flowers In the Attic! You're right, that should be considered an illicit read. I certainly wouldn't want my daughter reading it (even though I devoured the whole series). Your answer to the genre question made me laugh. I wish that's how I'd answered. And I believe that  The Nightingale is the most noted book to date for crying.
Please leave comments for Allison below – and don't forget to order her book. You'll thank me!
You can follow Allison at the following places:
Other Books of My Life Posts:
TBOMY: Tamara from Tamara like Camera
TBOMY: Author Aidan Donnelley Rowley
TBOMY: Liz Fenton & Lisa Steinke