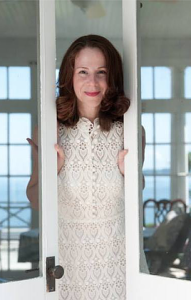 Happy Publication Day to Alyson Richman, author of the fantastic historical fiction novel, The Velvet Hours. I'm super excited to feature Alyson today for The Books of My Life series. When Alyson's publicist sent me the press release for this novel, I confess I was a little nervous about the comparisons to Kristin Hannah's The Nightingale (because that book destroyed me). My worries were a waste of time, because I truly enjoyed this book and didn't end up hyperventilating – although I did shed a few tears. This is the tale of two women, a 19th century courtesan, Marthe, and her granddaughter, Solange. The book primarily takes place in pre-WWII Europe, but Marthe's backstory is also woven into the story.
 As Paris teeters on the edge of the German occupation, a young French woman closes the door to her late grandmother's treasure-filled apartment, unsure if she'll ever return.
An elusive courtesan, Marthe de Florian cultivated a life of art and beauty, casting out all recollections of her impoverished childhood in the dark alleys of Montmartre. With Europe on the brink of war, she shares her story with her granddaughter Solange Beaugiron, using her prized possessions to reveal her innermost secrets. Most striking of all are a beautiful string of pearls and a magnificent portrait of Marthe painted by the Italian artist Giovanni Boldini. As Marthe's tale unfolds, like velvet itself, stitched with its own shadow and light, it helps to guide Solange on her own path.
Inspired by the true account of an abandoned Parisian apartment, Alyson Richman brings to life Solange, the young woman forced to leave her fabled grandmother's legacy behind to save all that she loved.
Richman, who is also an accomplished artist, writes a beautiful story. Her book comes to life with her vividly detailed descriptions of setting, clothing and, of course, art. I particularly loved discovering how Richman came up with the idea for this story, loosely based on real people. Be sure to read the author's note for this book! I also recommend checking out the author's backlist. Her bestselling novel, The Lost Wife, is in development to be a motion picture staring (Star Wars It Girl) Daisey Ridley.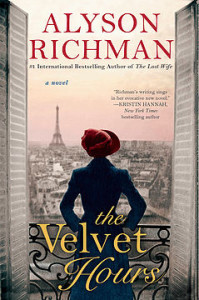 I just ordered the book, because of how much I enjoyed The Velvet Hours. Be sure to order your copy, by clicking here (not and affiliated link!). Or, you can leave a comment below for a chance to win a free copy!
What was your favorite book as a child?
Pipi Longstocking by Astrid Lindgren.
What was your favorite book that you read for school? 
A Separate Peace. I'm still upset with my husband that didn't let me name our son Phineas.
What's a book that really cemented you as a writer?
One Hundred Years of Solitude by Gabriel Garcia Marquez.
 Is there a book that you've read over and over again?
Light Years by James Salter
What's a classic you're embarrassed to say you've never read? 
Dickens' A Tale of Two Cities.
What's a recent book you wish you'd written?  
Yaa Gyaasi's Homegoing is a  brilliant storytelling feat.  Not only was the plot intricate and complex, I was in awe of so many of her beautifully crafted sentences.
 What's a favorite movie adaptation of a book you loved? 
The English Patient and Atonement 
The books you read to your children:
Leon Lionni's  Little Blue and Little Yellow and Pezztino.  Also, Tikki Tikki Tembo by Arlene Mosel was a family favorite as well.
What was an illicit book you had to read in secret as a child? 
Forever by Judy Blume
Is there a favorite imaginary place you dream of moving to? 
Wonder Woman's "Amazonia" would be top of my list.   A planet of strong, smart and tall women is just up my alley!
 If there were only one genre that you could read for the rest of your life, what would it be?
Literary Fiction.
Is there a book you've given multiple times as a gift?
When Breath Becomes Air by Paul Kalanithi. It completely changed my perspective on time.  It inspired me to live more in the present instead of constantly striving for the future.  I gifted it to five of my closest friends and my father too.
What author living or dead would you most like to meet, and what would you like to know?
I would have loved to have met Gabriel Garcia Marquez.  I would have asked him to read me the first chapter of One hundred Years of Solitude and then probably asked him to marry me.
What was the last book that made you laugh out loud, and what was the last one that made you cry? 
Last to make me laugh was Where did you Go Bernadette by Maria Semple. The last to make me cry was definitely Homegoingby Yaa Gyassi. My son had to ask me to stop crying on the train.
 What was the last book that you told people they have to read? 
When Breath Becomes Air.   See, I'm recommending it twice in this interview!
What are you reading now? What will you read next?
Just finished the wonderful "Enchanted Islands" by Allison Amend.  Next to read: "The Orphan Tale" by Pam Jenoff.
Books or eReader? 
Books 100%
Do you keep your books or pass them on?
I keep them.
Do you have a favorite place to read?
I love reading on public transportation.  I definitely get my best reading done on trains or planes. And here: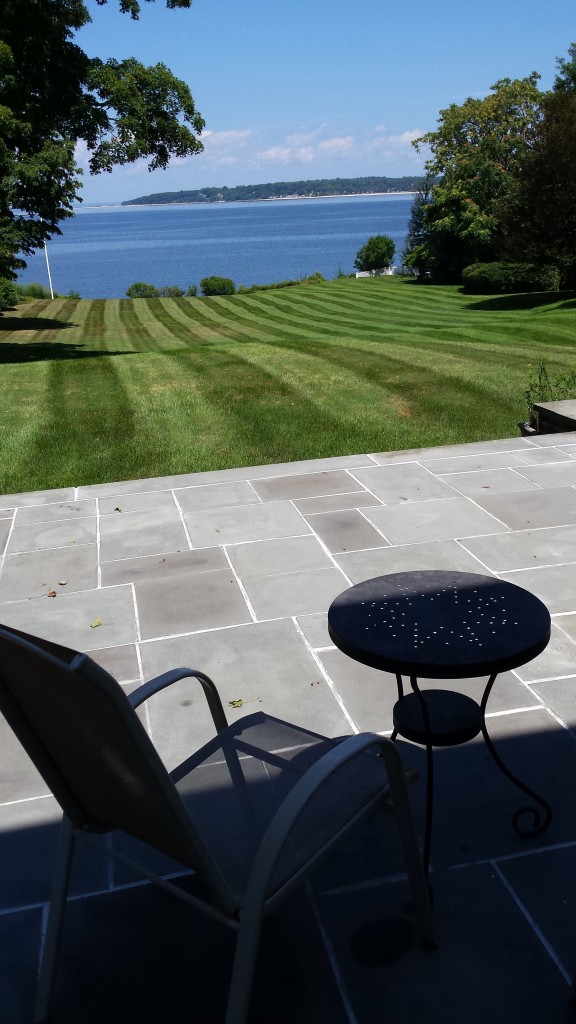 Do you have a favorite bookstore? 
The Book Revue in my hometown of Huntington has to be on the top of my list.
Thank you Alyson. This was a refreshing read for me, because you've mentioned many books that I'm unfamiliar with. I'm very familiar (or rather I once was very familiar) with Forever. I adored Where'd You Go Bernadette and also many times laughed out while reading it. I'm so excited that Maria Semple has a new book coming out this fall. And alas, When Breath Becomes Air…it's very often mentioned in these interviews, but I don't know that I'll ever be able to bring myself to read it. Finally, may I please come over for a reading date? That view!
Readers, please leave a comment for Alyson below, for a chance to win a copy of The Velvet Hours.
You can follow Alyson at the following places:
Other Book of My Life posts:
TBOML: Tamara from Tamara like Camera
TBOML: Author Aidan Donnelley Rowley
TBOML: Liz Fenton & Lisa Steinke