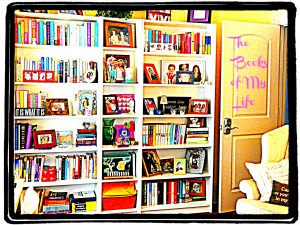 I was so excited by the enthusiastic response to my post a few weeks ago about The Books of My Life. I had so much fun writing it that I decided to make it a series. I asked my readers to contact me if they were interested in participating. I heard from many of you – thank you! Today, my friend Dana from Kiss My List is my first interviewee. I love Dana and "met" her through the Finish the Sentence Friday link-up. Through posts and email exchanges, I discovered that Dana lives in the town where my husband grew up (her children go to his rival high school). My family lived in the town for a few years, when the twins were babies – and Audrey was born there! What a small world. Dana actually lives less than five miles from where we did. So I predict a real life meeting one day soon!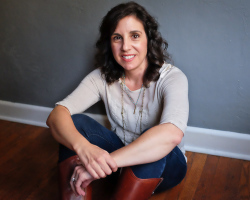 Miss Dana.
I hope you enjoy reading about Dana and the books of her life.
What was your favorite book as a child?
Island of the Blue Dolphins by Scott O'Dell.
What was your favorite book that you read for school?
I loved Lord of the Flies and A Separate Peace, although I think I love them more in retrospect than I did at the time. I also loved Nobody, Nowhere, which I read in Abnormal Psychology in college. Written by Donna Williams, it was the first book by an individual diagnosed with autism to be published in mainstream publishing. Williams describes what it is like to have autism in a way that anyone can understand, and in way that no doctor or professional could.
What's a book that really cemented you as a writer?
I have no answer for this; I don't feel that any book cemented me as a writer. I think my lifelong love of reading made me fall in love with writing. I don't read books about the art of writing, although I probably should.
Is there a book that you've read over and over again?
I rarely read a book more than once. I have read Diana Galbadon's Outlander series twice, when I wanted to refresh my memory before reading the newest book in the series.
What's a classic you're embarrassed to say you've never read?
I never read Catcher in the Rye, although that doesn't embarrass me. Who could possibly read all the classics?
What's a book you've pretended to read?
There isn't one. If I didn't read it, I'll tell you. That's why I'm picky about the books I choose to read and review; I'll only read it if it sounds appealing to me.
What's a book you consider grossly over-rated?
I may get lots of haters here, but To Kill A Mockingbird. I didn't love it. However, reading is a very personal experience, and I would never presume to tell someone else that their love of a book is misplaced.
What's a recent book you wish you'd written?
Any book that became a best seller! I don't have author envy, because I have no plans to write a book.
What's a favorite movie adaptation of a book you loved? Worst adaptation of a book you loved?
A favorite is Jurassic Park. I read the book long before the movie came out, and I was fascinated by the possibility of dinosaurs being recreated. To see that vision on the big screen was amazing. I hated Watership Down and The Clan of the Cave Bear. They are two of my favorite books, and should never have been made into movies. Talking rabbits in Watership Down are best on the page instead of a cartoon, and why even attempt to film a novel about Cro-Magnons? It was abysmal, and an embarrassment to the book.
The books I read to my children:
The Big Red Barn
Goodnight, Moon
Lots of Dr. Suess
One of the last books I read to my youngest before we gave up the bedtime reading routine was Peter and the Starcatchers.
What was an illicit book you had to read in secret as a child?
I was a teenager when I snuck peeks at Forever by Judy Blume, while hiding in the Young Adult section at the library.
What's a book people might be surprised to learn that you loved?
The Twilight series. I know it's not fabulous writing, but the story sucked me in. I read them before the movies were created, and the characters in my mind were much more believable than the ones who ended up onscreen. Yes, I am aware that vampires and werewolves don't really exist.
If there were only one genre that you could read for the rest of your life, what would it be?
Contemporary fiction – is that too general? If it is, I'd say historical fiction. I would get tired of the same genre, but at least historical fiction has so many possibilities.
Is there a book you've given multiple times as a gift?
I don't think I have ever given a book as a gift. I feel like it's too personal of a decision for me to make for someone else. I recommend plenty though!
What was the last book that made you laugh out loud, and what was the last one that made you cry?
The Martian by Andy Weir made me laugh out loud, multiple times. I cried a little during Jojo Moye's After You, but not nearly as much as I did when I read Me Before You.
What are you reading now?
I am listening to The Jungle by Upton Sinclair, and reading The Book of Lost and Found by Lucy Foley. I'm participating in a 2015 Reading Challenge, where you read books in fifty different categories, and I am now at the point where I have 5 left to go. The Jungle is my "book more than 100 years old," and The Book of Lost and Found is the "book with antonyms in the title." After these two, I have six more categories to go!
Books or eReader?
Both. I don't discriminate, although if it's by an author I know personally, I'll buy the book!
Do you keep your books or pass them on?
I don't buy many books, and I only keep my favorites for sentimental reasons. Other books I pass on or donate.
Do you have a favorite place to read?
The chair in the corner of my sunroom.
I do love to read in bed, too, but I tend to fall asleep.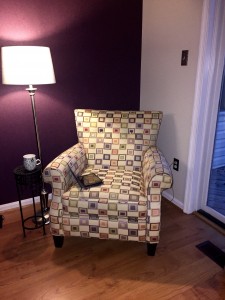 Do you have a favorite bookstore?
Not really. If I buy a book, it's usually from Amazon. I will hang out in Barnes and Noble on occasion, but that's more for the coffee and scones.
♣
Okay, where do I start? Dana, I have so much to comment on! I did not care for The Lord of the Flies – at all:)! I am surprised that you liked Twilight, because we're friends on Goodreads and I would say your tastes are more literary. But you do like scary, so I can see the vampires appealing to you – ha! You've mentioned many books I've never heard of, which is interesting and fun. As for Forever, you really only snuck peeks? I devoured that book, cover-to -cover. I also plan to check into Nobody, Nowhere. Have you seen the movie The Martian, yet? It's phenomenal (and I didn't know it was based on a book!). Finally, I'm very intrigued by your Reading Challenge. I've only done the "number of books read" challenge. But fifty different categories? That's what I'd call stepping outside your comfort zone. I like it!
Do you have any comments or questions for Dana? Please share them below. And contact me if you're interested in participating.