---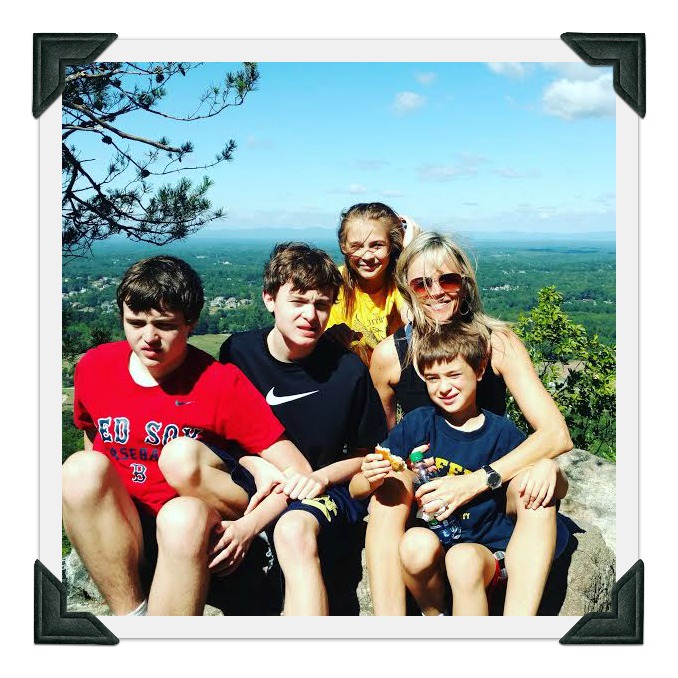 With the kids on my annual birthday hike up Sawnee Mountain (on the day following the actual day!).
Today is my birthday. I'm forty seven, a number that really is hard to fathom. I guess it's just a number. Still, it's a number that sounds old – although I'm happy to report that on this particular day I don't feel old. I really don't. I'm just grateful to be here. To be healthy. To love and be loved. I live a life that is embarrassingly abundant with blessings (a term I really don't care for – but in this instance, it's appropriate). Today all I feel is peace and contentment. I'm extremely grateful.
I took the day off from work and decided to relax and do me. Thanks to Rich, I was able to sleep in and didn't have to get up until 7:30. It was only me and my Bear-Bear in the house. It was quiet and I never wake up to quiet – and it was quite nice. I made breakfast for Bear. I then poured some coffee and relaxed in front of the TV, so I could check on friends and family in Florida (Hurricane Mathew). After I got Bear on the bus, I ran for three miles and then enjoyed a breakfast prepared by my husband.
I took the day off from work. This would have been the first time in fifteen years that I'd had to "work" on my birthday, and well, I didn't want to do it. (Although, yesterday my co-workers surprised me with cake, which was really sweet.) I spent the second half of the morning with Barret and his class at a local corn maze. I didn't even get sad when I realized that this is the last fall field trip I'll take with Bear. Next year is high school and I doubt there will be any more fun excursions like that.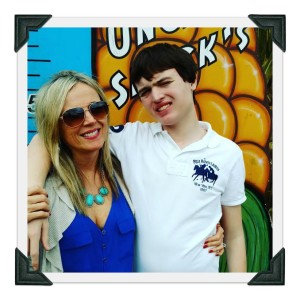 After the corn maze, the day took a decadent turn. I went shopping (for the kids and me), got a facial and massage. I stopped at Starbucks and had a glass of WINE (for real!), and read all my texts and FB massages and savored the love. Then, because I was slick and greasy from all my rub downs, I treated myself to a wash and blow dry! After, I picked Audrey up from ballet and headed home to be spoiled gloriously rotten by my family.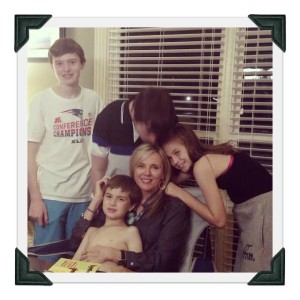 Sitting in my new Patriots tailgating chair.
I'm grateful for this birthday. Grateful for this life – the good and the bad.
At forty seven, I find myself saying a prayer before every doctor visit, whether it's for me, Rich, or the kids. I find myself contemplating, perhaps obsessing, over middle age. Oh, the clichés. How did I get here? I don't feel middle aged – well, maybe I do sometimes. Time is moving by so quickly! You've heard and read it all before, but lately for me it resonates in a way that keeps me up at night.
At forty seven, guilt has become a constant in my life, which pisses me off. I should be past this. The dichotomy of realizing I have more than I ever really imagined I'd have – and often wondering, is this all there is? How messed up is that? And mom guilt. And especially, working-mom guilt.
At forty-seven, when I get an invitation to something, whether it's a party, a trip, or to experience something that may have set my heart a flutter only five years ago, I pause and ask myself a series of questions. What day of the week is it? How far will I have to drive? Who's going to be there? How late will I be out – and more importantly, what time do I need to be up the next day? Gone is the "Hell ya!" I'm-up-for-anything Allie, replaced by a woman who really and truly would prefer to stay home with her family. Even more so now that we all seem to enjoy the same movies and television shows. And because I know that in three years, Hunter will be gone, and Audrey will be on a date, and my heart will be broken.
At forty seven, I still worry about my waistline. It's not so much about wearing a bikini anymore, but more about how unhealthy extra weight is in the midsection.  I hate that I can't eat carbs, because they really do make me feel like crap. I exercise in spurts, mostly because of time constraints or self-inflected exercise injuries. And of course a lack of energy – and yes, I realize that (supposedly) working out will give me energy, but until I get the energy to do so, I don't see it happening. UGH! What a Catch-22. I miss Energizer Bunny Allie, I really do.
At forty seven, I'm tired of hearing and reading everyone's opinion about everything. Okay, truth be told, not Everything. Love opinions about books and movies, but the election is getting to me. I've been avoiding FB because of it. And yes, I know, that's what bloggers, writers and every Tom (Tina), Dick (Dot), and Harry (Heidi) do these days, but I'm so completely over it. I long for the good old days when we kept your opinions to ourselves (and close friendsJ) – unless of course we were asked.
At forty seven, I'm back in the work force. How did that happen? It's a long story, but I do believe that if you put something out into the Universe, it comes back to you. I needed a job to fund my road trips and I got a job. And it has been an adventure. Game changer, life changer. I wasn't really looking for anything other than a paycheck, but what I found was some friends, experience, renewed self-confidence, and some wild –ass stories to share. It's a crazy world we live (and work) in.
At forty-seven, I'm starting to imagine what my life will look like in ten and twenty years. Will we still be working for others, or will we finally do something that's truly on our own? Where will the kids go to college? How will we pay for it? Should we pay for it? What will they do for a career? What will Barrett's future look like? Are we saving enough for retirement? Will I make it to Europe before I'm "old?" Will I even want to? What's going to happen to this world? Will we play golf, tennis, and/or bridge with our retirement friends? Who will these people be? Where will be? In this house? Wyoming? Florida? Should we have a plan? Yikes!
At forty seven, I worry about healthcare. Every damn day – and that's all she'll write. I ain't going there.
In my forty-seventh year, I'm really behind in my reading goals (yes, I have reading goals) and that makes me sad. Work and the increasingly busier schedules of the children have cramped my reading style. I'm not even really listening to my audio books anymore. I listen to the Today show on my way to work, and catch-up on phone calls on my way home. When I'm in the car with the kids, we talk – and I'm enjoying that. Also, I haven't had a good book cast a spell over me in a long time.
I find myself on a TV kick these days. Perhaps that's all I can manage at the end of a long day – vegging out in front of the television. I have become obsessed with The Gilmore Girls. I knocked out all seven seasons in six weeks – all the while working full time and driving the kids all around Forsyth County. I ignored friends, bills, exercise, writing, reading, hell, sometimes even sacrificed sleep. I could not stop binging. I am in love with Luke, Jess, Dean, and Logan. I want to be five imaginary people and live out my life in Stars Hollow. I want to find a town like that, so we can move there. My family was never so happy as when I cried during the last episode. "Mommy's back!" By the way, how cool was that going away party for Rory? I bawled. Honestly, my whole Gilmore Girls obsession is rather unsettling. Probably, no definitely, unhealthy for a forty-seven year old.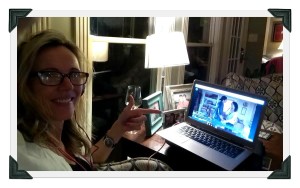 This was me – on a Friday night, ignoring my family, indulging in Gilmore world.
At forty seven, I'm not sure where I am in regards to being a writer. Obviously, I haven't been writing very much lately and I'm uncertain as to what that means. I miss it. I really do. But I don't miss all that comes with it. My fellow writers know what I mean. And yet, if you don't write, well, your craft suffers. Truth. I've also been struggling with the relevancy of what I write. Who am I writing for? I don't know. I'm so confused. Would you believe it has taken me almost THREE weeks to write this post? I started it in Starbucks, on on my birthday,  (see pic at the right) and here I am.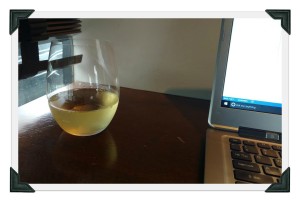 I'm afraid of what that means. But I guess it's time to hit publish. I hope to be back soon – I want to dish about the children, and ask for advice about a few things, and write a tell-all about what going back to work has really been like. And I still want to write a summer road trip wrap-up (oy!).
XOXOX,
Allie