Alright, so this is kind of a random post.  A couple of things popped into my head to write about, but each one alone isn't enough for a post.   This is a melting pot of miscellaneous musings! 
LKM Confession:  Latchkey Fail!
This was something that happened that I thought was funny.  It's an example of what can happen with a latchkey, so it seemed relevant.  This week son number two, Hunter, had a number of things going on that required him to be at school early (band rehearsal, help sessions, etc.).  It's not fun trying to get his lazy booty moving in the morning.  I often fail and we end up being late, late, late.  As a result, Rich has had to get son number one, Bear, on the bus for me.  Bear's bus comes right to the driveway, which is oh so convenient!  Well one morning this week, as I was stuck in traffic trying to get back home to relieve Rich, my phone rang.
Rich, "Are you almost here?"
"Not even close," I replied.  
It was so cold that my car was iced over.  I was driving Rich's truck because he'd already been out that morning, and had tossed me his keys as Hunter and I scrambled out of the house.  His house key was on the ring and I, of course, was wearing my key.  Out of habit, I had locked the door.  Yep – Rich and Bear were locked inside the house, with his bus seconds from arriving.  This has happened to me before (getting locked in), more times than I care to admit.  But never to Rich.  He didn't like it.  I got home in the nick of time.  I think we need a hide-a-key for inside the house!
Middle School Fashion Drama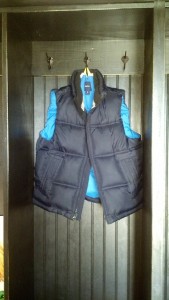 It's been very cold in North Georgia this week.  The mornings have been in the low to mid-twenties!  Bone chilling cold, in my humble, warm-blooded opinion.  It's been very tough to defrost my car in the morning (see above).   Yesterday, I entered the kitchen to find my 7th grader wearing jeans (thank God, because shorts were not out of the question with this child) and a short sleeve cotton t-shirt.  For the record, I had on my heavy winter coat (which was purchased during the years we lived in Baltimore), gloves, hat and a scarf.  I told him that if he wouldn't wear his winter coat, he at least needed a sweater and his vest.  Oh dear Lord, you should have seen his face.  He reacted as if I told him he had to wear a dress!  I'm exhausted from our school battles and didn't feel like engaging – so I suggested that perhaps a long sleeve shirt, like a Henley, would make us both happy.  He grudgingly complied and even carried a hoodie out to the car.
We were picking up two other 7th graders, the daughter and son (twins) of a friend of mine.  When they got in the car, after waving bye to their grandmother (who was getting them off that particular morning), I asked them why they weren't wearing coats.  They both had hoodies, so at least it wasn't just my child.  It was 24 degrees outside!  Well apparently, according to the mini fashion Diva in the car, coats are not cool.  Who knew?  Puffy vests (like the one I suggested for Hunter) will get a kid immediately labeled as a marshmallow.  What?  So walking pneumonia gets you a pass into the cool club?  I asked about sweaters, because Hunter has many very cool sweaters – purchased by me!  The consensus was that girls can get away with them, but not boys.  My friends, I would not be in middle school again for anything in the world!
The next morning, I picked up the same children.   Grandma wasn't around and mom had already left for work.  The young lady wore a light jacket, the boy, with the temperature 28 degrees, had a short sleeve cotton t-shirt on!  Mother of this child – are you reading this?  This is my way of telling on him, without telling on him!
Christmas Preparation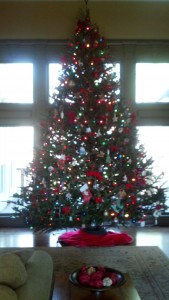 How's everyone doing with holiday cards, Santa, baking, shopping, wrapping, decorating, entertaining, and the shipping of packages?  Just curious, so I thought I'd throw this out there to see where I stand amongst my friends.  Here's where I am with my holiday chores.
Santa – visited and lists were delivered!
Cards  – almost done!
Wrapping – about half way there, but no bows, yet. 
Decorating – done. 
Baking – haven't started, but I did buy a bunch of ingredients. 
Shopping – not finished, but almost.  I've done about 90% on-line this year.  I can't believe it.  So easy, too easy, with Amazon Prime.  Sorry North Point Mall, I couldn't face you this year!
Shipping – I've mailed all my out of town packages – yippee! 
It's still Crazy Town around here, but I'm not freaking out as I have in years past.  Everything always gets down, somehow, some way.   Of course, the closer I get to Christmas….
Awkward Family Moment
Last night at dinner, one of my children, who I will not name, announced that they thought members of the opposite gender were looking "hot" these days.  I am so not ready, or prepared, for this to be a topic at the dinner table!
Tomorrow I'm featuring my friend Jackie and her special Christmas cocktail!
Also – don't forget that tomorrow is the day I pick a winner for a wardrobe consult/workshop with Kathy from Style Daily.  Be sure to comment on her blog, for a chance to win!
Finally – be sure to check back next week.  To show my gratitude for my reader's support, I'm putting together a big Christmas giveaway!
Did you know that coats are uncool on the battlefields of middle school?  What would you have not been caught dead wearing when you were in school?  Are there any other fashion no-no's I should be aware for my seventh grader?  Where are you with your holiday preparation?  What does your family talk about at the dinner table?