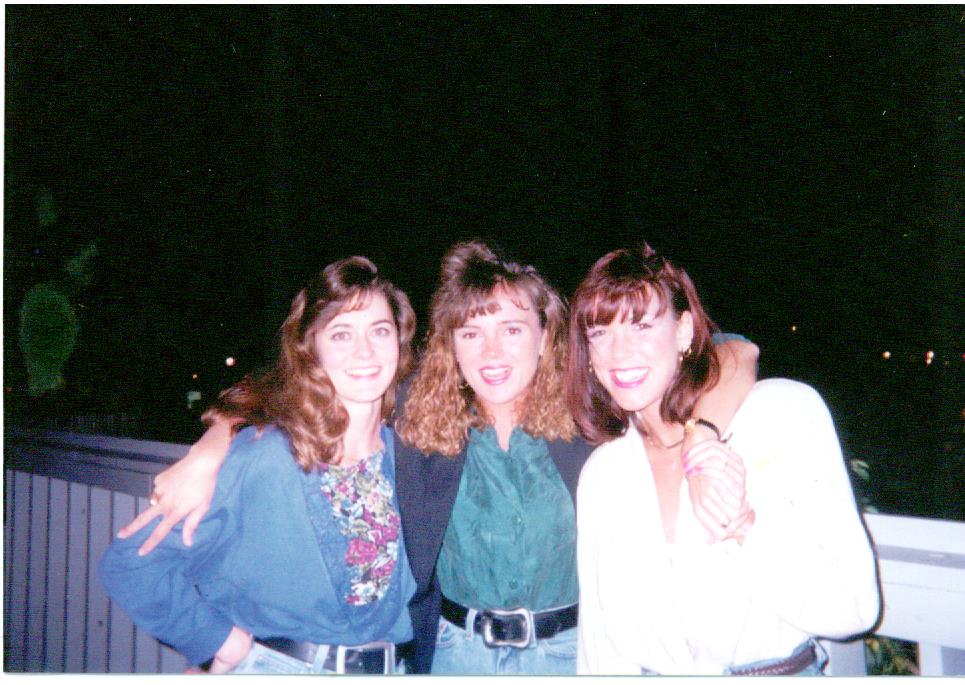 This picture was taken in March or April of 1994. I'm leaning towards March, because of the jackets.  I can't ask the other girls in the picture, Barbara & Kristen, because they both have horrible memories!  We were in Fort Lauderdale, at a waterside restaurant and bar called Bootleggers.  We were young, a little wild, and definitely carefree.  For me, the devil-may care attitude was new.  I had just earned my Master's Degree the summer before and taken the CPA exam in November.  In February of 1994, I learned that I passed – all four sections, on my first try.  For those of you unfamiliar with the CPA exam, that made me a bad ass!  From the smile on my face (I'm in the middle), you can tell, I knew it.
After graduating, and not receiving any offers from the Big Six firms (who obviously miscalculated, because hello? – passed the test on my first try), I decided to take a year off and have fun. I waited tables to earn a living and spent my free time not studying!  I went to the gym and hit beach and watched a lot of soap operas.  I lived on my own, in a one bedroom apartment, a mile from the ocean.  For the most part, I was finally over a very badly broken heart and dating "an older man" on a casual basis, who took me out to nice restaurants.  I truly believed that all the hard stuff was behind me – and the future would only be bright.  Like I said, I was young.
Kristen, who's standing to my left (but I guess to the right if you're looking at the pictureJ), was visiting me from out of town and I was determined to show her a good time.  If I'm remembering correctly, I believe I was trying to get her to move to Fort Lauderdale.  At that period of my life, if I wanted to have a good time, I knew it had to include Barbara, who is standing on my right (on the left in the picture).
I met Barbara on my first day of school, in the fourth grade. I was the new girl, having just moved to Naples from Cape Cod, and she was assigned to be my "buddy."  Thirty-five years later, she still is.  When we were in middle school she moved to Fort Lauderdale to live with her dad.  We kept in touch the old fashion way – writing letters and taking the Greyhound Bus to see each other during the summer.  Barbara recently sent me a letter I wrote her when I was 18 – and it was horrifying!  I would share the details, but I'm actually going to write a blog about it in the next few weeks, so stay tuned.
When I was twenty-two, I moved to Tallahassee, Florida to attend graduate school at Florida State. I was miserable.  My classes were hard, I was broke, the weather, in comparison to south Florida, sucked and I missed my boyfriend.  I used to call Barb, from a pay phone on campus, and cry.  One day she suggested I move to Lauderdale, live with her and her dad, and go to school at FAU.  She didn't have to ask me twice.
Barbara was the Carrie Bradshaw of Fort Lauderdale. She had a closet full of clothes, a busy social calendar and her own posse of cool girlfriends.  I was so intimidated, but she showed me the ropes.  Barb opened my eyes to so much and she's the first person who urged me to consider a world beyond Naples.  She taught me to act my age – I was an old lady at twenty-two, believe me.  Barb got me to loosen up.  She taught me to play, to stand up for myself and to explore my options.  She changed my life.  Moving in with Barb and her dad was a major turning point in my life that put me on the path to the life I have today.  Words are not enough.  I love her.
I met Kristen when I was working at the Ritz Carlton in Naples.  At the time, I'd thought it would just be a summer job, but I ended up staying for four years .  We were "the young ones" in the retail department and bonded right away.  We lived together for three years, and were each other's emergency contacts.  Kristen had moved to Naples, from Ohio, right after graduating from high school!  By herself.  Talk about guts. When we lived together, we were always broke.  We kept the thermostat set at 82 degrees, only ate pasta and popcorn and drank white zinfandel diluted with cranberry juice.  And Pretty Woman was always on in our apartment – always.  God, we had fun.
Barbara and Kristen are still two of my closest friends. Barbara is Barrett's Godmother and Kristen is Hunter's.  Barb still lives in Fort Lauderdale.  She's married and the mother of two beautiful children (one of whom is my only Godson♥).  Our lives have always moved in a strangely parallel ways.  We were born seventeen days apart.  Our daughters were born nineteen days apart.  We were married within five months of each other and purchased our first homes in the same year and lost our dads in the same month.  And she's an autism sister.  Oh momma!  And she leaves the best phone messages ever!  Kristen is back living in Ohio.  She's the single mom of a superstar daughter.   My girl has had a number of health issues in the last few years, and I've worried a lot about her, but she's strong.  And she never loses that gorgeous smile.  She's has a big surgery coming up, but I know she'll come through it well and life will return to normal.  I miss her so much and can't wait to see her again.  Kristen, I hope your recovery is speedy – because we're reserving our guest room for you!
The girls in that picture had no clue what was coming. We were just enjoying the moment, having a good time.  I miss that.
This blog is a link up with Mama Kat.  The prompt I chose was to share and old picture and tell you about it.

What were you doing in 1994?