Wednesday Lunch with Jackie
Confession time.  I'm not big on cooking.  I can follow a recipe and I have hosted (and cooked for) a number of holidays and successful dinner parties, but I don't consider it fun.  I'm not sure why, because as a child, I would gleefully whip up multi-course dinners for my family – I'm not kidding.  I grew up in a restaurant and couldn't wait to go in on the weekends and help the prep cooks.  During the high school and college years, I was more obsessed with calories than food, so there wasn't much cooking.   Post college, I was broke, which meant pasta, pasta and more pasta.  When I met "R" (who informed me that he does not wish to be named in the blog – oops) and we moved in together, we both were very busy with work and ate out a lot.  After the twins arrived, it was all I could do to get them fed.   Then there were my vegetarian years, when most of the meat preparation fell to "R".  I can rock salads and vegetables, though!
Fast forward to present day and I have a house filled with six very different appetites and I find myself more of a short-order cook or stuck with the simple boring meals for which one menu fits all.  Taco night, spaghetti and meatballs, roasted chicken, repeat.  There is nothing worse than breaking out a new recipe, doing the time in the kitchen, and having your "patrons" turn their noses up, before they even take the first bite!  As a result, I don't usually get creative.
Lucky for me, I have many friends who love to cook and are amazing at it.  That's when momma gets to eat like a queen.  My friend Jackie cooks food that can rival any upscale restaurant that I've been to, and she does it which such casual ease, it fascinates me.  I'm easily ruffled in the kitchen and I hate when people watch!  Not Jackie.  It all comes naturally.
I love everything Jackie makes, but my mouth waters in anticipation of her salads, because she makes all her own dressings.  In an attempt to get the recipe for her secret dressing, I suggested we have lunch and I'd do a blog post of her making the special Jackie dressing.  Lucky for you, she was game.   My attempt at culinary espionage was thwarted when she decided to do her Caesar salad instead.   Damn.  That said, her homemade Caesar dressing is phenomenal and now I know how to make it!
Meet beautiful Jackie: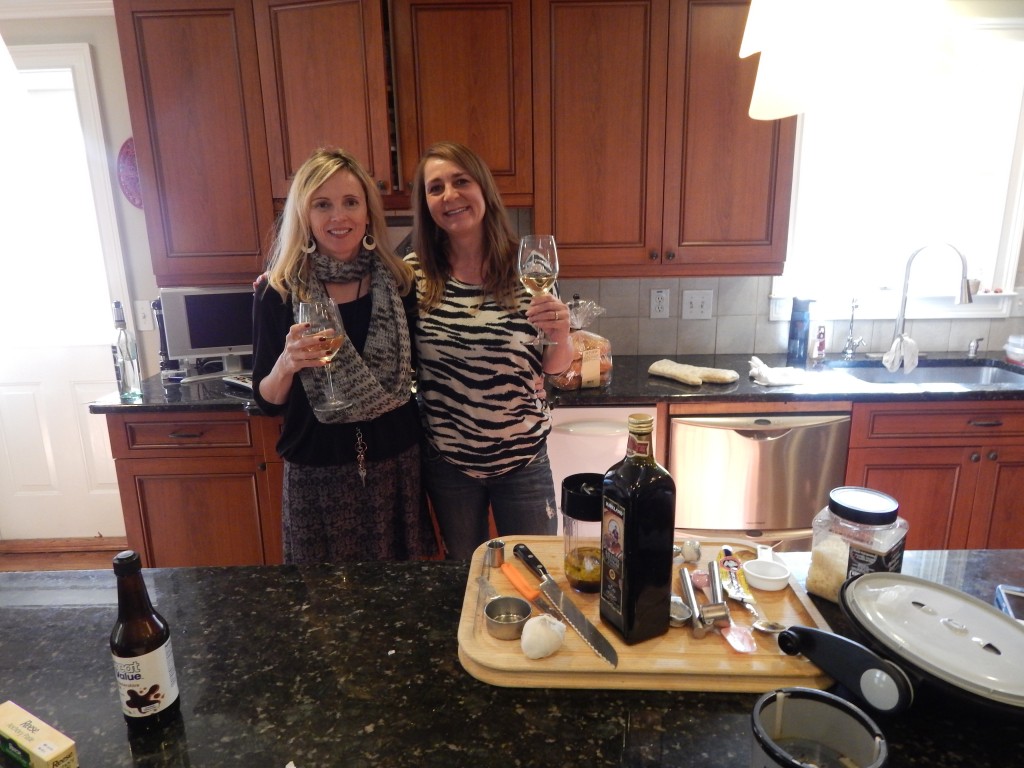 These are the ingredients you need:
Romaine lettuce

1/3 cup of olive oil

1 tablespoon of balsamic vinegar

1 heaping teaspoon of Dijon mustard

1 heaping tablespoon of mayonnaise (you can substitute 1 raw egg yolk, if you wish)

1 inch "squeeze" of anchovy paste

2 tablespoons of white wine

1 teaspoon of Maggi seasoning (you can substitute Worcestershire sauce)

2 minced cloves of garlic

2 "dashes" (use chef's discretion) of salt

Freshly ground pepper – added with chef's preference

Croutons

Freshly grated parmesan cheese

The Magic Bullet blender
* Jackie Tip – Make sure you have good olive oil and balsamic vinegar.  If you live local, your best source for these ingredients is Gabby's Olive Branch (Jackie was out).
Personally, I'd buy croutons, but Jackie makes them!  She cut up an old, dry loaf of French bread into cubes.  She sprinkled the cubed bread with butter, garlic powder and onion powder and then toasted the croutons at 400 degrees, for five minutes each side.
Personal note here – when I use romaine lettuce, I chop off the base and any browned edges.  I thought it was interesting that Jackie discarded the whole stock of the outside leaves (see picture).  I asked her why and she noted that the stock is bitter.  However, the further inside the head, she starts to use the full leaf, because it's not as bitter.  Huh, who knew?
Combine all the above ingredients, with the exception of the parmesan and the croutons, in the blender's mixer.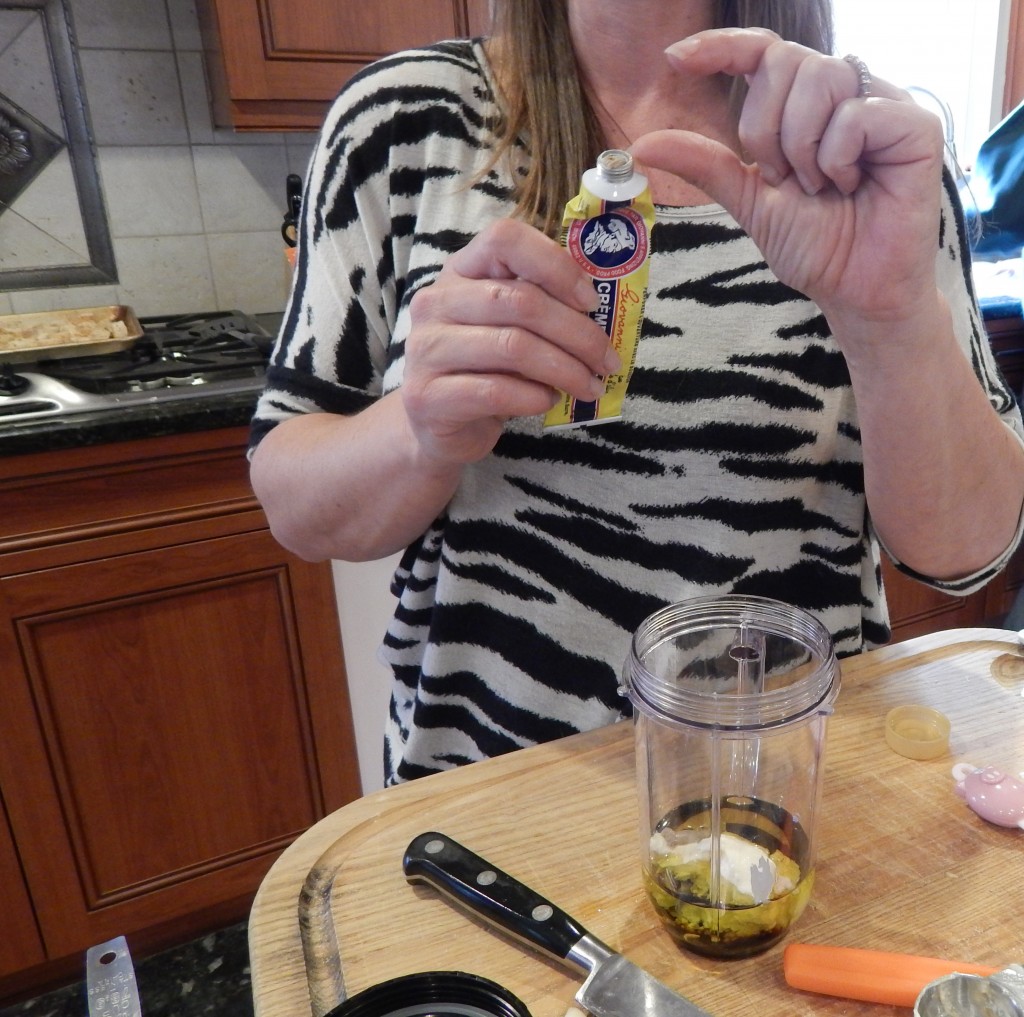 Just an inch!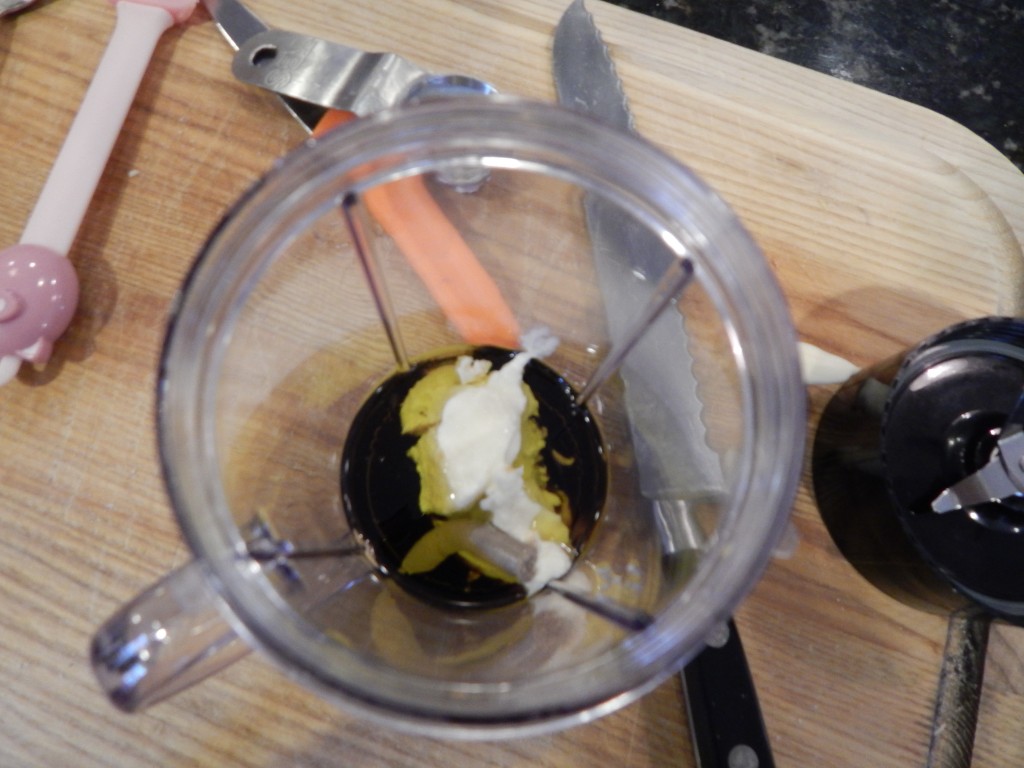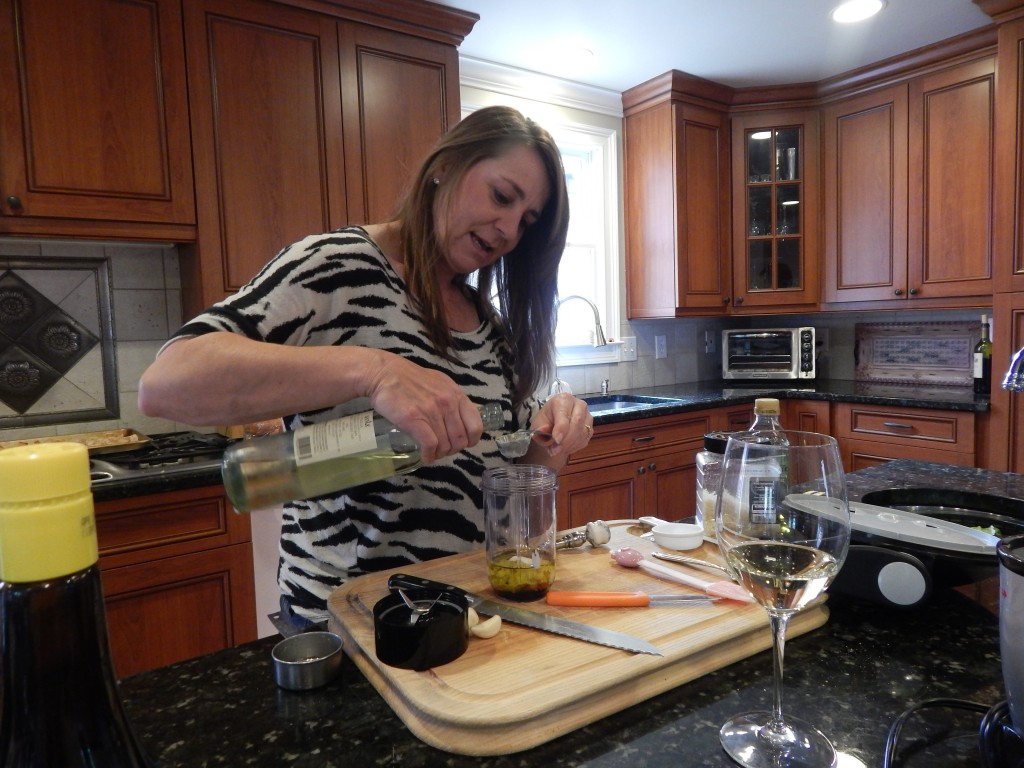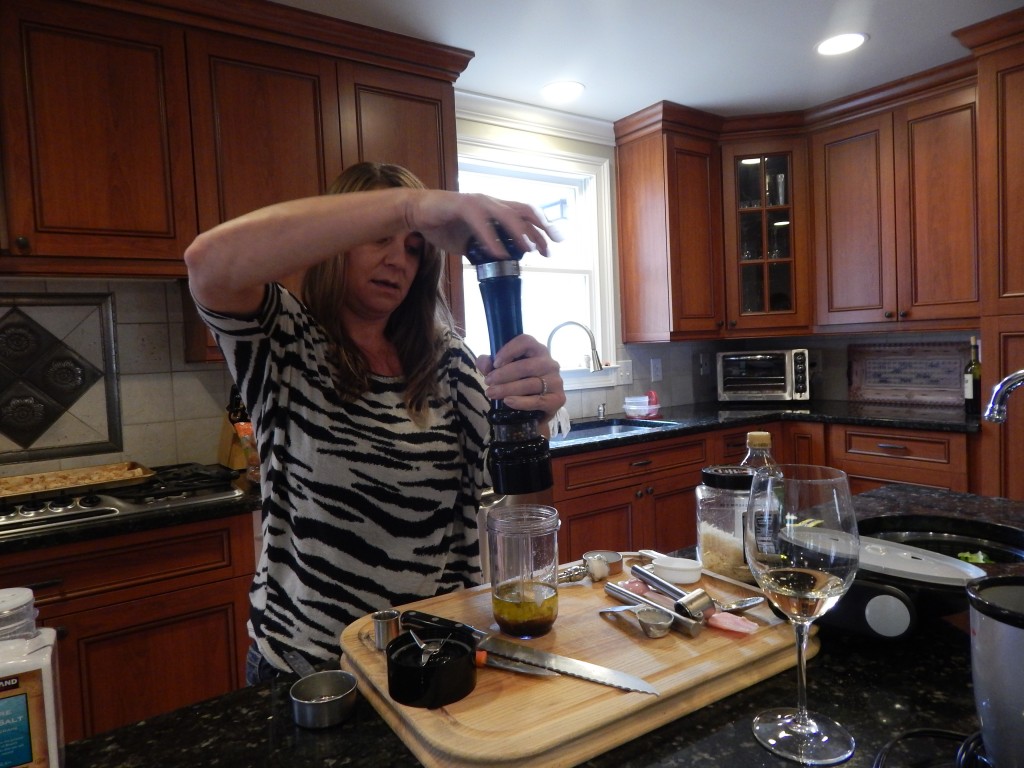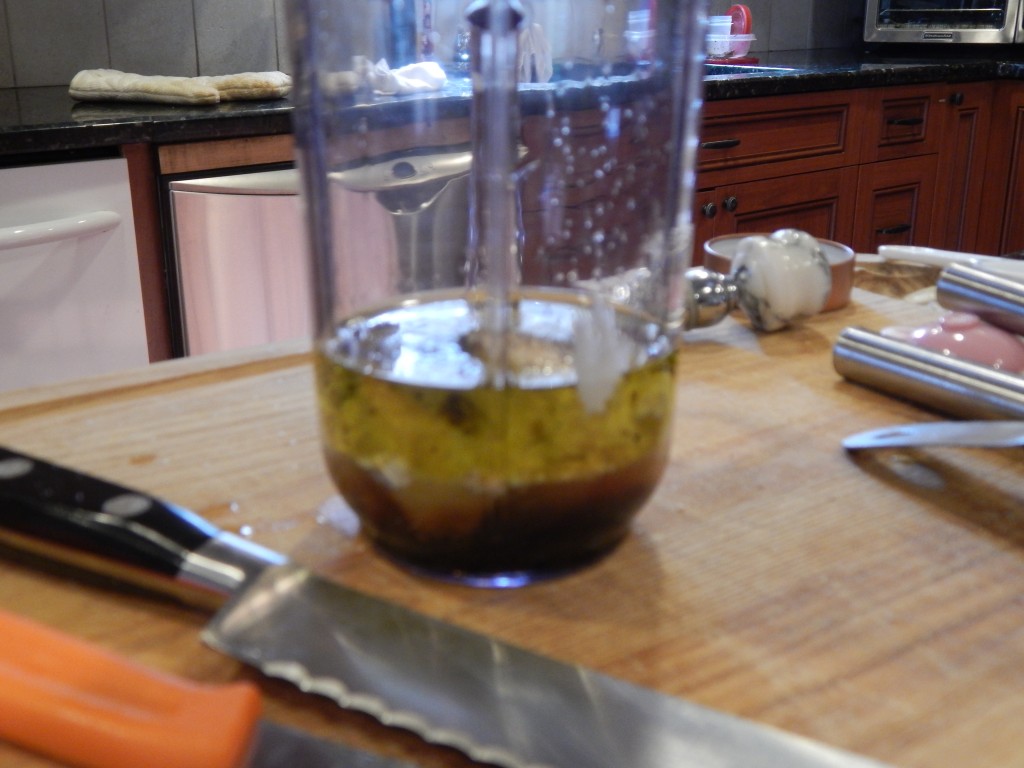 Finished product before blending.
Blend for approximately 30 seconds, until it looks like dressing.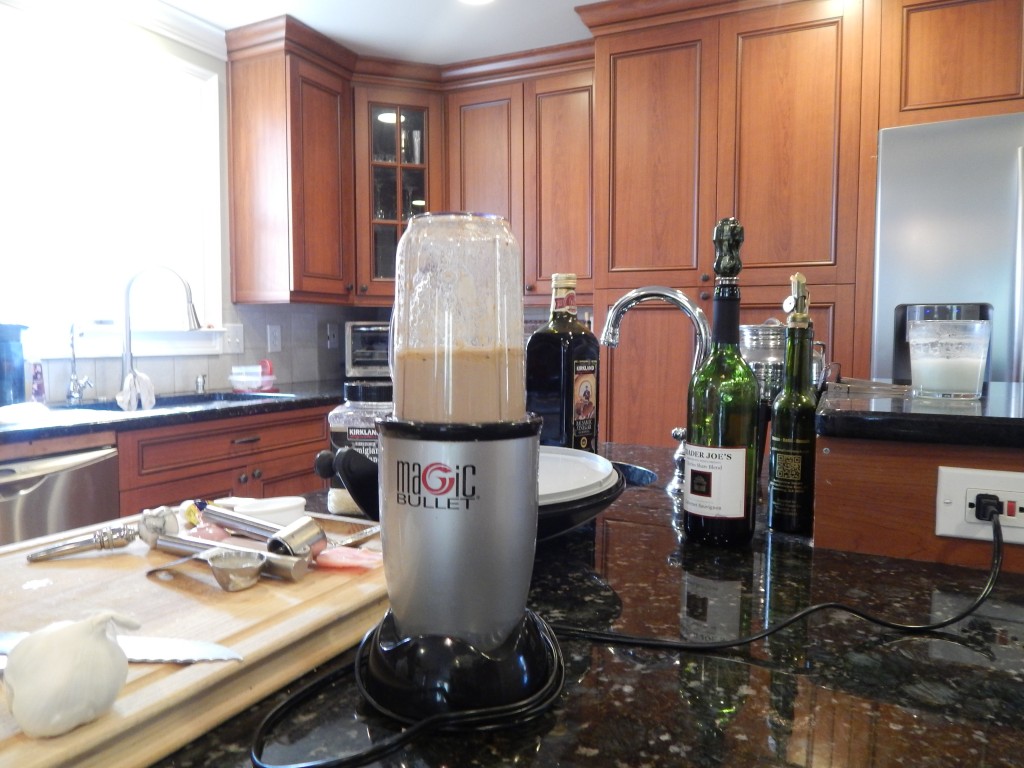 Toss the lettuce, cheese, croutons and dressing.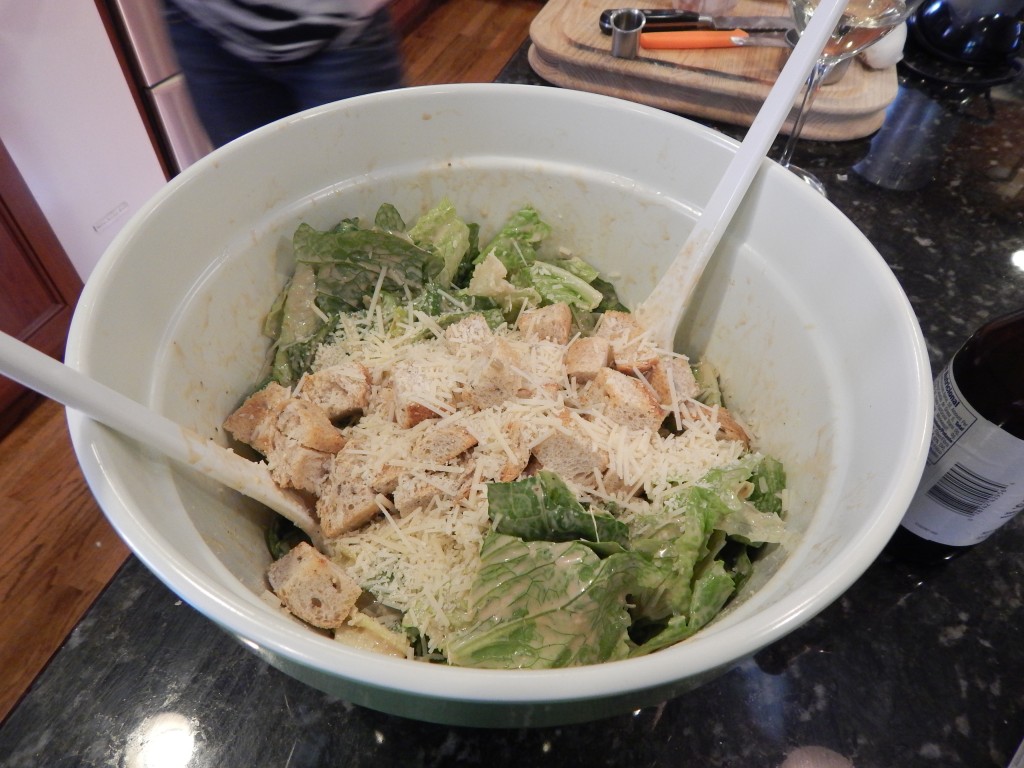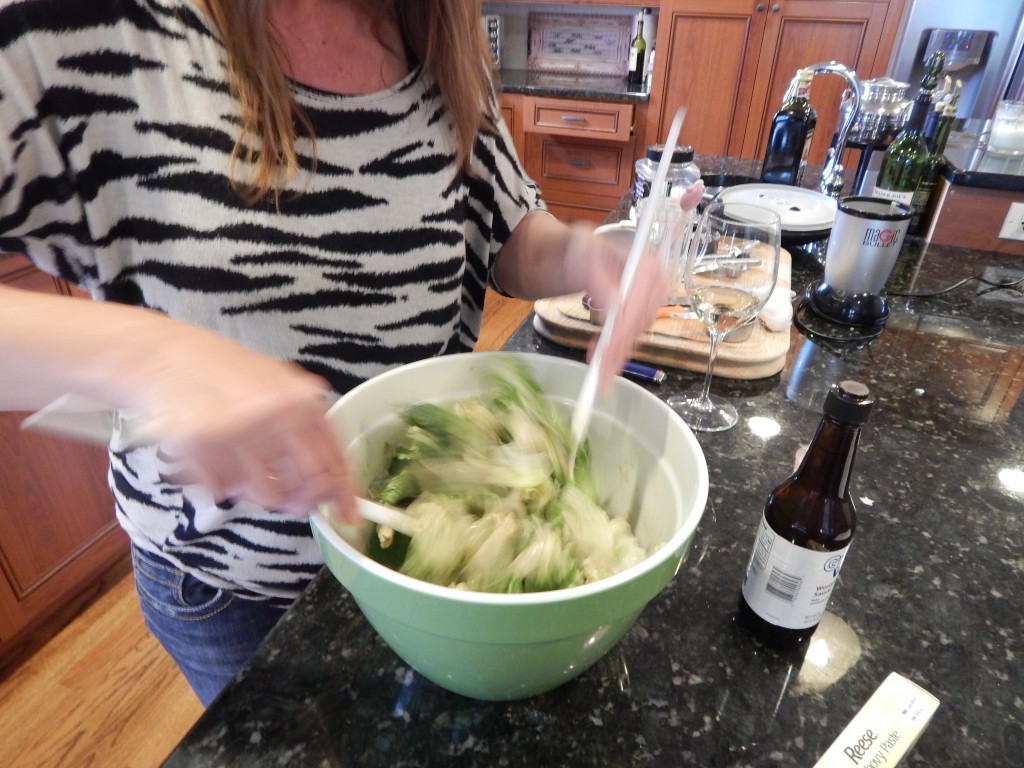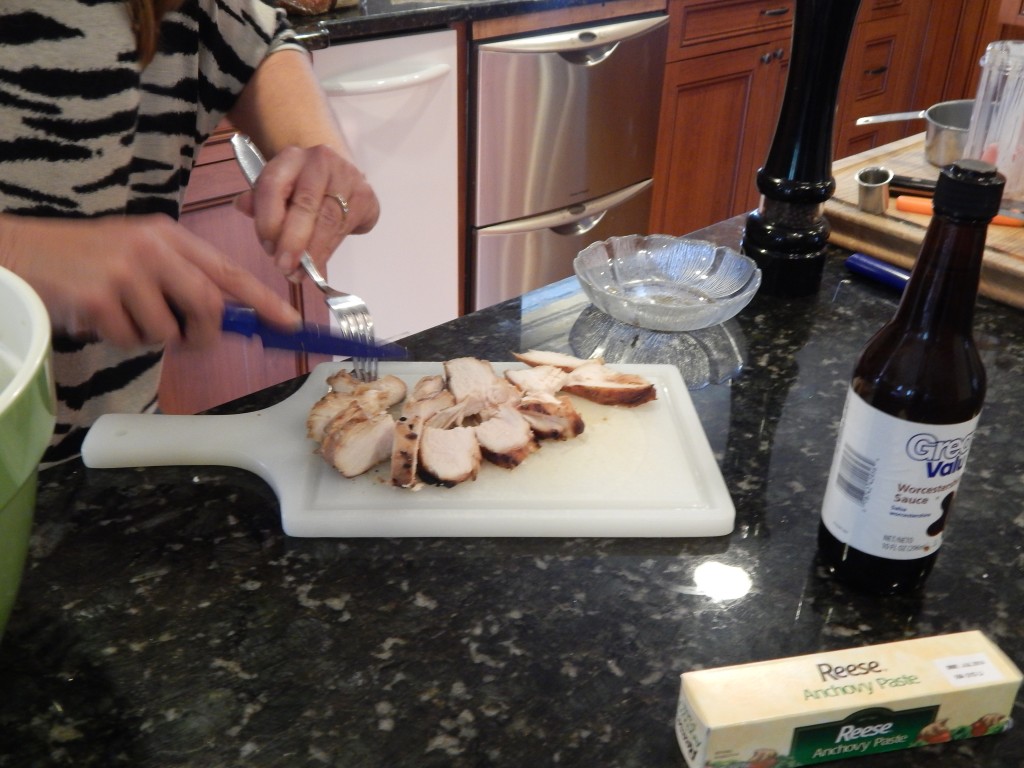 Jackie added chicken to her salad, I passed.
Doesn't it look fantastic?  I can assure you it was!  Bon appetit!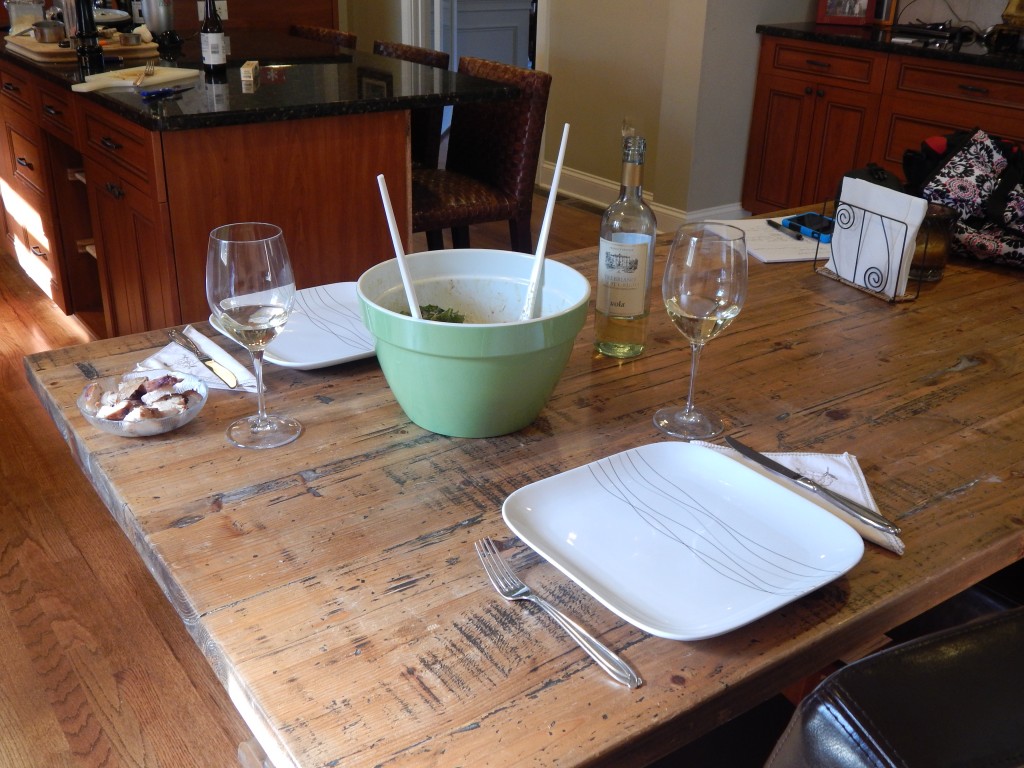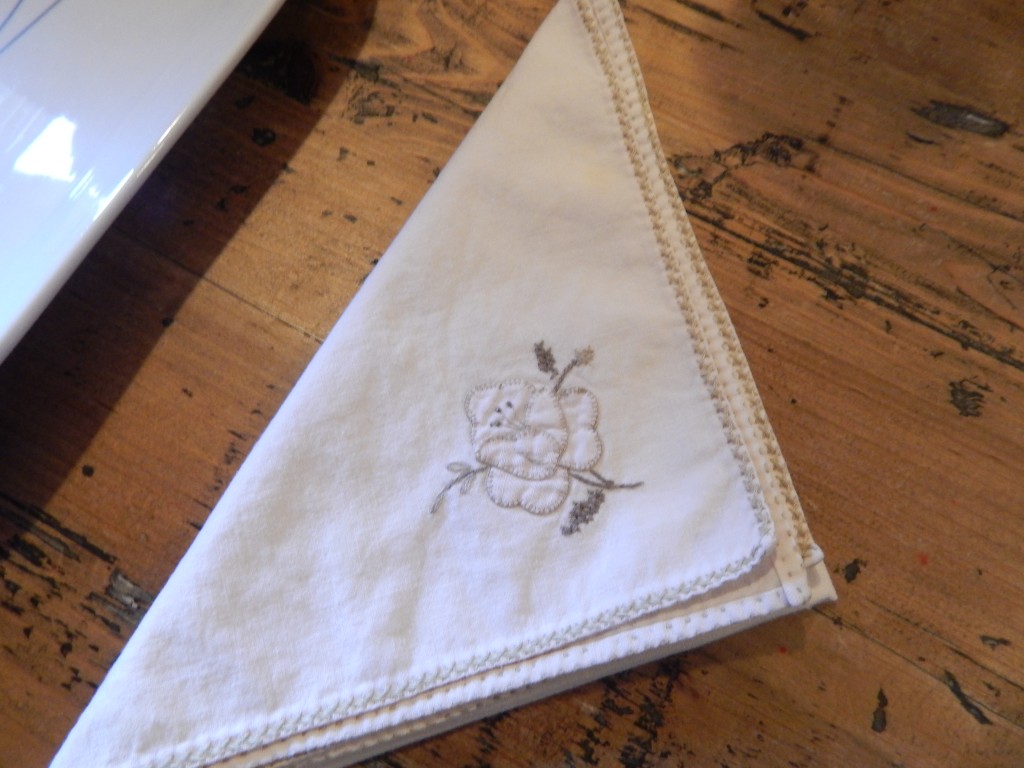 This has nothing to do with the recipe, but I love the napkin.  Isn't it pretty?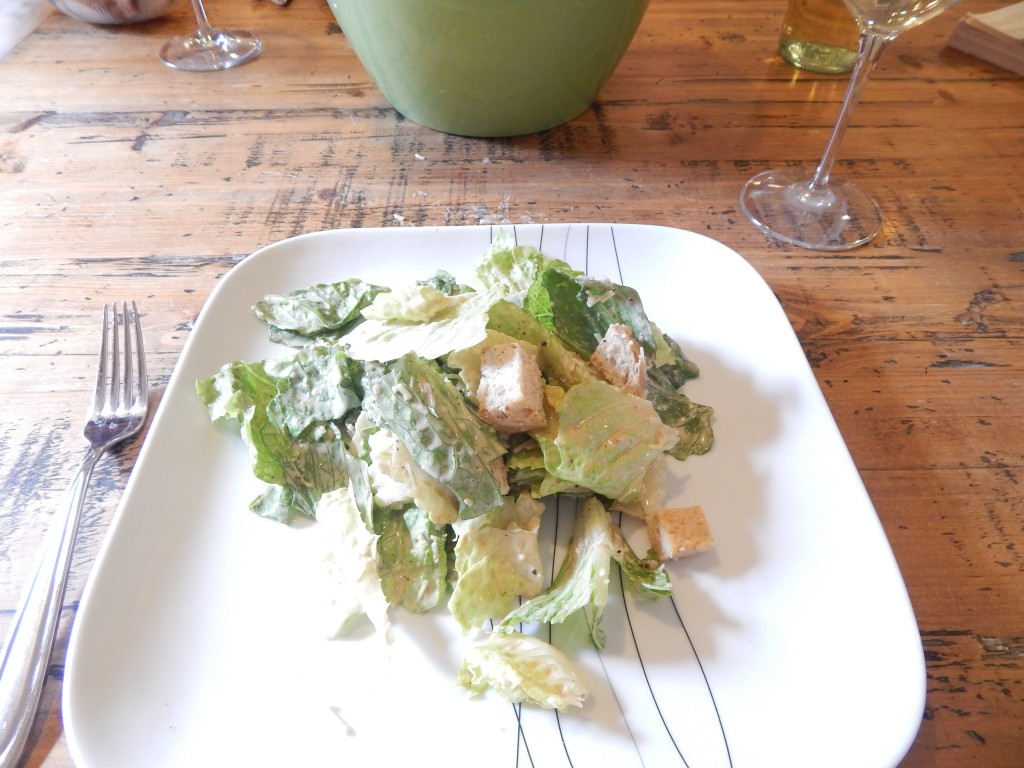 Oh yeah!
Do you like to cook?  Do you have friends who rock the kitchen?  Does it make you feel not worthy, or more inspired in the kitchen?  Have you even come up with an entirely original recipe on you own?  If you make this, please come back and share what you thought!