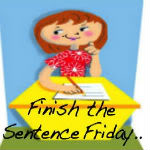 Sounds really positive, doesn't it? Let me explain.  This piece is the result of a writing prompt from "Finish the Sentence Friday." I debated about it all week – this is my first time linking in with these bloggers and I didn't want to make a bad first impression by going on about something I'm not interested in or risk offending someone whose interests differ from mine. I bounced a few ideas off of a friend, who quickly batted them down on the basis of potential offense to someone else. I told my husband that I couldn't think of anything I wasn't interested in that was blog-worthy and not offensive. He replied, "You have no interest in a lot things!"  Oh, really? Well, now I'm not interested in his opinion!
In the end, I decided that there may be some truth in his statement, because telling you about what I'm not interested in may help paint a picture of what I am interested in.
I have absolutely no interest in:
Driving a mini-van. Yes, I am the Road Warrior Momma of four, but something about minivans trigger insecurity in me that I'm no longer cool (and maybe never was?).
Brad Pitt and Angelina Jolie. After years of disturbing anger, on behalf of my girl Jen Anniston, I've now reached a pleasant state of indifference. I could care less and honestly, they bore me to tears.
Camping or fishing. Never have, never will.
"Professional Wrestling. " One of my sons is obsessed and it makes me insane when he talks to me about it.
Ditto for Sponge Bob and Ninjago.
Science Fiction (Star Wars/Han Solo being the exception), Fantasy, Vampires or Horror movies.
The Real Housewives of anywhere.
Watching NBA Basketball, unless the Boston Celtics are in the finals.
Facebook rants and fights.
Taking a cruise. This particular disinterest in new, brought on by recent events in the cruise industry.
People who say, "I hate to read."
People who discriminate, bully or who are judgmental.
Doing crafts.
Being a room mom. Been there, done that, exhausting.
Letting the grass grow under my feel.
People who think they know it all.
What does interest me?
My husband.
My children.
Hearing the life stories of my friends (real life and my blogging world).
Family History.
American History.
Books! Especially Woman's Fiction, Chick Lit, Health & Fitness, Memoirs and Biographies.
Exploring different treatments for autism and hearing success stories.
Mad Men and The Good Wife.
The curriculum at my children's school.
Art galleries, presidential museums and natural wonders.
The writing process of authors I admire.
Presidential political campaigns.
Interior design and fashion.
Jacqueline Kennedy Onassis
Learning, meeting new people and exploring new places.
What do you have no interest in? What do you find interesting?
This has been a Finish the Sentence Friday post. Today's sentence was "I have absolutely no interest in…" and was brought to you by Kristin at Finding Nimee: Stephanie at Mommy For Real; Kate at Can I Get Another Bottle of Whine?; and Janine at Confessions of a Mommyaholic.