Hello, hello hello!
I've been on a serious Gilmore Girls binge. Like, it has truly messed with my life. A hitting-rock-bottom type binge. More on that to come. I have been working – a lot , and I have some decisions to make – more on that to come. I've been very busy with cross country – very busy – and more on that to come.
I miss you. I miss this place.
I was reading some of the essays for Finish the Sentence Friday this week and realized I wrote something for a class a few years ago that would be perfect. So I'm going to link up – LAST minute. And I also wanted the chance to say, "Hi!"
Also, I have a winner to announce. Caryn! You won the book, The Velvet Hours, from the last Books of My Life post. Please email me your address.
Now the link-up. This essay was an assignment from a class I took a few years ago on memoir. We were asked to write for ten minutes about where we call home. Ready set go, this was the result…
♦
Where do we come from? Where do we call home? In the literal sense, I think of home as where I live – a dwelling surrounded by four walls, which I decorated with love, and which protects the people whom I love most in this world.  Home should evoke a sense of peace, exhale a breath.  There should be familiar smells, laughter, and many comfortable places to rest.  It should be the place you run to when you're happy, and when you're sad.  You should miss home when you're gone.  For me, my home is all of this and more.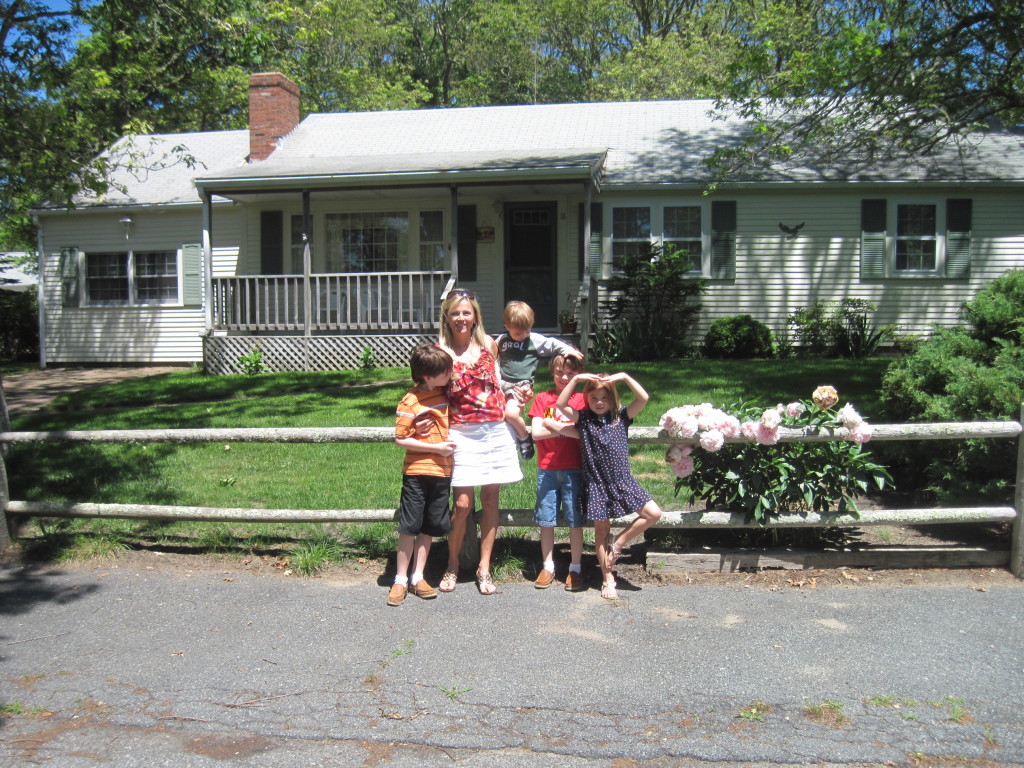 Me, with the kids in front of my childhood home on the Cape.
Home also makes me think of where I was born – on Cape Cod.  I haven't lived there in over thirty years and have very few ties left, but something pulls me back.  Whenever I cross that bridge over the Cape Cod Canal and ingest the salt air, a feeling rolls over me. It's a physical reaction.  I am home.  I bring my kids and husband back as often as I can, because I feel as though I'm a different person when I'm there.  Younger, reflective, slower, more hopeful.  My time on the Cape was one of the happiest periods of my life.  Crisp clean air, rough oceans, jetties, sand dunes, leaves, salt box houses, villages, lobsters, fried clams.  I cry when I leave.
I have another home.  Naples Florida is where I spent most of my formative years.  I have friends there, old friends, which are the best kind.  It's the last place my original family was a family.  Mom.  Dad.  Edmund.  It makes me sad, honestly.  It's hard to go back, yet I do.  I went to high school there, and some college.  It's where I learned to drive, play tennis, drink coffee.  The place of firsts:  job, car, best friend, apartment, boyfriend, love, heartbreak.  It's a place of loss.  My mother and father died there.  They are buried there, and so is my brother.  It's the place where I lost my innocence.  But my, oh my, it sure does showcase some beautiful sunsets.