"Being a hero is about the shortest-lived profession on earth." – Will Rogers
"We are all the hero of our own story." – Mary McCarthy, author.
Who is your hero?  It sounds like a simple question, but for me it's not.   The dictionary defines a hero as, "a man of distinguished courage or ability, admired for brave deeds and noble qualities."  I find the definition, although accurate, hard l to live up to.   I think we can all agree that our military is full of heroes, but we also have personal heroes.  What makes someone a hero to each of us is subjective and a one-size-fits-all definition doesn't apply.  Over the years I've considered many people I've admired to be my hero, but they never seem to maintain their elite status in my eyes (like the Rogers quote above).  My own values and experiences have changed the qualities I consider necessary to have such a label.   For instance, as a child my two heroes were Chrissy Everett and Farrah Fawcett.  Chris I can explain (until years later when a family member had a rude experience with the tennis player), Farrah not so much.  Today most of my heroes usually work in the classroom or in autism centers.  I also experience a bit of hero worship towards some of my favorite authors.  
Last week my daughter mentioned that she had to write about her hero for school.  "How nice," I said.  "Who's your hero?"  She replied, "I don't know."   I just laughed and commented that if that was the case, she was going to have a tough time writing.
My little girl is not so little anymore, she's now nine and growing up too fast.  I always wanted a daughter and when the doctor announced "It's a girl," I wept tears of joy.   My pregnancy with Aud was easy and she arrived blissfully drama free.  Her older brothers were very premature and I didn't see them for two days after they were born and couldn't bring them home for seven weeks.  So when they handed me Audrey right after she was born, all I thought was, "She's mine, all mine!"  She only left me once while I was in the hospital.   By the third day I was exhausted, and the nurse pleaded with me to get some rest before I went home.  I reluctantly gave my baby up to the nursery, so I could sleep for a little while.  An hour later the nurse came back with Audrey and said, "I don't' think she cared for the other babies very much."  For the first year, we were inseparable! 
Eventually Audrey, not me, cut the apron ties.  My little girl is fiercely independent, headstrong and brilliant.  I know, I know – sounds like a mother talking.   I'm very proud of her, but sometimes she seems to forget, I'm the mother.  It's often a battle of wills between us, which scares me given that the teen years are looming.  It seems like whenever she asks my opinion about anything, she'll go with the opposite of what I said.  I also find myself reining her in, because she can get ahead of herself.  Listening isn't her strong suit.  I need to frequently remind her about manners, respect, and keeping her volume down.  It's important to note that she's also daddy's girl, which honestly doesn't bother me, because I so wish I'd had a closer relationship with my dad.  Also, intellectually, they're more in sync.
Last Friday, I found something in her backpack that took my breath away.  At the risk of being perceived as a bragger, I've decided to share it with you.  I don't often look for validation as a mother, because I have mixed opinions about nature verses nurture.  Given my own parental history, I believe there's a real "rolling of the dice" factor that can play into how a person ends up as an adult.  But this could all be an elaborate psychological hoax that my subconscious has conjured up, to mask the great uncertainty I have regarding my mothering skills.  Either way, what I found made me cry and consider that maybe, just maybe, I might be doing something right. 
Okay, enough with the preamble – this was Audrey's Hero assignment: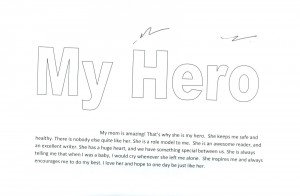 My mom is amazing!  That's why she is my hero.  She keeps me safe and healthy.  There is nobody else quite like her.  She is a role model to me.  She is an awesome reader, and an excellent writer.  She has a huge heart, and we have something special between us.  She is always telling me that when I was a baby, I would cry whenever she left me alone.  She inspires me and always encourages me to do my best.  I love her and hope one day to be just like her.
Did I mention that I cried?  I cry every time I read it.  I've never been called someone's hero before and I'm both humbled and honored.   I'm shocked because sometimes I'm not even sure she likes me.  I'd be disingenuous if I didn't mention that I was a little suspicious of the timing – after all, I'm the one who shops for the Christmas presents!  I should also admit that after reading this on Friday, I was totally the cool mom over the weekend.  I baked, watched Christmas movies, listened to story after story and did lots of cuddling.  Just trying to live up to her image, knowing how fleeting it will probably be.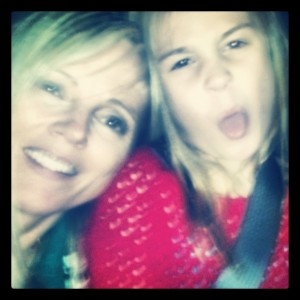 So this long segue brings me to gratitude.  I'm so grateful for my funny, crazy and smart daughter – for my whole family.  Grateful for my friends, especially those of you who have supported me for the past nine months by reading, liking and commenting on my blogs.  It really means a lot to me, as I try to make a go at this thing called blogging.  I'm still not certain where it'll lead me, but I'm grateful that I haven't been doing it alone.  Writing is an area where I do unfortunately seek validation.  By reading my posts, you give that to me. 
I have a huge gift package to give away, full of some of my favorite things!  All you have to do to win is comment below.  One entry per comment.  I'll also give you a bonus entry if you liked me on Facebook.  If you don't follow me on FB, please find me (you can go the LKM home page and click on the FB icon at the bottom of the page) and like the my page.  If you already do – thank you so much, bonus entry for the likes.  I'd also appreciate it if you could get one of your friends to like me on FB as well.  Just tell me who it is and I'll give you another entry.  I'll pick a winner on Friday night.  Once again, thank you for all the support.
Gift Package includes.
A plush blanket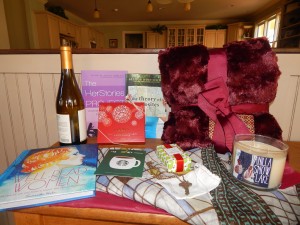 Wine (or gift card)
A gorgeous scarf
peppermint soap
A latchkey necklace
Vanilla Candle
Godiva chocolate
Starbucks gift card
3 books:  The Her Stories Project: Women Explore the Joy, Pain, and Power of Female Friendship, which is a collection of friendship essays, featuring some of my favorite bloggers (Nina Badzin, Lindsey Mead, & Allison Slater Tate);  The Theory of Opposites, by Allison Winn Scotch; and Well Read Women: A Portrait of Fiction's Most Beloved Heroines, by Samantha Hahn.  I'm working on getting some signature plates for the books, as well!
  Tell me about your hero.  What qualities do you look for in a hero?