I'm currently having a tough time getting back into blogging. This is probably because of my extended break over the summer (and my wish to still be sitting on the beach watching Florida sunsets!) and my own questions about blogging in general. I've been doing a lot of soul searching, in an effort to figure out where I want to go with The Latchkey Mom. I haven't come to any conclusions. I'm not quitting, but I am trying to decide where I'm going. Does that make since? If it doesn't – well then maybe you have a little glimpse into the turmoil I'm experiencing. I love writing, but I also have other wants and needs and I need to find a way for my blog to serve those wants and needs, rather than hinder them. I do have a couple of projects in the works and news to share – I promise. Just a few more days.
In the meantime, I thought I'd try a currently post and a FTSF link up, to try and get the blog juices going. I was afraid to post another road trip update (one more coming, though) and lose you all!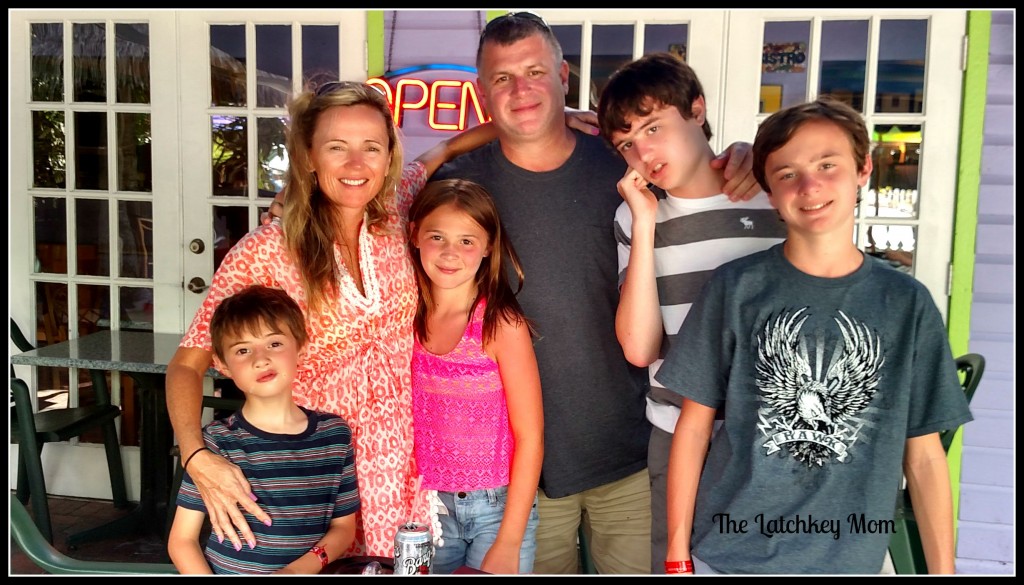 What else am I doing?
Reading. But y'all knew that, didn't you? I enjoyed some fantastic books this summer, both on paper and audio. Some of my faves were: The Royal We by Heather Cocks and Jessica Morgan, The Nightingale by Kristin Hannah, Eight Hundred Grapes by Laura Dave, The Precious Ones by Marisa de los Santos, Happily Ali After: And Other Fairy True Tales by Ali Wentworth, Tiny Little Things by Beatriz Williams, and The Knock Off by Lucy Sykes and Jo Piazza. With the exception of The Nightingale, all were easy reads (some more than others) and fun and just what the doctor ordered after a bevy of tough reads this past spring.
Watching. I haven't been watching much television this summer. Since we've been back, I've been catching up on our Tivo-ed episodes of Halt and Catch Fire and The Astronaut's Wives Club. Once we're caught up, it'll be on to season three of Orange is the New Black. I've only seen TWO movies this summer – Minions and Ant-Man. I wasn't excited about Ant-Man, but it was a family affair and I had to go. Guess what? I LOVED it!
Eating healthy. After the road trip I wasn't feeling very good. I'll spare you all the details, but I went to see a couple of different doctors and had a bunch of tests done and lots of blood drawn. The good news is that I'm healthy, but we've found no real explanation for my lack of energy – except perhaps, age. I started the Whole 30 program in an attempt to jump start things and only lasted fourteen days. While on the program my food allergy panel came back – and it turns out I'm allergic to eggs. I was eating a lot of eggs during that fourteen days, so I wasn't experiencing any of the energy benefits I was expecting. I'm also allergic to wheat and corn – and so I'm now off to an Allergist to relearn how to eat. I'm currently wheat, corn, and egg free and starting to see some benefits. I've also eliminated dairy and sugar – except for the flavored creamer in my coffee. I just couldn't do black coffee anymore. I've kind of tweaked the program to my liking, and allowing myself weekend cocktails.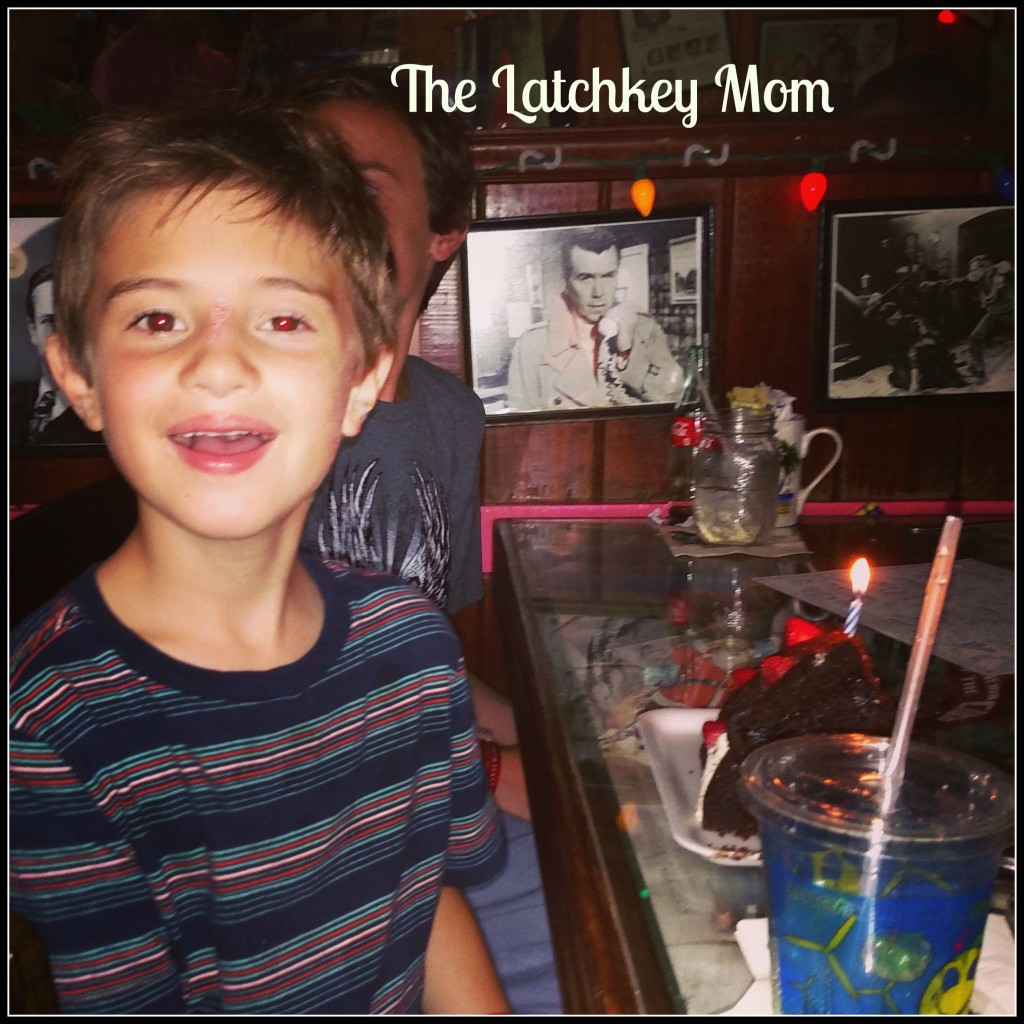 Poor Cammy – we always seem to be away from home when his birthday rolls around. Summer birthdays suck for the little ones.
Planning. I've got two events I'm planning. I've already started on next year's road trip, because I want to a) start paying for it in advance and b) I want the jump on good hotels (if you recall we weren't able to get into any of the Yellowstone hotels on our trip). The other event is my daughter's birthday. She's in fifth grade this year and I'm hoping it'll be the last big childhood party I'll have to host for her. That sounds terrible, doesn't it? It just gets to be so expensive, and the gifts she's asking for are no longer plastic toys that cost $20 a pop. When I think of birthdays, I think of family, friends, cake, and wishes. I don't remember ever having a bad birthday when I was a child, yet not one stands out as EPIC. They were simple and happy. These days it always has to be a big deal and I've been doing this too many years to get excited. I remember the planning of Barrett and Hunter's first birthday was more fun than planning my wedding. And yet, I have to remember for her, it is a big deal. But I'm not having the party at our house! I once prided myself on being the party hostess of the mostess (and not for crafts – but for food, drink, music, and company), but the last few years I've felt more like the Mary Richards of party throwing. With the exception of one, every party I've thrown in the last two years has had some drama – kids and/or adults. Not doing it anymore.
Hunter's first day of high school. He had to be at cross country practice at 6a.m., and then shower at school. #awholenewworld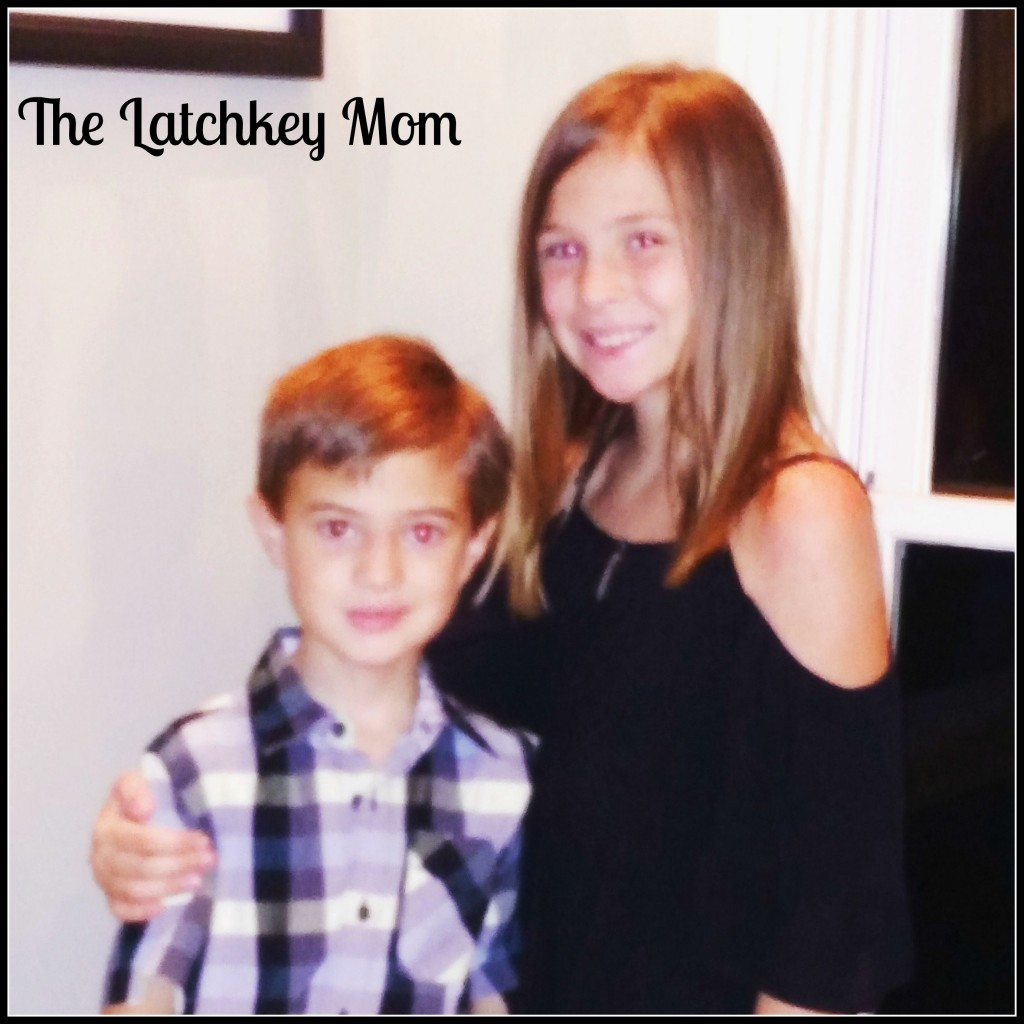 The elementary school round. Cammy, 2nd grade; Aud, 5th grade.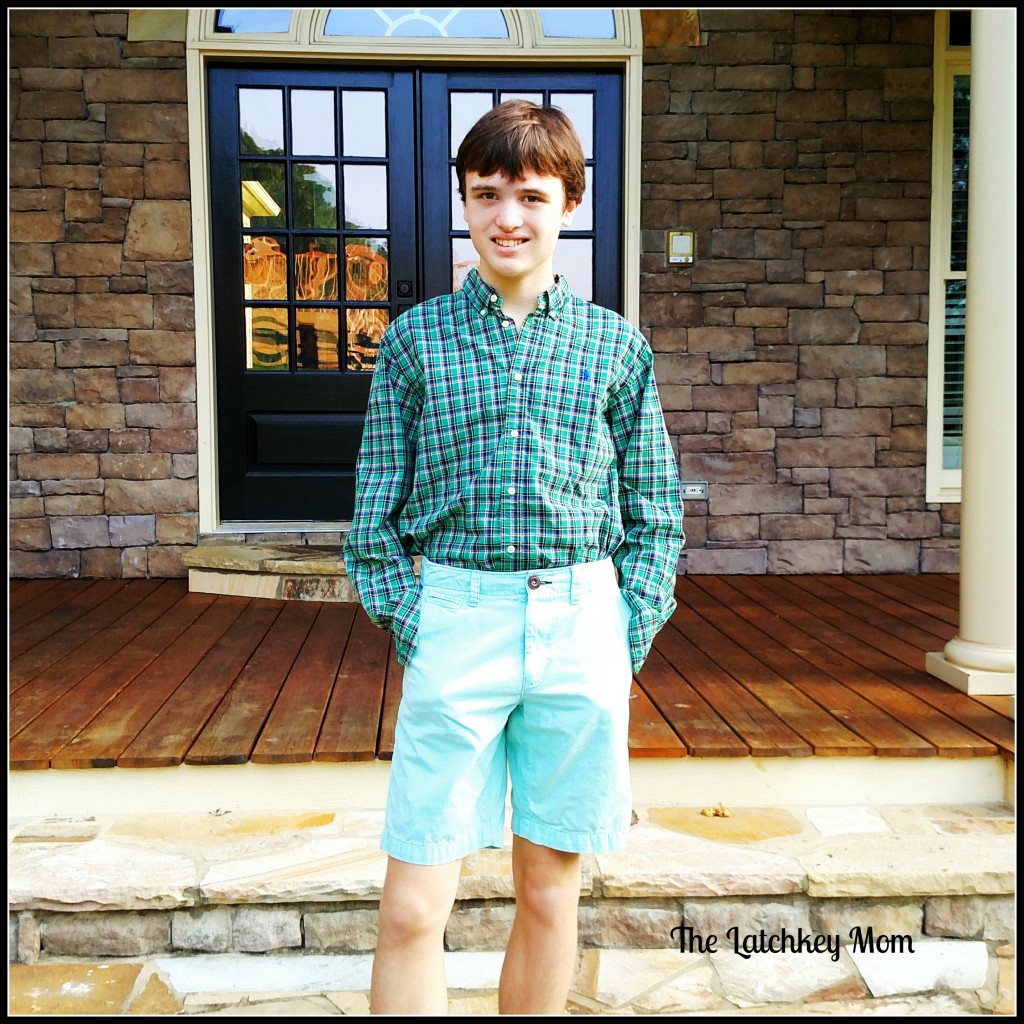 Barrett, 7th grade.
Hoping my children have a great school year. I just got some good news about Barrett. He's being moved up – he'll be joining another class once a day for a reading segment. His teacher has also started some long-term planning for Barrett's high school years and she's given me a lot of hope. I'm hoping this will be Cammy's year. He's matured a lot over the summer, and I'm managed to do enough summer work with him that I'm confident he can do well – as long as he pays attention in class!
Enjoying my child free hours. Basically, I spent every single hour of this summer with my children, most of it in the car. I got nothing done. I'm really relishing the solid six hours I have, five days a week, without them.
Stressing about extracurricular activities. Speech, OT and track (in the spring) for Bear. Three dance classes, chorus, and faith formation for Audrey. Cross country/track and confirmation classes for Hunter. Karate, swimming, and First Communion class for Cammy. Days of the week when I don't have to drive someone somewhere – Zero. It's going to be a long year, not to mention the cha-ching of it all.
Wishing. Wishing I had more energy. Wishing time would slow down. Wishing I had a clearer vision for my future. Wishing I could resolve certain conflicts. Wishing I could relax and let go.
Thinking about high school. Hunter started high school last week and I'm in a funny place. I remember so much about starting high school, the nostalgia has been overwhelming. And the reality that I have a child who's in high school and only four years away from leaving me is hard to fathom. I'm excited and sad. And scared. I grew up fast in high school and I have sheltered this child. Will he be okay? Will he stay out of trouble? Will he do the work? Will he understand that from here on out, it all counts?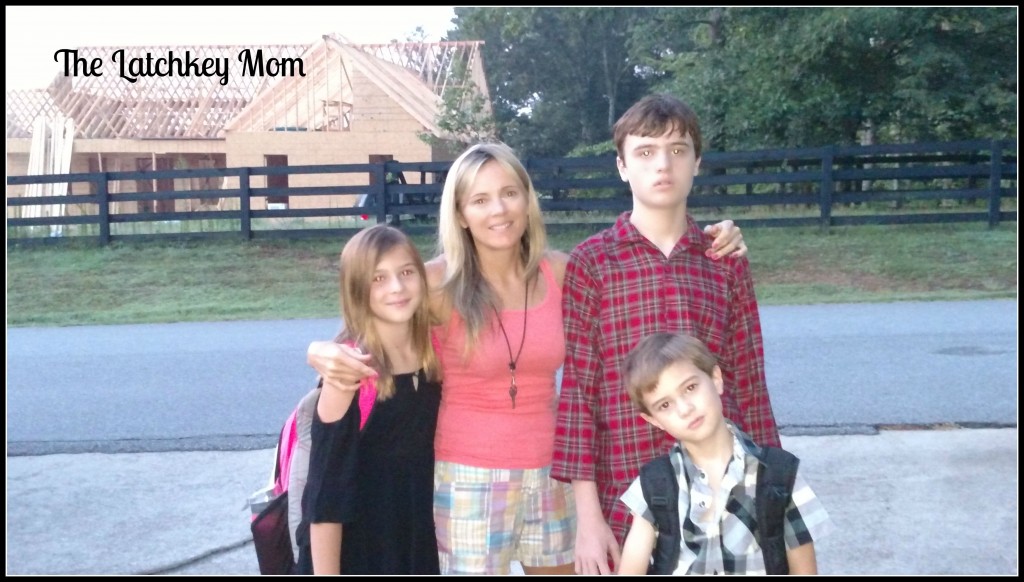 One day soon, It'll be just the three of them on the first day of school.
Feeling discombobulated. My emotions are all over the place. I had some family stuff going on this summer that made me extremely anxious and sad. I was thrilled by all that we got to see and do on our travels, ready to come home, but sad that it was over. I was scared about my health, but relived to be okay. I'm excited about the start of the new school year, but worried about the kids. I'm dreading the running around, but grateful for some time alone. I'm super excited about a new opportunity, but worried about my lack of writing inspiration. I'm worried about money for our next adventure, and yet grateful that I don't have any needs that are unmet. I miss my friends, but find myself in a place where I really want to be alone. I have so much I want and need to do, but I'm mired in thoughts and memories and dilemmas that are both real and imagined.
Enough about me. What have you currently been doing? I've totally over-shared, so please make me feel better and leave a comment about what you're reading, feeling, hoping, stressing and/or thinking about!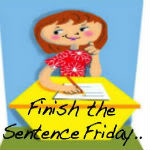 This post is also part of the Finish the Sentence Friday link-up. This week's prompt is "When I think of birthdays…" Our hosts this week are Kristi of Finding Ninee, Stacey of This Momma's Rambling and Mimi of Mimi Time.