Today is the first publication day in May, which means "beach read season" has officially begun. Each year I get my fun reading kicked off with one of my favorite authors, Mary Kay Andrews. Her latest novel is titled Sunset Beach and it's a good one! I read it at the perfect time, because I definitely needed some escapism.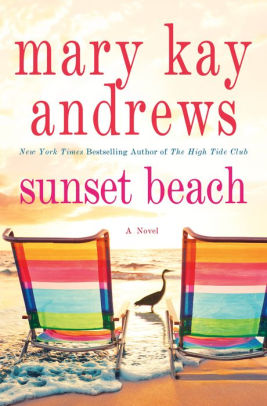 Drue Campbell's life is adrift. Out of a job and down on her luck, life doesn't seem to be getting any better when her estranged father, Brice Campbell, a flamboyant personal injury attorney, shows up at her mother's funeral after a twenty-year absence. Worse, he's remarried – to Drue's eighth grade frenemy, Wendy, now his office manager. And they're offering her a job.
It seems like the job from hell, but the offer is sweetened by the news of her inheritance – her grandparents' beach bungalow in the sleepy town of Sunset Beach, a charming but storm-damaged eyesore now surrounded by waterfront McMansions.
With no other prospects, Drue begrudgingly joins the firm, spending her days screening out the grifters whose phone calls flood the law office. Working with Wendy is no picnic either. But when a suspicious death at an exclusive beach resort nearby exposes possible corruption at her father's firm, she goes from unwilling cubicle rat to unwitting investigator, and is drawn into a case that may – or may not – involve her father. With an office romance building, a decades-old missing persons case re-opened, and a cottage in rehab, one thing is for sure at Sunset Beach: there's a storm on the horizon.
Drue is a likable character who has had a long string of bad luck. She's feisty and resourceful. I loved the character of Brice, Drue's ambulance-chasing father. If you live in Atlanta, all I could picture was the lawyer from the commercials, "One call, that's all." I don't want to mention his name, because well, you know. Brice isn't really a bad guy – and he desperately wants to reconnect with Drue, who thwarts his efforts at every turn.
I believe I've mentioned before how impressed I am by the author's ability to create original stories year after year. She really doesn't follow a formula. This book was not what I expected, it's much more of a mystery than chick lit or romance. In fact, I would say there's not a romantic element to this story. Sex? Check! Falling in love? Not so much. Also, the mystery is kind of dark, and most definitely sad. I know in the past when there's a victim in Andrews' stories, the reader doesn't feel too bad for the deceased, because they're usually someone who had it coming (that sounds terrible, but you know what I mean).
The story is fast paced and full of surprises. I was certain I knew who the murderer was, but I was wrong. There was a Fixer-Upper element to the story (Drue inherits her grandparent's beach cottage, which has seen brighter days) that I enjoyed. I will say that I missed all the culinary and fashion descriptions that the author usually includes in her book. However, the details involving the investigations and inner workings of a law firm more than make up for it. I also feel like although the book was wrapped up, there's more to Drue's story. I'm guessing this could possibly be the beginning of a series.
I highly recommend Sunset Beach for your summer beach bag. You'll enjoy it!