I met Meredith through the magical world of the internet. We have a mutual friend, Melissa Amster, who connected us after one of my first Autism Posts for this blog. She has been a big supporter ever since. Meredith has a sweet daughter who's the same age as Bear, so we've often shared war stories. When she saw my Call for Autism Angels, she took the opportunity to write me about the angels in her life. Her letter is beautiful –  and filled with love and gratitude. I love reading about the extraordinary people who make the world of special needs a better place.
♦
Dear Allison,
When you called for submissions of "Autism Angels," I'll admit that this year I felt unusually unprepared. While we are by no means at the end of our autism journey, we are far from the beginning. In the beginning, we needed and received the kindness of SO many angels that I could have rambled on endlessly about them. Images of these folks helping us still flash through my mind. I have to catch my breath when I think back and really absorb the kindness we have received — when I think about all the unsung heroes who go about quietly "doing good" in this world. 
But we are in a different place now. Let me explain.
Our daughter is what you might call severely autistic. Even though she is 14, she is minimally verbal and still needs help with daily tasks big and small. But this year, what feels like a miracle happened. This daughter, who everyone assumed had a very low I.Q. and was unable to understand even the most basic of conversations, started a new program called RPM (developed by our newest Angel Soma) which helped her learn to use a letterboard. And using this letterboard, we found out she can independently create words. And do academics. Age level academics (she just started algebra). And she can express her thoughts. And though she is still getting fluent on the letter board, she likes to "speak" her mind.  She is so bright and funny. She tells us how she appears on the outside is not who she is on the inside. Every day I feel like we are in a dream.
I currently homeschool and our therapy appointments are down to a trickle; we don't have many folks helping us anymore. But I now realize our new stage in life actually makes it an even more important time to talk about Angels. The importance of all the Angels who have come our way.
We have had so many. They have had so many different labels. Doctors and therapists. Facilitators and aides. Teachers and shadows. They have had so many different names. Our "ladies": Ms. Blake, Ms. Anita, Ms. Sian, Ms. Meg, Ms. Roe, Ms. Patricia, Ms. Michelle… There was a most special mentor named Lynette. There were people who volunteered and people who were paid — but even those who were paid could never be truly compensated for what they gave: deep caring, never-ending patience, and a commitment that went beyond the call of duty.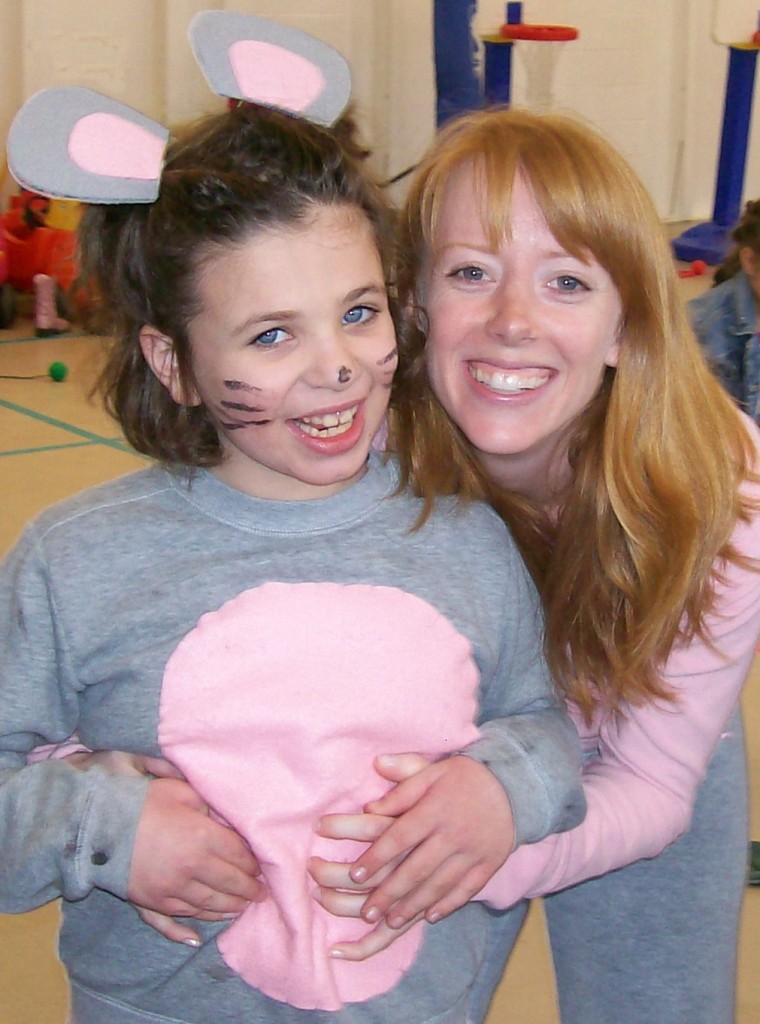 Dressing Up with our Angel "Ms. Blake" 2008
 And we can't forget our personal angels. Our own families who gave us all they could year after year after year. An uncle who built the floor for a home play therapy room; an aunt who endlessly supported, researched and problem-solved; a pediatrician cousin who made herself available day and night. Grandmas and grandpas who supported us emotionally, physically, financially — we cannot even describe what our own parents did for us. How can one ever properly thank such angels? And what about our daughter's three siblings? Who have never once complained. Her 12-year-old brother, her biggest champion, taking care of her since before he could walk — pushing her on her tricycle when he was still only crawling.
What about the angels we didn't know? The strangers at the mall or the grocery store who smiled while my daughter made strange noises, carried around weird objects or sniffed their hair. The people on the street going to work in the wee hours of the day while I pushed my way-too-big 6-year-old daughter in a stroller (lent to us by yet another Angel) as she screamed and cried each morning. People who NEVER ONCE looked at us or stared at us or said a bad word. Who lovingly ignored us thereby giving me the space I needed to make it yet another day. (Yes, sometimes the best angels are those who know when to just fly by!)
Then there were the angels in our community who rose up to help in our struggles. My husband's boss, an Angel who gathered donations in order to surprise us with a $1200 special needs stroller which would grow with our daughter. The unbelievable Angel of a school director who took my daughter in with open arms — when not one other school would even speak with us — because we so badly wanted to give her the chance to be integrated with "typical" peers. Only now are we fully grasping the importance of those school years and the vast knowledge our daughter gained because she was exposed to a real academic program.
The Angels. I know my husband and I witnessed all of this goodness. Many days, an angelic act was all that kept us going. But here is the thing. And this is the most important thing. I now know my daughter witnessed all of this goodness. For sure. I know she heard and she saw and she felt and she UNDERSTOOD all of this kindness. I know that it kept her going, too. I know that non-speaking kids with autism all over the world are feeling and knowing the love of their Angels; they are thankful for those who are good and kind and — most importantly — treat them with respect and dignity.
And so now I am even more thankful for the Angels. For every last one of them, each and every day.
On behalf of our family and all of the autism families out there, THANK YOU from the bottom of our hearts. You bring so much light into the world.
With never-ending appreciation,
Meredith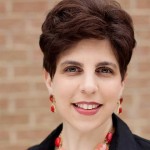 Meredith Altschuler lives with her husband and their four children in the DC area. Meredith received her M.S.W. in Clinical (Counseling) Social Work in 1993, but her greatest education has been her years as an autism mom. Over the last decade, she has coached local autism families in their homes and created a unique integrated class for autistic and neurotypical kids in an area private school. In her "spare" time, she now offers her coaching/support services everywhere (via phone or Skype) through her website WWW.AUTISMFIRSTRESPONSE.COM.