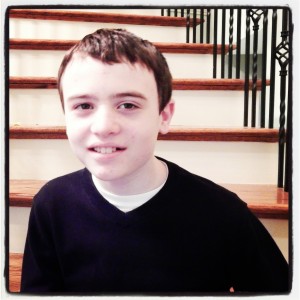 I realize that I vowed to not write about religion, and I assure you, this post isn't about religion.  Stay with me, because it's about autism, milestones, and my Barrett!
One of the benefits of belonging to our Catholic church is that there's a Saturday evening mass. I love this, because my weekend mornings are very precious.  We haven't been to church in a while, I won't bore you with the reasons, but my little man has to start getting ready for his First Communion.  That means we need to show up.  Believe it or not, we've never been to church together as a family.  Barrett has never been able to sit still or remain silent for that long.  Unfortunately this has meant that he's been absent from major family events (weddings, funerals and his sibling's First Communions).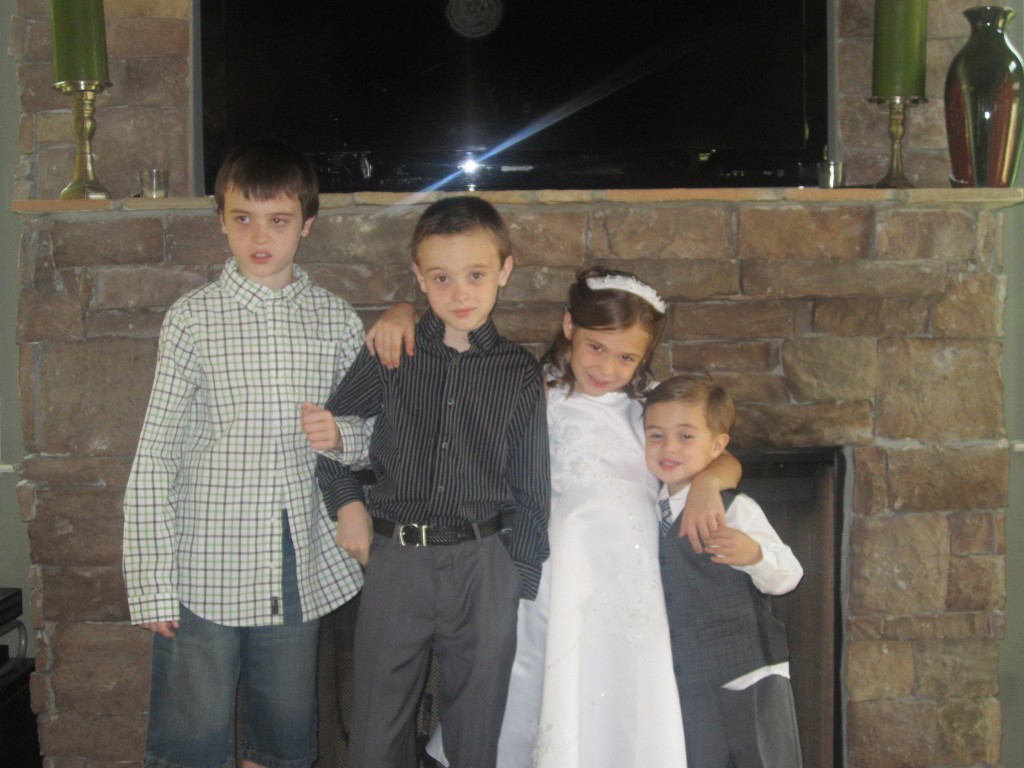 The kids AFTER Audrey's First Communion (which Bear didn't attend).
On Saturday, the weather reports were calling for rain and my husband was out with a friend for most of the afternoon. I decided to take the kids to a movie, and then to church.  What to do about Barrett?  I was taking the kids to a show that wasn't close to our house (next town over) and it wasn't feasible for me to drop Bear off at home before attending mass.  I considered a rendezvous exchange with dad, but it wasn't doable.  With no alternative, I decided to throw caution to the wind and give it a try.  For the past year, Bear's teachers have been taking him to various performances, both on and off campus, so technically he's been practicing – in a round-about way.
It's only been in the last year that I've been able to even take Bear to the movies. I still get butterflies in my stomach every time we go into a theater.  You just never know what might set him off, or make him want to leave immediately.  The movie we saw was Teenage Mutant Ninja Turtles. There were very few people in the audience and it was very loud, conditions that worked in our favor.  At one point, Bear burst into a fit of giggles that I suspect had nothing to do with the plot.  I gave him some popcorn, which managed to muffle him until his hysteria passed.
After the movie we headed to church, and I must admit I started to panic a little. I was taking a risk, especially given that he'd already sat through a movie for a couple of hours.  But I was committed to going.  Adding to my resolve was the fact that Hunter and Audrey were complaining about how they didn't want to go.  Now, I certainly wasn't going to give in to that.
We got to mass just before it started, so no aisle seats were available. Aisle seats are key to making a discreet exit, in the event we have any issues.  With that option off the table, I scanned the pews for the next best thing.  I zeroed in on two women who were seated in the second to last pew.  They didn't look too pleased to see my motley crew stop at their aisle.
"Excuse me, can we sit there?" I asked, as I pointed to the empty seats beside them.
They looked at me, but didn't answer, smile or stand up. They merely pulled their feet under the pew.  In their defense (for not standing), they were a few generations ahead of me.  We scooted in, and I tried to make sure Barrett didn't plow into them.  Aud and Hunter poutfully plunked down in their seats, Cammy joined them and I led Bear, holding his hand because he was excited and flapping.  Once we were seated, Audrey suggested that maybe we should sit in the children's room – a section of the church that is sequestered behind a glass enclosure with a door.
I thought about the potential fireworks with Bear and decided she was right. We scooted past our annoyed neighbors and entered the "crying room."
I'll spare you the play-by-play, but the crying room sucks. Believe it or not, in all my years of attending mass, I've never been sequestered in an environment like that (although I did spend one Christmas Eve in a vestibule).  It's very loud, with many distractions.  I couldn't wait for the mass to end! Not a good attitude to have.
Although my children's behavior was exemplary, compared to the other minors in the room, three out of four of them failed to meet my expectations. I was disappointed.  Next time, I may have to bring a ruler with me to rap some knuckles!  Can you guess who the best behaved Smithie was?  None other than my Bear Bear!  I was so proud of him.  Many thanks to all his teachers and therapists who helped him get to this point.  Halleluiah, indeed.
You know what this means? We can now go to church together as a family.  That's right dear hubby, time to get your big boy pants on!
All kidding aside, this is a huge milestone for Barrett. As we stood in line to receive communion, I had him cross his arms on his chest to receive a blessing and wondered about the possibility of having Bear prepare to receive his sacraments.  You never know, stranger things have happened.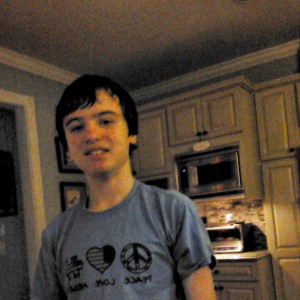 If you have a special needs child, do they attend church services? How do you deal with typical children who misbehave in church?