Barrett's First Track Meet!
Finally – we had our big day!  As I've been writing about for weeks, my son Barrett became a member of his school's track team.  After the first two events were rained out, he finally ran in his first track meet.  And it was awesome!
Little background.  At Barrett's last IEP meeting, his PE coach asked me if there was anything I'd like him to help Barrett with.  I offhandedly suggested having him run, so he could win the 50 yard dash at the Special Olympics this year.  His teacher, Bobbi Jo, heard this and, as is par for the course for this particular Autism Angel, had an idea – to put Barrett on the track team.  
Yesterday, she finally revealed to me that it was a little bit of an uphill battle.  There were a number of issues to consider.  Would Barrett run?  Would Barrett have a meltdown on the bus?  Would Barrett wander away from the team?  Would he get hurt?  Would he disrupt the momentum of a runner by fill-in-the-blank?  And many more, I'm sure.  But Hell hath no fury like Bobbi Jo when she sets her mind to something.  And bless her, I was blissfully unaware.  She just sent me a text one day telling me he needed to be at tryouts.
Full disclosure, I'm quite certain that Barrett didn't make the team based on those tryouts. Nonetheless, he made it.  Thank you Coach Quinlan!
Barrett attends practice each day after school (except for Tuesdays, when he goes to speech and OT).  His teachers, Bobbi Jo, Gina, and Beth rotate so that each of them is with him at practice.  School ends at 4:15 p.m., practice ends at 6:00 p.m.  These teachers are not paid to do it – they do this out of kindness and love for our son.  Also, one of his peer buddies, Tommy, has been going to practice and running with him.  Tommy is not on the track team, he is just there to help Barrett.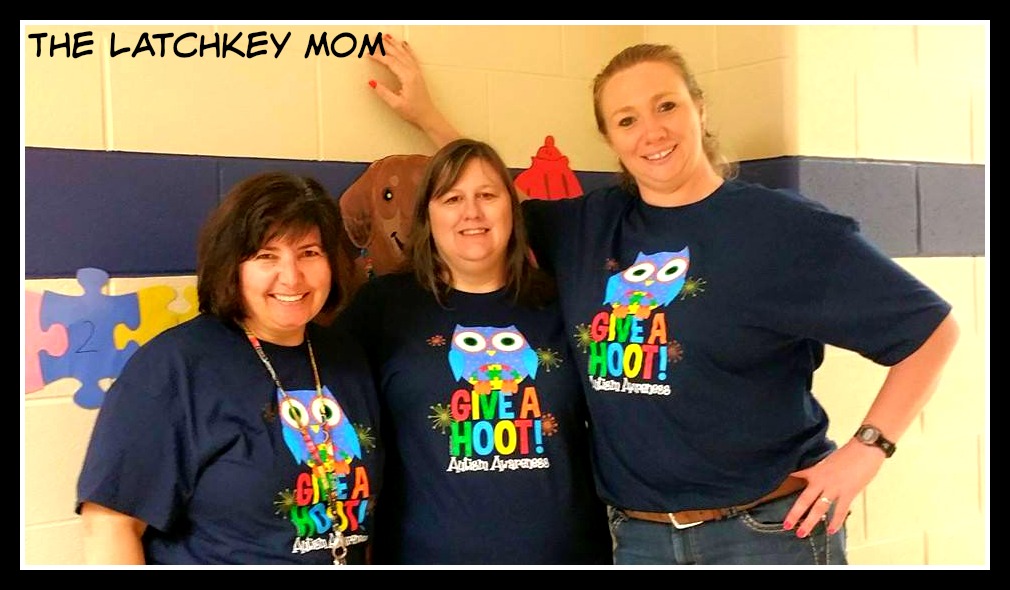 Gina, Beth, and Bobbi Jo
Tommy & Bear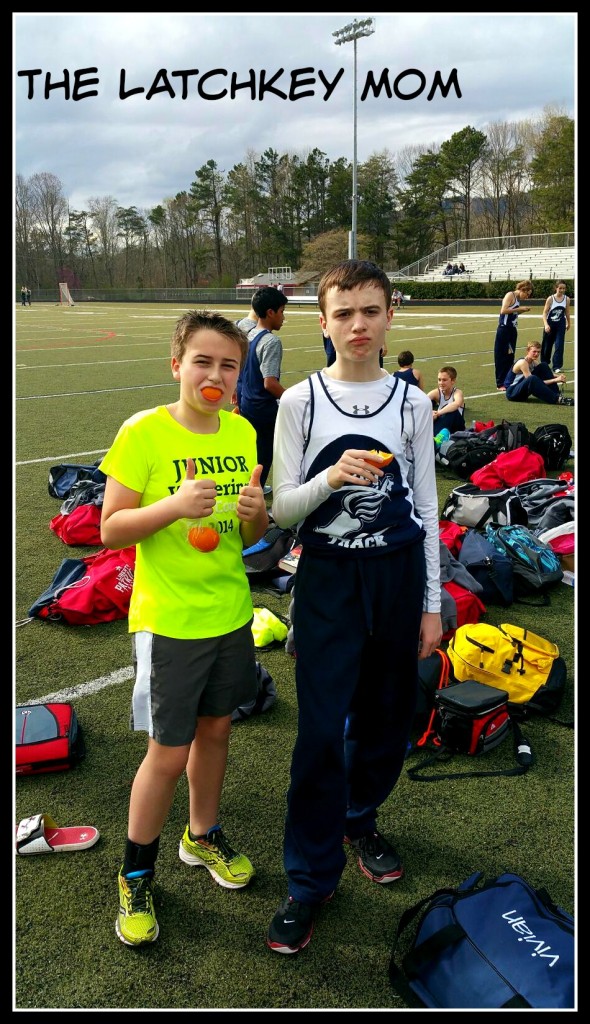 For those of you who don't know, Barrett and Hunter(twins) don't attend the same school (and are no longer in the same grade).  Barrett is in an autism classroom, at a school that is out of our district ( although still in the same county).   Hunter also runs on his school's track team.  I have to share this moment from the night before what was supposed to be the first meet.  Hunter's now a running veteran, since he was on the track team last year and ran cross country in the fall.  He often helps me at bedtime by tucking his brother in, so I can read to the younger two. When I was finished reading to Aud and Cam, I stuck my head into Barrett's room to see if he was asleep.  Hunter was sitting on Barrett's bed giving him a pep talk and "advising" him on running tactics. Then I heard him say this, "Barrett, I'm really sorry. I wish we were on the same team, so we could run together."  Oh. My. God. I slipped away so Hunter wouldn't know I heard him. Then I went downstairs and cried on R's shoulder.
Yesterday morning, we were all anxious and excited.  Anxious because there was a 20 % chance for rain!  One of the many downfalls of the boys being on different teams is that their meets are scheduled at the same time – at different venues.  We divided and conquered. R and Cammy attended Hunter's meet, and Audrey and I went to Bear's.
I was nervous.  I got there and the butterflies in my stomach were going crazy.  We ran into Bobbi Jo, and she sat with us, which was nice, because she distracted me.  She told me that when they made the announcement at school that the track team was dismissed, Barrett got up to get his stuff.  She asked him if he knew what was going on, and he glared at her and said, "Yes."  She decided to explain anyway, to which he rolled his eyes and again said, "Yes."  Then he left to join his team.  He rode the bus with Tommy and, as I witnessed from the stands, hung with the team on the field.  This was huge!  For years I have watched him run away from his minders at the Special Olympics.  Barrett does not have much patience, but yesterday he did.  He stayed close to his teammates for an hour and a half (his event was scheduled second to last).  It was a Barrett miracle.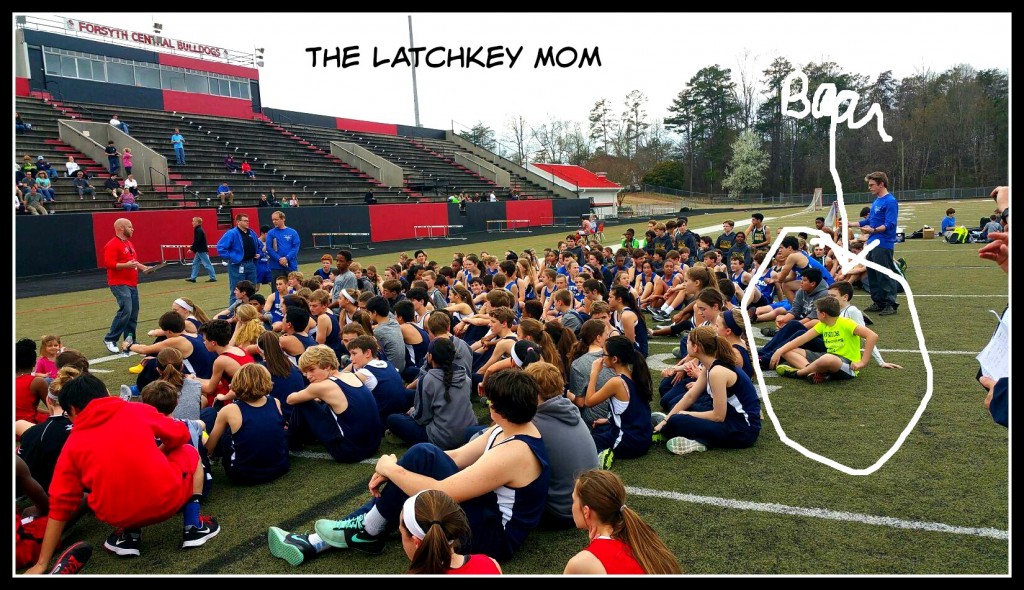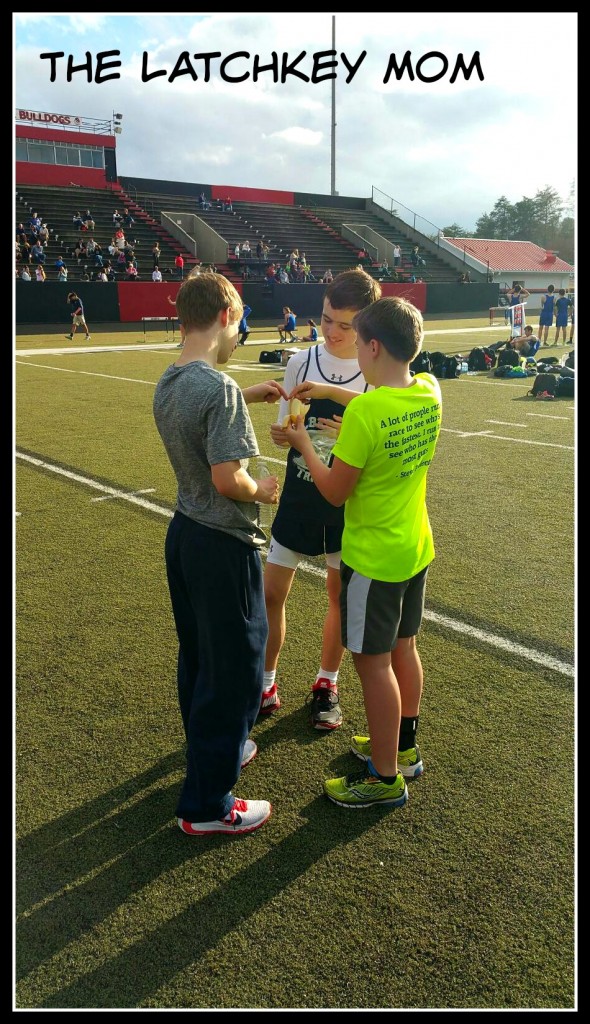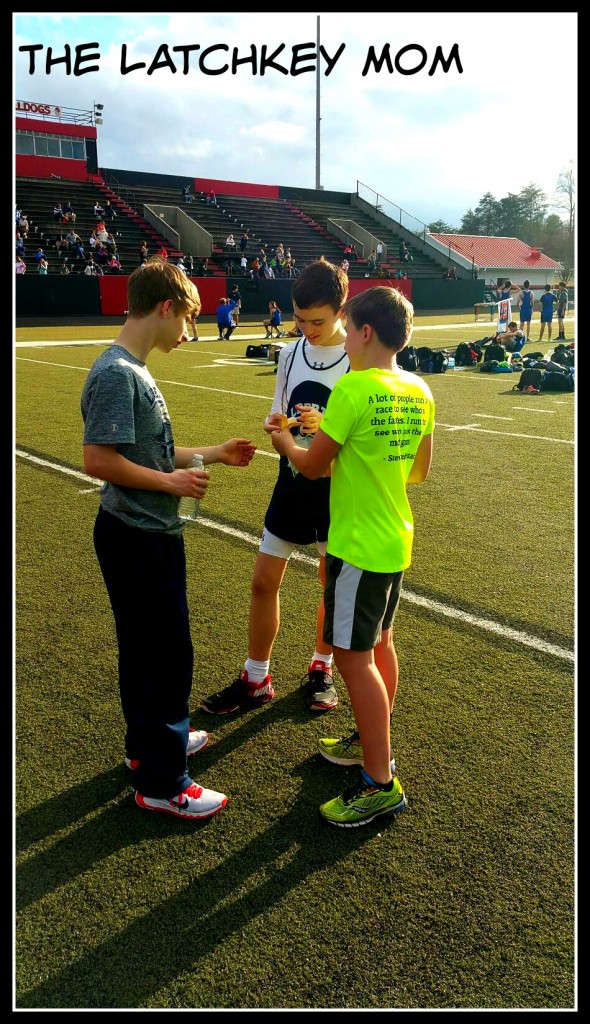 Okay, so when they called for the boys 800 M, which was Barrett's event, Aud and I moved closer to the start/finish line.  I wanted Barrett to see me, so he'd know I was there.  I got his attention and waved frantically.  That stinker looked right at me, and then turned away.  Seriously, he ignored me!  I will not be ignored!  (As you'll hear on the video!).  At this point I was very nervous and excited.  And anxious, because R wasn't there yet – I didn't want him to miss it.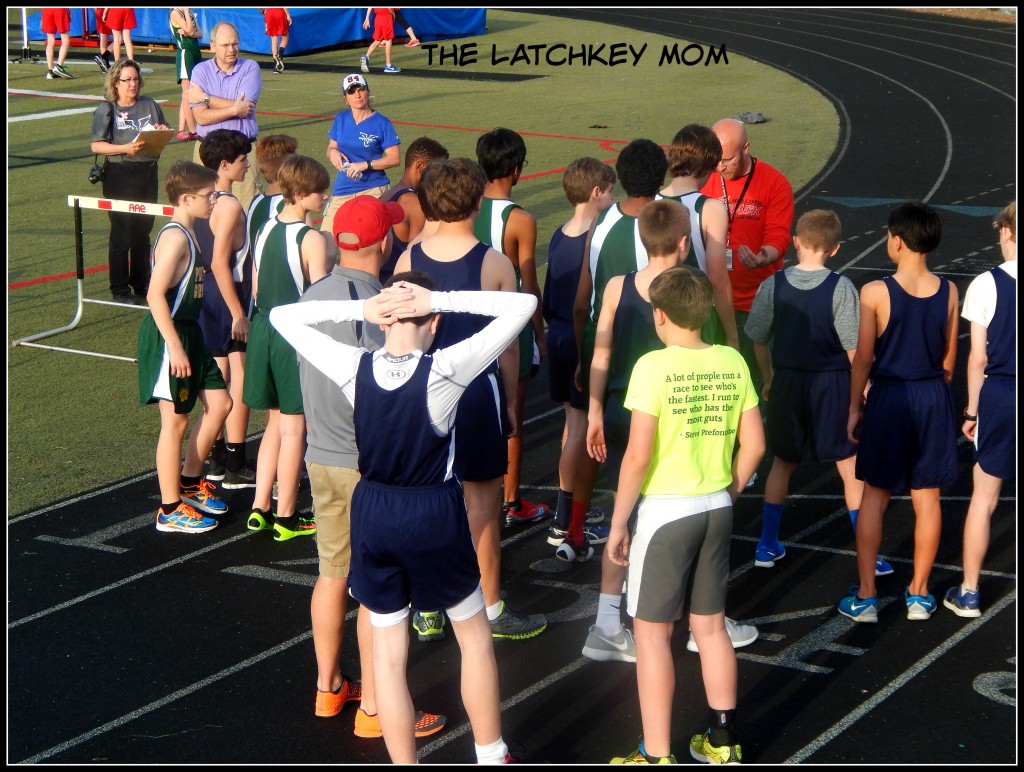 Bear's coach is in the red hat, Bear with the nervous hands-behind-his-head stance.
The runners gathered at the start and I saw Barrett's coach talking to Barrett and Tommy, his running partner.  Remember – Tommy is not on the team (which is why he had a different shirt on)!  Just running to help his buddy.  How cool is that?  Thank you to those in charge who approved this, because I'm pretty sure it breaks the rules.
So the gun was fired, and off they went.  The other half of my family arrived just as the shot was fired.  Perfect timing.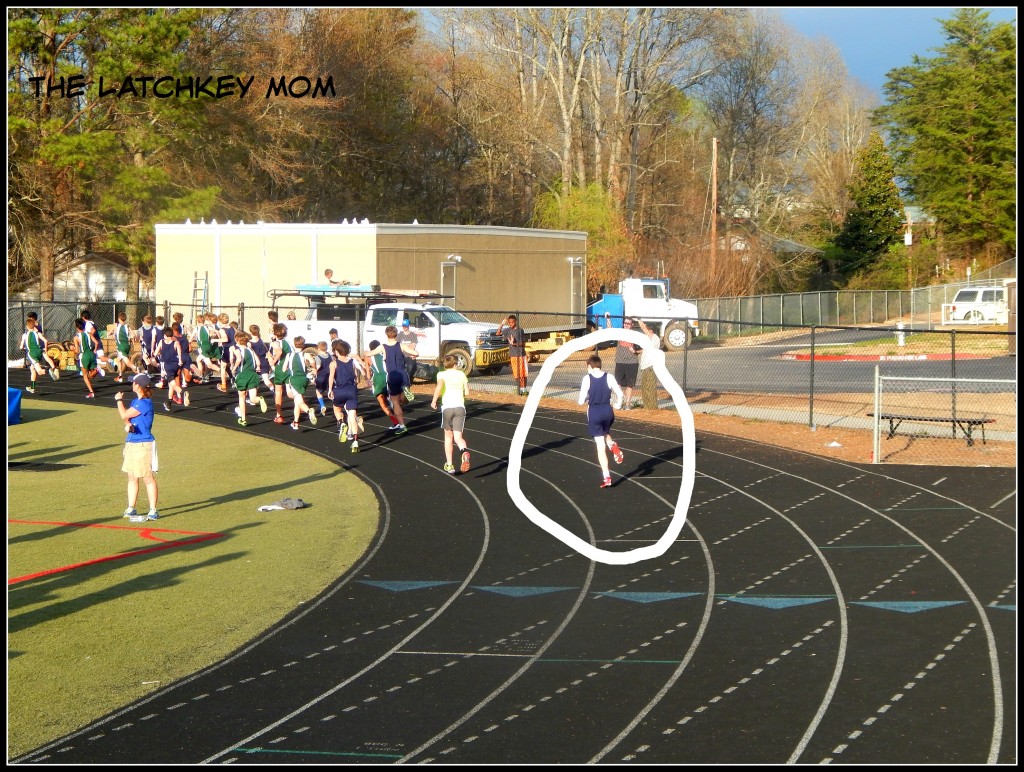 For the last couple weeks, all I wanted was for Barrett to finish the race.  I remember talking to his elementary school teacher, and we both doubted that he would actually run around the track two whole times.  It's not that I didn't think he could do it, it's that I didn't think he would do it. Barrett can be very stubborn when he wants to be.  But Bobbi Jo never lost faith and assured me that he would.  And after seeing him run at a few practices, I started to believe it, too.  So much so that I must admit my wild imagination got the best of me.  In my fantasy world, he was a contender.  Rational Allie told me to keep it real, but Vivid Overactive Imagination Allie envisioned a Rudy moment coming…
That did not happen.  Bear fell to the back of the heat pretty quickly.  My heart panicked a little, because I was afraid he wouldn't finish.  When he finished one lap, there were a few runners coming up behind him, and R said, "Oh Bear, you better get out of the way."  Not necessary, because those were the front runners, crossing the finish line.
But my boy kept running, and running.  And as he came around the last bend…I got emotional, and was screaming.  And you know what happened?  The crowd in the stands got into to it, and everyone started clapping and cheering, and I completely lost it.  Bobbie Jo (who was on the field), said all his teammates were yelling from the side, "Go Barrett!"  I couldn't hear it, because the crowd around me was so loud.   He looked up at us, "We love you Bear!!!", and he saw his whole family there yelling and cheering, and then he crossed the finished line.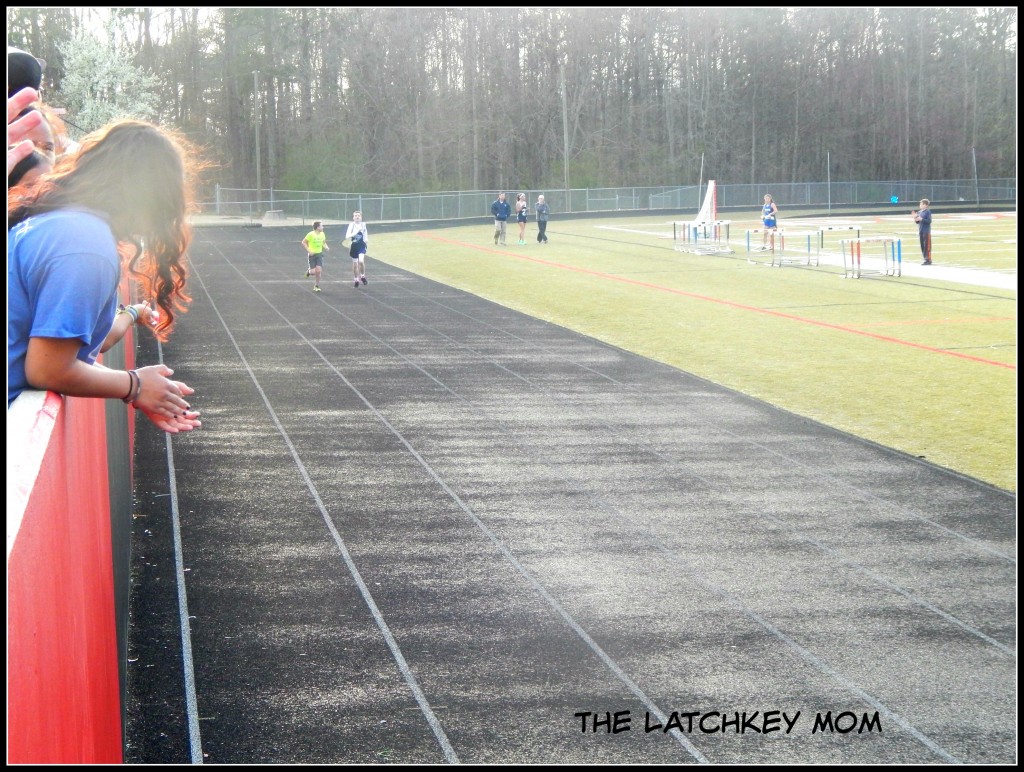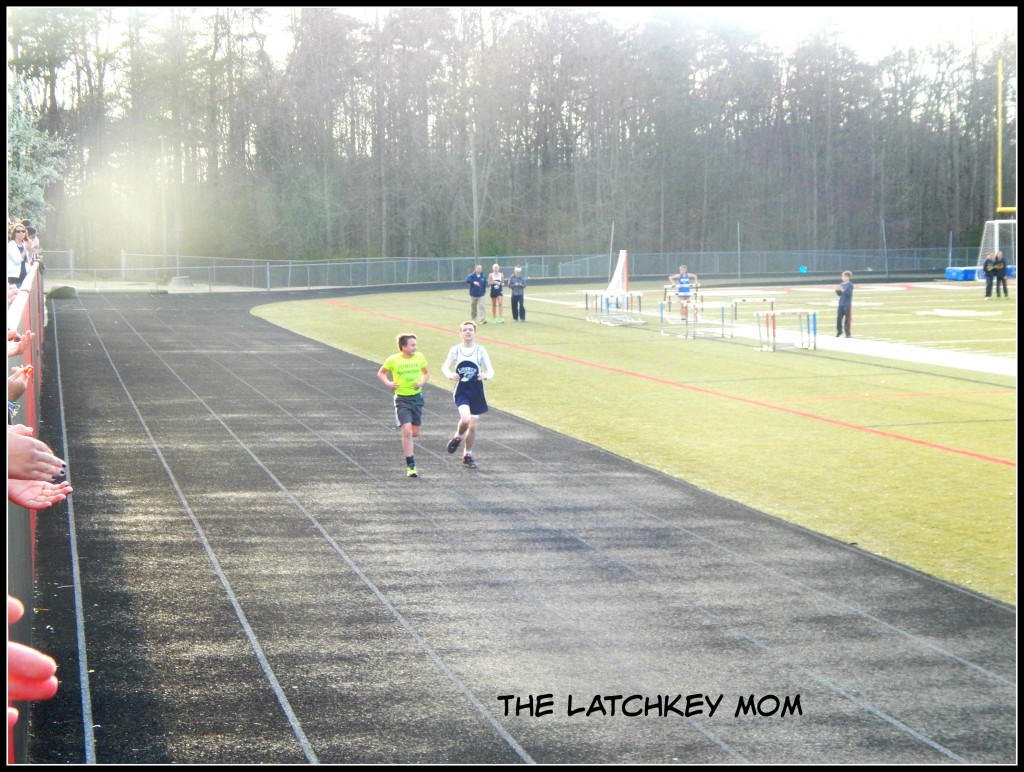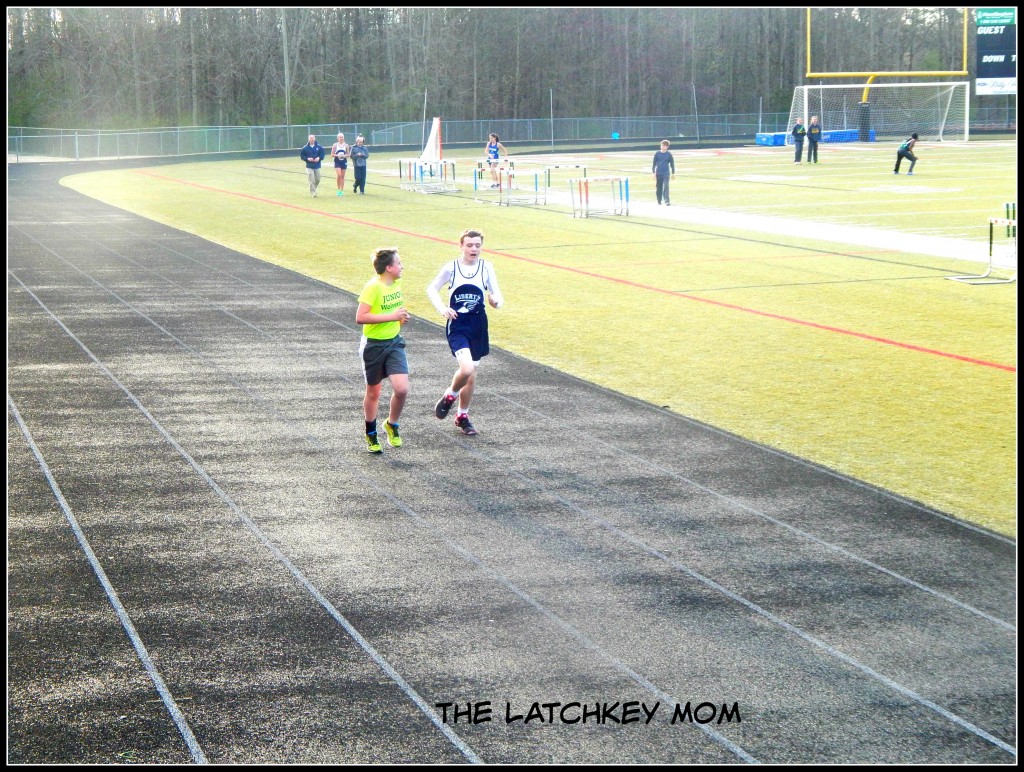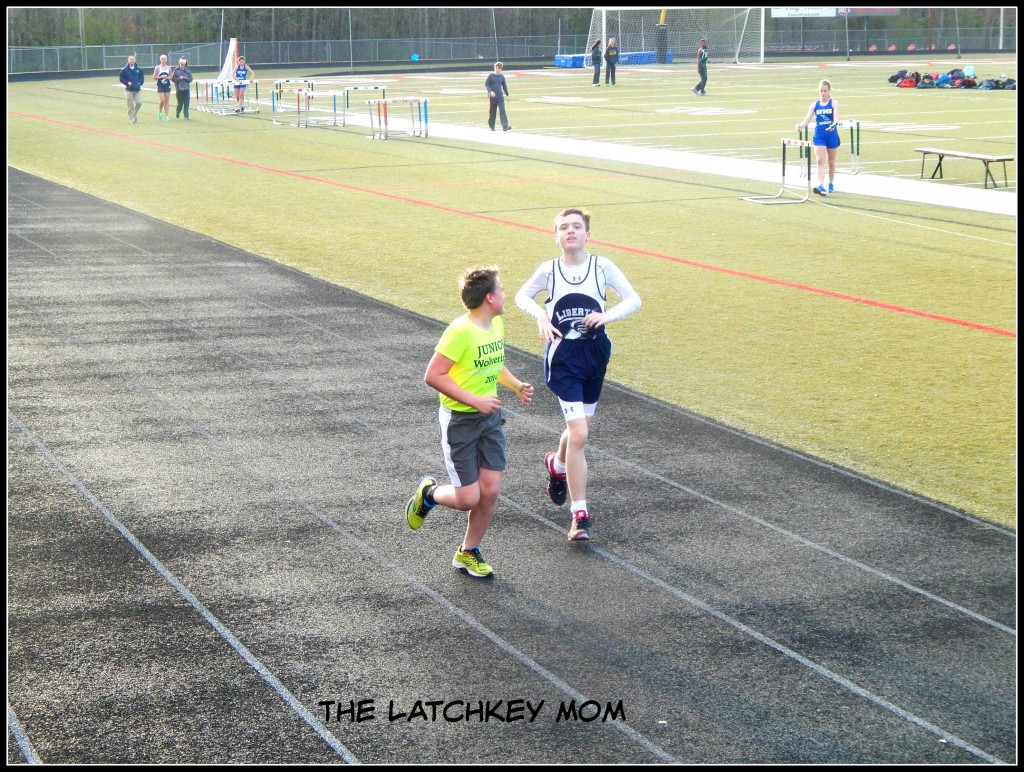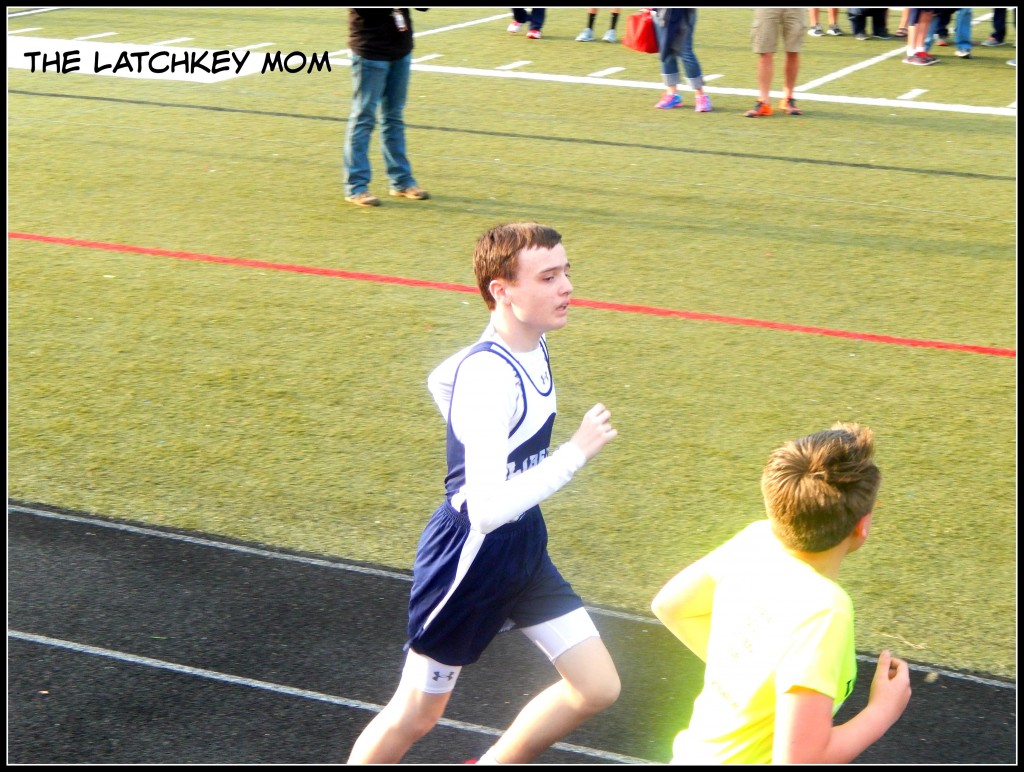 Oh, it was one of the best moments of my whole life.  It was like a movie.  I know I've said the phrase before, but I honestly didn't fully comprehend the meaning of the words.  I now have clarity about the term, happy tears. I could not stop the waterworks, but I also couldn't stop smiling.  I felt nothing, nothing but pure joy.  And as he walked off the track, I got to witness all his coaches and teammates walk up and high five and fist bump him.  It was so gratifying!  He did it!
Later, zooming in on some of the pictures, I know it was hard for him on the second lap.  He looked happier on the first lap, and slightly pained in the second, but he pushed through it. He ran half a mile in 4:22 seconds.  His coach told him that he ran faster in practice and that he needs to step it up for next time.  I love it!
As you can see, we took lots pictures and, thanks to my daughter, I have video to share!  Audrey (who took first place in the county tech for digital video production) filmed Barrett's run and then, on the way home (a 10 minute drive?), spliced the video, added pictures, text, and music to produce the 48 second clip that's below.  It took her mother HOURS to figure out how to get it off the iPad, onto YouTube and then this here blog.  Technology is not my favorite chore (that's for my FTST peeps – bet you were wondering how I was going to twist this into a FTSF post!).
From the bottom of my heart, I want to express love and gratitude to Bobbi Jo Corcoran, Gina Calvird, Beth Elzey, Coach Quinlan, Coach Biccum, Coach Jeffers, Tommy Rhodes and all the members of the LMS Track Team.  It took a village to make this happen and we are lucky to have so many caring and generous people on our team!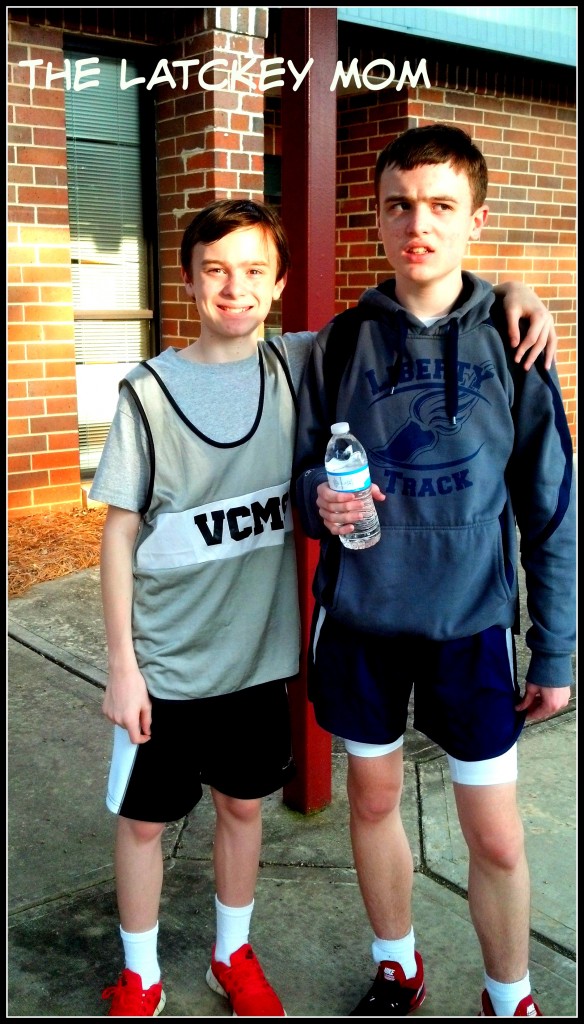 Hunter & Barrett
Oh, and I would probably be remiss if I didn't mention that my other son also ran in a track meet that day – completing his first mile event in 6 minutes flat.  Mommy is so proud of you too, Hunter!
Please visit my Finish the Sentence Friday peeps, as well.  Our hosts:
Michelle from Crumpets and Bullocks
Jill from  Ripped Jeans and Bifocals