Happy Birthday Kelly!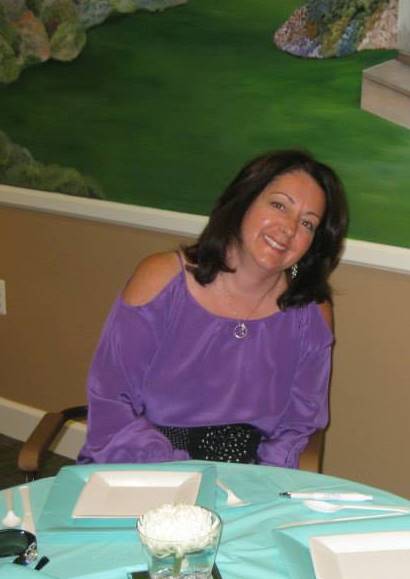 Today is my sweet sister-in-law's Birthday!  Can I just say, for the record, I don't like the tem "in-law?"  Kelly is my sister, plain and simple.  I couldn't love her more even if I'd known her since the day she was born♥!
My dear, sweet, beautiful Kelly has had a hell of a year – she lost her husband, my brother, Edmund.  I can't even imagine all that she's feeling, even though I try.  She loved him so much and stood by him no matter what.  She didn't listen to any of the naysayers (who unfortunately sometimes included me), who implored her to do otherwise.  She stood by her man and loved him unconditionally and did everything she knew how to help him.  My brother knew – and never doubted – that Kelly loved him and would always stand by him.  She gave him unconditional love and security.  For that, I am eternally grateful.  
Kelly is the kindest person I know.  She rarely says anything bad about anyone.  Anyone!  Until this year, I had never heard her swear, except for the occasional "damn."  Seriously.  Let me tell you, the girl has honed her cussing skills.  She may be mad at me for telling on her, but I know that once she gets her groove back, the need for soap and water will be gone.  In the meantime, I've been enjoying her sauciness!  And most of her cussing has been stress related, so she's allowed.  She's been trying on her big-girl pants and Edmund would have loved it.  Kelly never forgets a birthday or anniversary – she may be late, but she never forgets.  This is quite a feat, when you consider how big her family is.  There are many dates to remember.
Kelly is generous.  Although she loves to shop, and never pays retail, the majority of her purchases are for others.  I get so excited when she hands me a gift bag or a package, because she always gets you something that you love.  Always.  She has spoiled my children rotten, to the point of embarrassment.  When someone compliments some fancy designer outfit one of my children is wearing, I always have to follow up with the disclaimer that Aunt Kelly got it for them.  I shouldn't advertise this, because the poor girl will run out of money, but she supports all the school PTAs, Girl Scouts, Boy Scouts, youth athletics, Special Olympics and just about every charitable organization you can find in the yellow pages.
Kelly is caring.  She is always willing to help, even with the most mundane tasks.  She will babysit (even get on a plane to do so), help you move, help with yard work, do your laundry and clean your house, and help plan parties and weddings, and volunteer.  I remember one time talking to my brother and asking where Kelly was.  He told me she was helping someone build a house.  Excuse me?  Kelly will cheer you on, support you and brag about anything you do.  She is also there to hug you, cry with you and cheer you up when you need it.
As previously noted, Kelly has amazing taste, but she also has style.  The woman knows her fashion.  Can I tell you how much Audrey loves to play in her closet?  Oh how I wish we wore the same size, because I would kill to have her hand-me-downs.  Her house is uniquely and brightly decorated.  You can't help but smile when you're there, and she makes you feel so at home.
Kelly is brilliant and hard working.  Miss Thing is a big time executive at a big time financial institution and I will not even pretend to be able to explain what she does, but she does it very well.  She is such a dedicated hard worker.  A short day for her is ten hours and weekends are not unusual.  She cares about her work, her employees, her clients and her bosses.  I think she works too hard – she is over worked and underpaid.  Just saying.  And I don't care if her boss is reading this.  Email me Sir, because I'd like to have a word.
Kelly is beautiful.  All the beauty that is inside Kelly makes her shine.  Her smile can light up a room, and her giggle is adorably infectious.  She has the best head of hair, a mahogany brown that literally glistens in the sunlight.  She complains about her thick curly hair all the time, but I envy her for it!  We won't discuss the number attached to this birthday, but her skin is as smooth as anyone in their twenties.  You don't get wrinkles when you have a loving heart, kind personality and an optimistic outlook that would make Pollyanna seem grumpy!  She's gorgeous.
Kelly is blessed with an amazing family.  Warning – this is sappy, but I cannot honor Kelly, without honoring where she came from.  Her parents have been married for more than fifty years and they are still happy together.  Can you imagine?  How lucky are they?  Her dad was a Detroit firefighter and her mom a social worker, so you know these are genuinely caring and hardworking people. They raised five extraordinarily kind and loving children, four girls and one boy.  Their children married wonderful people and created happy families of their own.  Kelly has nine nieces and nephews (not including my gruesome foursome) and two grandnephews and one spunky grandniece.  My brother used to call them the Brady Bunch.  It's pretty close.  They're not quite that vanilla or nerdy, but each and every one of them is nice, well-adjusted and fun!  The love and support they give to Kelly fills my heart with such love and gratitude that it could burst.  Everyone in the family lives within two hours of each other, and they get together very regularly.  Isn't that cool?  And they make me feel like I belong to them, which breaks my heart, but in a good way.
Kelly is broken-hearted.  We all are, of course, but not like Kelly.  My poor girl is still so sad, and I'm sure this birthday will be tough.  I would do anything, give anything, if only to ease her burden.  I hope and pray every day, that she's one step closer to being ok.  I miss the old Kelly, and I know she does, too.  She won't be the same girl once she gets through her grief, but I know she will be happy again.  And I know my brother would want that.
Happy Birthday, sweet girl.  We all love you so very much.  I can't wait to see you next month!
Please wish my sister a very happy birthday in the comment section.  I would be so grateful.  Let's make her smile on her special day!