Clean Eating Challenge – Sample Day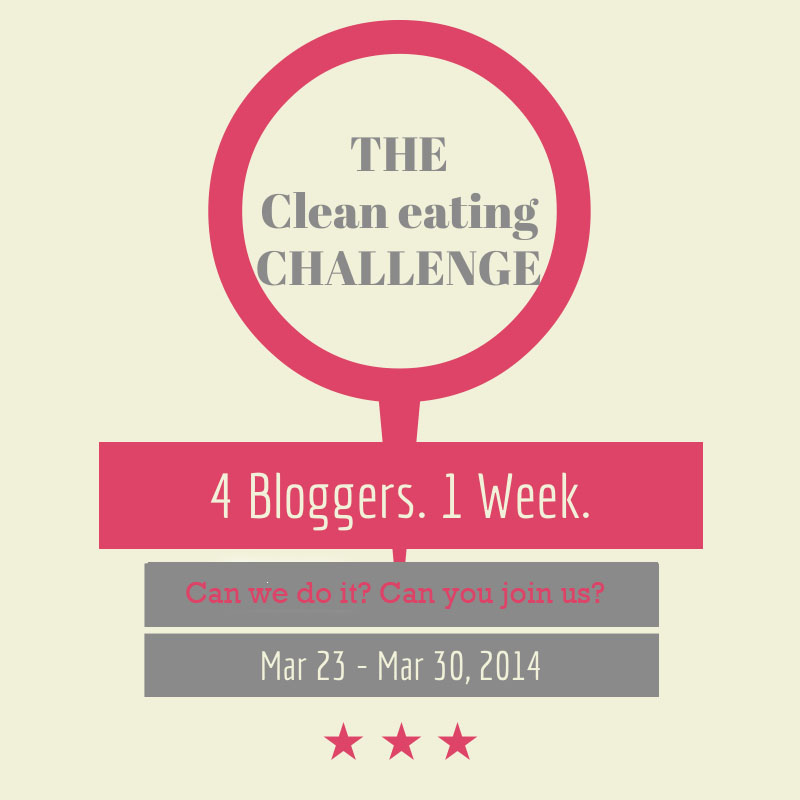 Okay, so yesterday was my day to record all the clean food that I consumed and to take pictures, so I could share my healthy experiences with all of you.  Wow, it was a busy day.  I do not know how food bloggers do it.  Without further preamble, here was my clean day…
Breakfast:
For breakfast, I typically eat steel-cut oatmeal (with dried fruit on top), but for the challenge I decided to go with a more protein and veggie oriented breakfast. A few years ago I was briefly on the South Beach diet and I loved the Spinach Quiche Cups.  They are very easy to make and the leftovers keep well in the fridge, so you'll have breakfast for the next couple of days.
The Recipe: 
♦  1 package (10 oz) frozen chopped spinach
♦  ¾ cup of liquid egg substitute
♦  ¾ cup of shredded reduced fat cheese
♦  ¼ cup diced green peppers
♦  ¼ cup diced onions
♦  3 drops of hot-pepper sauce (optional)
Allie notes:
I don't like egg substitute, so I use real (organic) eggs.  Four eggs, beaten, to be precise.  Also, I sometimes use chopped broccoli.  When I was made this batch I didn't have cheddar, so I used Swiss and it was delicious.  I skipped the hot pepper sauce.
Preparation:
Thaw the veggies (organic, of course) in the microwave or by using hot water and a strainer.  Make sure you thoroughly drain the veggies.
Line muffin cups with foil liners and spray with Pam.  I didn't have foil, so I skipped the liners and it was fine (but don't forget the Pam).
Combine all the ingredients in a bowl and mix together.
Pour evenly into the muffin cups (it says you should be able to fill all 12, but I usually only get 10 or 11).
Bake at 350 degrees for 20 minutes.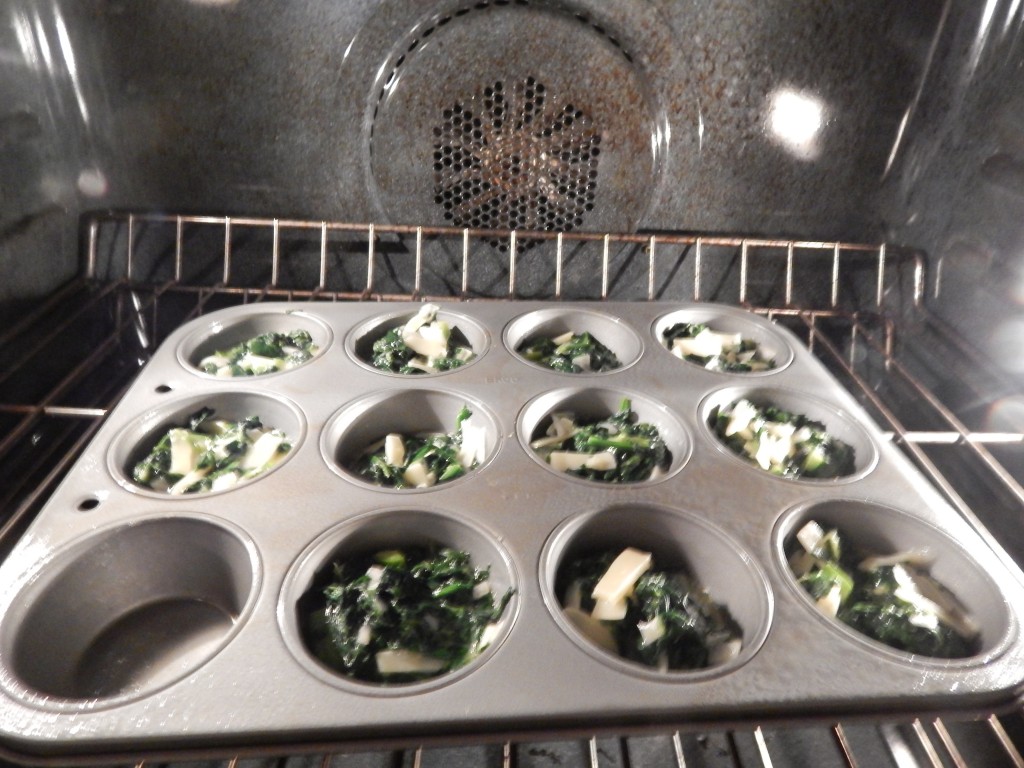 Oh boy – gotta clean the oven.  Sorry!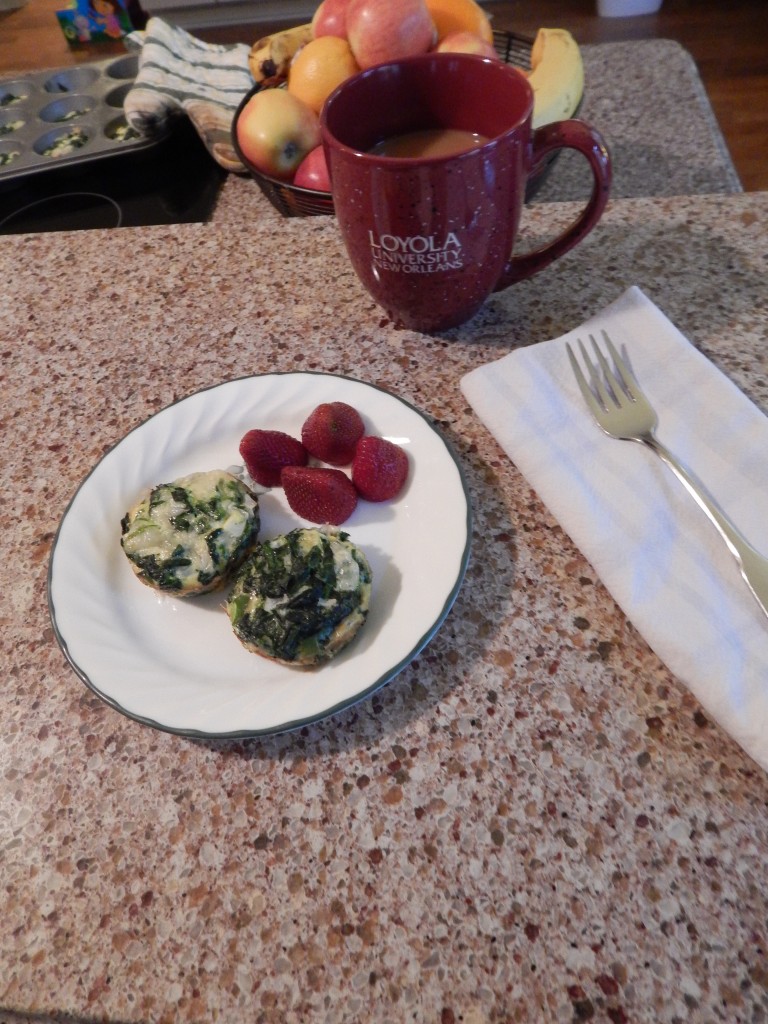 With organic strawberries – but of course!
Snack:
Sliced organic Gala apple with all-natural peanut butter.
Lunch:
Mixed salad with homemade vinaigrette.  I don't have a dressing recipe, because I switch it up every time.  I usually do 2/3 cup of olive oil and 1/3 cup of vinegar as a base.  For my local peeps, I always use oil and vinegar from Gabby's Olive Branch.  The Tuscan Herb Olive Oil is my favorite and yesterday I used the Pomegranate White Vinegar.  Things to add:  fresh garlic, grated parmesan, spices, salt, pepper.  Sometimes I use mustard in the dressing (Grey Poupon), but only when I use unflavored vinegar.
Snack:
My all-time favorite healthy snack is from the Clean Eating cookbook – Black Bean, Corn and Tomato Salsa with corn chips.  I can, unfortunately, devour the whole bowl in one snack.  Accountability has its rewards (or limitations), because I only ate about ¾ of a cup – and no chips.
Recipe: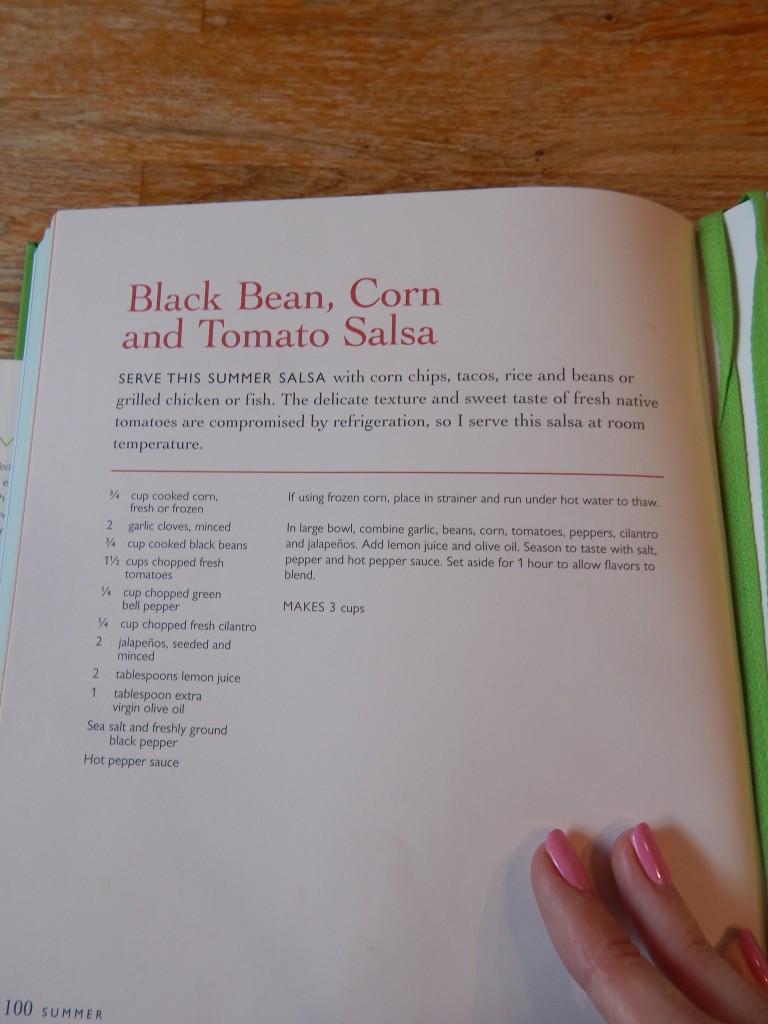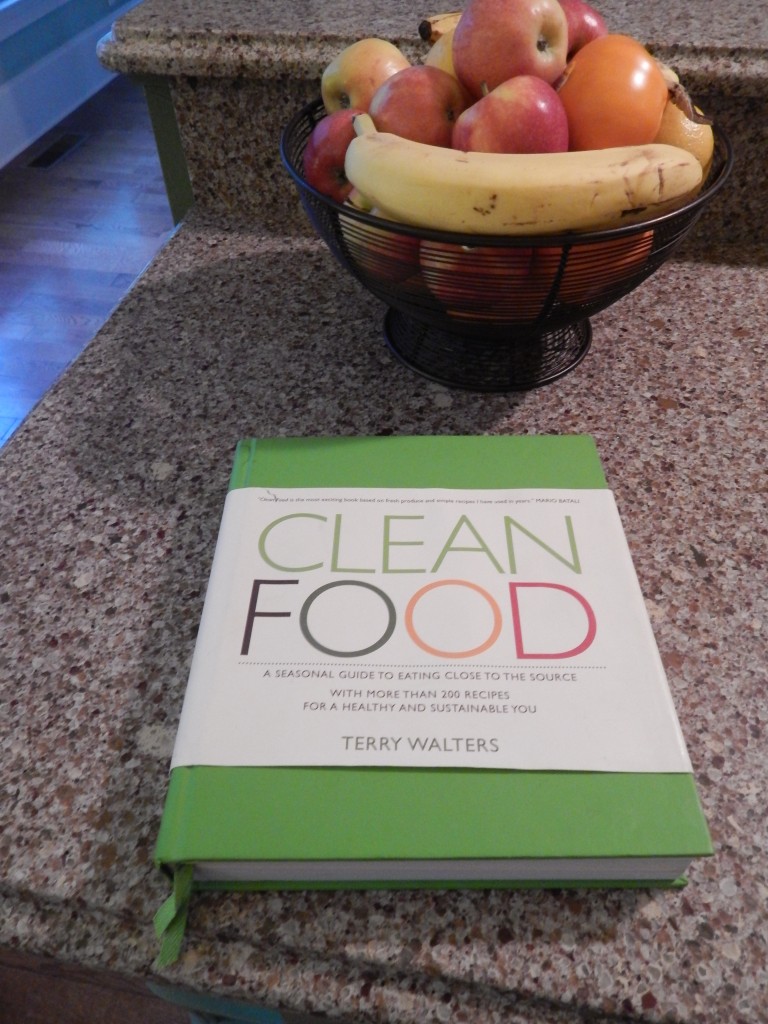 Seriously – tons of great recipes in the book!
Allie Notes:
I used three garlic cloves, because I love garlic.  I also used a red and a yellow tomato, because I love the added color.  Always best to eat the colors of the rainbow!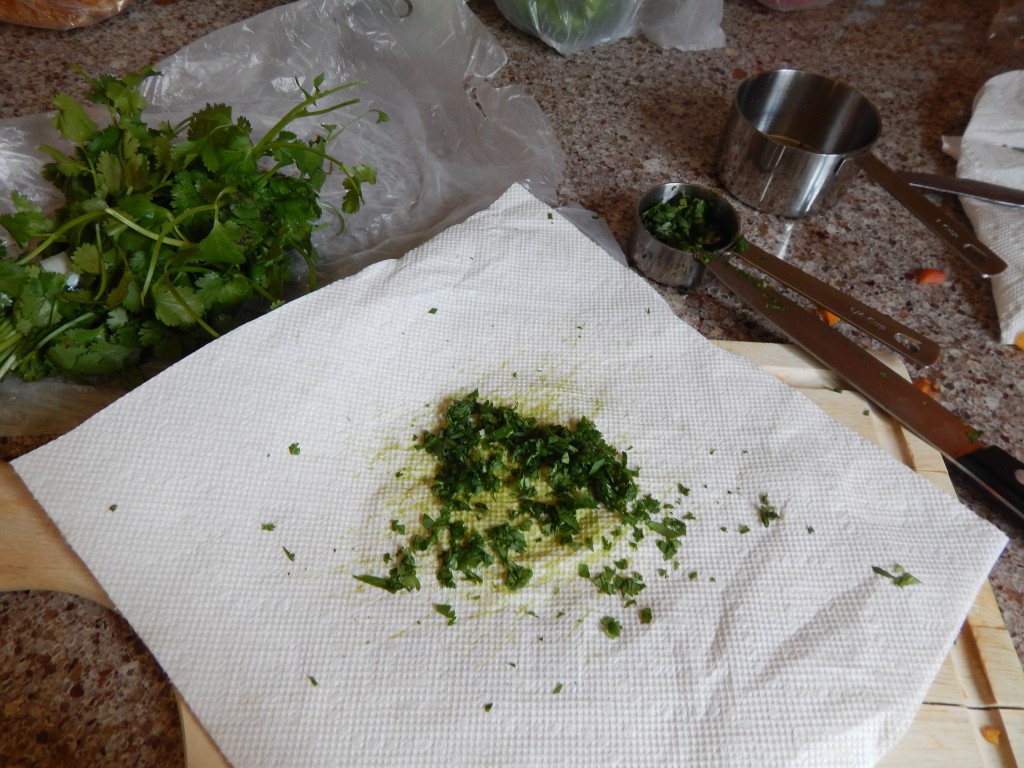 It's some times a pain to chop fresh spices, but oh so worth it.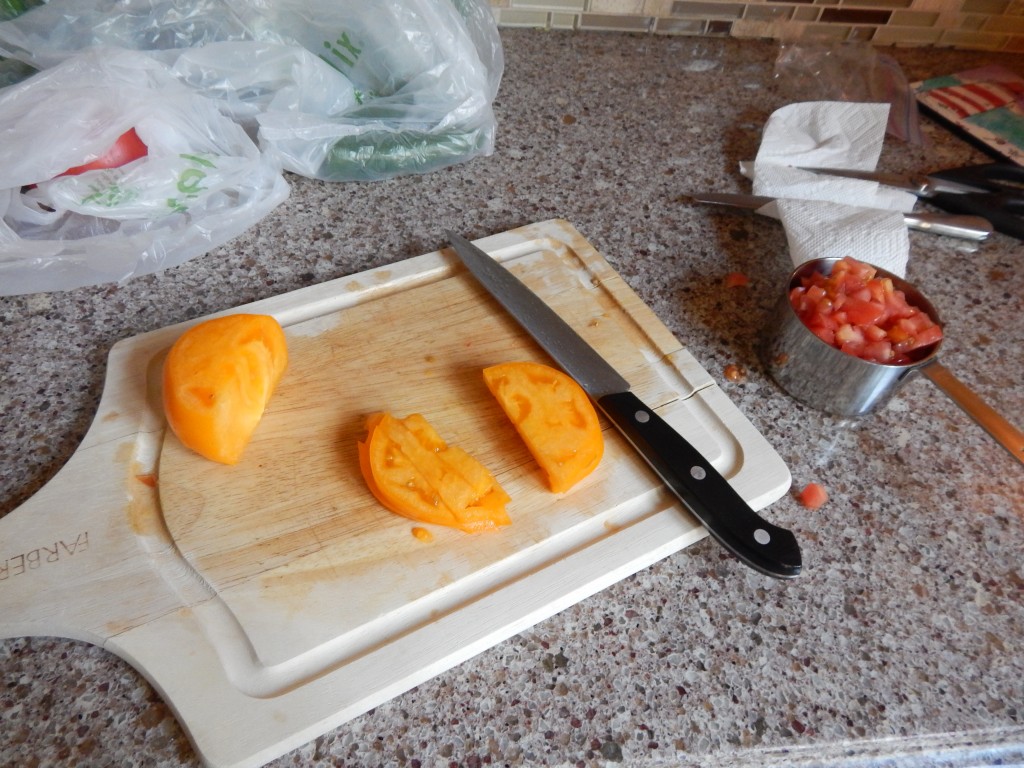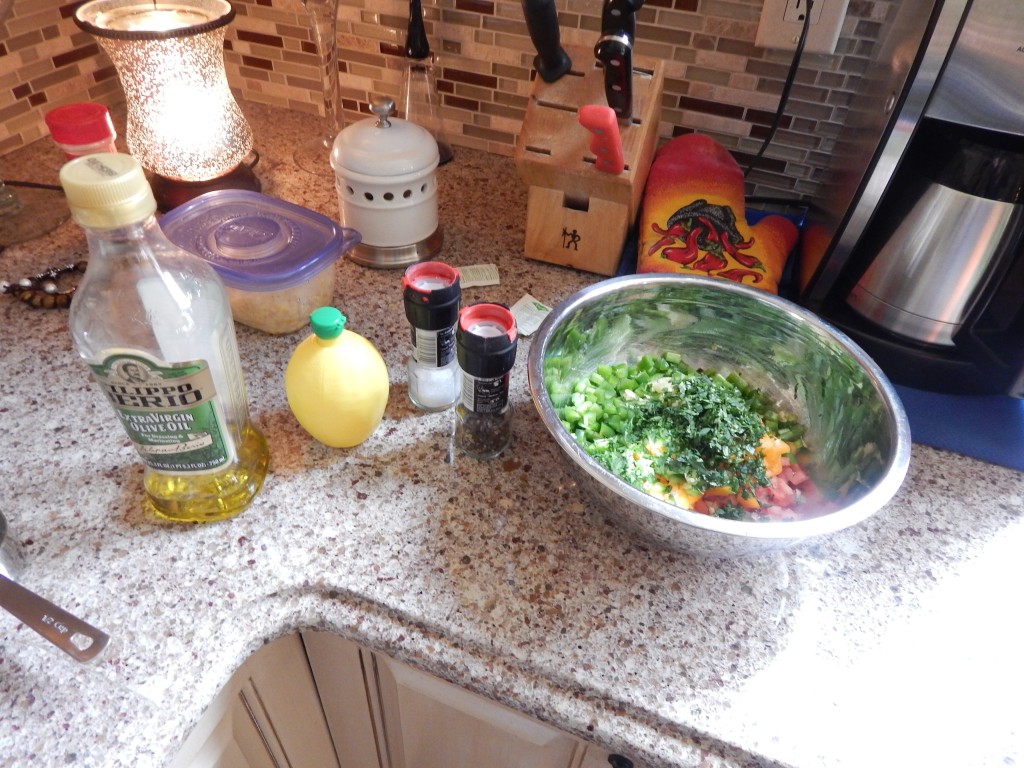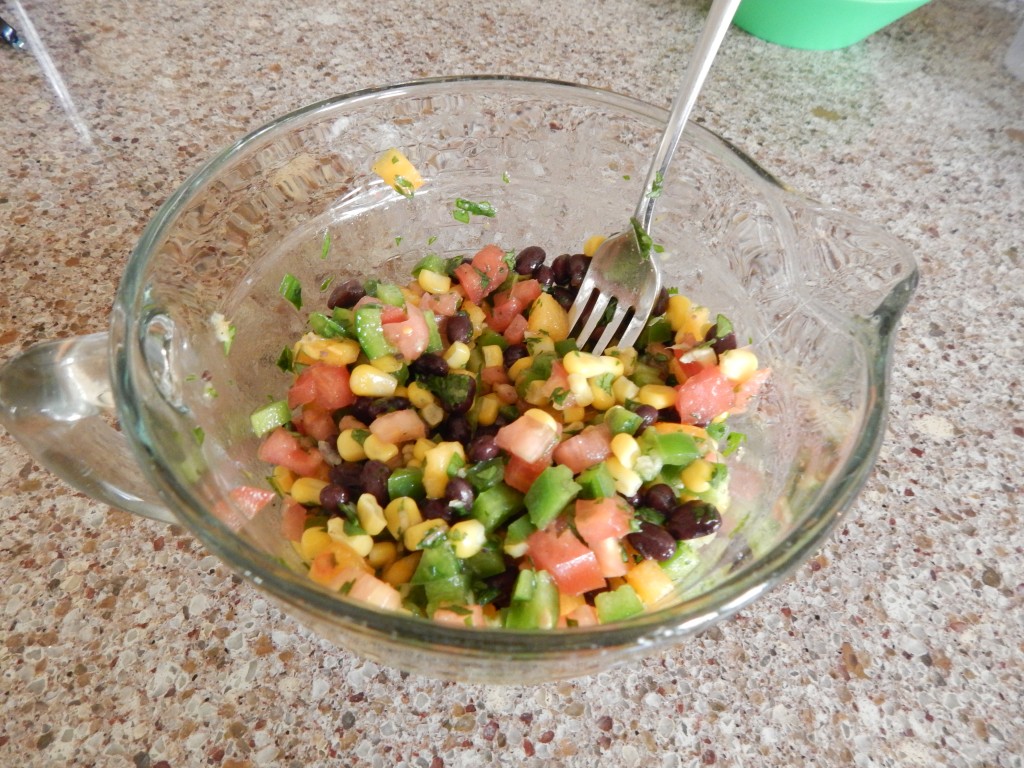 The pretty finished product.
Dinner:
It was beautiful, and bad weather is moving in, so we grilled out.  I got a small filet from Publix (Greenwise Organic) and marinated in espresso flavored vinegar(from Gabby's) and two tablespoons of chopped garlic (love my garlic).   The steak was accompanied with grilled asparagus.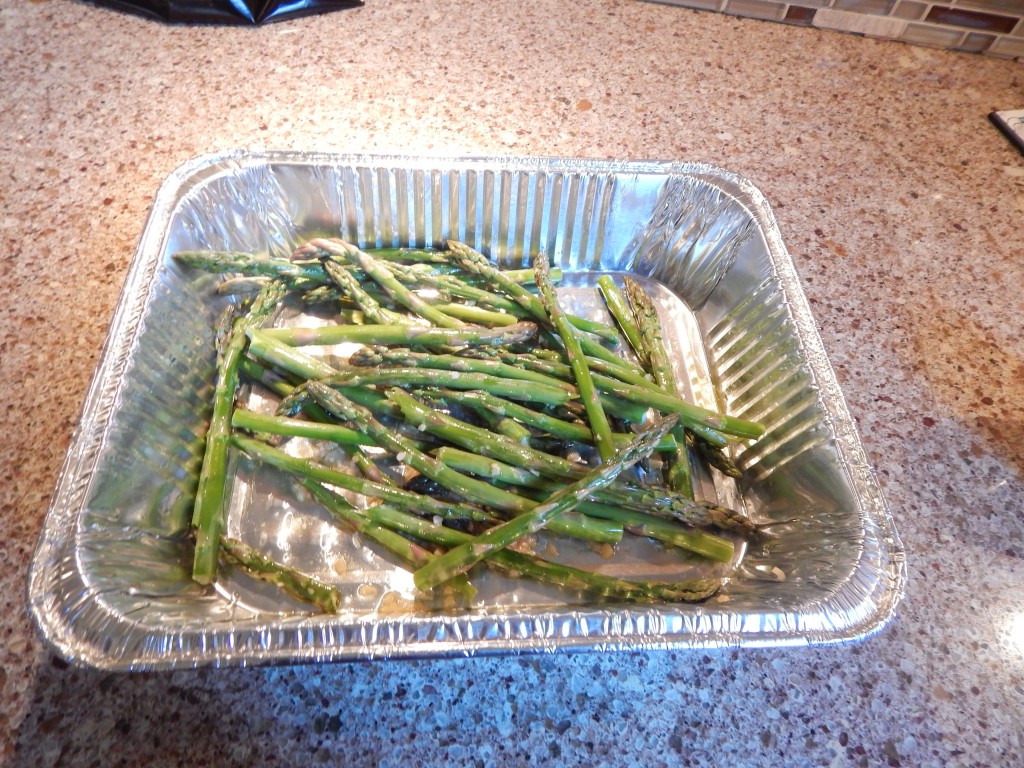 I grill the asparagus in a aluminum pan on the grill.   Minimal clean up!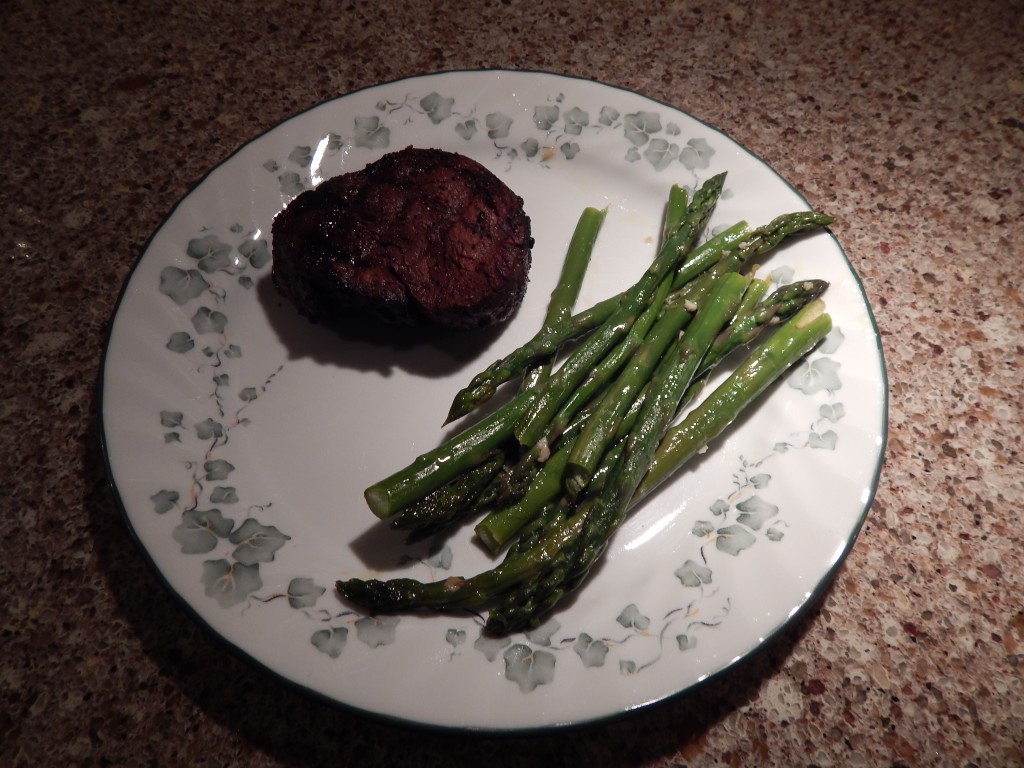 Beverages:
I had two cups of coffee with breakfast, with the bad stuff I refuse to give up (see yesterday's post).  I drank a pitcher of "Sassy Water" throughout the day and two additional bottles of water.  I discovered Sassy Water a few years ago, on the Flat Belly Diet.  I LOVE it!  It gives your boring water a nice healthy zing.   With dinner, I did have a glass of chardonnay, my first in four days of clean eating (I started a little earlier, because we're leaving for Spring break on Thursday).
Sassy Water Recipe:
♦  Fill a pitcher with filtered water (ounces will vary)
♦  1 sliced lemon
♦  1 sliced, peeled cucumber
♦  1 inch cube of ginger, grated
♦  10 mint leaves
Add the fruit, veggies and spices to the water and chill overnight.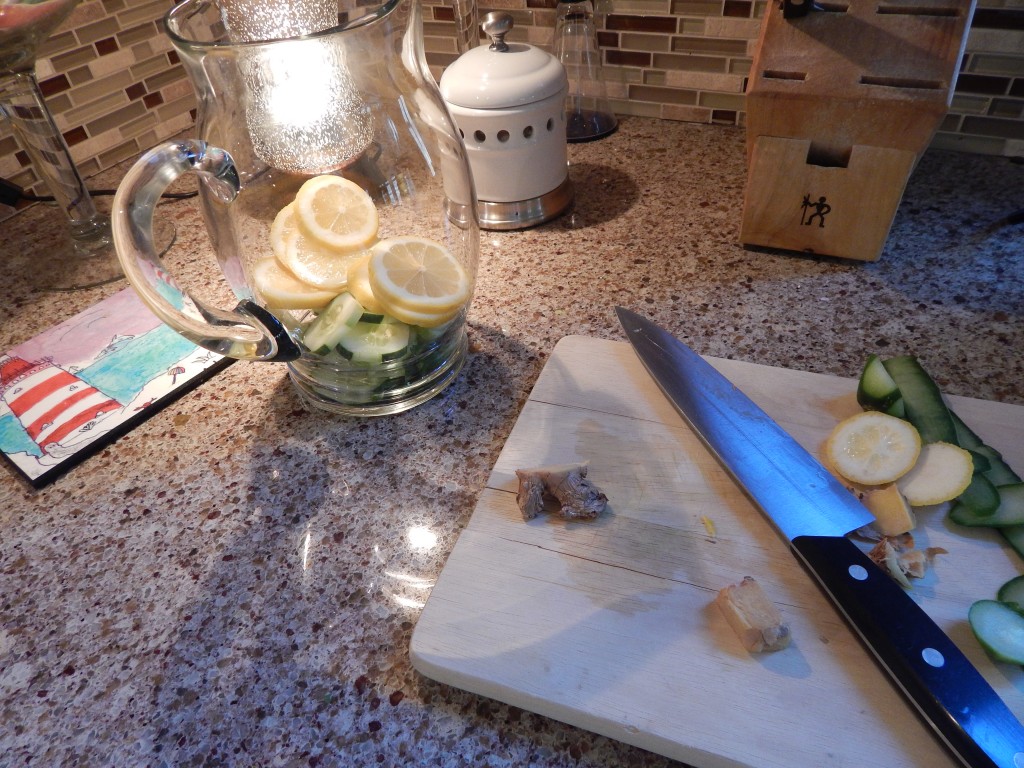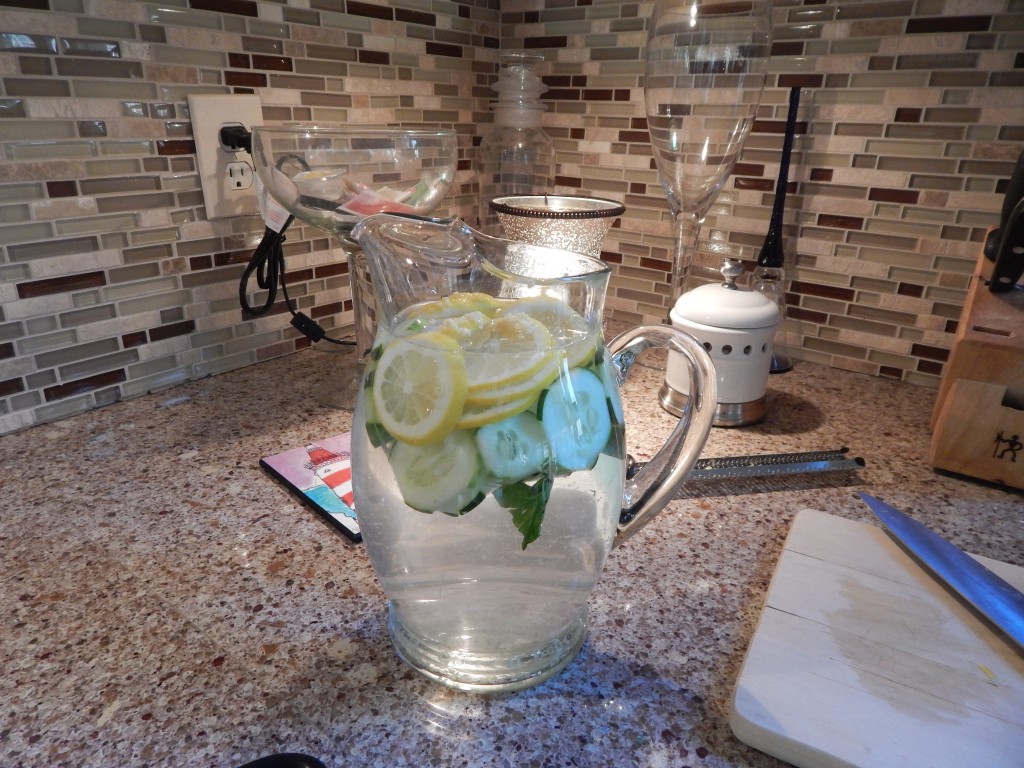 –––
Overall, I had a good day.  I was hungry after lunch, but admittedly, my lunch was light.  I felt pretty good, but was a little tired of being in the kitchen:).
Share your comments, please.  How'd I do?  Do any of the recipes appeal to you?  Do you have any recipes to share?  How are you doing with your Clean Eating Challenge?  #cleaneatingchallenge